Hi readers! Happy Wednesday! We hope you enjoyed our LIVE coverage at the #CHAShow this past weekend! Stay tuned for one last bit of fun regarding this show! We're compiling a video to recap this great show to share with you on Monday! You'll want to check it out! We're hoping it makes you feel like you were there :)

Let's dig into today's post. We're featuring Angie Backman with the fabulous Concord & 9th brand, a brand that is relatively new to us, but we must admit have fell in love instantly! Read on to see how you make this fun card for yourself! Be sure to comment below to give Angie a big SIMON WELCOME as this is her first guest post. :) Enjoy!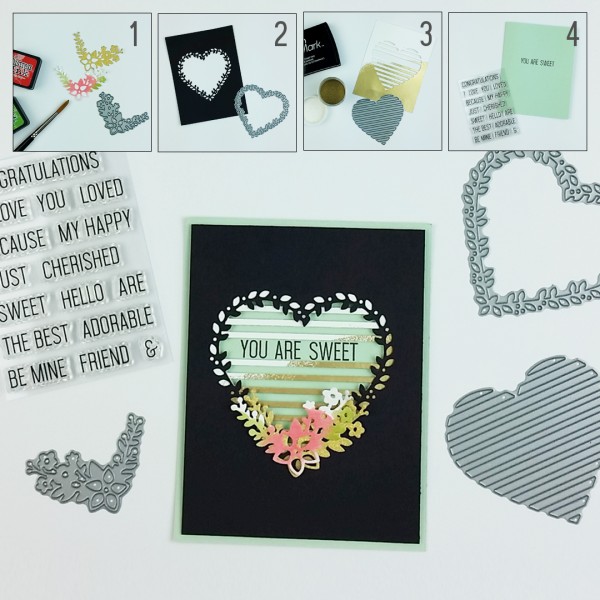 Here is a little background on our thought process for creating the stamp set & die. We started designing the die and wanted the 3 die pieces to layer over each other, as well as work well on their own. In the project we created for you, we did show how they layer together (which I will outline in the instructions steps). Next came the stamp set. We wanted a smaller stamp set with lots of options for creating cards with different sentiments, that also coordinated with the die. All of the words in the stamp set are the same size so that you can mix & match, or layer if you will, to create different sentiments. Some examples are: I LOVE YOU, YOU ARE CHERISHED, YOU ARE MY HAPPY, JUST BECAUSE, SWEET & ADORABLE.

Now on to how we made the card…

Step 1: Using the Concord & 9th Layers of Love die set, die cut the small floral sprig from watercolor paper. Watercolor with Distress Inks. Die cut a second sprig from gold glitter paper.

Step 2: Trim a piece of black card stock to 4″ x 5 1/4″. Die cut the open heart in the middle of the card stock.

Step 3: Trim a piece of watercolor paper to 3 7/8″ x 5 1/8″ (or just smaller than the black). Ink the lower half of the watercolor paper with Versamark ink (not perfectly) and sprinkle with gold embossing powder. Heat to emboss. Die cut the striped heart in the middle of the paper. Using your scissors, snip one of the heart stripes to create an opening for your stamped sentiment.

Step 4: Choose your sentiment from the Concord & 9th Layers of Love stamp set. Layer your stamp images on a clear block. Stamp in black ink on to mint standard size card base. Now go in reverse to layer the card elements. Layer the gold embossed striped heart over stamped sentiment. Layer the black open heart over the stripes. Layer the watercolored & glitter floral sprig over the open heart.

There you have it – a beautifully layered card to send to someone you love! Now you know where the name "Layers of Love" comes from! :)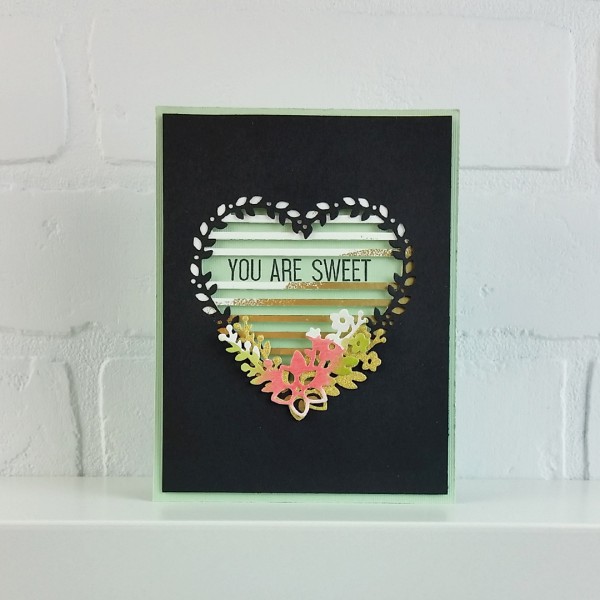 Supplies:
Thanks for reading today, and a big thanks to
Angie
for being our guest today!
Congrats! Blog Candy Winners!