Hi friends! Happy Wednesday! Please join me in welcoming back the always wonderful and inspiring Emma Williams as a special guest on our blog today! She made such an inspiring art piece to share with you! Be sure to check out the step by step process for more details and enjoy!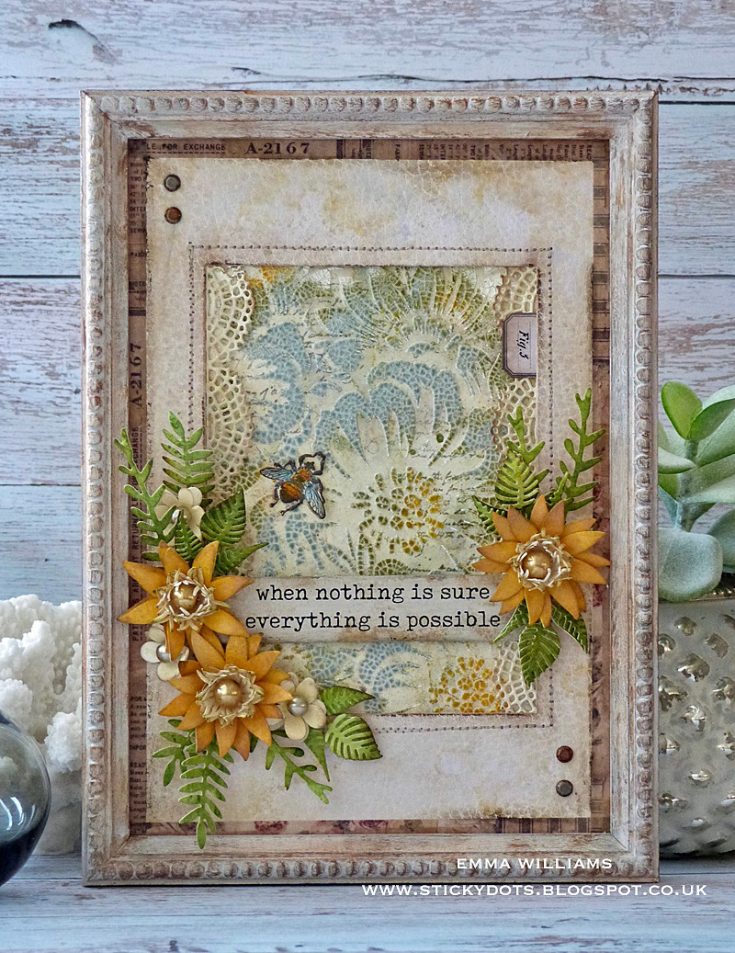 Hello everyone, I hope you're all keeping safe and staying well!
I'm really happy to be back on the Simon Says Stamp blog sharing my latest project with you all and today, I've chosen to create a home decor piece that I hope will bring some sunshine into your lives!
For this particular project, I used a Tim Holtz Framed Panel as my base and packed it full of texture, layers and plenty of detail using dies from Sizzix and plenty of Tim Holtz products, all of which will bring the whole piece to life to make a piece perfect to display for this time of year.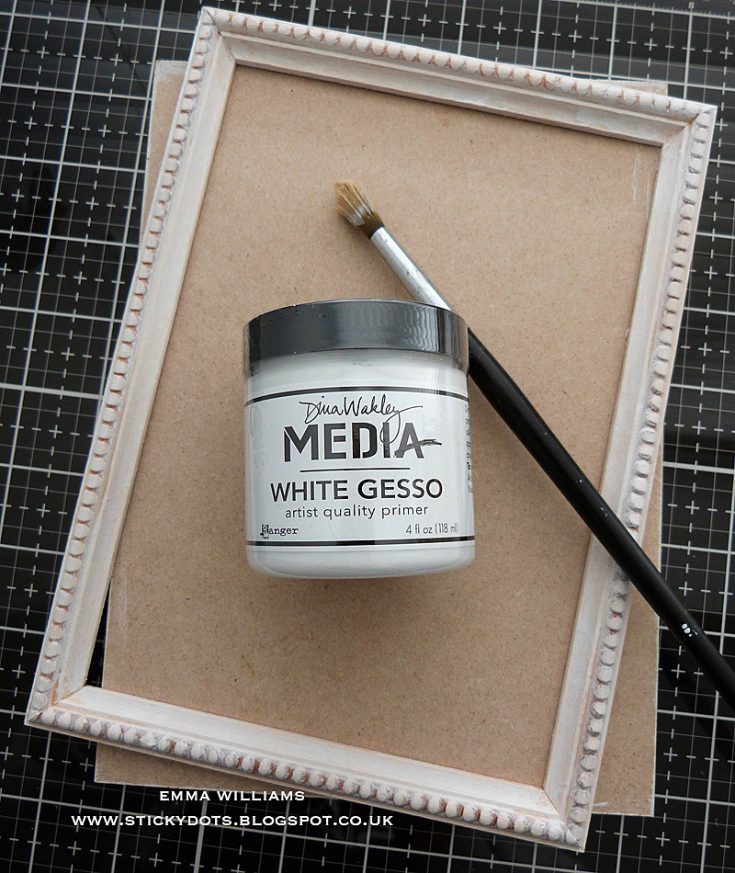 Using the 6.5" x 9" Framed Panel, which comes in two separate pieces, the frame and the baseboard ~ I began by applying a coat of gesso over the surface of the frame and around the edges of the baseboard. (You can prime the entire board if you choose but on this particular project, the background will be covered, so I usually just paint the edges and then cover the back with some paper to create a nice finish to the project).
To create a shabby chic look to my frame, I then applied Weathered Wood Distress Paint. I applied a small amount of paint from the bottle onto my glass mat, dipped my brush into the paint and then wiped the brush onto a cloth to remove the excess paint. I then dry brushed the surface of the frame and the edges of the baseboard by allowing the brush to just kiss the surface of the frame. If you do add too much, no problem ~ just apply some more of the gesso over the areas you're not happy with to knock back the color.
Gently heat dry the painted surfaces and then repeat the dry brushing technique but this time using Walnut Stain Distress Paint. Heat dry and then using the Collage Brush, apply a thin layer of Vintage Collage Medium over random areas of the frame.
Setting the framed panel to one side to dry, I moved onto the central area and cut a piece of Mixed Media Heavystock card. Lightly spritz the card with a mist of water and then spritz with Old Paper Distress Spray and Pumice Stone Oxide Spray. Heat dry the surface and I haven't shown it here but I then inked up the script stamp from the Entomology stamp set with Hickory Smoke Distress Ink and stamped the script over random areas of the panel.
Place the Bouquet Layering Stencil over the top of the inked and stamped panel, securing the stencil with some low tack tape so that it doesn't move.
Using a palette knife, apply a layer of Crackle Paste by dragging it over the top of the stencil. Carefully remove the tape and the stencil.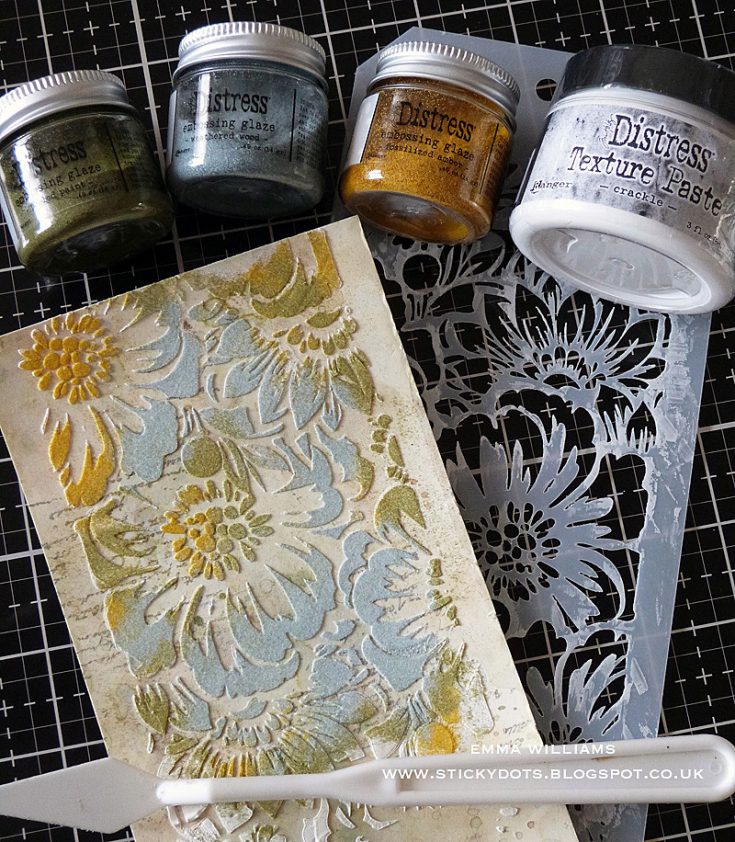 Whilst the paste is still wet, sprinkle Peeled Paint, Weathered Wood and Fossilized Amber Embossing Glaze over the wet paste, sprinkling the different colors one at a time onto different areas to accentuate the design of the stencil. Tap away the excess and set the panel to one side. Once you see the small cracks starting to appear, you can then take a heat gun and apply heat to the areas where you have sprinkled the glaze.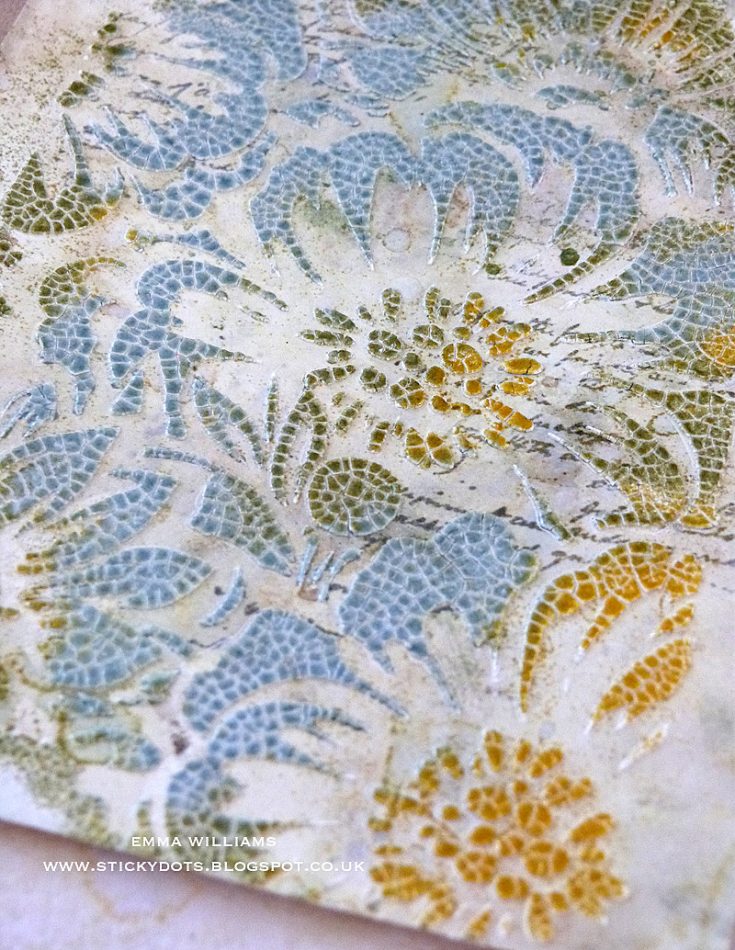 Don't overheat the paste, just apply a steady stream of heat and you will notice when the glaze starts to melt, it's then time to move onto the next area and you will end up with a beautiful crackled panel as in the photo below.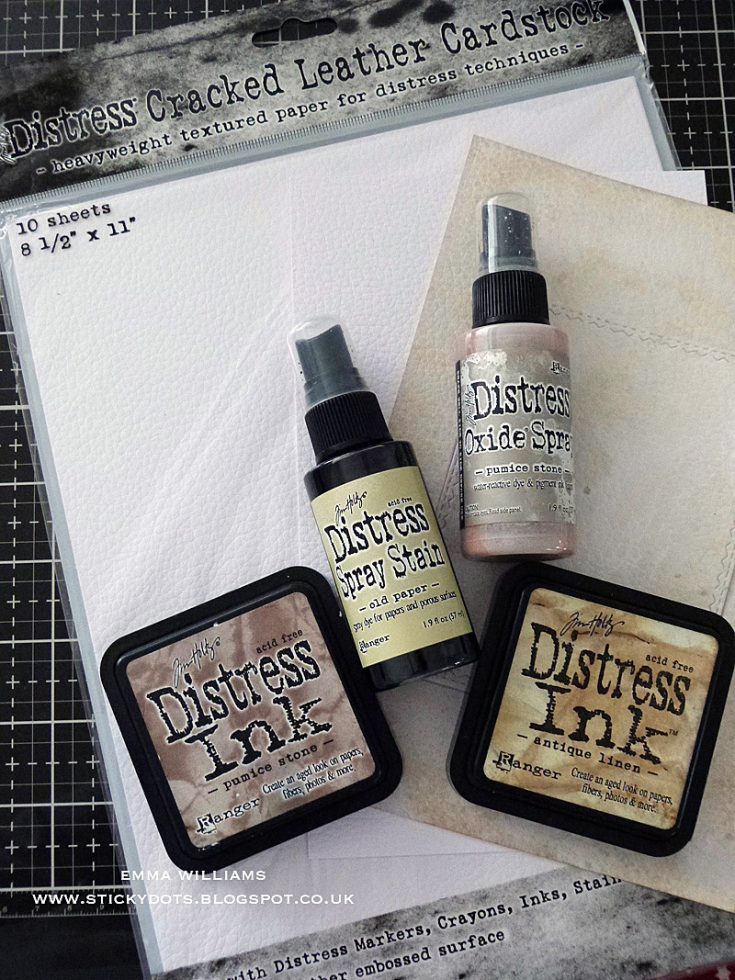 To create the aperture frame that sits over the top of the crackled panel, I cut a piece of the Cracked Leather Cardstock, cutting it slightly smaller than the baseboard of the framed panel. I wanted to create the look of 'foxing' on the card, giving it the appearance that it's weathered and worn but I still wanted to keep the color quite light and neutral, so to create this effect I lightly spritzed the card with water and then misted Old Paper Distress Spray and Pumice Stone Oxide Spray over the top. After drying the card stock I inked the surface with Antique Linen and Pumice Stone Distress Inks. Once more, I lightly spritzed water over the surface, to create little pools of ink, dabbing away any excess water before giving a final burst of heat to dry the card.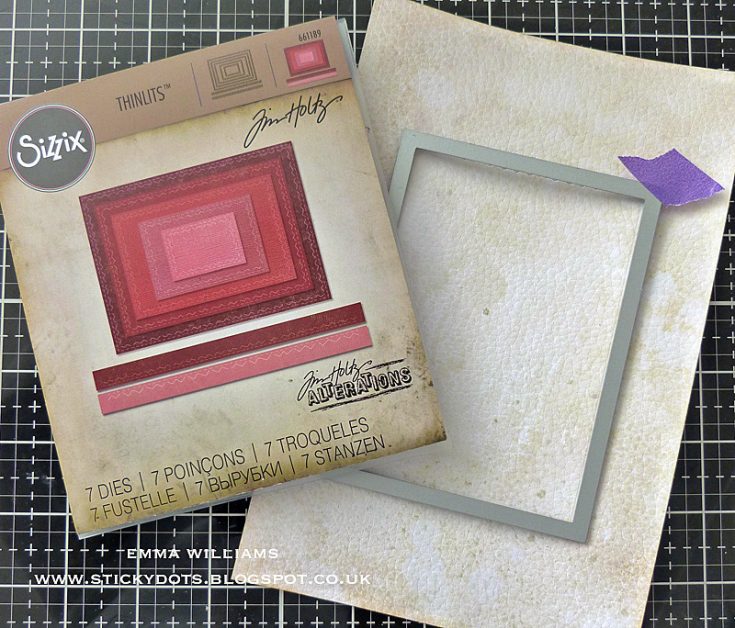 Using the largest sized die from the Tim Holtz Stitched Rectangles die set, (I have this set in my stash but you can use any die you choose to create the aperture), I placed it in the centre of the card panel and ran it through my machine to die cut the aperture before machine stitching a border around the outside of the aperture.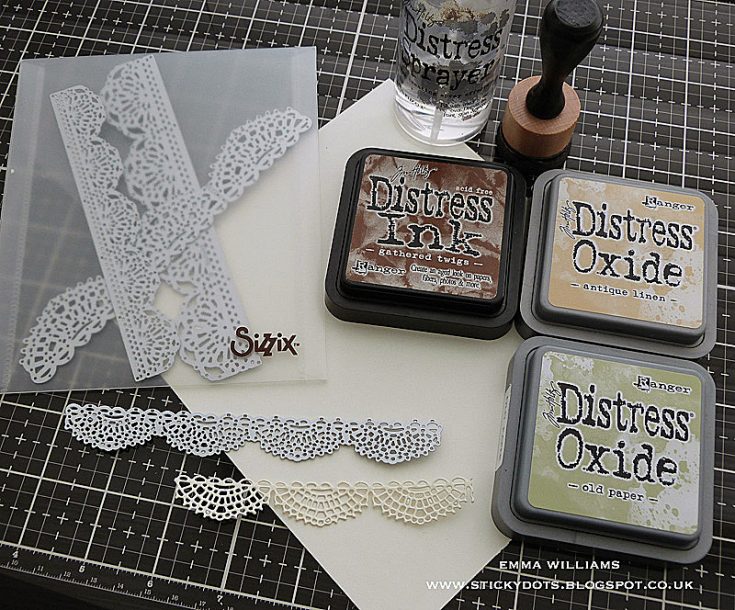 Taking one of the four dies from the Crochet Thinlit Die Set, die cut two strips of card. Ink the die cuts with a combination of Antique Linen and Old Paper Distress Oxides Inks and then spritz with a light mist of water to blend the color. Heat dry and then ink the edges of the crochet pieces with Gathered Twigs Distress Ink.
Attach the two crochet strips to the back of the aperture frame on the cracked leather card, placing the die cuts on the left and right hand sides and securing them into place with a line of tape.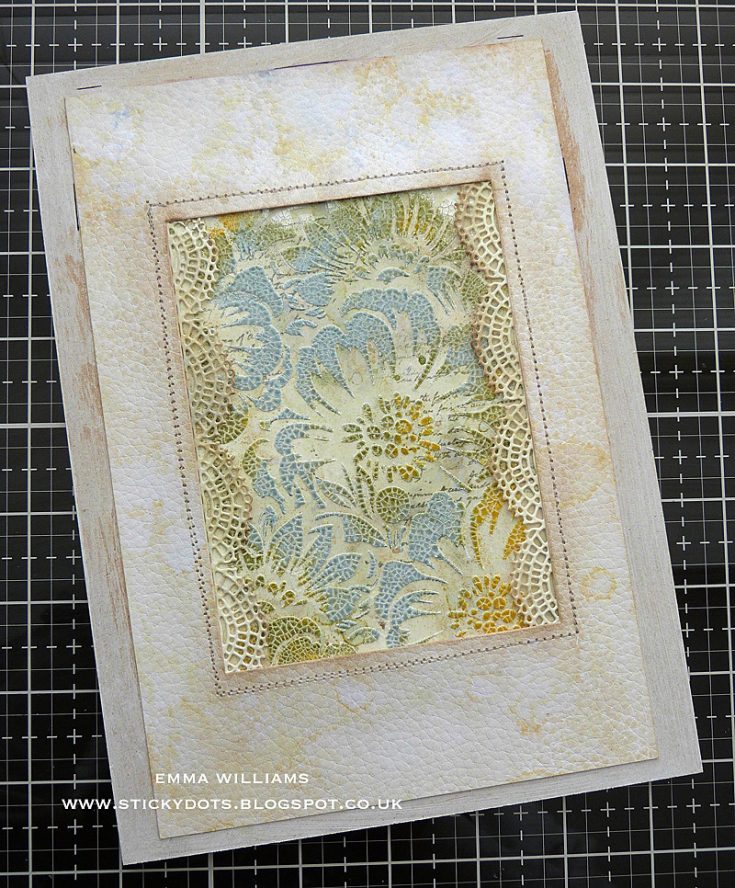 Place the stenciled panel behind the aperture window and again secure into place with a strong adhesive tape. Adhere the panel onto the baseboard using Matte Collage Medium and allow to dry.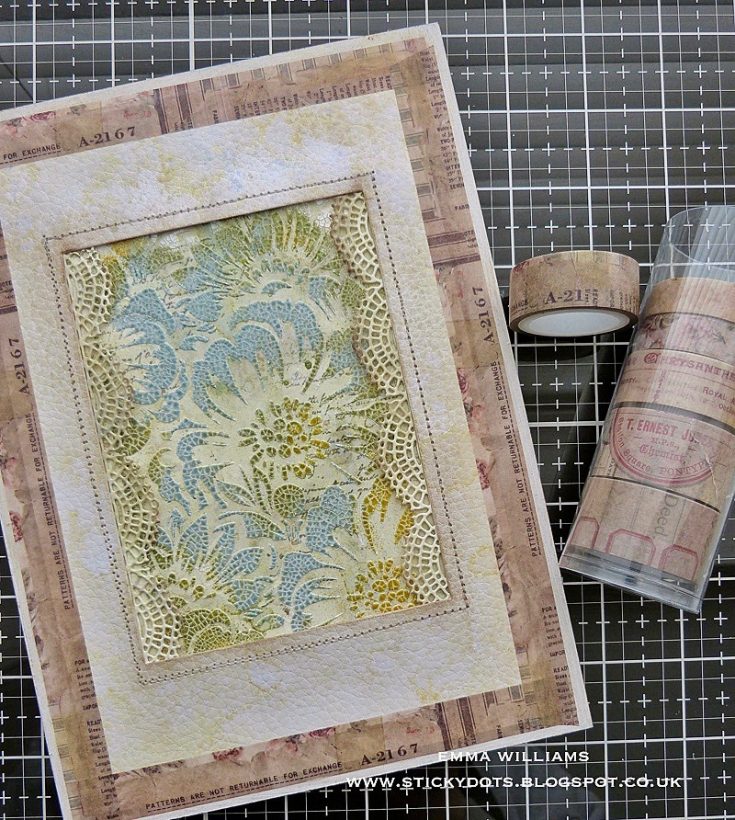 Cut strips of the Remnants Design Tape and adhere each piece around the four edges of the Cracked Leather cardstock frame to create an inner border to the wooden frame.
Adhere the wooden frame with Matte Collage Medium and allow to dry.
For the quote across the centre, which I thought was perfect for this moment in time, I used one of the Theories Quote Chips. Scribble Walnut Stain Distress Crayon over the top and then using my finger I blended the crayon over the chip. I then dabbed the edges with the Embossing Dabber before sprinkling Antique Linen Embossing Glaze over the top. Tap away the excess powder and heat until the glaze has melted.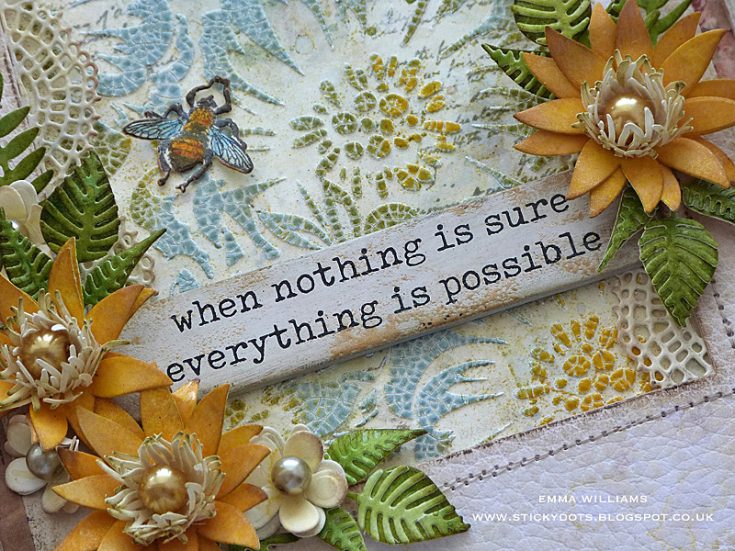 Use Matte Collage Medium to attach chip across the stenciled panel.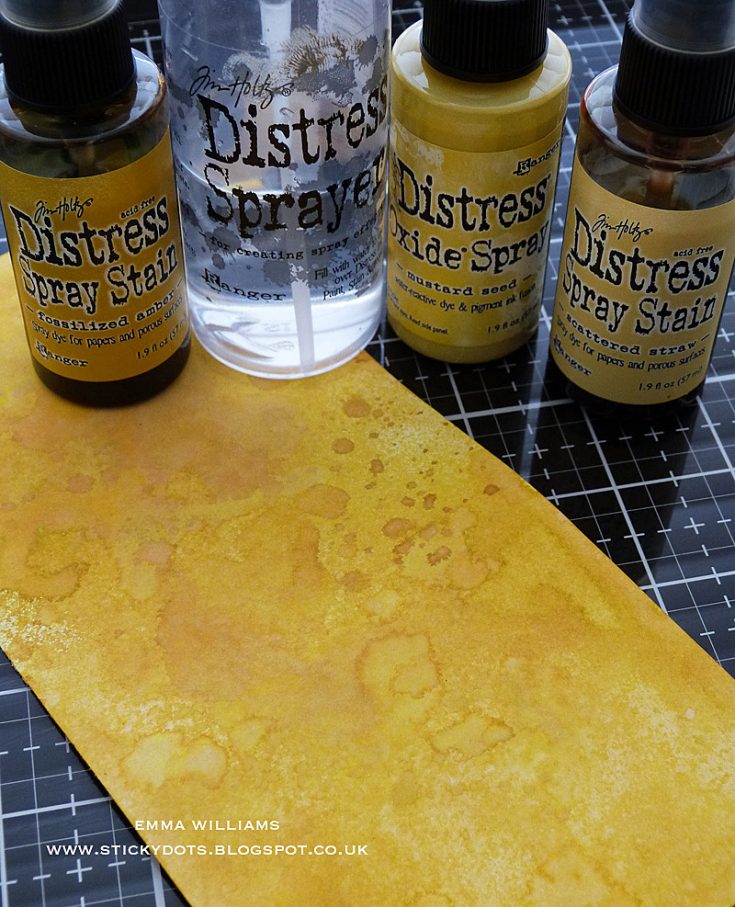 Moving onto the flowers, I began by inking panels of Mixed Media Heavystock card by spritzing the card with water, and then misting with Scattered Straw Distress Spray Stain, followed by Mustard Seed Oxide Spray and finally, Fossilized Amber Distress Spray Stain. Heat dry the card surface.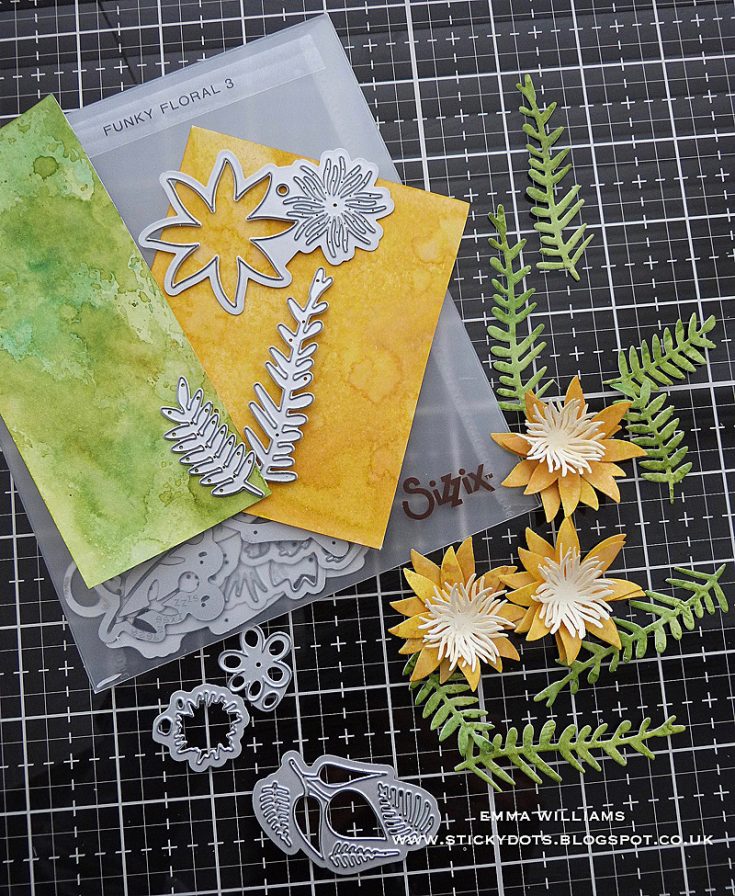 Die cut a selection of petals from the yellow card, to create three flowers. You will need two layers of petals for each complete flower. You will also need to cut six of the stamen pieces from the Mixed Media card and a selection of foliage cut from green card which is inked with a combination of Peeled Paint, Forest Moss and Mowed Lawn Distress Spray Stains.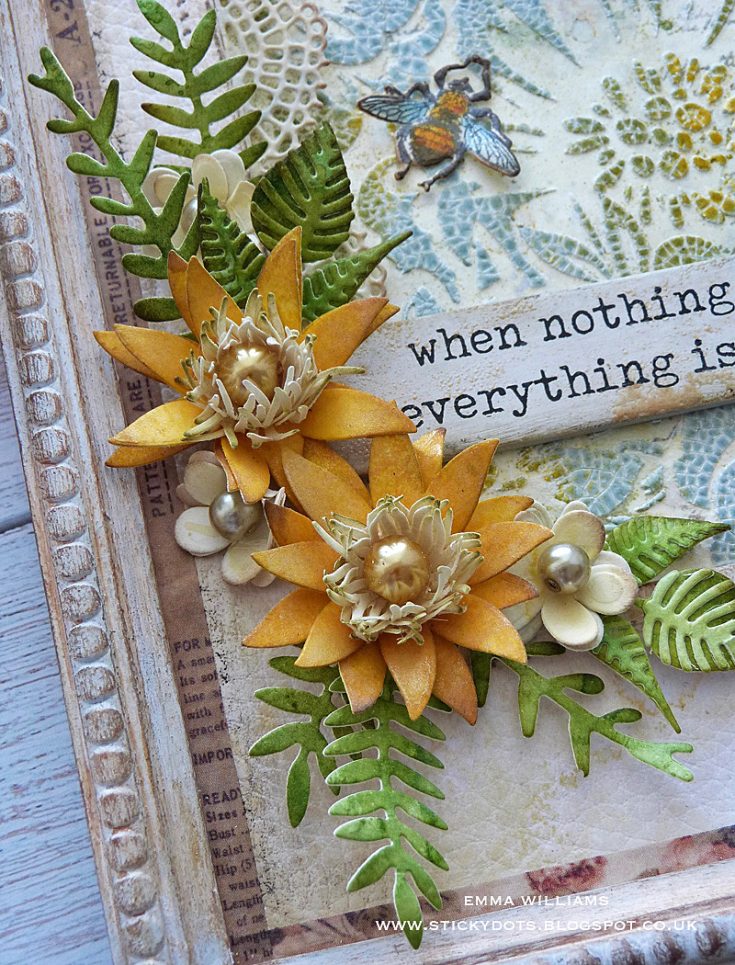 To make the 3 flowers, shape each of the petals to create a more realistic look to the flowers, and then layer them over the top of one another, slightly offsetting each layer. Layer two of the stamen pieces and attach to the centers.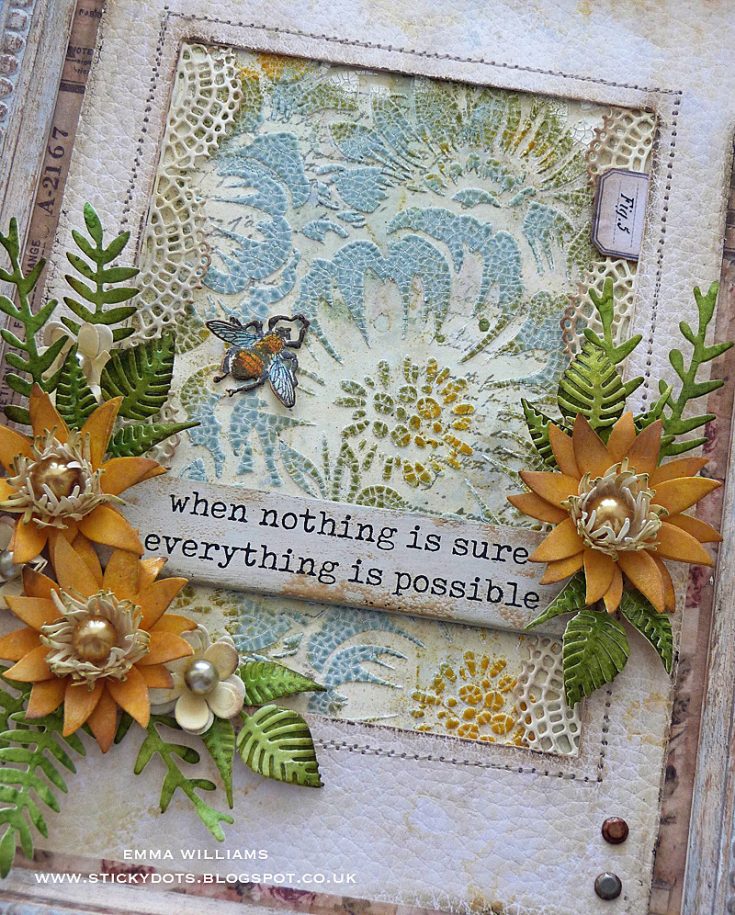 Attach the flowers, together with the foliage using a hot glue to secure them into place, arranging them to cascade around the quote chip. Using the Funky Florals 3 Die Set, I also added some smaller layered flowers cut from card lightly inked with Antique Linen Distress Ink.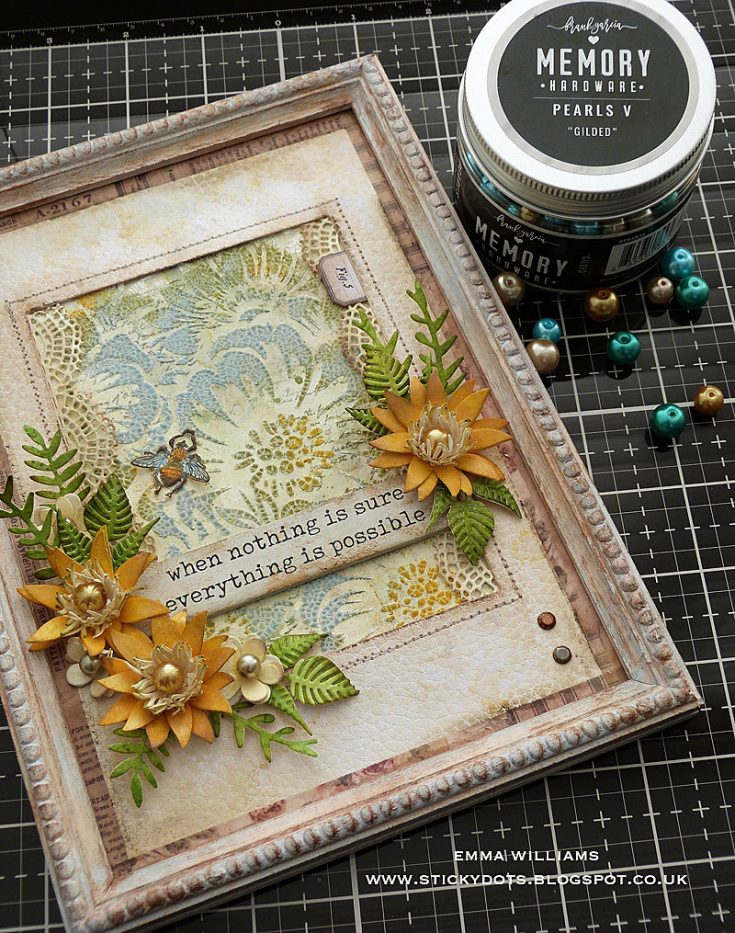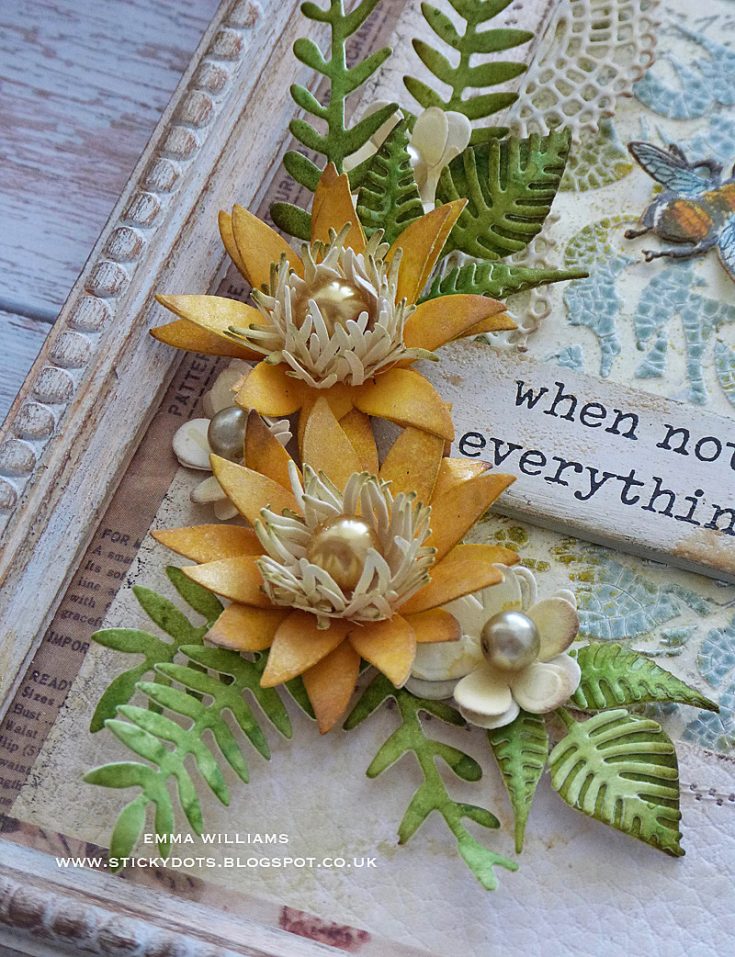 Place glass pearls in the centers of all of the flowers.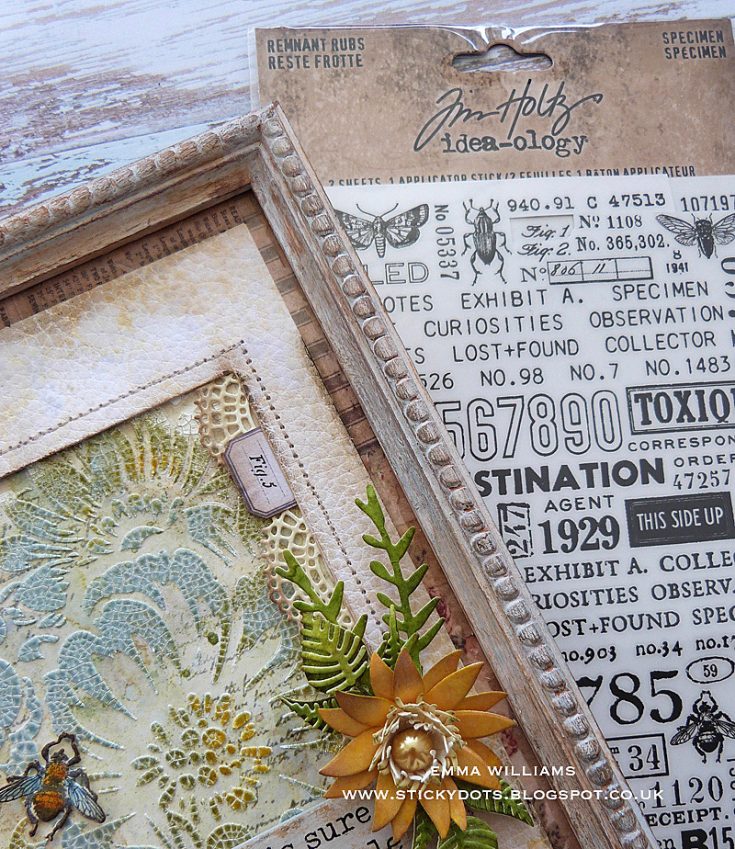 Attach a small label taken from the Field Notes Ephemera Set to the top right hand corner and apply a 'Fig 5' Remnant Rub to the label.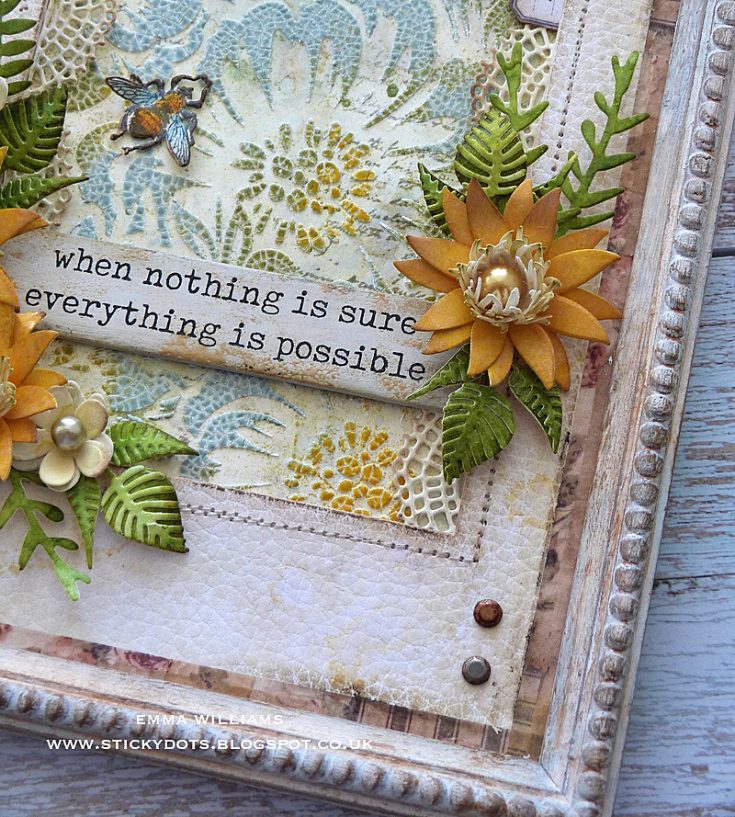 Place two Hardware Heads in both the top left and bottom right hand corners.
Finally I stamped a bee from the Entomology set onto watercolor card, and colored it with Distress Marker Pens before die cutting it with the corresponding Entomology Die Set. If you haven't got this die set, then just fussy cut around the outline. Attach the bee onto the stenciled panel.
Thank you so much for stopping by today ~ it's been fun taking you through the creative process of this project and I hope I've given you some tricks and techniques that will inspire you with some ideas of your own!
Stay safe everyone…Emma x
SUPPLIES:
| | | |
| --- | --- | --- |
| Tim Holtz Sizzix Framelits ENTOMOLOGY… | Tim Holtz Sizzix FUNKY FLORAL 3… | Tim Holtz Sizzix CROCHET Thinlits… |
| Tim Holtz Cling Rubber Stamps… | Tim Holtz Layering Stencil BOUQUET… | Tim Holtz Flip Top Distress Paint… |
| Tim Holtz Distress Paint WALNUT STAIN… | Tim Holtz Distress Ink Pad GATHERED… | Tim Holtz Distress Ink Pad ANTIQUE… |
| Tim Holtz Distress Ink Pad PUMICE… | Tim Holtz Distress Oxide Ink Pad… | Tim Holtz Distress Oxide Ink Pad OLD… |
| Tim Holtz Distress Spray Stain OLD… | Tim Holtz Distress Oxide Spray PUMICE… | Tim Holtz Distress Spray Stain… |
| Tim Holtz Distress Oxide Spray… | Tim Holtz Distress Spray Stain… | Tim Holtz Distress Spray Stain PEELED… |
| Tim Holtz Distress Spray Stain FOREST… | Tim Holtz Distress Spray Stain MOWED… | Tim Holtz Distress Embossing Glaze… |
| Tim Holtz Distress Embossing Glaze… | Tim Holtz Distress Embossing Glaze… | Tim Holtz Distress Embossing Glaze… |
| Tim Holtz Distress Archival Ink Pad… | Tim Holtz Distress Markers SET OF 12… | Tim Holtz Idea-ology FRAMED PANEL… |
| Tim Holtz Idea-ology FIELD NOTES… | Tim Holtz Idea-ology SPECIMEN Remnant… | Tim Holtz Idea-ology HARDWARE HEADS… |
| Tim Holtz Idea-ology THEORIES Quote… | Tim Holtz Idea-ology REMNANTS Design… | Prima Marketing GILDED Memory… |
| Tim Holtz DISTRESS EMBOSSING DABBER… | Dina Wakley Ranger WHITE GESSO Media… | Tim Holtz Distress Collage Medium… |
| Tim Holtz Distress Collage Medium… | Ranger Tim Holtz Distress 4.25 X 5.5… | Tim Holtz 8.5 X 11 DISTRESS CRACKED… |
| Tim Holtz Distress 1.25 INCH COLLAGE… | Ranger UNITED KINGDOM VOLTAGE HEAT IT… | Ranger EUROPEAN VOLTAGE HEAT IT CRAFT… |
| Ranger US HEAT IT CRAFT TOOL United… | Tim Holtz Tonic GLASS MEDIA MAT 1914e | Ranger Studio Paint ARTIST BRUSHES… |
| Tim Holtz DETAILER WATER BRUSH Ranger… | Fiskars Cordless HOT GLUE GUN Lia… | Sizzix BIG SHOT MACHINE Gray And… |
Thanks so much for stopping by, and thanks to Emma for being our guest!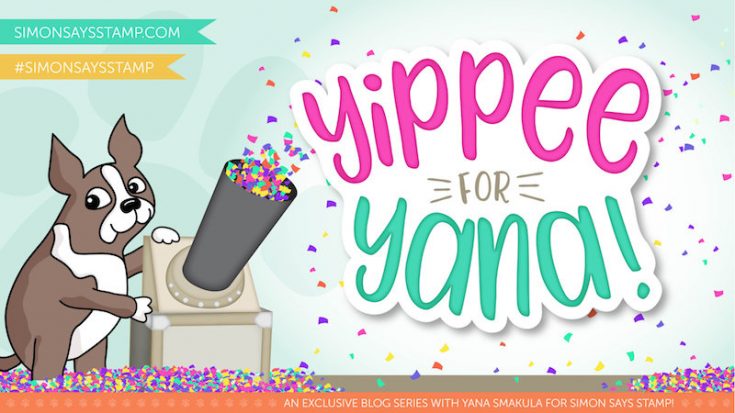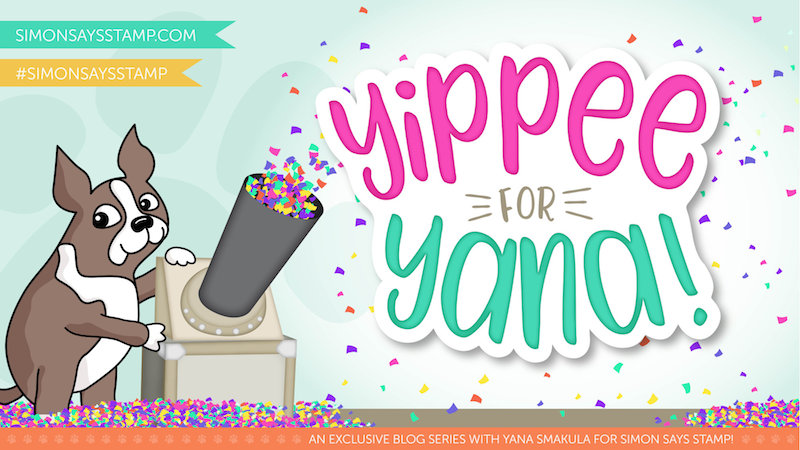 Hi friends! Happy Tuesday, and thank you for stopping by today! Check out this GORGEOUS card that Yana Smakula created with some Copic coloring and hot foiling! Be sure to read on and watch the video for more info! Enjoy!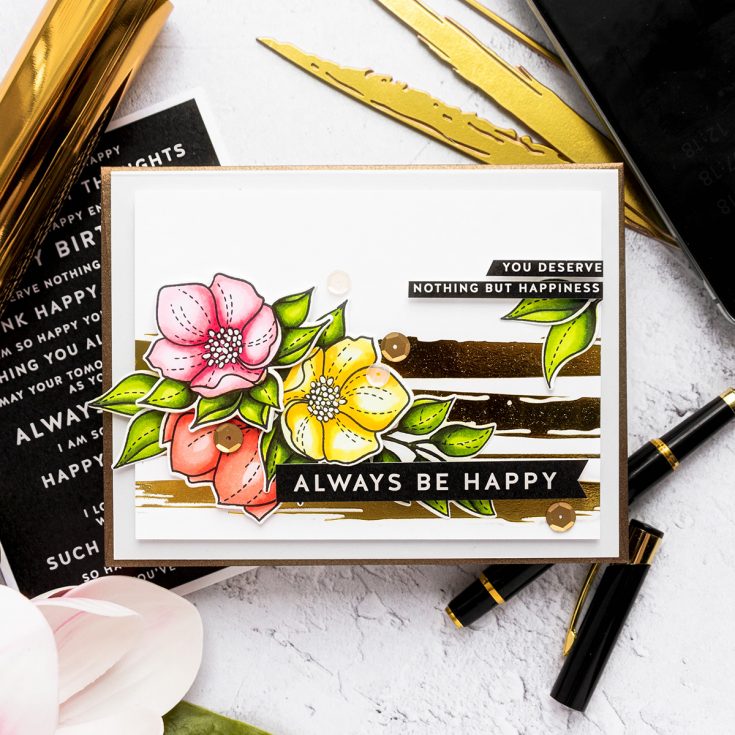 Hi everyone, this is Yana Smakula, welcome back for another Yippee For Yana video! Today I have a foiled happiness card to share using some older goodies form Simon and new hot foil plates from Spellbinders and Laurie Willison. If you've been following my videos for some time, you know how much I adore hot foiling and in planning this card I wanted to add some simple foiling to the background and decided to do that with some new hot foil plates. 
I foiled Laurie's Foiled Brush Stroke Glimmer Plates in gold foil on smooth white cardstock. Watch my video for tips on how to get perfect foiled results. 
I set my foiled panels aside and moved onto regular stamping. I really wanted to stamp and color several flowers for my card so I pulled out my older stamp set from Simon, Even More Spring Flowers, and picked several flowers and leaves and stamped them in Simon's Intense Black ink onto white cardstock.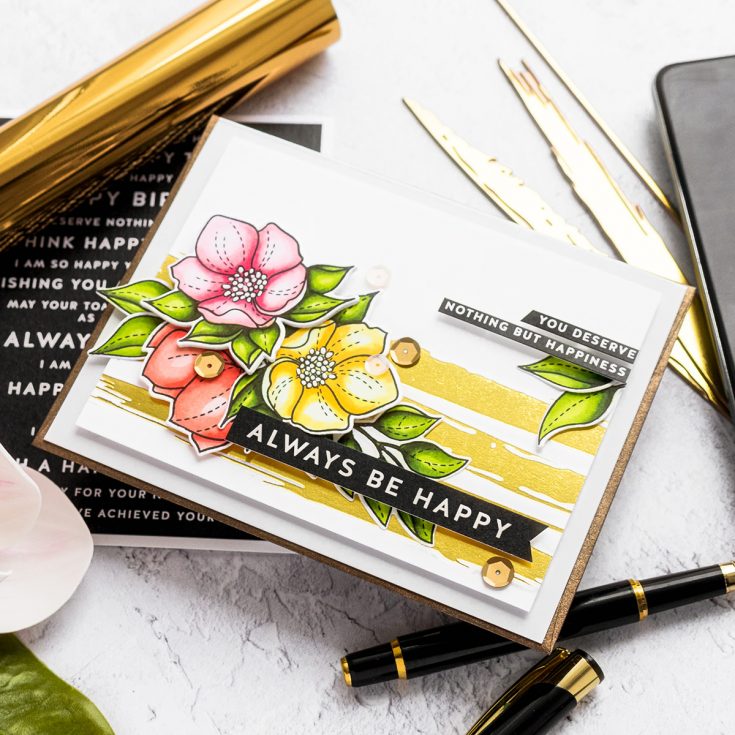 This time I really paid a lot of attention to the coloring and used more than my typical number of markers to color these images. To color the leaves green I started by applying the lightest color, YG01 onto the entire surface of the leaves. Next, I used YG03 and shaped each of the leaves leaving just a small highlight in the center of each.
Next, I used the YG17 marker and started adding shadows to each of the leaves. I added shading to the base of each and also followed any curves.
Next, I brought in my really dark green markers. First – G94, and added darker shadows to the base of the leaves trying to make the coloring as natural as possible. And finally, I used the darkest green I have in my stash – G99 and made those shadows really, really dark.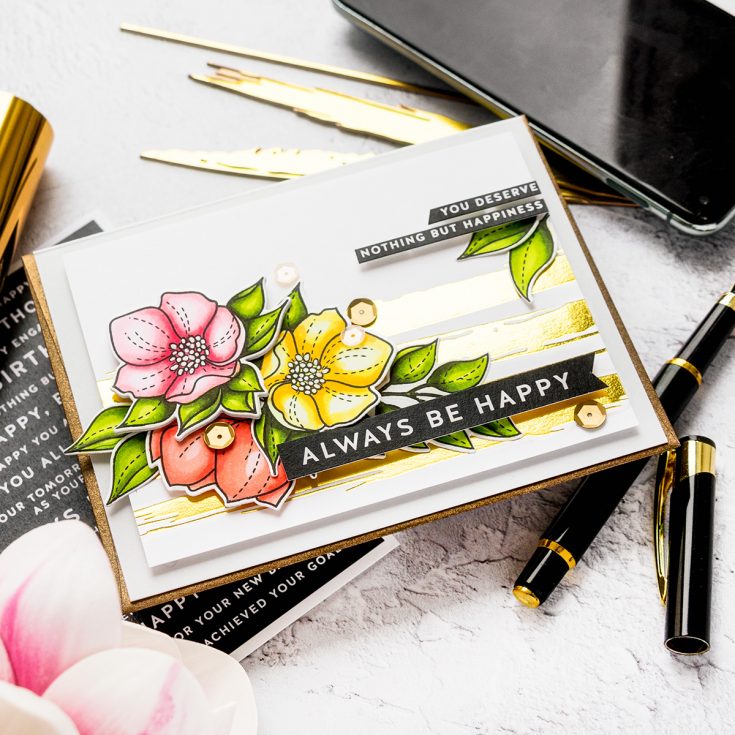 With all of the colors applied I went back to the YG17 marker and blended the darkest colors together adding more definition the leaves. Next, I used YG03 and did even more blending making sure not to go over the center highlight area. And finally, I used the lightest YG01 marker and blended my coloring even further.
I love the result and I think it was well worth the effort.
I used the same approach to color flowers and I used different colors for each. I started with RV00 and applied it all over the petals laying my base color. Next, I shaped each petal using the RV10 marker, I went back to RV00 and blended the two.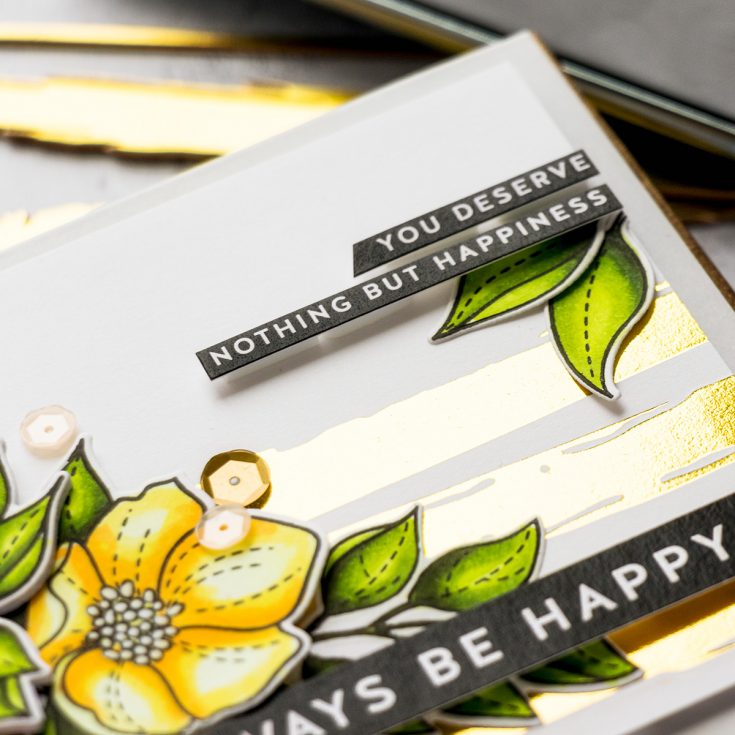 Next, I started defining the shadow areas and used the RV23 marker for that. Again I went back to RV10 and blended the colors together. I didn't as much blending when coloring the leaves because the area of the leaves was smaller, here, the petals are larger and thus I can do more blending easier. Lastly, I used the RV14 marker, my darkest pink to really deepen those shadows. I went back to RV23 to blend the colors together and blended some more with RV10.
For my next flower, I used yellow markers. I went with Y00 as my lightest color. Next, I shaped the petals with the Y11 marker. Add shadows with Y13 marker – I'm speeding this part of the video more as I'm basically repeating the same technique, just using different colors of markers. And finally created deeper shadows with the Y35 marker. I went back and blended everything using the lighter colors.
My 3rd flower was colored using light red markers. I used R20 as the base color, R22 to shape the petals and R24 to add shadows. I have a rather limited number of markers in my stash and I simply don't have enough colors to do really complex blending, but after coloring these flowers I'm actually planning to go and order some additional markers for my stash. I think it is time I expanded my collection, by at least a few markers.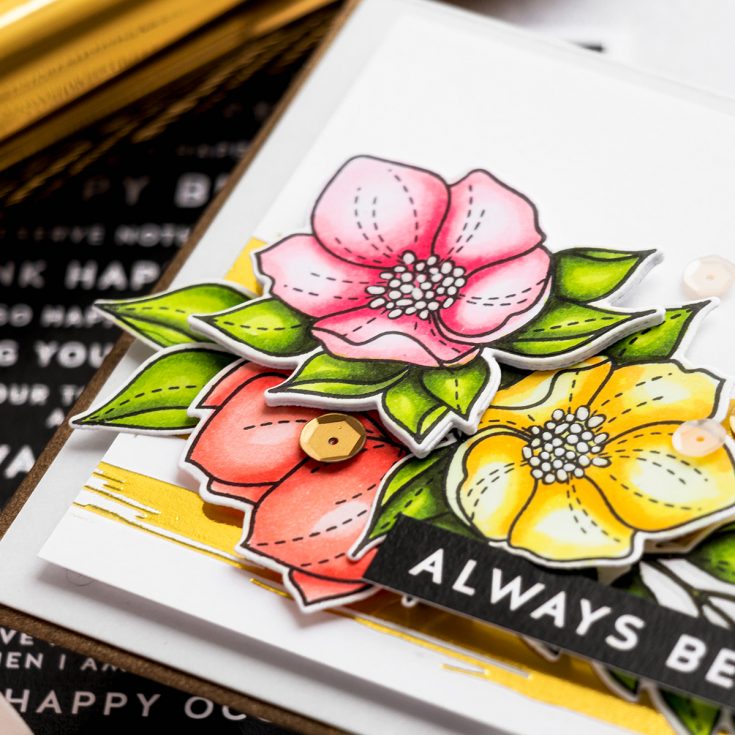 With my coloring done I cut the images out using coordinating dies. Next, I trimmed the foiled panel to 3 3/4 x 5". I also cut sentiments from Simon's All Things Happy Sentiment strips. I've grown to really like those – the fact that they are really nice dark black is what is appealing the most to me. I trimmed two sentiments – one that reads "Always Be Happy" and another skinny sentiment that reads "You Deserve Nothing But Happiness". 
I foam mounted the foiled panel onto A2 top folding Fog card base and then I used foam adhesive squares to form mount the flowers on top.
I also used my white Sakura pen and I colored the flower centers white. I think that really helped my flowers pop. I also used the same pen to clean up any marker bleeding. My coloring wasn't perfect and the marker bled in a few places on nearly every image, the beauty of using a white pen is that is able to easily cover that up. 
Next, I added the leaves and foam mounted the sentiments in place.
Have fun stamping!
SUPPLIES:
Simon Says Clear Stamps EVEN MORE…

Simon Says Stamp SENTIMENT STRIPS ALL…

GLS-001 Spellbinders GLIMMER HOT FOIL…

GLF-014 Spellbinders GOLD Glimmer Foil

Simon Says Stamp WHITE CARDSTOCK 120…

Simon Says Stamp Card Stock 100# FOG…

Hero Arts MISTI REGULAR BLACK MT300

Simon Says Stamp Premium Ink Pad…

Simon Says Stamp CRAFT TACKY GLUE…

Sakura CLASSIC WHITE Gelly Roll Pens…

Copic Sketch Marker YG01 GREEN BICE…

Copic Sketch Marker YG03 YELLOW GREEN

Copic Sketch Marker YG17 GRASS GREEN…

Copic Sketch Marker G94 GRAYISH OLIVE…

Copic Sketch Marker G99 OLIVE Green

Copic Sketch Marker RV00 WATER LILY Pink

Copic Sketch Marker RV10 PALE PINK…

Copic Sketch Marker RV23 PURE PINK

Copic Sketch Marker RV14 BEGONIA PINK…

Copic Sketch Marker Y00 BARIUM YELLOW…

Copic Sketch MARKER Y11 PALE YELLOW

Copic Sketch Marker Y13 LEMON YELLOW

Copic Sketch Marker Y35 MAIZE Bright…

Copic Sketch Marker R20 BLUSH Pink…

Copic Sketch Marker R22 LIGHT PRAWN…

Copic Sketch Marker R24 PRAWN Red
Thanks so much for stopping by, and thanks to Yana for being our guest!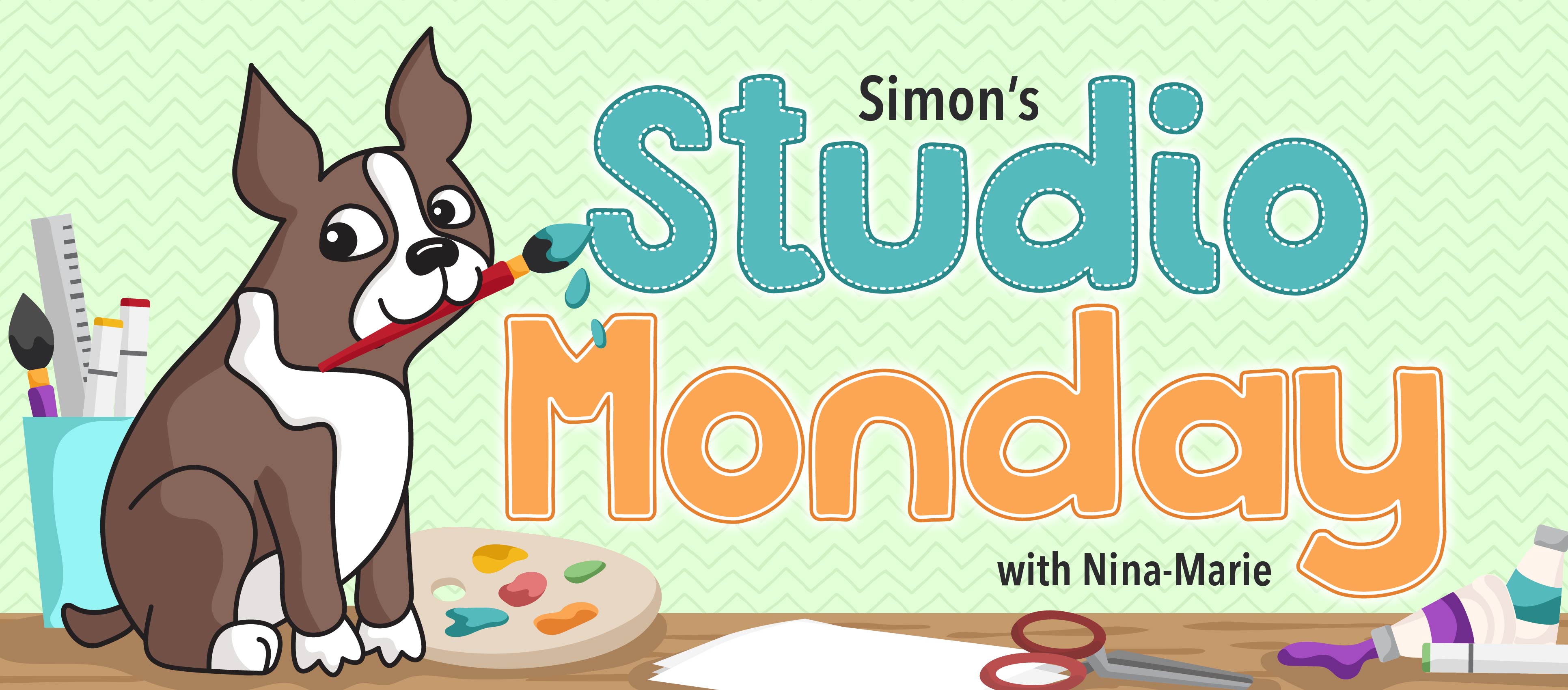 Hello friends, it's Nina-Marie Trapani here with you today!
I love finding ways to stretch the supplies I have on hand… including those Christmas and holiday supplies! And my latest idea was: what if I turned our popular Winter Floral layering stencil set into a SPRING themed design? When blended with yellow ink, the poinsettias can actually be daffodils!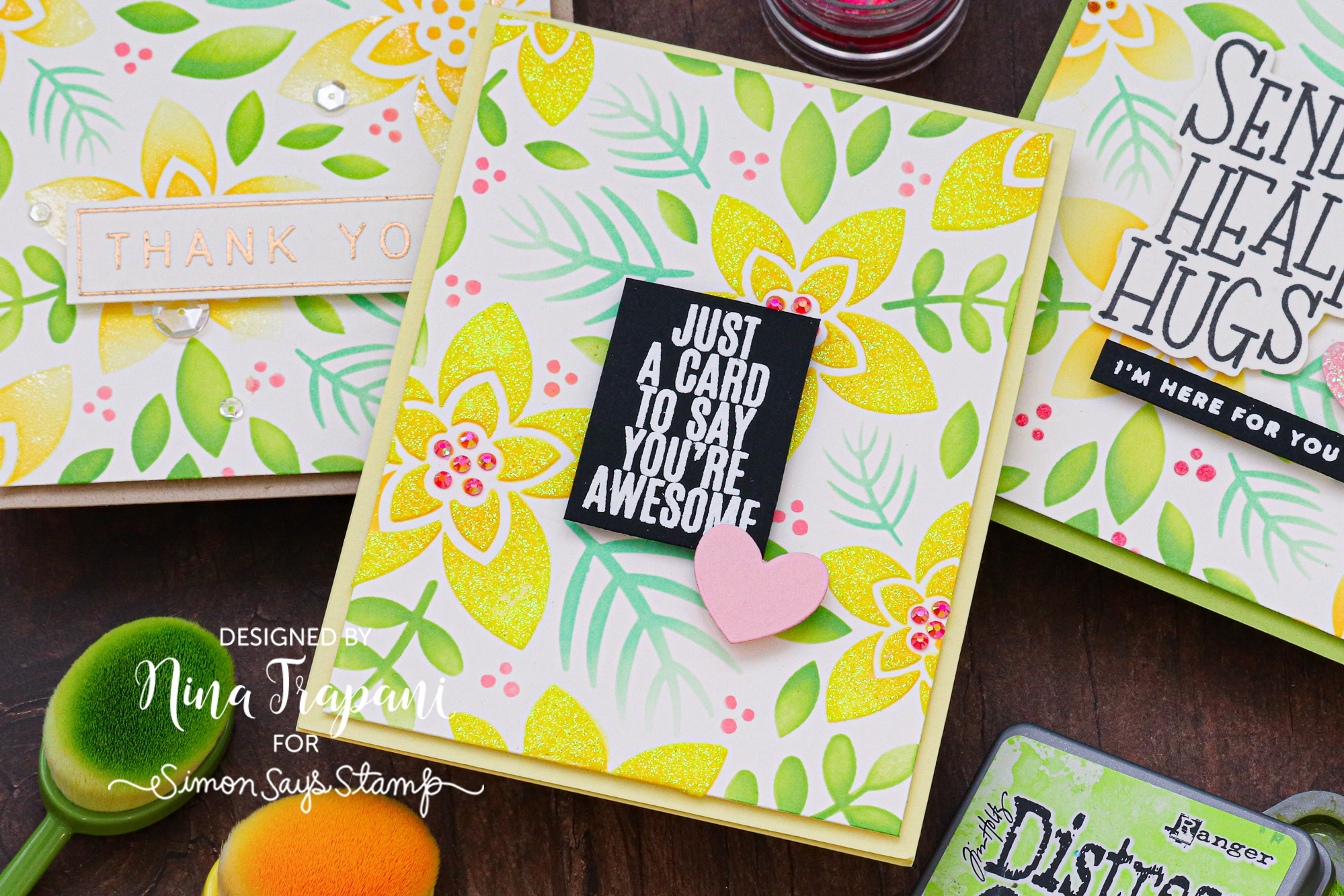 In addition to making the inked backgrounds, I'll show you how to add some fun details to your blending that will make each of the cards you create completely unique!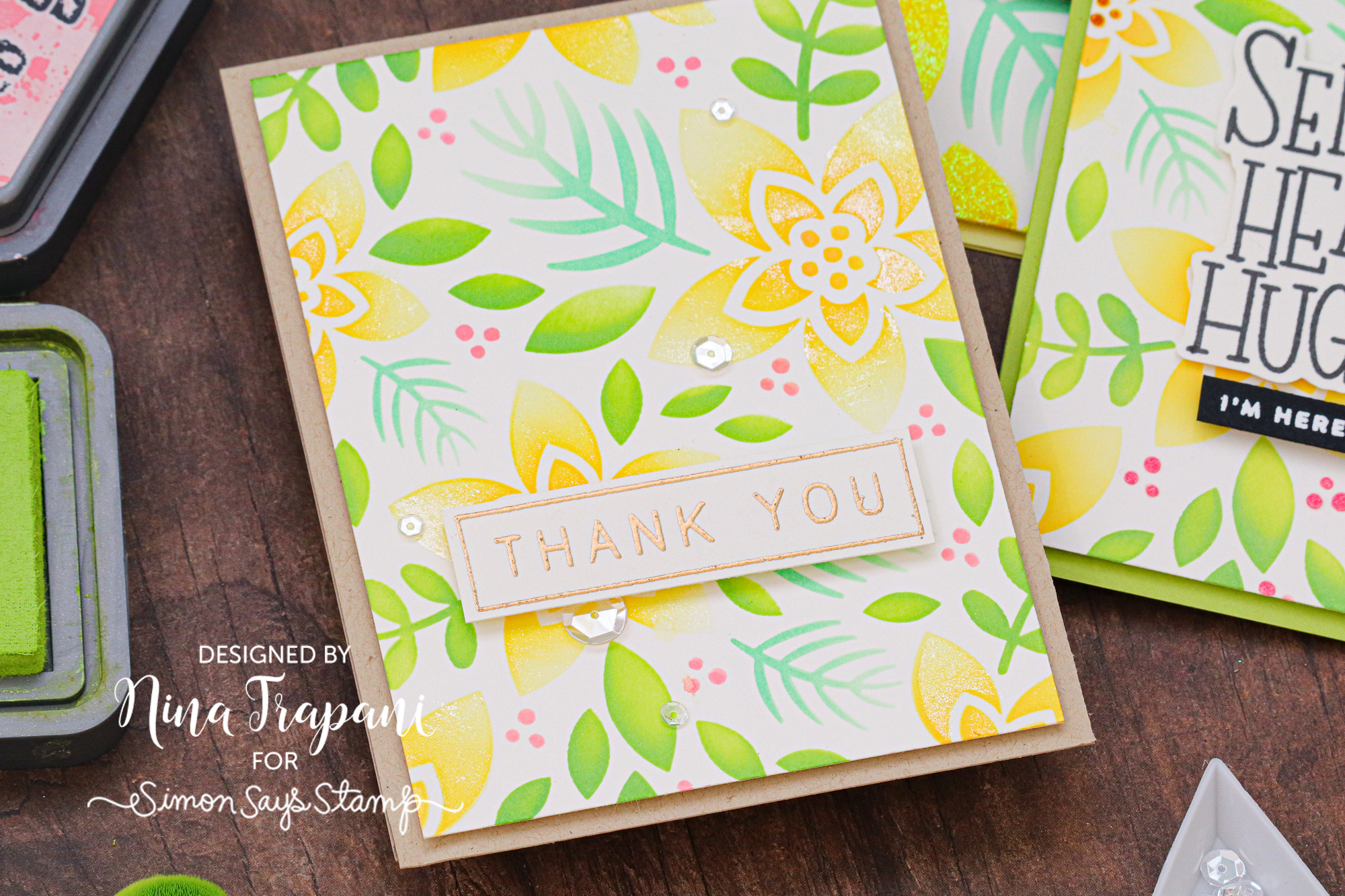 Stretching your supplies for new card projects is a great way to reuse things we already own. I encourage YOU to try this out for yourself. I loved using this holiday themed stencil set to make these Spring encouragement cards!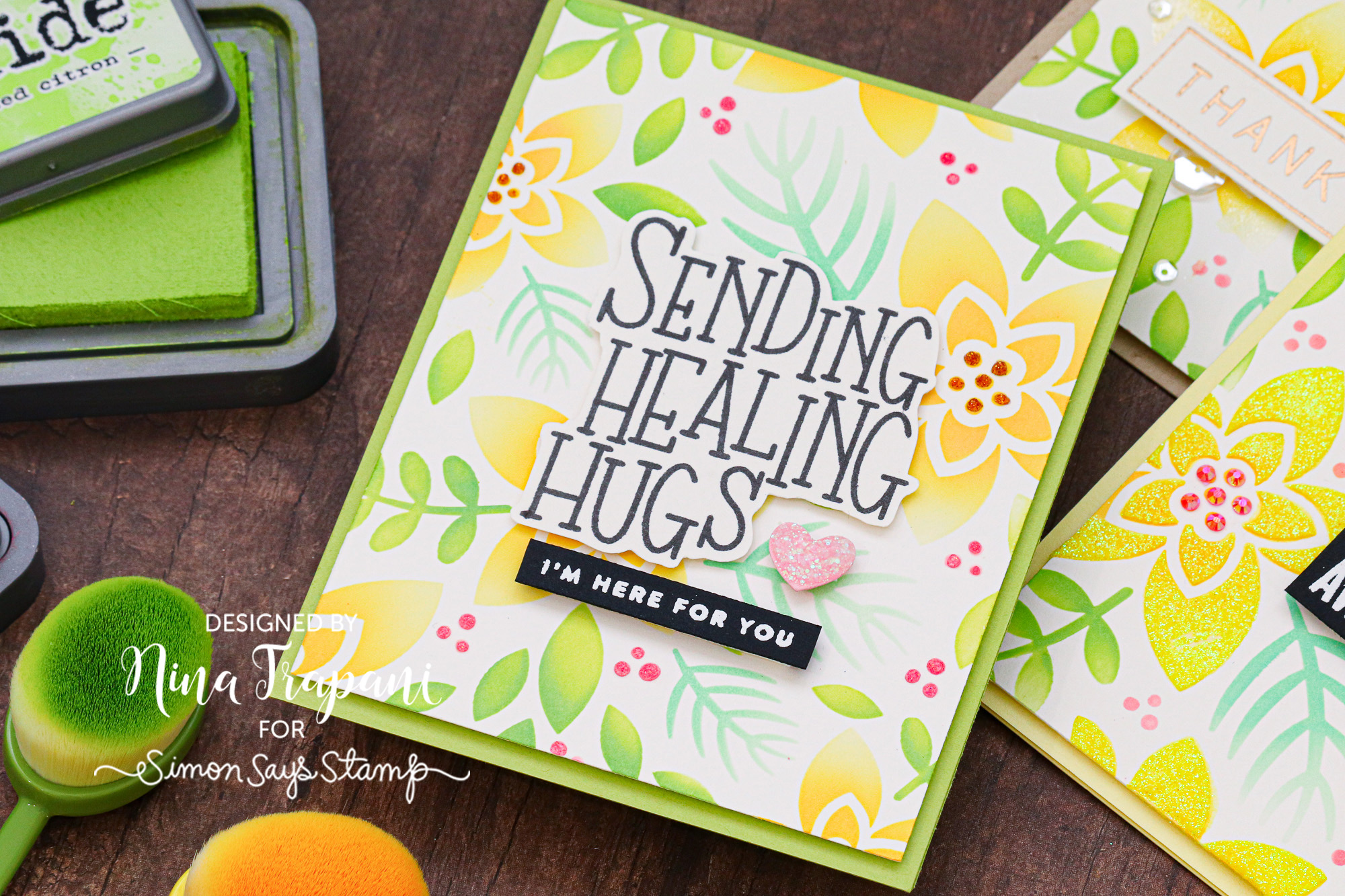 Be sure to watch the video below for all the details!
SUPPLIES
Simon Says Stamp Stencil WINTER…

Simon Says Clear Stamps GREETINGS MIX…

Simon Says Clear Stamps HEALING HUGS…

Simon Says Stamp HEALING HUGS Wafer…

Therm O Web Rina K Designs HELLO…

Stamperia GLAMOUR GEL SPARKLING WHITE…

Tim Holtz Distress Oxide Ink Pad…

Tim Holtz Distress Oxide Ink Pad WILD…

Tim Holtz Distress Oxide Ink Pad…

Tim Holtz Distress Oxide Ink Pad…

Tim Holtz Distress Oxide Ink Pad…

Tim Holtz Distress Oxide Ink Pad WORN…

Tonic ENCHANTING PINK Nuvo Glitter…

Tonic GOLDEN SUNSET Nuvo Glitter…

American Crafts Moxy GLITTER GLUE…

Ranger Wendy Vecchi MAKE ART…

Set of 5 Rainbow Pack BLENDER BRUSHES

Pretty Pink Posh SPARKLING CLEAR MIX…

Pretty Pink Posh FLAMINGO PINK Jewels

Strathmore BRISTOL SMOOTH 9 x 12…

Simon Says Stamp Card Stock 100#…

Simon Says Stamp Card Stock 100#…

Simon Says Stamp Card Stock 100#…

Simon Says Stamp Card Stock 100#…

Neenah Environment 100 LB SMOOTH…

Brutus Monroe ALABASTER Ultra Fine…

Simon Says Stamp Embossing Ink Pad…

Simon Says Stamp Premium Ink Pad…

3M Scotch DOUBLE-SIDED FOAM TAPE…