Special Guest: Tammy Tutterow
Please welcome our special guest (and inspiration for this week's challenge) Tammy Tutterow!
Hello everyone! I am so very excited to be here with you at the Monday Challenge Blog. I am always so inspired by the challenges here! I can't tell you what an honor it is to be a featured guest here!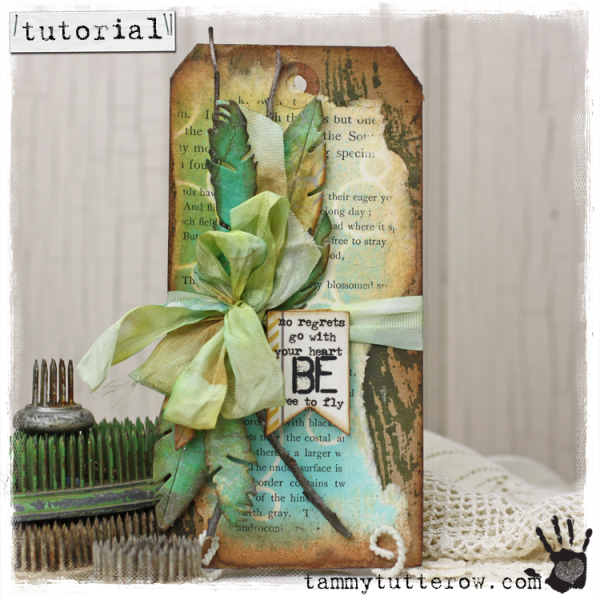 Today I want to share a tip with you that I love and use often. If you are like me, as you create you are bound to create something you don't love. Maybe it is a tag or a card front, something that somewhere along the way turns into a crafty don't, or at least you think so. What do you do with your craft don'ts? I keep a little scrap bin that I throw them in. When it is time to die cut a small element I head to that bin. Even though the original piece hit the scrap bin, it doesn't mean it isn't still usable. Having a piece already with color makes adding a quick and unique die cut element quick and easy.
I recently made a tag that just didn't end up clicking. I had applied different colors of Distress Stains and Perfect Pearls Mists. I even applied an intricately die cut piece of vellum. The vision I had for the tag and what ended up on my table were two different things. Into the scrap bin it went. This week I had two different tag projects that needed a die cut element. I grabbed that tag. The back of the tag had color that had seeped through. I stamped a label (From the Tim Holtz Sizzix Stamp and Cut Leaf Blue Print) onto the back side of the tag.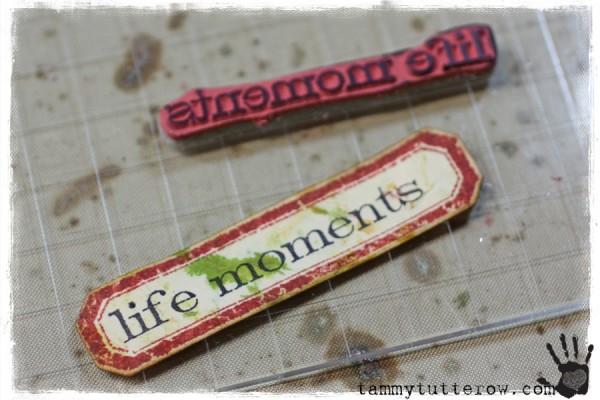 I then used the matching die along with my magnetic platform to cut out the label. The touches of color were the perfect touch to make the label a little something extra. (You can see that finished tag here)
The second project I used the tag for was to die cut feathers using the Simon Says Stamp Feathers and Pointed Feathers. I wanted lots of color and sparkle for the feathers but I didn't want to spend a lot of time coloring the feathers after die cutting them. Instead, I grabbed the rest of the scrap tag. The tag already included the colors I wanted to use. There were still bits of vellum stuck on the original tag which I left since it added some interesting texture.
After die cutting, I used an ink blending tool to accent the edges of the feathers with Vintage Photo Distress Ink.
I absolutely LOVE the way the finished feathers and label look. I think I may start experimenting with colors on larger sheets of manila cardstock just for the purpose of quick die cutting later on. Until then though, I have plenty of tag and card rejects to salvage in my scrap bin.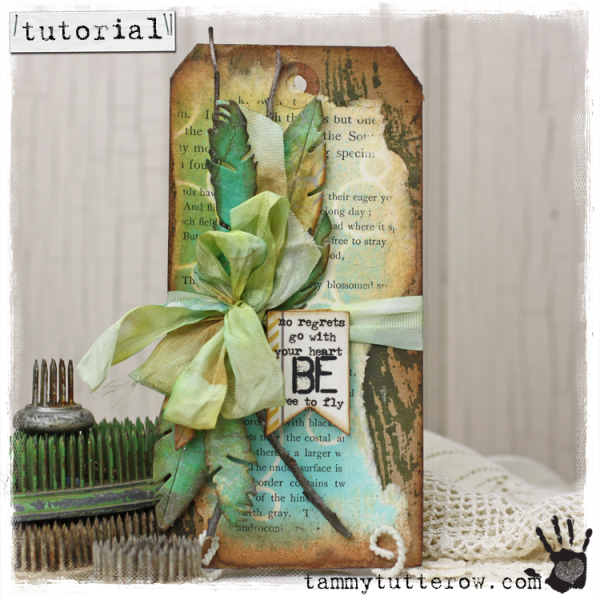 Thank you so much for letting me share with you today! And a HUGE thank you to the team here at Simon's Monday Challenge blog for using my tutorials as inspiration for their projects this week. I am beyond flattered!
PS. Would you like to see more of my Free to Fly tag shown above? I am featuring it this week on my blog here.
---

How great is this tip? Thank you to the fabulous Tammy Tutterow for sharing with us this week and for being such an inspiration!
Now – what are you waiting for? Join us in this week's challenge! For the full rules, read the "challenge rules" posted in the side-bar here on our blog, and be sure to enter the challenge in the post below this one.