Winter Art Journal with Sandra Mouwen
Hello, Sandra here. Today I want to show you how I create an art journal page, which I adhere in my art journal later. Let's start the journal journey!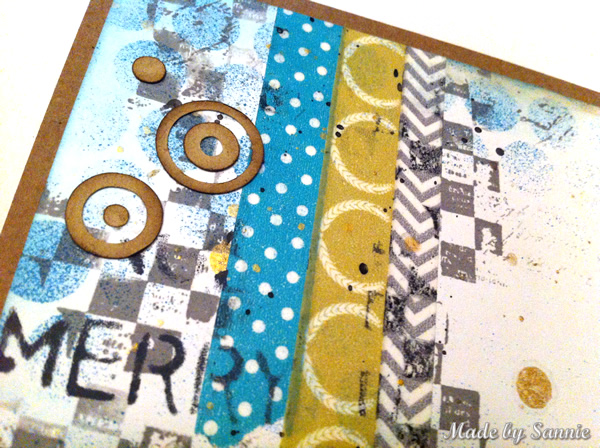 As base I work with a blank sheet of Neenah Solar White cardstock I cut to the right size so that it will fit into my art journal. To know where the middle line is, I mark the half of the page with a pencil. This helps me with the composition.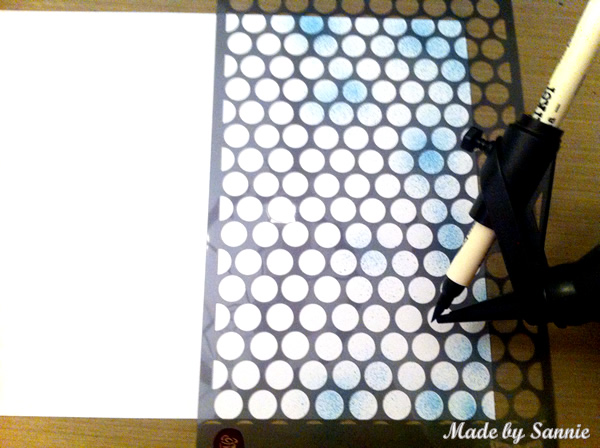 The Distress Spritzer is perfect for making backgrounds. Along with the Honeycomb stencil from Prima Marketing and Broken China marker, it makes a good start for my winter background!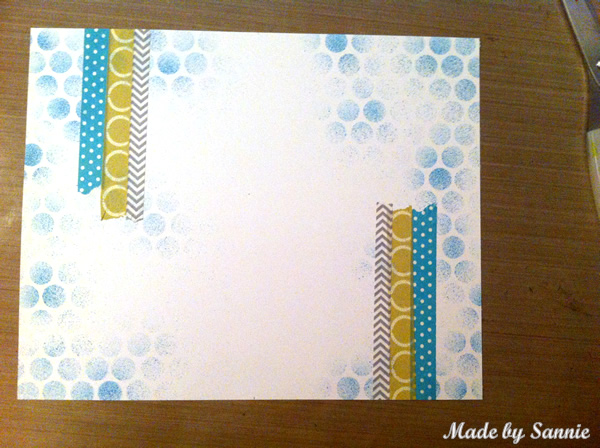 If you're familiar with my work, then you know that I just can't resist my washi tape. I've used three different colors and brands of washi; Pebbles, Kelly Purkey and Teresa Collins. Washi tape for me brings color, texture and patterns to my projects, and helps me to create a composition.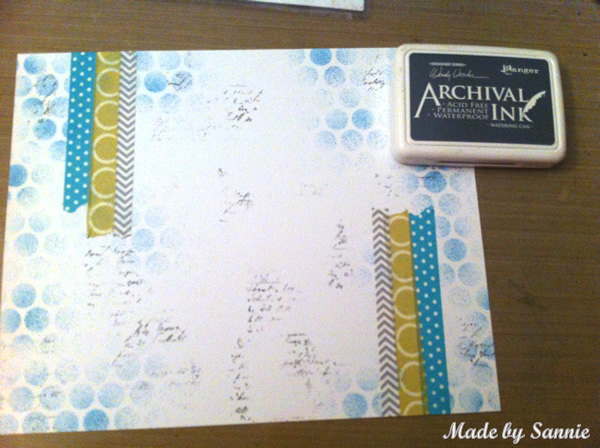 In this tutorial I use lots of my classics, like this Script stamp from Kaiser Craft. I always stamp with it without using an acrylic block. Sure gets my hands very inky every time! I chose to stamp with Watering Can Archival Ink, because I wanted the text not to be too bold. The background will stay light.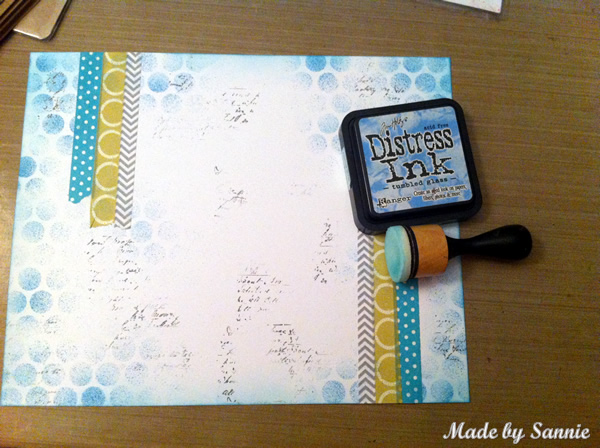 The edges I distressed with Tumbled Glass Distress Ink. With the light blue around the edges it gives the page more color.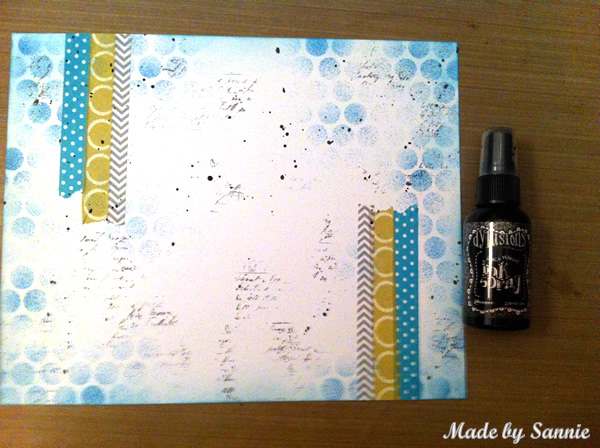 The ink splashes, well what can I say about them. It gives such a nice effect and it's a very simple technique. Unscrew the cap, remove the sprayer from the bottle and tap it with your finger quite hard like tapping the ashes from a cigarette. I did this with Black Marble, but also with Gold Lamé.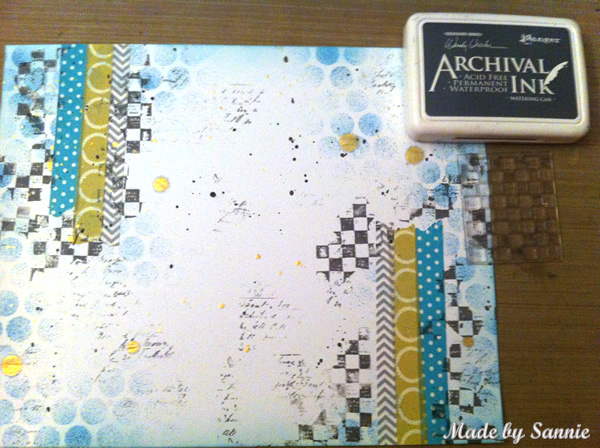 To adhence the composition of the washi tape lines I stamped with the Checkered stamp from Prima Marketing. Again with Watering Can archival ink. By adding all these layers you're creating dimension.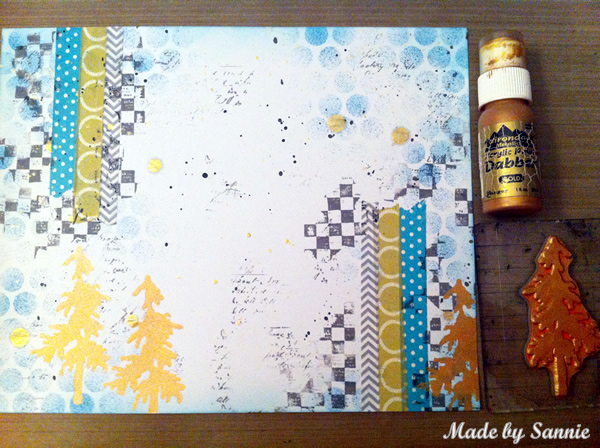 You can see that the page has a winter theme. I've dabbed a bit of Gold Paint Dabber onto my craft sheet and with Blending Foam I dabbed it lightly on the Christmas Tree. Not too much, because then the stamp will move when you stamp with it. Applying the paint with Blending Foam gives you more control over how much or little paint you add to the stamp..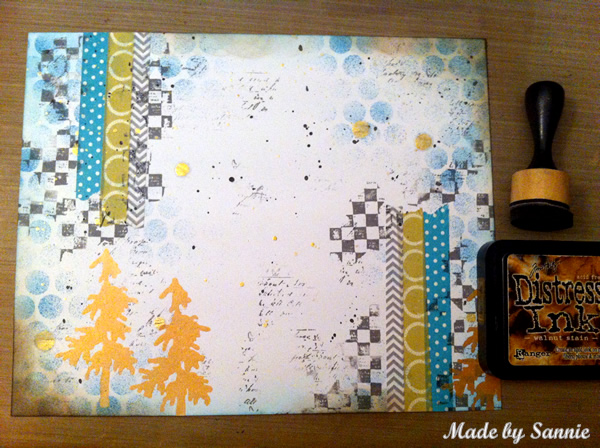 To give it more of grungy and vintage vibe, I distressed the edges with Walnut Stain Distress Ink in some places. This step gives the page such a different look instantly! Love that!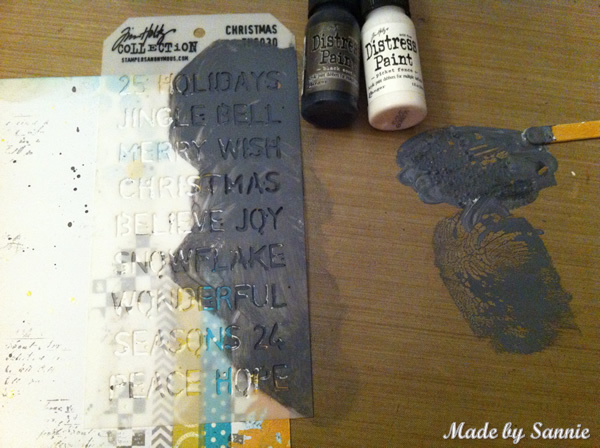 I love stencils. I often use them in combination with modeling paste, but this time I used paint. Because Distress Paint is very thin, it's important that you apply the paint with Blending Foam and gently dab it, not like you do when you use ink with a stencil and make a circular motion. I forgot that when applying it the first time on the right side of the page. Can you see the difference with the left side?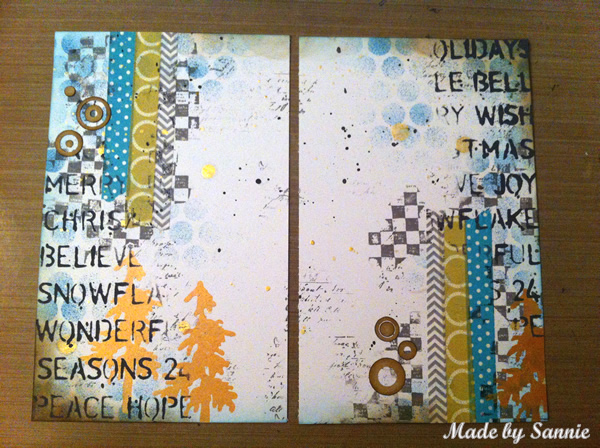 Now I'm reaching the final steps of the page, it's time for text. This is the moment I cut the page in half so that I have a better idea how the text will show in my art journal with the gap between the two pages.
note: I had to cut off a bit from the top of my page to fit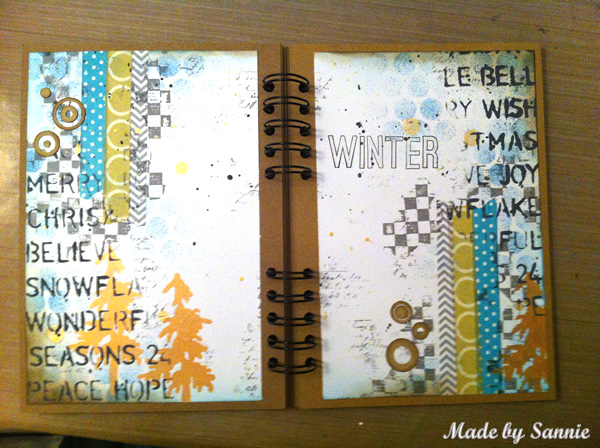 Now it is time for the text. The Simple Letter Outlines from Simon Says Stamp I stamped my first word, "Winter". With the Clear Wink of Stella Glitter Pen I glittered the letters for a sparkly winter effect.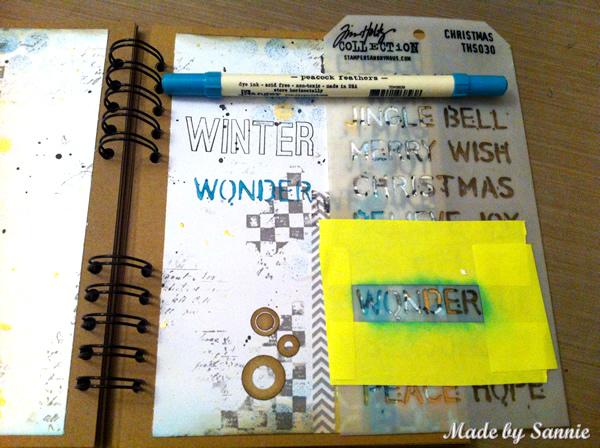 On Tim's Christmas stencil it has the word "Wonderful" and I taped so that became "Wonder". I colored it in with Distress Ink Peacock Feathers and outlined it with Peacock Feathers Distress Marker.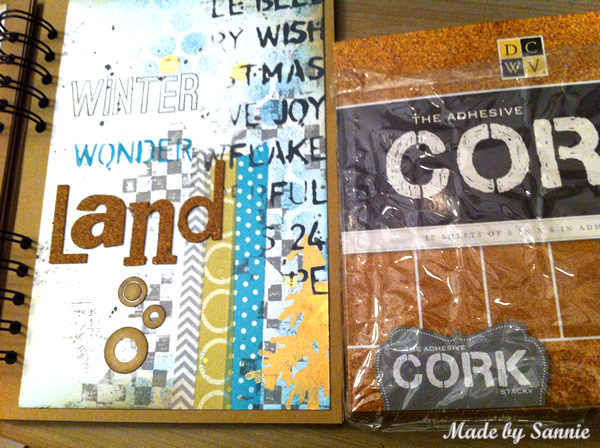 The final step was cutting out the letters with Word play from a sheet of Adhesive Cork. That gives a bit more warmth to the page. Just what this cold winter theme needed!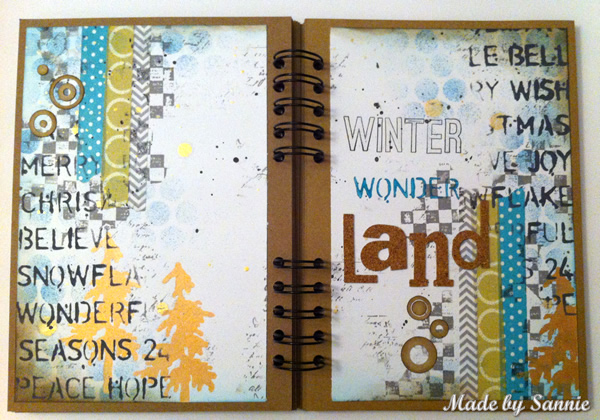 Here is the final result. I hope you liked it to see how I create an art journal page. Who knows, it will inspire you to go play too. I sure hope so! Thanks for stopping by.