Quick & Easy Tags with Andrea Ockey Parr
Hello everyone! It's Andrea here and with a new year upon us, I have a few crafty resolutions that will hopefully last longer than nine days (my resolution record for last year). In fact, I think I'll call it a "goal" to take the proverbial resolution pressure off. This year's goal? To increase the number of personalized cards and tags I make for people, without increasing the time I spend on making them.
This is no easy task for me since my perfectionist side does not do well with "quick and easy." Be that as it may, I think I've found a nice balance with these fast tags which still have personalized flowers.
To make your flowers unique and specific to either a project or a person, start with white flowers and some ink. For my tag, I used this Esplanade flower set from Prima. And have your inks at the ready for the next step!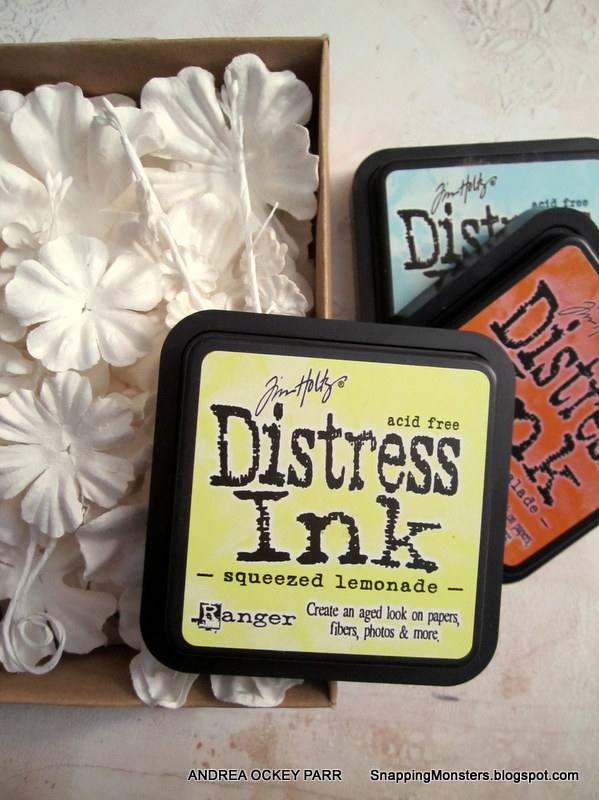 Once you've got your supplies together, use a sponge or a mini ink blending tool to rub ink onto your white flowers. I tried several different brands of ink and they all worked well. In this example, I used mostly Distress Inks. On the first flower, I blended Squeezed Lemonade, Tumbled Glass, Peacock Feathers and Rain Forest (Colorbox brand). I used Mustard Seed, Wild Honey, Spiced Marmalade, Ripe Persimmon and Worn Lipstick on the second flower. You can blend the colors seamlessly or leave little pops of brighter color here and there.
Now you get to go digging through your stamps to find just the right image to stamp onto your colorful flower. You can choose big or small patterns, but I liked how bigger bolder text looked on mine. I used Ranger Jet Black Archival ink to stamp my images with. The stamps I wanted to use were both clear sets, so I grabbed my handy-dandy acrylic blocks and went to work. The stamp I used on the blue-green flower is from Prima's Coffee Break collection and the stamp on the yellow-orange flower is from Technique Tuesday's Away We Go set.
I set my flowers aside and moved on to my tag. Using sturdy white paper, my Sizzix Big Shot, the Lifestyle Crafts Genius Platform and Tim Holtz's Framelits Tag Collection, I cut out just the right tag. I blended on some more ink (Squeezed Lemonade and Mustard Seed) and added some polka dots with Tumbled Glass and Tim Holtz's Bubble stencil. I also inked around the edges with Peacock Feathers.
I finished off the background by adding some more stamping using Ranger Jet Black Archival ink again and a Prima Epiphany stamp. I also added some black ink around the tag's edges.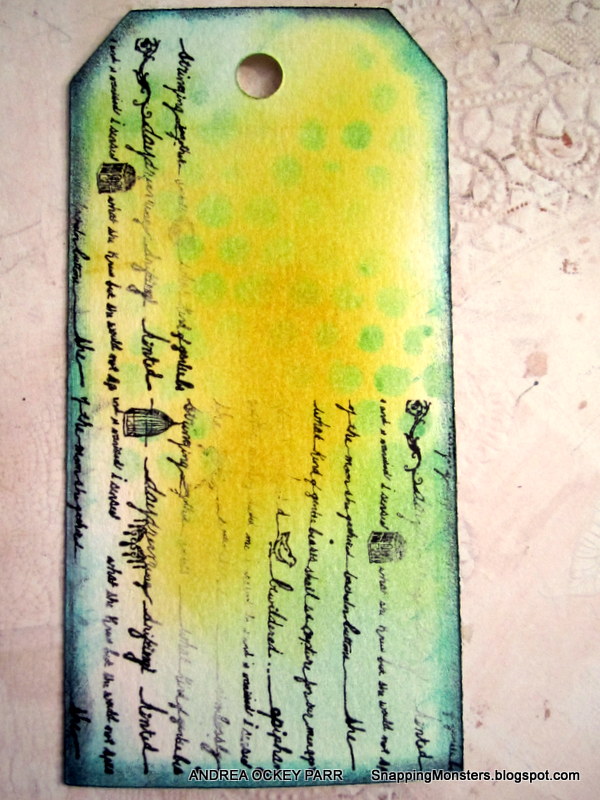 I put everything together by gluing my flowers to my tag and adding some yarn to give it that last bit of oomph.
This tag only took me about ten minutes to make and I enjoyed the creative freedom that those white flowers provided. Until someone figures out how to add an extra15 hours to every day, I'll keep trying to find the balance between being efficient and still making personalized cards and tags. I think these flowers are a good step!