From funky vintage postcards to old postage stamps, airmail patterned washi tapes to postage patterned backgrounds this week we're all about the mail! Whether you want to use those stamps in your stash, get out some real postal supplies, or perhaps just make a card to send to someone dear we can't wait to see what you're up to this week.
Mona was inspired by the air mail challenge to alter a paper mache mail box:
I applied a base coat of Gesso to a plain paper mache mailbox followed with a coat of Silver Metallic Acrylic Paint and for an aged look, I randomly heat embossed Aged Silver Embossing Enamel. I embellished it with a variety of die cut flowers including Peonies and Bitty Blossoms The postage stamp image is from Mini Blueprints 3 and the crown image is from Shabby French. The mail box is perched on a wooden spool that was distressed with multiple layers of Crackle Paint, broken china and black soot Distress Inks.
Andrea went out of the box… the mailbox, that is, with her Air Mail Angel.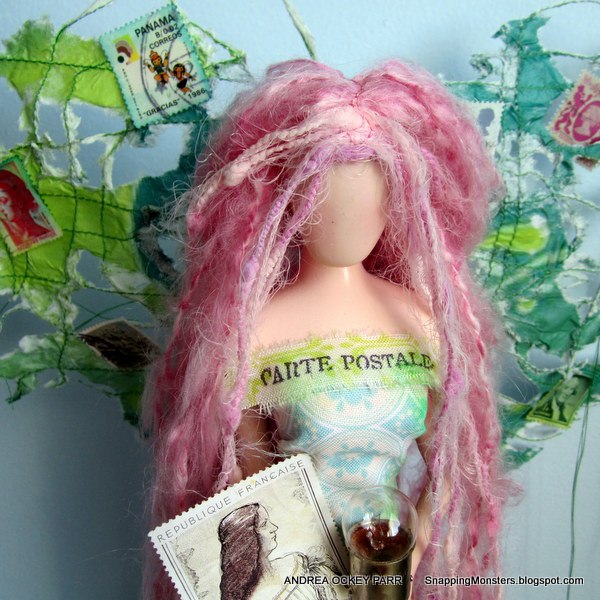 When I lived in London (insert reminiscent sigh of happiness), the only downer was that I wasn't there with family. That meant that mail brought on a whole new level of importance. The mail carrier became a beloved link to my loved ones back home and even though he was portly and had a mustache, he still seemed like an angel to me! So I decided to make my own Air Mail Angel as a tribute to those who bring us postal bliss. I brought her to life with an Avignon stamp set, a Tim Holtz light bulb to light her way, Colorbox Rain Forest ink, and of course my favorite Peacock Feathers Distress Ink.
Anna-Karin made a flowering shadow box which is ready to go postal.
I wanted to make a gift with dimensional flowers, and since it is going by mail, they needed to be protected; a recycled shadow box painted with Distress Paints was the answer. The flowers were made with the Sizzix Susan's Garden Dogwood set and the branch with Tim Holtz Bird Branch. The background is full of layered papers and stamped images, all with a postal theme. Darkroom Door has great postage theme stamps, and here I used the Butterfly Post, Love Letters Vol. 1 and Postage Stamps. The patterned papers are from 7Gypsies Postale Ledger pad and I also used a pen nib and some Chit Chat stickers.
Sandra Mouwen made a travel notebook that she can take on her city trips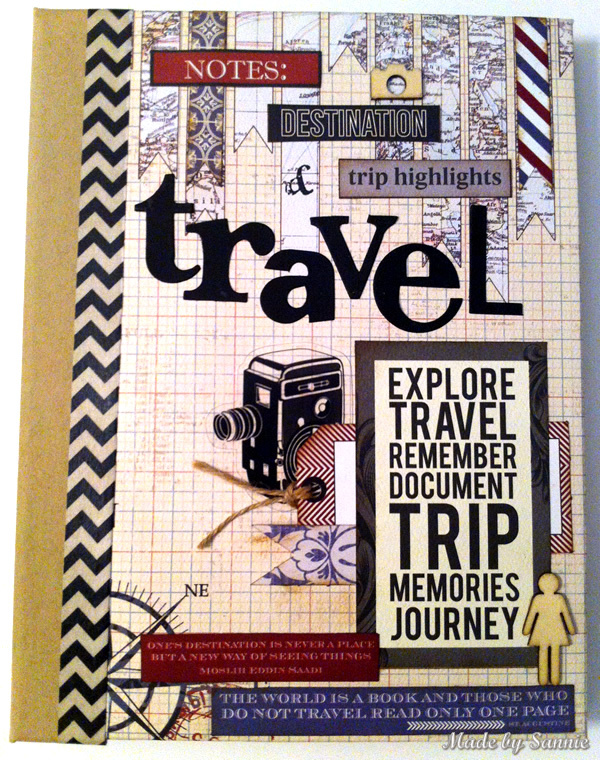 Well when I think of airmail, I think of airplanes. When I think of airplanes, I think of traveling. So this week I made a travel notebook to take with me when I'm going on a trip. Where I can store my receipts, brochures, and other memorabilia, and also write down notes about my adventures. I used the stunning Far and Away Collection from Teresa Collins, such as the Paper pad for covering the canvas panels with, the Washi tapes that I used for decoration and the Stamps to give the notepad pages some more interest. I'm in love with the Word Play die from Tim Holtz and the wooden Potty People and Cameras are so much fun. I kept the cover as flat a possible so it's easy to travel with, but gave it dimension by layering die cuts and sorts.
Ashli was a little bit stumped by this theme, until she took a trip down memory lane…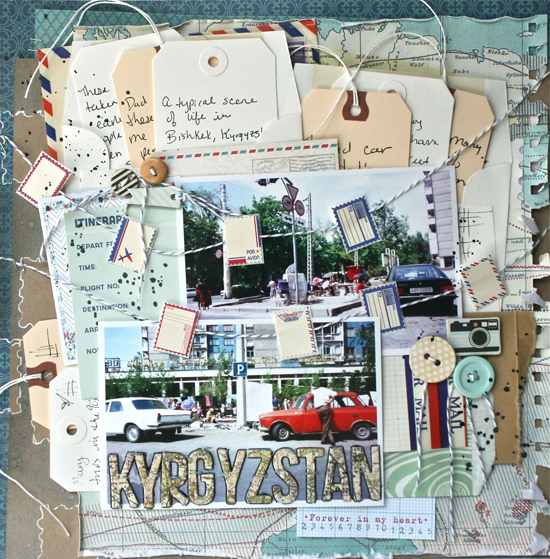 Yes, it's true… this one was initially quite the challenge for me! I don't live abroad and I hardly every travel these days. But, as soon as I cracked open some of the old family photo albums, I knew just what direction to head towards! My parents spent much of the 90's making various trips to Kyrgyzstan. While I never accompanied them, I have very fond memories of the stories they would tell upon their return. After scanning in my old photos (the originals were stuck in the old album) and printing them out, I set about layering them with some SMASH pages, October Afternoon Travel Girl, and Studio Calico Abroad. For a custom embellishment, I strung up some of the fabulous Jenni Bowlin Air Mail Stickers onto some Doodle Twine. Envelopes and Pockets full of journaling, along with some Fancy Pants Buttons, complete this fun layout full of traveling memories!
Dan tweaked the spelling of this week's theme to create his set of ATC air "males".
Air Males, I know it's a slight cheat but as I designed my set of winged men ATCs in the form of postage stamps I figure I'm still well within theme. I'm convinced that the middle guy is disappeared minor royal Lord Lucan, but I never get around to researching him to see if my mind is playing tricks on me. Jake and Winged Things 2 provided the first two guys and scary clown guy is a mash up of the guy from Wendy Vecchi's European Art set and a clown from Tim Holtz's Big Top stamp set.
Meihsia was inspired to make a postcard on a burlap canvas with beautiful embellishments.
It is always so great for me to send postcards to family and friends while traveling even with today's technology. This week, I was inspired to create a postcard on a burlap canvas which was originally a Tim Holtz District Market Burlap Panel with Christmas theme on it. I covered it with Faber-Castell Gesso and sprayed it with Heidi Swapp Color Shine in different colors. I also stamped the background using Tim Holtz Cling Rubber Stamps Bitty Grunge and Clearsnap Colorbox Fluid Chalk Ink Pads. After adding some embellishments, it is a beautiful wall/desktop decoration now.
In the spirit of this airmail challenge, Candy decided to create a vintage style altered envelope.
Don't ask me why but when I saw this challenge theme, butterflies popped into my head. To be more specific, Memory Box's Vivienne and Chloe butterflies. So, I created this altered envelope with the butterflies as the winged bearers of air mail. In my tutorial, I will show you how to use Matte Multi Medium as I have done here to create your own ghostlike photo images you can superimpose over a background. I am also having a love affair with Gilding Wax! Treasure Gold Florentine and Aquamarine Gilding Wax give the butterflies an almost stained glass appearance. Notice the corners? These are Simon Says Stamp's very own Allegro Corners die cut coated in Treasure Gold's Copper Gilding Wax. Aren't they so delicate and vintage looking?
Tracy thoroughly enjoyed creating this dimensional piece, everything fell into place with ease!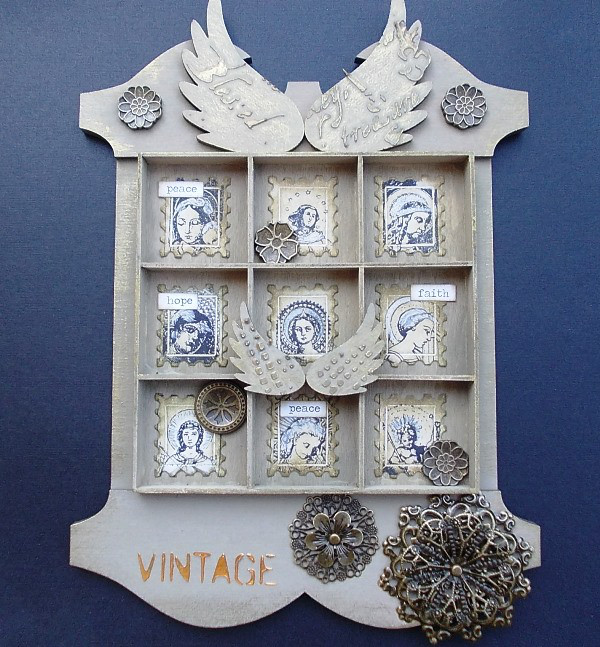 A combination of elements were my inspiration for this piece. One being a craft room clear out and stumbling across a Prima Flowers Wood Icon box; perfect I thought for this challenge. Second element was a new purchase of the Mini Bottle Cap and Stamp die, which fitted perfectly into each compartment of the box, result! My third element was found whilst I was looking for something to mount my icon box onto when I found Wendy Vecchi's Dimensional Sign Board tucked behind a cupboard; the wood icon was a perfect fit, don't you just love it when a project comes together so smoothly, it was obviously meant to be!
Suzz loves getting mail especially airmail from overseas. This inspired her to make a Parisian inspired tag.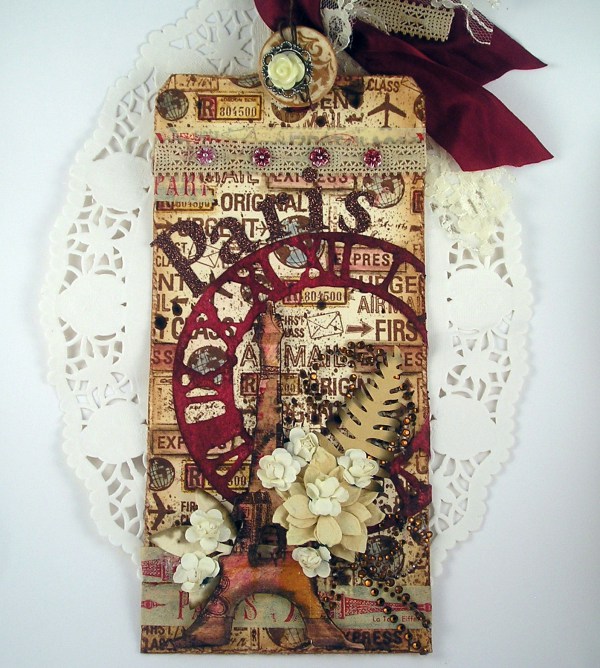 This tag started with using the Hero Arts Around the World to create a background. I spritzed the background with a Huey Mister Brown to add the texture of mail that has been travelling around the world. To continue my trip around the world I pulled out some beautiful Paris inspired tissue tape from Cavallini & Company to use on my background and on my Eiffel Tower die cut from the Tim Holtz Sizzix Die.
Michelle is hoping that her altered mailbox will be filled with fun mail.
I altered a plain, novelty mailbox with postage stamps and decorative papers from Bo Bunny's Anthem Collection. 7 Gypsies clear stamps and Air Mail Washi tape gave the box some authentic vintage flair. Fun Twine from Maya Road added a great finishing touch.
WOW! I don't know about you, but I think the design team really out did themselves this week! For more inspiration click on our design team's blog links so you can see more photos (and full supply lists) for their projects. Leave them a little comment love while you're there so they know how they've inspired you too, if you're so inclined.

As always, Simon Says Stamp is giving away a $50 gift voucher that will go to a random entry chosen by random generator. To qualify all you need to do is create a new project that ties in (in any way!) with our theme and post it, along with a link back to this challenge, and add a link here. This challenge will end at 11:59pm on Sunday August 11th Eastern time.
We will also be choosing some of our entries to put in the spotlight – a special honor where we talk about why we loved that entry in particular and award a special badge too!
For the full rules, read the "challenge rules" posted in the side-bar here on our blog.
[raw]
[/raw]