Enjoy!
Hi there, Simon friends! So happy to see you all again and bring a simple technique and a few cards your way.

I don't know about you, but I sure dig the look of stamps that are more on artsy collage side,  I'm not a super artsy stamper though so I'm always in the hunt for not-so-intimidating ways to use them.

Enter: The Watercolor Background technique.

This is such an easy way to get some mileage out of those more artsy stamps.

All you need is watercolor pencils, some watercolor paper, a couple artsy stamps and a good black ink pad.

Cut a few strips of paper and scribble some color onto them with watercolor pencils. Don't be too fussy. Just regular old scribbles will do.
Spread the color with water. Use either a

waterbrush

or good old paint brush.
After the colors dry, you'll get a whole pile of pretty papers that look kinda like this.
I took those papers you see and made cards with them.
For my first three cards, I used a couple artsy looking stamps from

Technique Tuesday

. I simply inked up with black ink and stamped right on top of the watercolored panels.
It's such an easy technique, but the results are really stunning.
For this one, I used Technique Tuesday's Scritch Scratch stamp to repeatedly stamp a pattern onto one of my watercolor papers. Then I used die-cut the awesome word out of it of a couple times to use on it on my card.

Got to admit that I think the awesome words look pretty cool with the color and Scritch Scratch pattern on it.

Thanks for having me today! See you again soon!
SUPPLIES:
Thanks for reading today and thanks to Teri for this rainbow of fun inspiration!
Giveaway!!!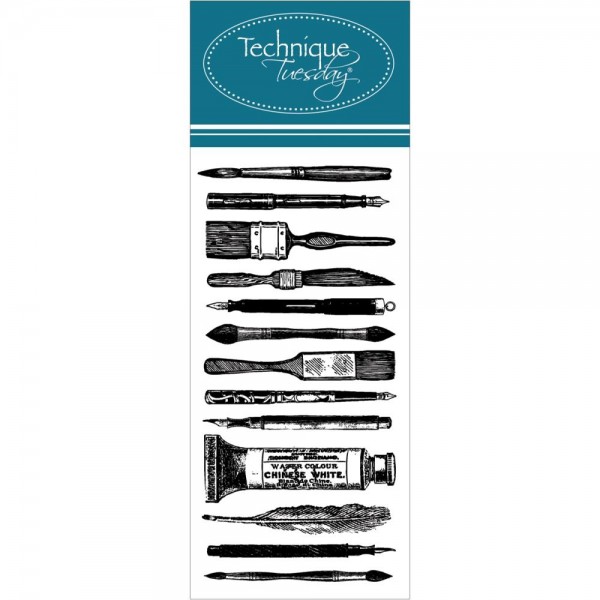 The kind folks at Technique Tuesday are giving away the Pens & Brushes stamp featured in this blog post today to a lucky commenter! Comment on this blog post and subscribe to our blog for a chance to win! Good luck!