New Summer 2020 Lawn Fawn + Inspiration
Happy Thursday, friends! We're thrilled to share the NEW Summer 2020 release from Lawn Fawn with you AND to say that it is shipping NOW! Yes!! Please join me in welcoming special guest Elena Roussakis with some gorgeous inspiration using the new goodies, and be sure to scroll on to learn more!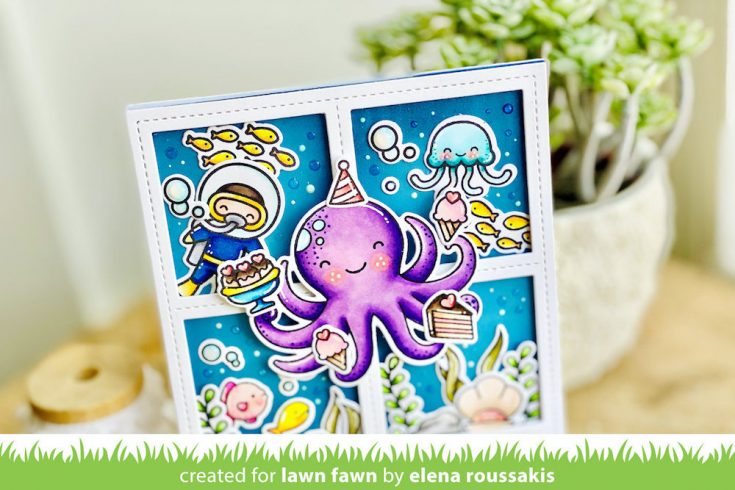 Hello, all! Elena here, with a cards that mixes some new and older Lawn Fawn sets – it all comes together in a super fun birthday card! I started out by grabbing a sheet of Moonstone cardstock and cut it down to card-size. Then, using a piece of white cardstock that I die-cut using the Foursquare Backdrop: Portrait die, I mapped out where the 4 squares would hit. I did a bit of ink-blending around the edges of the squares using Deep Sea ink. It gives a subtle shadowing that adds so much depth and interest to the background!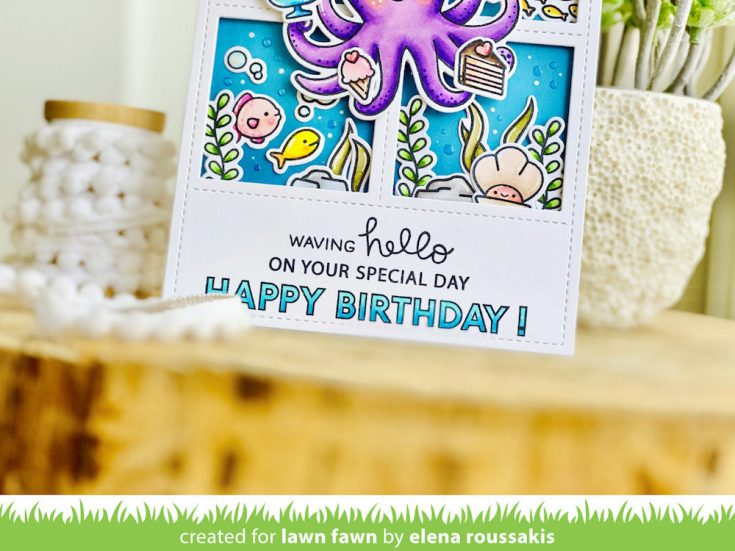 Next, I started gathering all of the images that I wanted to play with – fish, algae, and even the little scuba diver – from a mix of Lawn Fawn sets. The star of the show, though, is that huge birthday Octopus! Here's from the new Ocean Shell-fie set, and soooo cute! I gave him a birthday hat and a mix of treats to hold (all from the also new Unicorn Picnic.)
Before assembling, I stamped the greeting. I wanted the greeting to be size-able enough to fill the space at the bottom of the die-cut, so I mixed 2 greetings from Offset Sayings: Birthday, and added a greeting from Mermaid for You to make it even more ocean-y.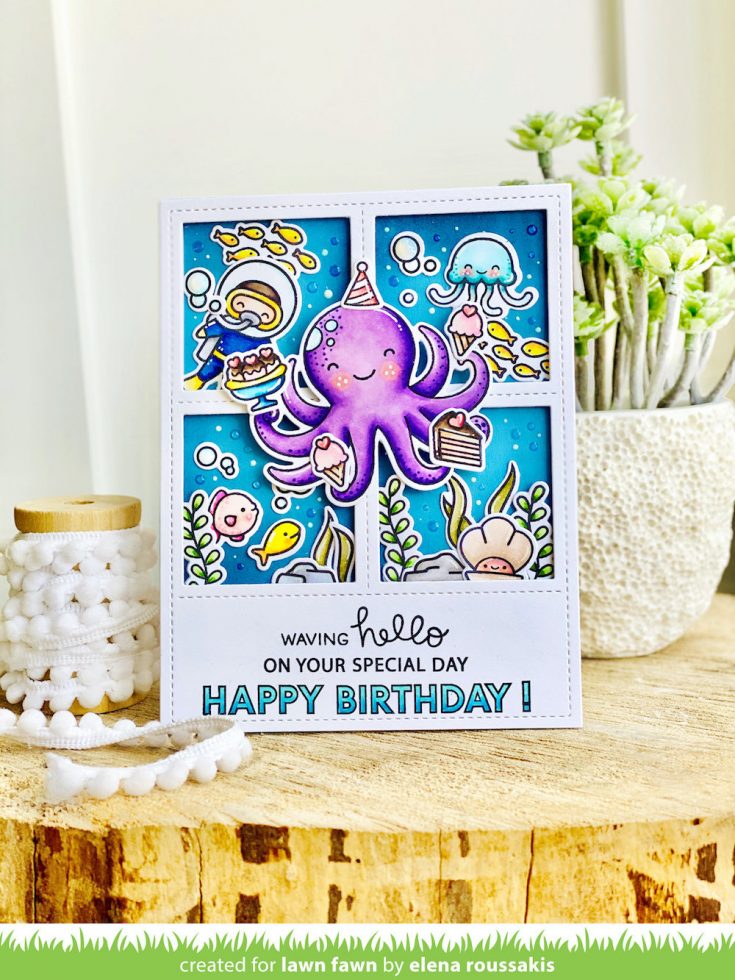 To assemble, I adhered the underwater scenes directly to the blue cardstock layer, and then used foam tape to prop up the Foursquare Backdrop layer and used more foam tape to bump up the octopus. To finish off, I added some glossy accents and white dots to the background and called it done.
I hope you like it!
SPECIFIC COLORS USED:
octopus: v000, v04, v09, v12 and r02, rv10 for the cheeks
scuba diver suit: b34, b37, b39
greenery: yg11, yg13, yg67 for the lighter greens and the more olive ones are yg93, yg95 and yg97
jelly fish: bg13, bg11, bg10 
pink fish: rv10, rv13
yellow fish: y02, y17
rocks: t1, t2, t4
SUPPLIES:
Lawn Fawn SET OCEAN SHELL-FIE Clear…

Lawn Fawn SET UNICORN PICNIC Clear…

Lawn Fawn SET LF16SETMFY MERMAID FOR…

Lawn Fawn SET YOU ARE SUBLIME Clear…

Lawn Fawn OFFSET SAYINGS BIRTHDAY…

Lawn Fawn FOURSQUARE BACKDROP…

Lawn Fawn JET BLACK Premium Ink Pad…

Lawn Fawn MERMAN Premium Dye Ink Pad…

Lawn Fawn DEEP SEA Premium Dye Ink…

Lawn Fawn MOONSTONE Cardstock LF1445

Neenah Classic Crest 80 LB SMOOTH…

Copic Sketch Marker V000 PALE HEATH

Copic Sketch Marker V04 LILAC Purple…

Copic Sketch MARKER V09 VIOLET

Copic Sketch Marker V12 PALE LILAC…

Copic Sketch MARKER R02 ROSE SALMON Pink

Copic Sketch Marker RV10 PALE PINK…

Copic Sketch MARKER B34 MANGANESE BLUE

Copic Sketch MARKER B37 ANTWERP BLUE

Copic Sketch MARKER b39 PRUSSIAN BLUE

Copic Sketch Marker YG11 MIGNONETTE…

Copic Sketch MARKER YG13 CHARTREUSE…

Copic Sketch Marker YG67 MOSS Dark Green

Copic Sketch Marker YG93 GRAYISH…

Copic Sketch Marker YG95 PALE OLIVE…

Copic Sketch Marker YG97 SPANISH…

Copic Sketch Marker BG13 MINT GREEN

Copic Sketch Marker BG11 MOON WHITE

Copic Sketch Marker BG10 COOL SHADOW

Copic Sketch Marker RV13 TENDER PINK

Copic Sketch Marker Y02 CANARY YELLOW…

Copic Sketch Marker Y17 GOLDEN YELLOW…

Copic Sketch Marker T1 TONER GRAY

Copic Sketch Marker T2 TONER GRAY

Copic Sketch Marker T4 TONER GRAY
Thanks so much for stopping by and thanks to Elena for the gorgeous inspiration featuring the NEW Lawn Fawn Summer 2020 collection!