Our team shares: winter inspiration
Baby, it's cold outside!! We might be taking a holiday from challenges – but we've still got ideas to share! Today six of our design team members are checking in to share amazing winter projects.
Nature was the inspiration for Tracy's winter canvas this week.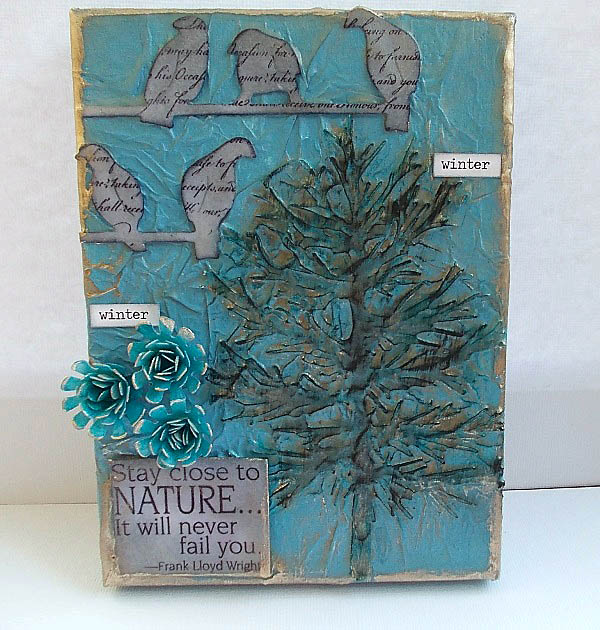 I decided to create a winter canvas this week to celebrate my winter garden. I love my garden throughout the year but I think the winter garden is probably more important; the trees, branches and skeletons of the spent flowers take on a more significant role in the winter and I really appreciate it all. I particularly love the bare tree branches in winter when they are covered in snow and frost and this was my inspiration for my piece, represented by the Hero Arts Elegant Pine. The Impression Obsession Good For The Soul sentiment sums up the way I feel perfectly!
When Ashli thinks winter, she thinks snow. And, when she thinks snow, she thinks tone-on-tone…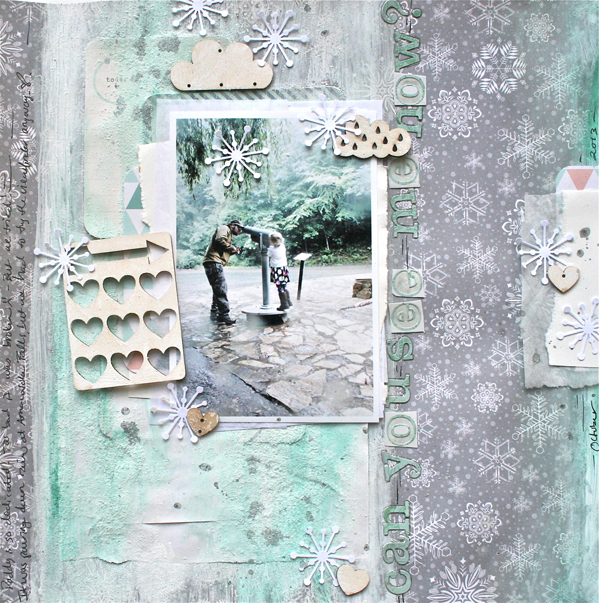 I live in the south. We see very little snow. In fact, it hasn't snowed here in 3 years. But rest assured when it does, we all notice! And, what I notice most is the lovely tone-on-tone effect that snow has on the landscape. I wanted to create a subtle mixed media background to reflect that idea on my layout. I simply collaged lots of lovely bits from the Dear Lizzy Project Life Kit, using plenty of Matte Medium and Blank Canvas Paint. I just love the wintery feel that this gives my page!
When Mona thinks of winter, she thinks of fun filled days building snowmen.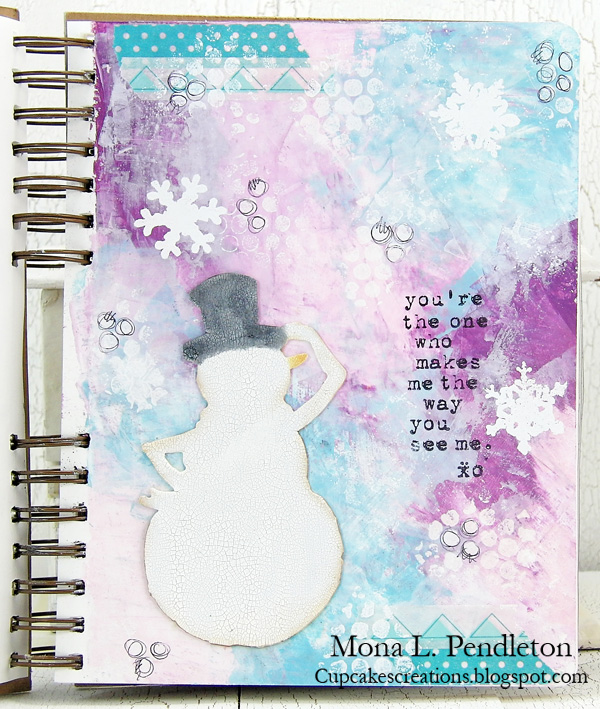 I spent the first 25 years of my life, living in what is referred to as the "snow belt" located in Buffalo, NY. We would get lake effect snowfall which was perfect for building many snowmen. With these thoughts in mind, I pulled out my art journal and created a wintery scene including a die cut Winter Wonder Snowman. For added interest, I applied a layer of Crackle Paint to the snowman and stamped the background with Grunge Flakes.
Michelle believes that Winter is the best time to curl up with a good book.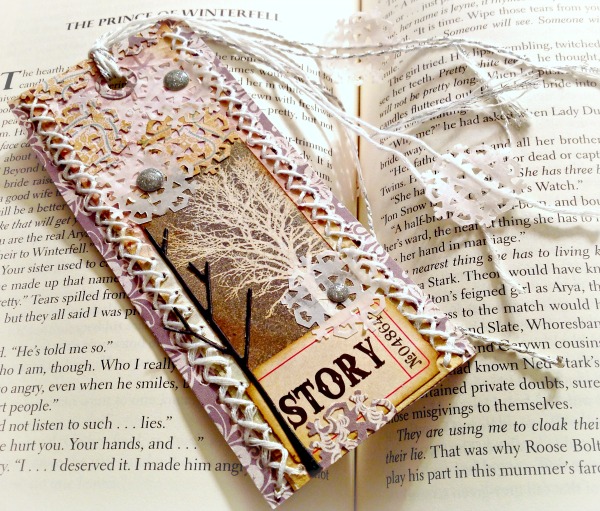 As the snow flies, my winter themed bookmark will mark the pages. Punched vellum snowflakes will trail through the pages on strands of snow white floss. A Hero Arts tree, like the great Weirwoods in my story, whispers that "Winter is Coming."
Meihsia was inspired to create a layout of her son Christopher's winter party.
It's always so fun to help with and join my kids' school winter party. I love to see all the cute smiling faces and those fun creations they made in the party. The background of this layout was inspired by the winter and holiday decorations in Christopher's classroom, and it was colored with the mixture of acrylic paints and water. The glitters and wood veneers are fantastic on every winter project.
Suzz spent a crafty afternoon with her sisters creating some wintery decor.
I was lucky enough to spend an afternoon with my two sisters and my niece playing with my crafty supplies and a variety of natural elements that my sister had cut from her yard and the fields. My sisters were in a little shock when I started painting all my natural twigs, pine tree branches and pine cones with white paint. I had a vision of an all white swag with lots of sparkle. I had to wait patiently for all the pieces to dry, but then I was able to add Stampendous Crushed Silver Glitter by applying Zip Dry Glue on the surfaces. The best part of our afternoon? We all ended up with a decoration to keep out this season to remind us of the time spent with each other enjoying a few laughs.

Here at the Simon Says Stamp Monday Challenge blog we hope that you're having a very happy holiday season, and that you're enjoying the inspiration from our design team. For more details and supply lists on these projects, simply click on the team member's name (above the project) to visit their blogs.
Our challenges will resume every Monday starting in January.