Carnival masterboard with Suzz
Suzz here, and when I think of the carnivals I think of bright bold colors. I wanted to share how to create a masterboard and create multiple projects from the masterboard using the bright colors of the carnival.
Start with a piece of white cardstock.

Smear a layer of light blue acrylic paint.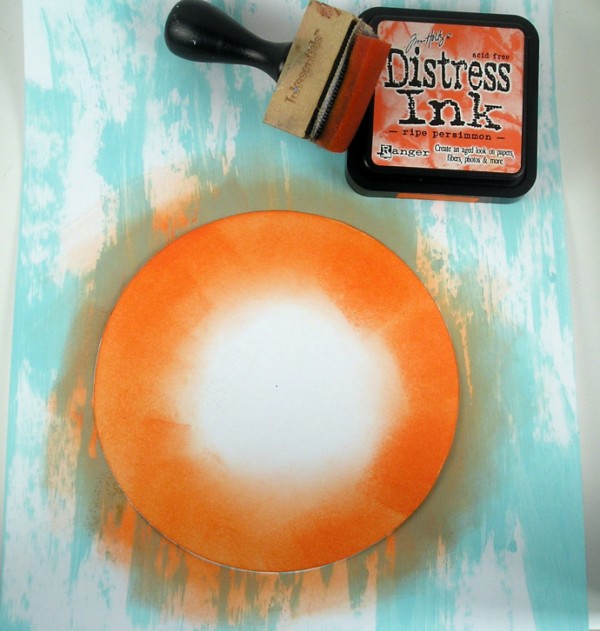 Lay down a circle as a mask and sponge the orange dye ink around the edges.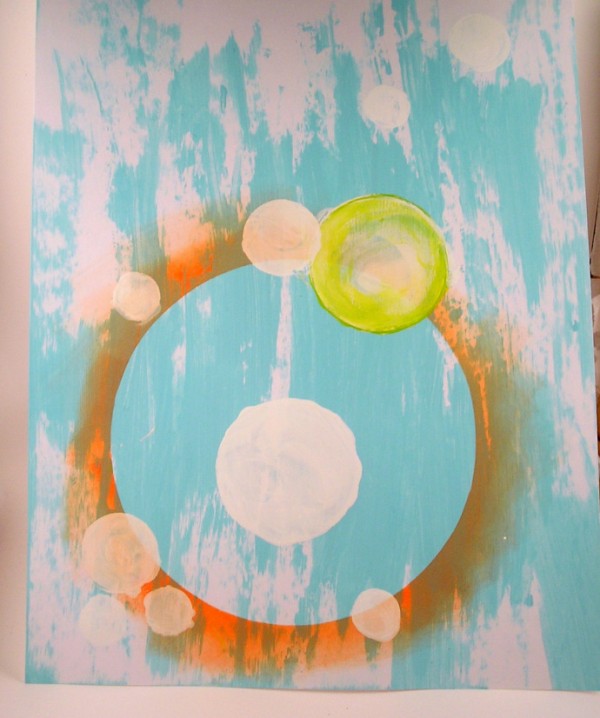 Cut circles from a scrap piece of cardstock. Use the scrap paper ask a mask to paint white circles randomly across the surface. After they dry lay mask over the circle and add additional colors either with paint or dye inks sponged over the white circles.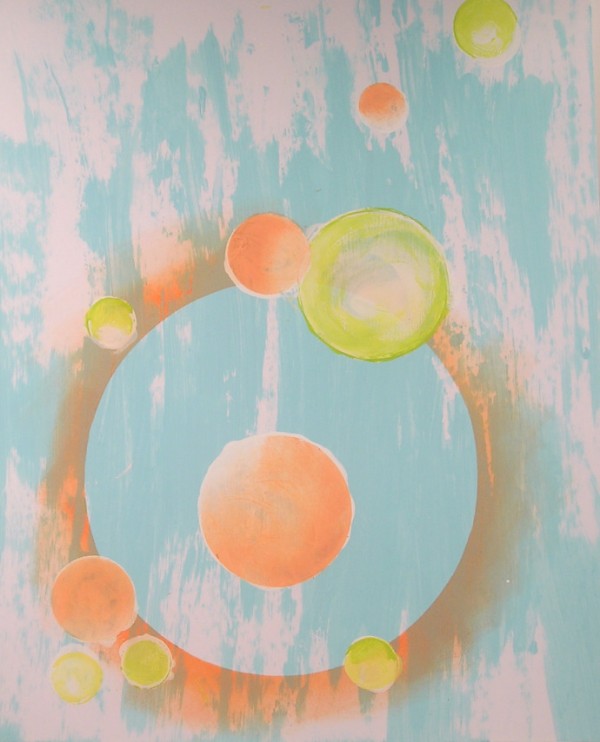 Add additional stamping using the mask to keep the stamping inside the circles. Ink up dots stamps and randomly stamp sections with the dots.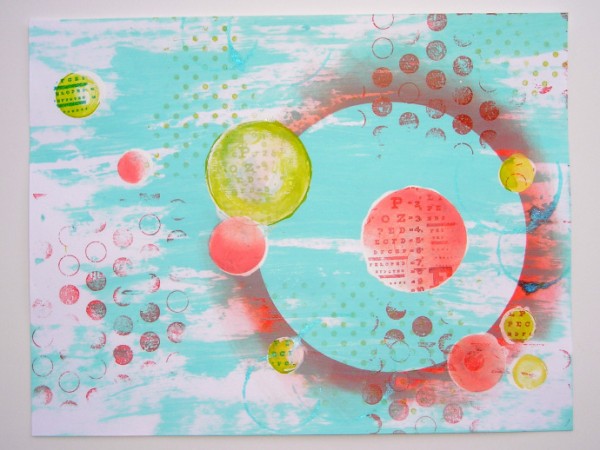 Now you have a finished masterboard that you can cut to desired shapes and sizes.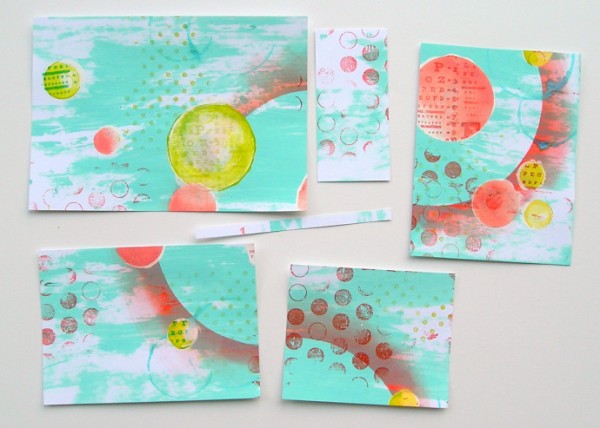 I start with picking out sections of the pattern that I want for cards. I cut them first and then use the remainders for accents on the cards or for tags. Here is what I did with this background.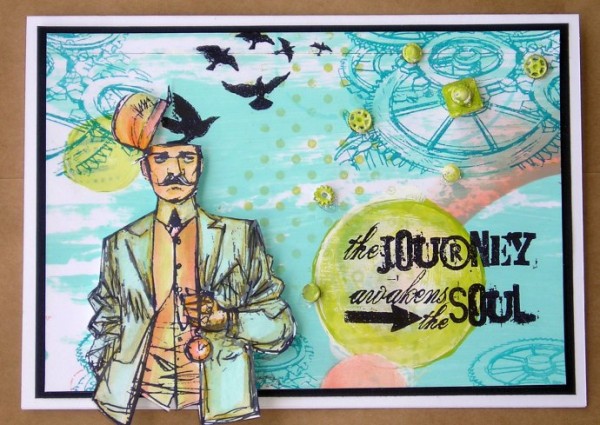 I cut this background first as my largest background piece based on the location of the big circle and the circles. I looked at what the effect was and thought it looked like a futuristic background. That triggered the thought of a time traveler and I pulled images to go with that theme.
This was the second background cut from the masterboard. I accented the line of the large circle and added doily pieces to soften the circles.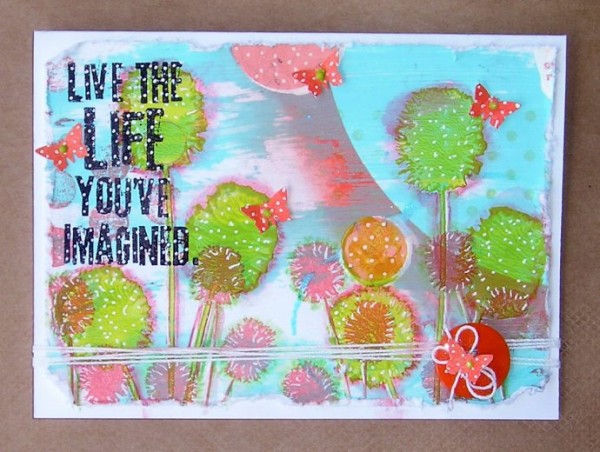 I wanted to continue with the circles and pulled out flowers that followed the shapes and even accented my sentiment with polka dots too!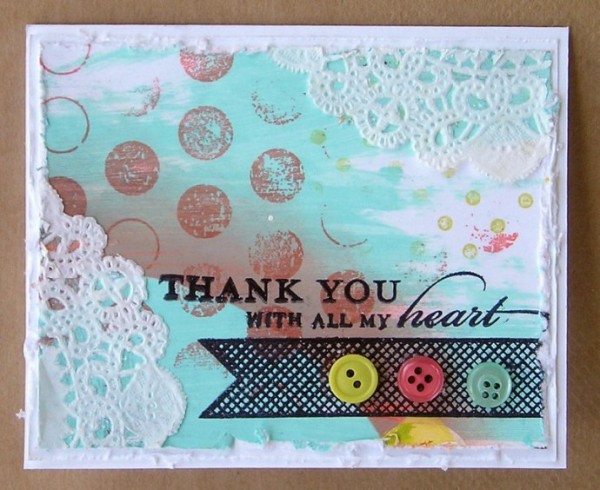 A smaller piece of the background to make a quick and easy thank you card.
My final project a tiny tag that can be added to a gift for a frilly delicate touch.
Supplies Used: PaperArtsy Fresco Finish – LimeLight, Mermaid, Snowflake, Hero Arts Life of the Party Dots, Hero Arts Polka Dots, Inkadinkado – Branchful of Birds, Bo Bunny Doily, Ranger Distress Ink – Ripe Persimmon, Ranger Archival Ink – Black, Simon Says Stamp -Beautiful Words, Ranger Archival Ink – Rose Madder, LilyBee Design – Picket Fence, DarkRoom Door – Bold Blossoms, Visual Artistry – Lifes Possibilities, White Twine, Buttons, Pearls, Visual Artistry – City Central, Stampendous Butterflies, Stampendous BlueBird Branch, Stampers Anonymous – Travelers, Prima Gears
---

Thanks to Suzz for sharing! This is such a great idea and it combines free-for-all play with making something that can be cut up and used in so many ways. I love this idea so very much!
Want to hop in on the party? Then join us in this week's challenge! For the full rules, read the "challenge rules" posted in the side-bar here on our blog, and be sure to enter the challenge in the post below this one.