5 Practical Ways to Inspire Creative Stamping with Michelle Zerull
This week, The Simon Says Stamp Monday Challenge is "From Scratch." It's wonderful to see all of the stamped projects and pieces created from scratch. But what happens when you have all of the materials that you need to create, but you're lacking in creative energy? Have you lost your inspiration? Are you spending more time "pinning" projects than stamping them? Are your stamps beginning to collect dust? Where do you begin? How do you regain your creative spark?
You start from scratch.
Are you ready to become more creative? I will show you five practical ways to inspire creative stamping. No matter how experienced you are, you can utilize these tips and techniques TODAY.
1. You're Not Stamping Enough.
You know how to stamp and have impressed your family and friends on numerous occasions with your skills. You've just purchased a fabulous new stamp set and now its lying on your desk collecting dust. Sound familiar? You need to ignite the spark that fuels your creativity and get those stamps inked.
Here is a warm-up exercise to stretch your innovation. Sprinters warm-up before a race. Musicians warm-up before a concert. Stampers need to warm up before they stamp. First, gather some paper. Use junk mail, lunch sacks, food packaging or other miscellaneous household papers. Raid your recycling bin for paper. Use anything EXCEPT your "pretty" paper. As a stamper, you are often afraid of wasting or cutting up your good paper. By using recycled paper, you are telling yourself that it is okay if you ruin it. You are going to throw it away.
Now cut your papers into small workable squares or rectangles. Try using the standard ATC size of 2 1/2 x 3 1/2 inches.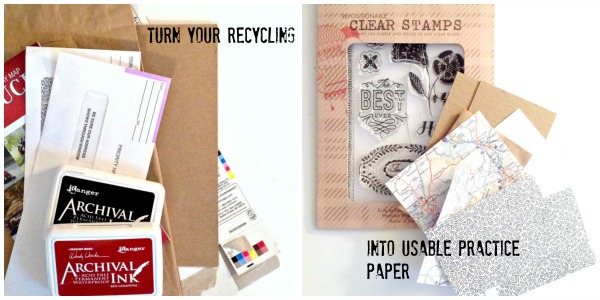 For this exercise, limit yourself to using one or two ink colors and only one or two stamp sets. Now, stamp! Try repeating images. See how the images work together. Create patterns, Try masking. Color a portion of an image with a plain pencil. Fussy Cut images. Soon your own ideas will start forming. Practice stamping for ten to fifteen minutes. Remember that your goal is to stimulate creativity. There is no good or bad.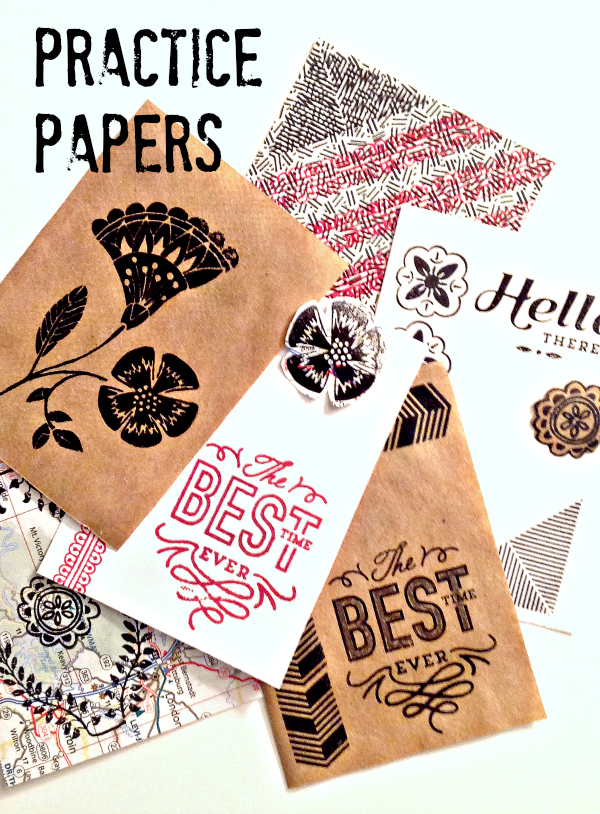 2. Focus on the Positive: Review Your Work for Creative Elements.
Another technique for enriching creativity involves reviewing past successes. Analyze five stamped projects that you have successfully created in the past. Do you like the colors? The composition? What stamps did you use? Are the images cute? Trendy? Look for common key elements. Compile a list of "Tried and True" elements that you found pleasing and incorporate those items into your new work. If you enjoyed using Red Geranium Archival Ink in your past projects, use it again with your new stamps. Famous artists have often used this technique. A good example is Picasso's "Blue Period" where he primarily used shades of blue and blue-green. Your "Tried and True" list can help develop your unique style and push through the barriers of creative block.
3. Do Something Different.
You've established elements you like. Now introduce new elements that are outside of your comfort zone. It's easy to get stuck in a rut and not even realize it. Ask yourself, when was the last time that you used an embossing gun? Have you tried stamping on fabric, wood or plastic? Have you tried paper piecing or collage? Create your own background paper. Use metallic. How about soot stamping? Or using watermark ink? Think outside the box. Then stamp on the box too!
Albert Einstein once said that "Insanity is doing the same thing over and over and expecting different results." Keep your work fresh by introducing new products and techniques. By trying something new, you will engage your creativity.
4. Unplug.
Social media alone will not make you more creative. Social media should be used to engage and inform. It can also seduce you into believing that other stampers are more creative than you are and that is not true. You are unique and so is your stamping.
5. Be kind to yourself.
Practice positive affirmations. This is the single most important thing that you can do to stimulate your creativity. Talk to yourself as if you were speaking to a dear friend. Would you tell your friend that her stamped project was horrible? Of course not! Do not degrade your own work. Negativity will kill your creative spirit. Treat your creativity gently. Nurture it so it will thrive.
You are creative. Be creative!

Thank you Michelle for the inspiring ideas and for all the fantastic reminders! Now it's your turn – join us this week in the challenge!