The Case of the Most Glamorous Glitter with Michelle Zerull
As we ponder the mysterious this week, I, Michelle Zerull, have done some sleuthing and have determined that All that Glitters is not Gold. It's…well, Glitter! But which glitter? There are so many to choose from! And how do I use it? Let's take the mystery out of glitter and add some sparkle to our lives.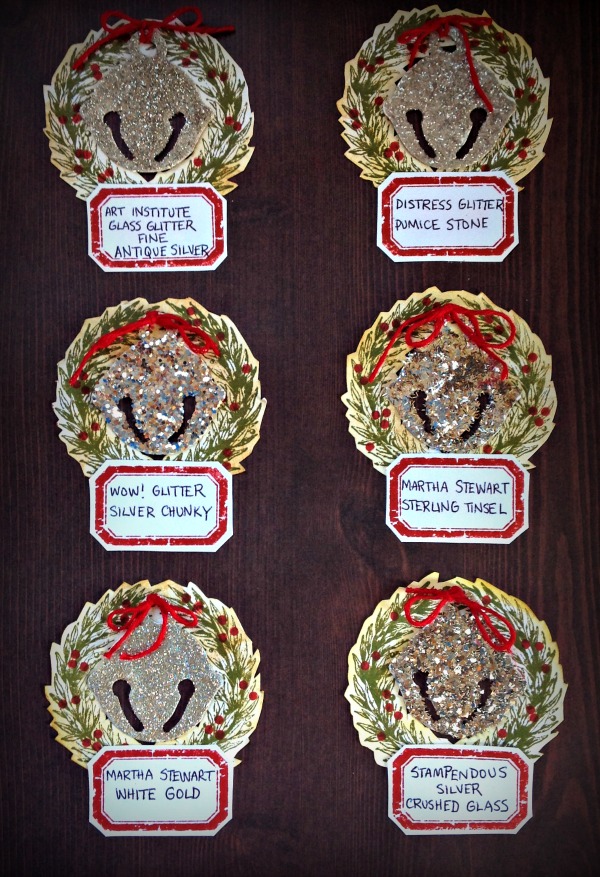 Here you will see six popular silver glitters. Each is equally lovely, yet so very different. Glass glitter is just that, glass. For that reason, it creates a wonderful sparkle. Glass glitter should never be used by children or on projects that children may ingest. Distress glitter is not quite as shiny, but it has the wonderful ability to take on other colors if inked or painted on. The Wow! Glitter is comprised of tiny silver circles that remind me of a Disco Ball. It provides a lot of sparkle, but does not work well on detailed projects. The tinsel glitter is also a chunky glitter. This glitter is comprised of many little strands that are reminiscent of tinsel. Hence the name. The Martha Stewart White Gold Glitter is actually a very silver, but has a gold cast. As you can see, it's possible to own several varieties of silver glitter, just as you would expect to own several varieties of ink.
Looking for ways to incorporate glitter into your holiday projects? Here's an easy way to achieve some extra sparkle.

1. Apply some clear glue to the edge of your cardstock in wide swiping motions. I like to use the Martha Stewart All Purpose Gel for this.
2. While the glue is still wet, generously sprinkle the glitter of your choice and tap off the excess.
3. Allow the glue to dry thoroughly. When completely dry, use a punch as you would on any paper.
4. You now have a glittered embellishment. If you want, you can add some Diamond Glaze to the top to keep glitter in it's place, yet allow the sparkle to shine.
The case of the Most Glamorous Glitter is now closed. The verdict? It's all glamorous! I hope that you will have fun unlocking the mysteries of your own projects.
Supplies used on this card:
DIAMOND-GLAZE, pumice-stone-glitter, Martha-Stewart-white-gold glitter, Stampendous-SILVER glitter, Martha-Stewart-TINSEL-GLITTER, gold-silver-chunky glitter, art-institute-glitter-Barbara, festive-berries-glitter, MINI-BELLS-CHRISTMAS, WeR Twine, Tim-Holtz-mini holiday stamps, Close Knit paper, 25th&Pine-embellishments, writing-Cardstock, 25th&Pine- paper, Martha-Stewart-ALL-dsh-PURPOSE-SCISSORS, Martha-Stewart-PAPER-TRIMMER, Martha-Stewart-GLITTER-CLEANUP, Martha-Stewart-GLITTER-TRAY, Martha-Stewart-GLITTERING-GLUE, Martha-Stewart-ALL-dsh-PURPOSE-GEL
---

I feel a glittering session coming on! Thanks to Michelle for sharing her glittering secrets.
Oh and hey, now it's your turn! Join us in this week's challenge! For the full rules, read the "challenge rules" posted in the side-bar here on our blog, and be sure to enter the challenge in the post below this one.