Colorful canvas with Barbara
Yellow is a color which brings to mind the life! In this challenge I wanted to bring out the most colorful part of me, my second soul after that vintage / grunge.  To do this I used my new gelatos on a small canvas, and it was really fun.
At the heart of this explosive yellow I put another one of my favorite symbols: butterflies.  So many all together are wonderful and give an idea of freedom, a freedom that colors everything, even outside the canvas!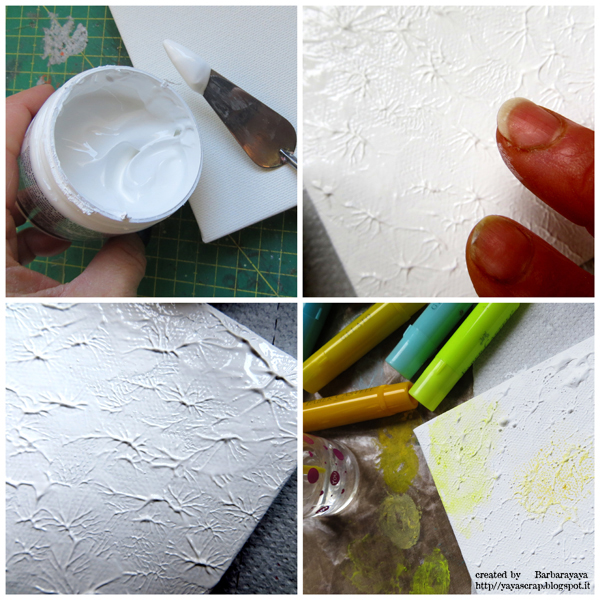 In the photo above you can see the materials that I used for my project: gesso, palette knife, canvas ( 4 x 4 inch) and gelatos. I have stretched out the gesso with palette knife and then I flecked very light with fingers to create a texture different from the usual.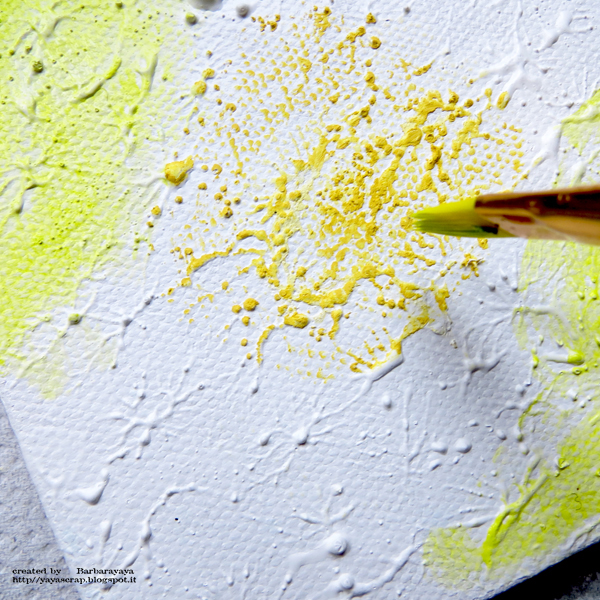 This is the result.
After adjusting the color with the brush wet and gelatos until I got the intensity I wanted, I have prepared with acetate from various recycled packaging, a stencil with Tim Holtz's die "Butterfly frenzy".
I' ve placed it diagonally on the canvas, and I used Wendy Vecchi's embossing paste white to create thickness and texture.
To color my little butterflies I used Distress Paints in gradation, starting with the lightest color on the left and increasing the gradation from orange to purple to the right.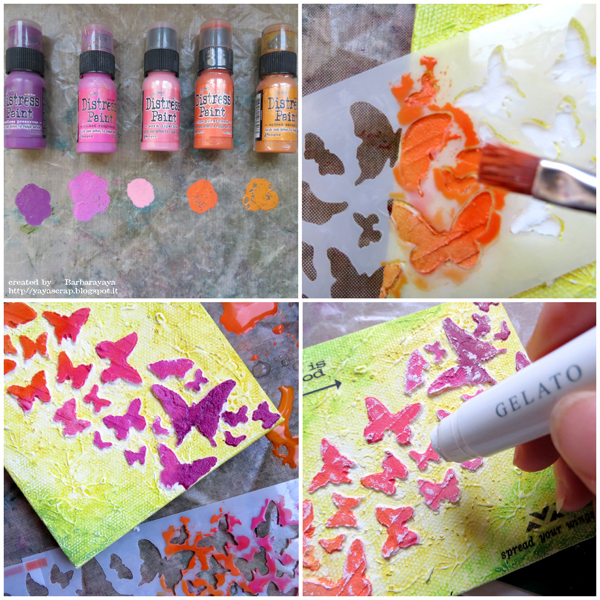 I liked to give some movement to the acrylic color and so I thought I'd use the Faber-Castell Gelato on white texture created with the embossing paste.  This "trick" has given the project a nice three-dimensionality.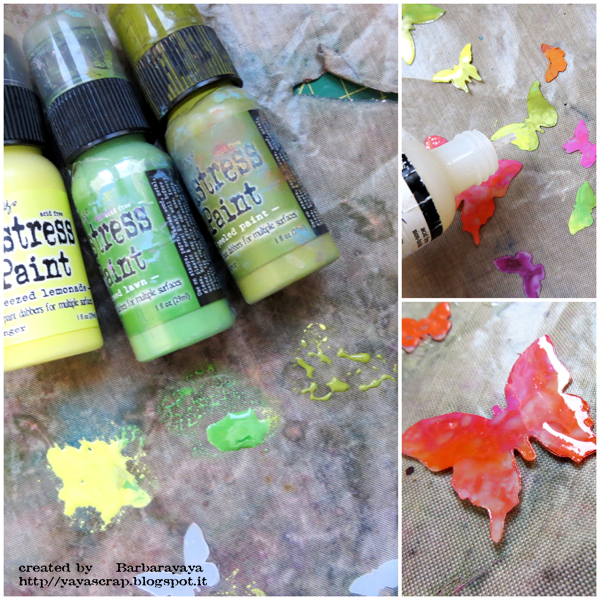 After cutting the acetate to create the stencil, I found myself with a large number of butterflies that I was sorry to leave unused. I thought I would use them to create a nice background to the picture of the project, with the possibility of using them in the future.
With the distress paints in shades yellow / green and orange / pink I colored the butterflies and then I finish them using the Glossy accent.
I went to place them diagonally as if they were a continuation of the canvas.
These are the details very close of my little project!
For the outside I used a Tim Holtz tissue tape, to give a sense with words to my work instead I used the new Tim Holtz Remnant Rubs.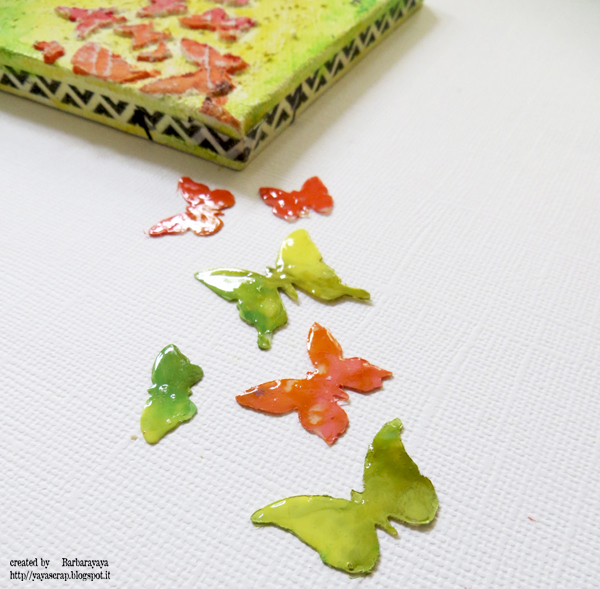 Thank you for sharing this project with me and some little inspiration for your creativity! I hope to be helpful and to have transported you directly to the center of the spring, as I think, the color and freedom!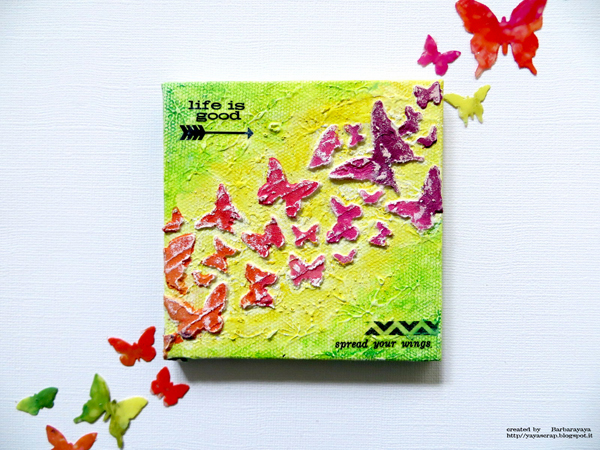 Supplies Used:
Coconut Gelato
Lemon Gelato
Margarita Gelato
Snow Cone Gelato
Diner Gelatos
Gesso
Tim Holtz Butterfly Die
Tim Holtz botanicals
Tim Holtz rub-ons
Tim Holtz tissue tape
Wendy Vecchi white embossing paste
Mowed Lawn paint
Picked Raspberry Paint
Peeled Paint
Seedless Preserves Paint
Spiced Marmalade paint
Squeezed Lemonade paint
Worn Lipstick paint
Ripe Persimmon paint