Tim Holtz Distress Ink Color POP: Twisted Citron
Hi readers! Happy Tuesday and happy last day of June! We're officially past the half way mark of 2015! Can you believe it? The very fun and talented Wanda Guess joins us again this month with the Color Pop feature for May: Twisted Citron! Did you miss a past feature? Check out our archives for the combined Cracked Pistachio and Abandoned Coral feature, Mermaid Lagoon, and Fossilized Amber! Coming up next month: Hickory Smoke! Excited for July's color? Be sure to tune into our blog on FRIDAY to find out what it is!
It's Wanda here! Happy Summer! I'm here today with the fourth installment in our Color Pop series – featuring the newest Distress Ink Color! I'm excited to share a project using the color for May – Twisted Citron. This is a bright, clear, happy green. Think margarita green, lime-y and fresh! It's very strong and vibrant, but it's easy to tone down with other colors, too. Basically, it's perfect! With this color, a little goes a long way! I love it. Since it's Summer time I decided to make a beach-themed card and used the Twisted Citron for some gorgeous tropical leaves.
Green is always a good neutral, and this new green was an easy one to match with other colors. I used pretty Abandoned Coral Ink along with some neutral tones of brown and cream to complete my beach look. I love this color combination! Reminds me of Hawaii. My leaves were colored with the ink pad using a sponge dauber. I left some white space in the center of the leaves. If you look closely, you'll see that I went back and used the Twisted Citron Marker to make a center vein in each leaf for some dimension. I also put just a touch of Vintage Photo ink on some of the edges.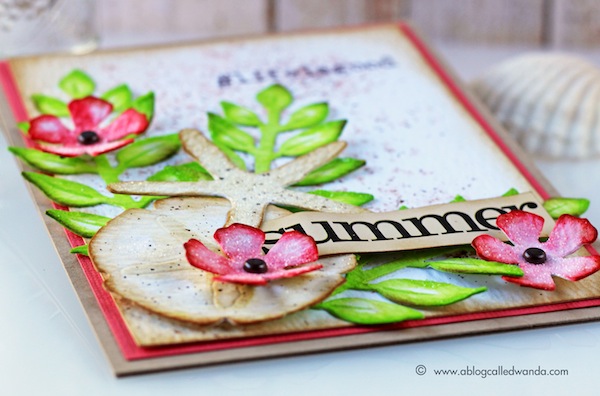 Something really fun that I thought of was to make my own glitter. I was thinking to myself…wouldn't it be nice to have Twisted Citron glitter?? So I made some! I took a paper plate and sprinkled some clear Rock Candy Distress Glitter on it. I took the Twisted Citron Spray Stain and made a fine mist over the clear glitter. Then I let it dry and stirred it up with a palette knife. Voila! Perfectly matching glitter! Next up I'm going to make some Abandoned Coral glitter…. After it was dry, I used my new green glitter on the tropical leaves.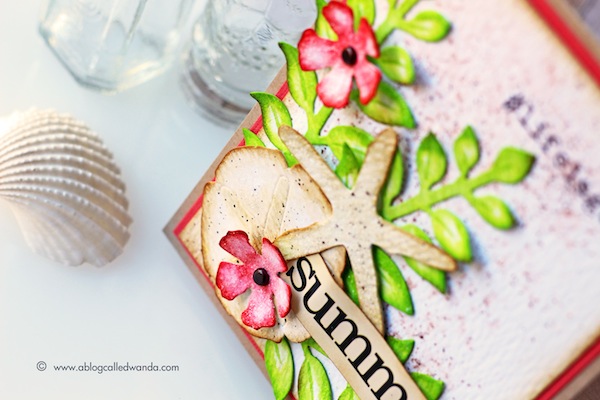 My leaves, flowers and shells are cut from Ranger Watercolor Paper. I added Clear Rock Candy glitter to all the pieces except the leaves. I also edged everything with Vintage Photo ink and a sponge dauber. For the background I tried another new technique. I wanted to mimic the feeling of sand. I used the Vintage Photo Marker in the Tim Holtz Distress Sprayer took and made spatters on my paper. Then I took the water mister and let some fine mist of clean water fall onto the spatters. Some of the dots softened and some stayed pretty strong. I love this and will definitely use this technique again.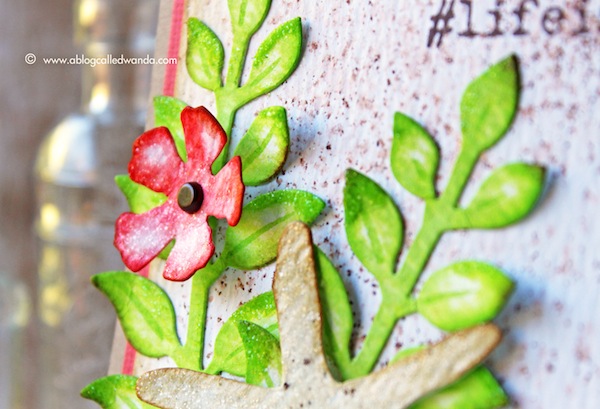 I used a Flashcard and cut out the word Summer. Then I stamped the hashtag #lifeisgood…and assembled all my pieces onto a kraft card base with a small layer of coral paper.

I've made another color swatch reference chart for you to see where the new color fits in with your existing Distress Ink colors. This green is in the Yellow Green family more so than the Blue Green family.

Next up is the rich and mysterious Hickory Smoke… Can't wait to get my hands on this new neutral. See you next month! Have a great day and happy crafting!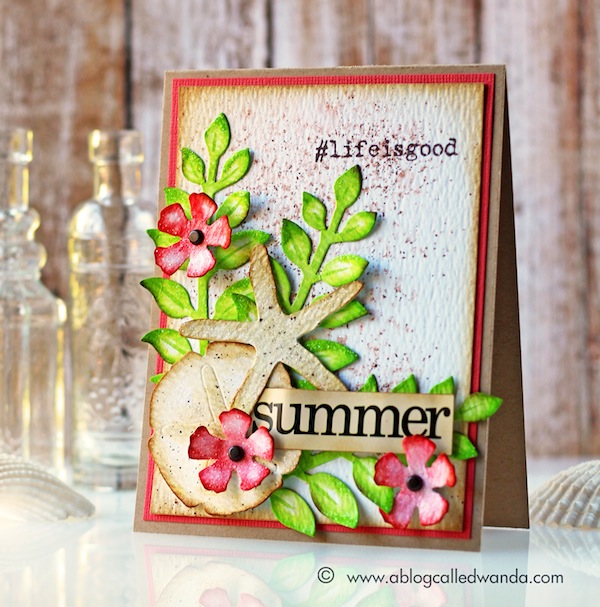 SUPPLIES:
Thanks for reading today, and thanks again to the super talented Wanda for continuing this fun feature for our blog!
Last chance! —>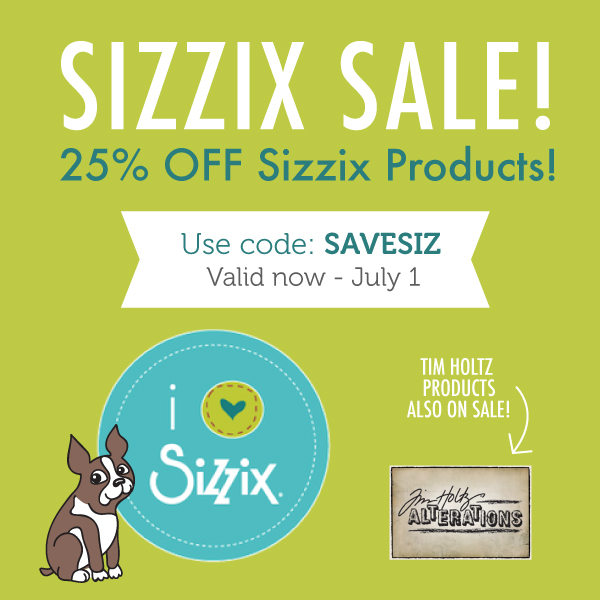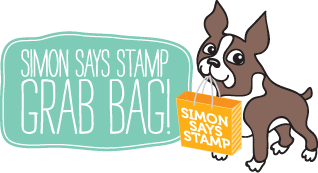 Blog Candy Alert!! Follow our blog via email and comment on this post for a chance to win a special blog candy!
Congrats! Blog Candy Winners!
From: Canvas Crafting with The Color of FUN!: Elizabeth Marie!
From: Mixed Media Artist: Tracy Scott: Michele Clay!
From: Many Thanks!: Marcia Scantlin!
From: Add some PUNCH to your next project!: Rose Noelle!
Please email Samantha ([email protected]) with your mailing address and the name of the blog you won from to claim your prize!