Studio Monday with Nina-Marie: Stamp Layering with Pantone Green
Hello everyone and Happy Monday! In this week's Studio Monday post, I wanted to feature some Simon exclusive products along with Pantone's color of 2017: Greenery!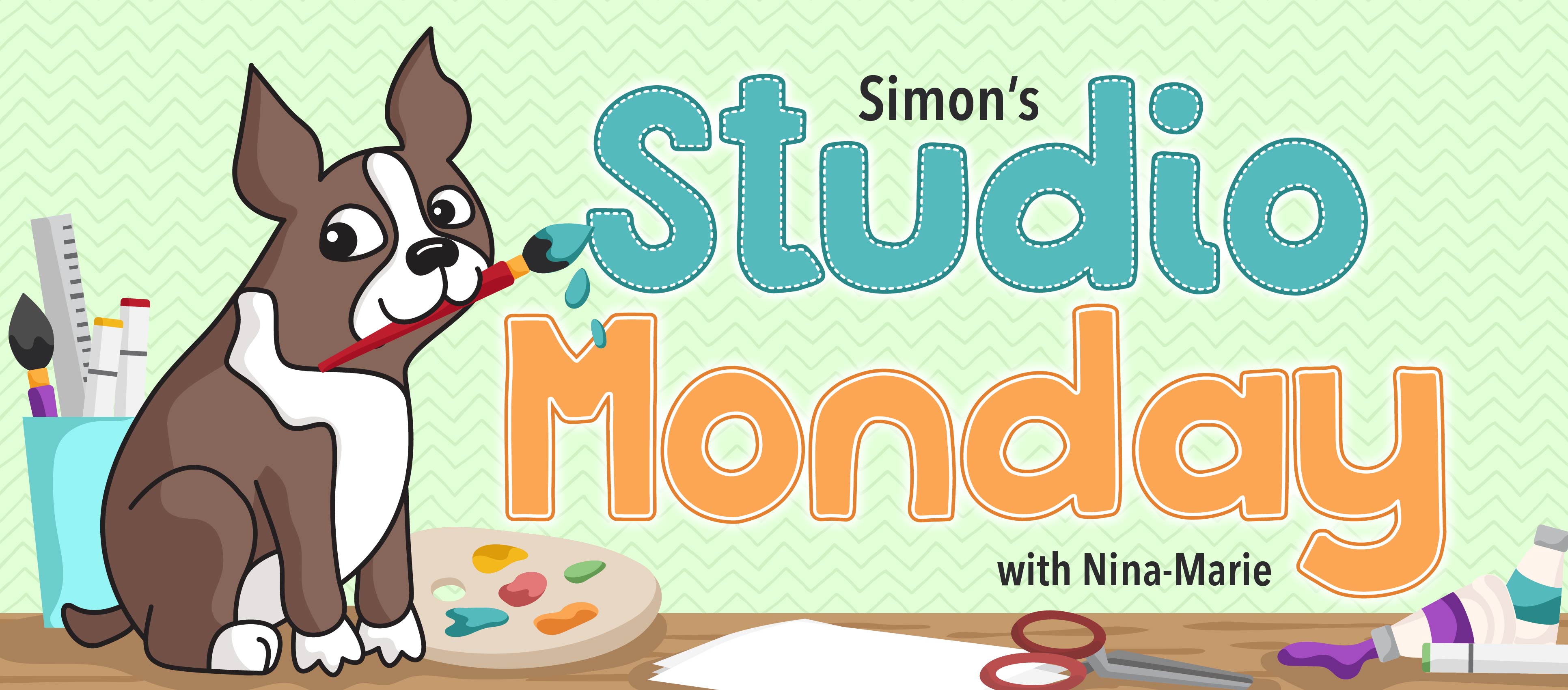 If you are not familiar with Pantone's color of the year – or Pantone itself – let me give you a quick background: Pantone is the authority and worldwide resource for color. They provide color systems and technology to a wide range of industries and companies. Each year they choose a color that symbolizes what is trending and happening in our world. For 2017, that color is Greenery, which symbolizes nature and new beginnings. I thought I would combine both symbols in my card today and create a floral card with Spring colors, since Spring is commonly thought of as a new beginning.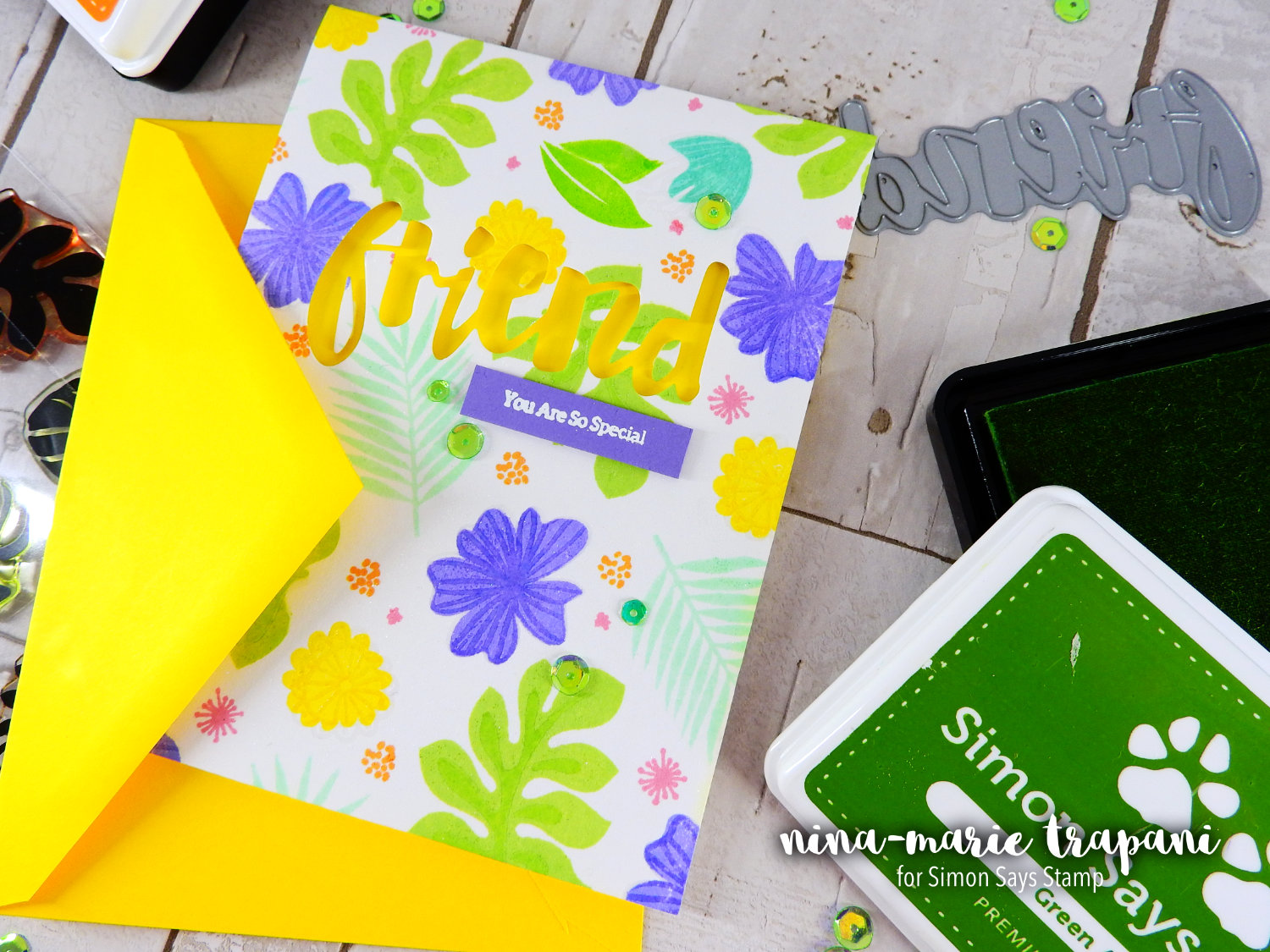 The floral images are taken from two Simon exclusive stamp sets; Tropical Leaves and Wild Beauty. There are coordinating dies available for both sets; however, I will not be using them today. Both stamp sets are simple, stamp layering sets. While many of you have multiple ink colors for doing stamp layering, I know not everyone does. So instead of doing stamp layering in the "normal" way, I want to show you how to do it with one ink color and heat embossing. This technique is perfect for stamp layering sets that have two layers. If you have a layering set with three layers, you could do some second generation stamping for the first and second layers and heat emboss the third.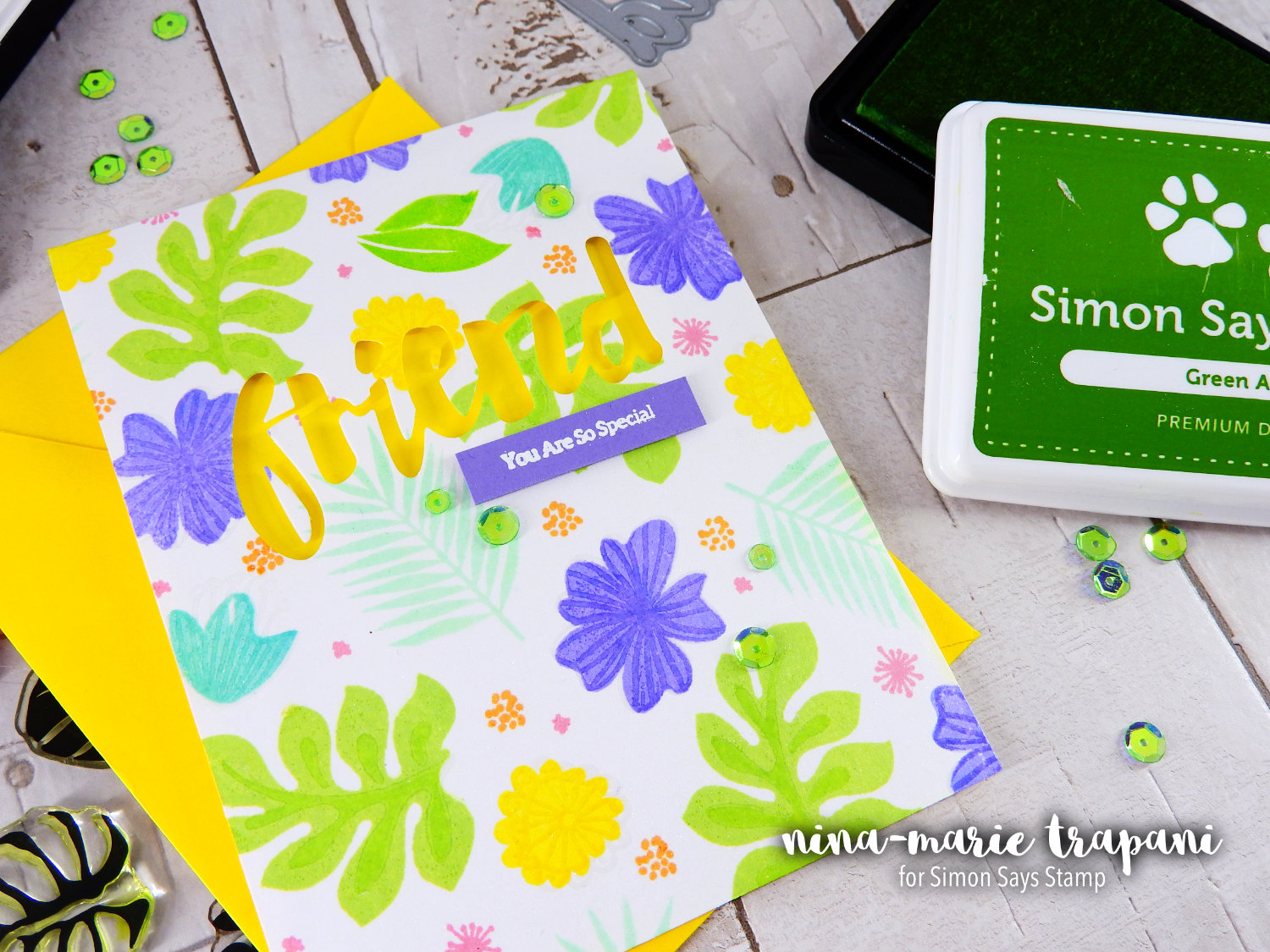 The sentiment features a fun negative/recessed appearance. I used the Simon Says Stamp Painted Friend die and a supporting sentiment from the Wild Beauty stamp set. I chose cardstock colors that matched my ink colors (as closely as possible). For the cardstock colors, I used Bright Yellow and a purple from Penny Black's Periwinkle paper collection.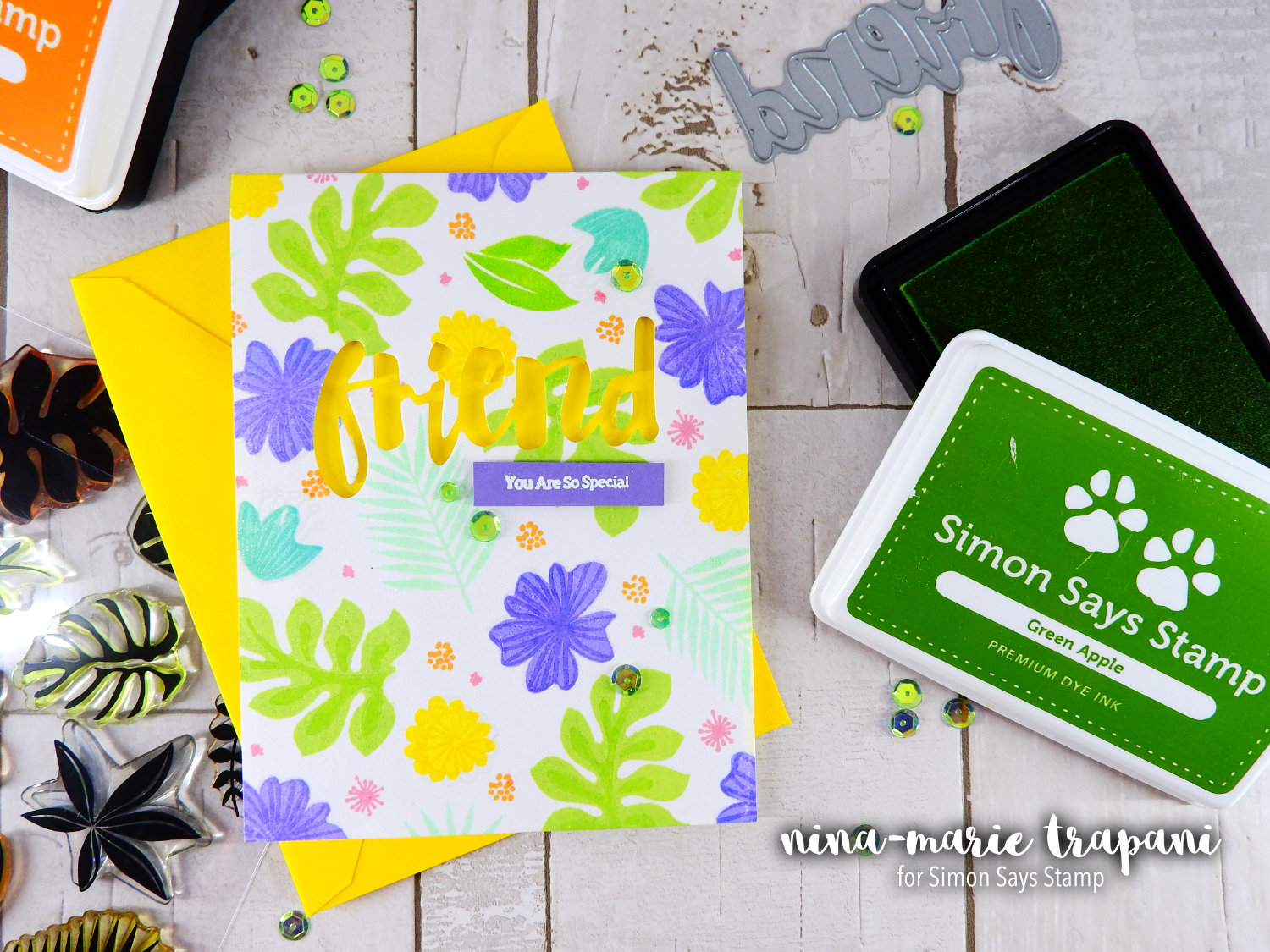 The colors I used today all pair really well with green. You'll notice I used a lot of blue, green and purple and some pops of yellow. This is an analogous color scheme, which means all of these colors are next to each other on the color wheel. Analogous color schemes are easy to create because of this.
And because I wanted to throw in a bit more green, I used a few Peridot Mist iridescent sequins from Pretty Pink Posh to embellishment the card! The Peridot Mist sequins are a perfect match to the colors used in this card. I also love that how when the sequins catch the light, you can see hints of other colors!
I hope you will be checking out the video below to see how this card came together! Thanks so much for stopping by and visiting us today… I will be seeing you again this coming Sunday and Monday, so stay tuned!
WATCH THE VIDEO
SUPPLIES
Blog Candy Alert!! Follow our blog via email and comment on this post for a chance to win grab bags and blog candy! Remember to tag your awesome projects with #simonsaysstamp on social media so we can see what you are creating!