Picket Fence Brand of the Month Inspiration
Hello friends, it's Nina-Marie Trapani here with you today and I'm bringing you a bit of colorful inspiration using a new (as well as super-cute!) Picket Fence Studios stamp set – Artist Dear!
I love the quirky style of this stamp set, as well as the fact that the illustration is the type that can be customized to look like the girlfriends or family in your life! With just a few color adjustments, I was able to create a Caucasian and African American girl extremely easily. Skin and hair Copic colors used are below for reference.
Caucasian skin: E40, E42, E43, with R00 and R21 for the cheeks
Caucasian hair: E25, E27, E29
African American skin: E43, E44, E47, with R00 and R21 for the cheeks
African American hair: C4, C6, C8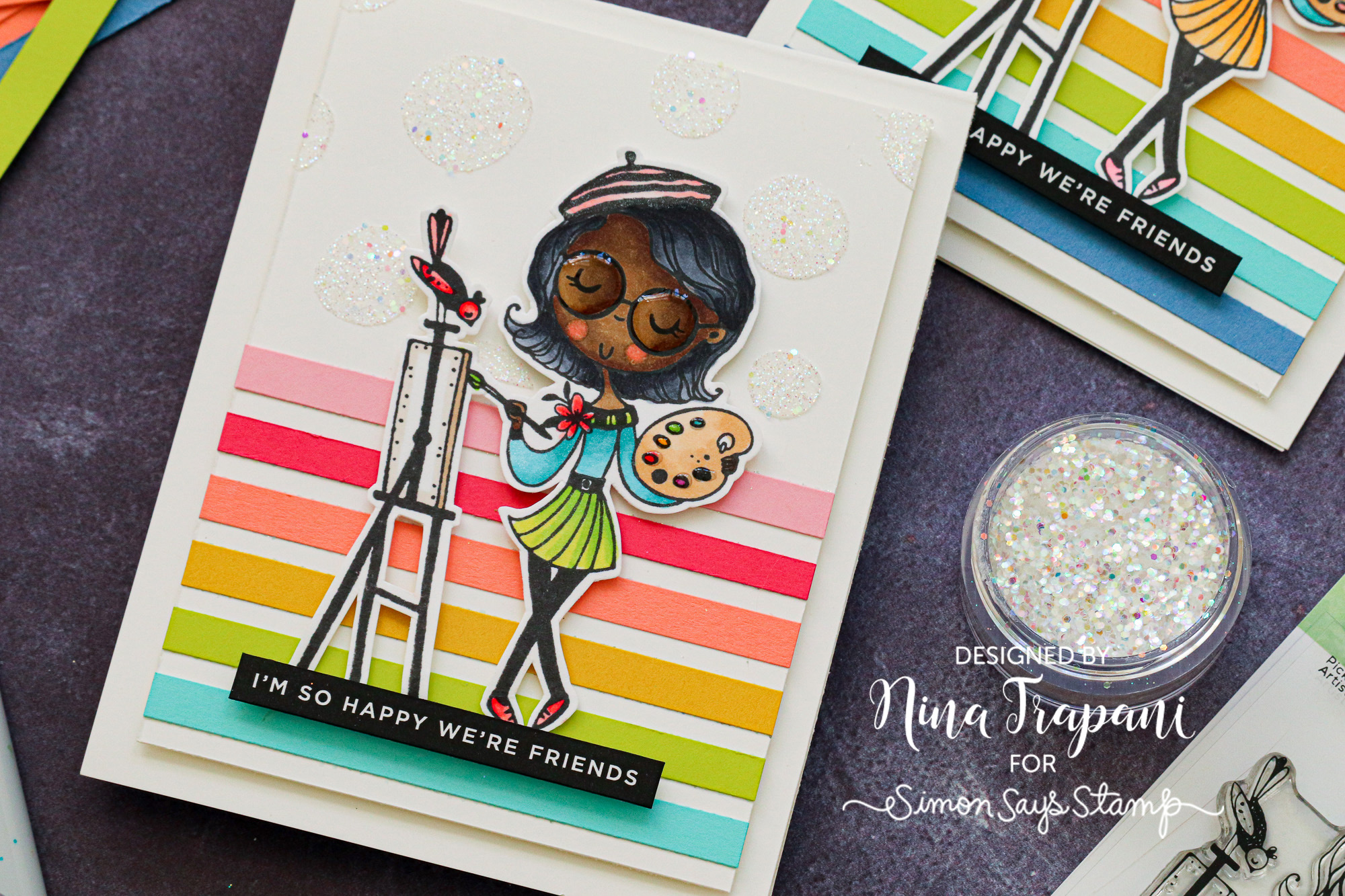 I've been trying really hard to use up my scraps of late (I have SO many and the pile seems to only grow!). So I cut up some pieces of colored cardstock to coordinate with the girls and adhered those along the bottom of the white card panel.
Above the cardstock stripes, I added some glittery polka dots with a Heffy Doodle stencil, Transparent Matte Texture Paste, Simon's Unicorn Dust glitter and Lawn Fawn Chunky Glitter. For sentiments, I used Simon's Reverse Happy sentiment strip set.
Want to see how these colorful cards were created? Watch the video below for all the details!
SUPPLIES
Picket Fence Studios ARTIST DEAR…

Heffy Doodle DOTTY LOTTIE Stencil…

CZ Design SENTIMENT STRIPS REVERSE…

Simon Says Stamp UNICORN DUST Glitter…

Lawn Fawn CHUNKY GLITTER LF1536

Ranger TEXTURE PASTE TRANSPARENT…

Ranger SILICONE MAT ink71778

Ranger GLOSSY ACCENTS Glue…

Simon Says Stamp Card Stock 100#…

Lawn Fawn GUAVA Cardstock LF1117

Lawn Fawn APRICOT Cardstock LF1843

Lawn Fawn NO. 2 PENCIL Cardstock LF1844

Simon Says Stamp Card Stock 100#…

Lawn Fawn MERMAID Cardstock LF1121

Simon Says Stamp Card Stock 100#…

Simon Says Stamp WHITE CARDSTOCK 120…

Copic Sketch Marker E40 BRICK WHITE

Copic Sketch Marker E42 SAND WHITE…

Copic Sketch MARKER E43 DULL IVORY…

Copic Sketch Marker E44 CLAY Dark Gray

Copic Sketch MARKER e47 DARK BROWN

Copic Sketch Marker E25 CARIBE COCOA

Copic Sketch Marker E27 MILK…

Copic Sketch Marker E29 BURNT UMBER…

Copic Sketch MARKER E30 BISQUE Skin…

Copic Sketch Marker E31 BRICK BEIGE…

Copic Sketch MARKER C4 COOL GRAY NO. 4

Copic Sketch MARKER C9 COOL GRAY Grey

Copic Sketch MARKER C7 COOL GRAY Grey

Copic Sketch Marker BG10 COOL SHADOW

Copic Sketch Marker BG11 MOON WHITE

Copic Sketch Marker BG53 ICE MINT…

Copic Sketch Marker BG57 JASPER…

Copic Sketch Marker RV10 PALE PINK…

Copic Sketch Marker RV21 LIGHT PINK

Copic Sketch Marker R000 CHERRY WHITE…

Copic Sketch Marker R21 SARDONYX…

Copic Sketch Marker R24 PRAWN Red

Copic Sketch Marker YG21 ANISE Yellow…

Copic Sketch Marker YG25 CELADON…

Copic Sketch Marker Y32 CASHMERE…

Copic Sketch Marker Y35 MAIZE Bright…

3M Scotch DOUBLE-SIDED FOAM TAPE…

Kokuyo LONG Dot Liner Adhesive Runner…