Hi readers! Happy Saturday! How is your weekend going so far? I'm so pleased to have our pal Teri Anderson back on the blog with a bright pop of color blocking inspiration for the blog today! She's using some of her fun new stamp designs from Technique Tuesday that include Rah Rah, I Like You, & Darn Good Day to make these fun cards.
Enjoy!
Teri

here, and I'm happy to be here again. Thanks for inviting me back, Simon friends!

I brought a few cards to share with you today that I made with the new Rah Rah Sentiments stamp set.

This is one of a couple of new stamp sets I designed for Technique Tuesday that are available here at Simon Says Stamp! If you you look at this set and my I Like You and Darn Good Day sets, you'll see I've been including lots of words in my recent stamp sets.

I am a card maker first and foremost. And I love a good sentiment that I can just stamp on a card and be done. But it's sometimes nice to "sauce" things up a bit.

So I came up with some fun little sentiment banners that pack a little bit of punch when put on card..
They are pretty easy to make. Simply stamp a sentiment on a piece of cardstock. Add a little bit vellum underneath. Be sure to cut a notch in the vellum so it look a bit like a banner. You want something that looks like these here.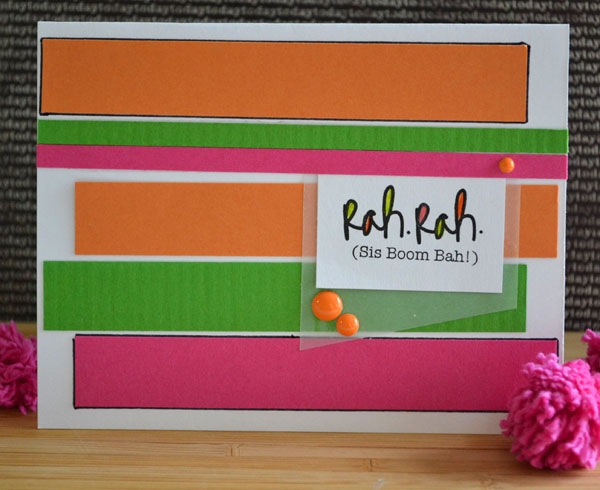 And then use markers, pencils or crayons to color in some of the open parts of the letters. I find less color is more when adding color to stamped sentiments. So I try to limit myself to just coloring in the open spaces of the scripty, handwritten words.

On the Sizzle card at the top of the post I just flipped my card horizontally and changed out the paper sizes.
SUPPLIES:
Thanks so much for reading today and thanks to Teri for being our guest!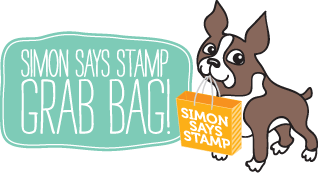 Blog Candy Alert!! Follow our blog via email and comment on this post for a chance to win a special blog candy!