One Stamp Five Ways: Earth Has Music
Hi friends! TGIF! Welcome to the latest edition of One Stamp Five Ways with the always inventive and fabulous Suzy Plantamura! Check out how she brought our newer stamp set "Earth Has Music" to life in so many beautiful ways! Read on for tips and tricks and enjoy!
Today I have a "One Stamp, Five Ways" post to share with you using the gorgeous Earth Has Music stamp set from the Friendly Frolic release. I picked this stamp set to feature because I just bought a set of Faber Castell colored pencils that I wanted to use to color these feathers. I have five cards to share with you showing all of the images in the set used in different ways. I used the sentiment in the set twice and then some word dies for the rest of the sentiments on the cards.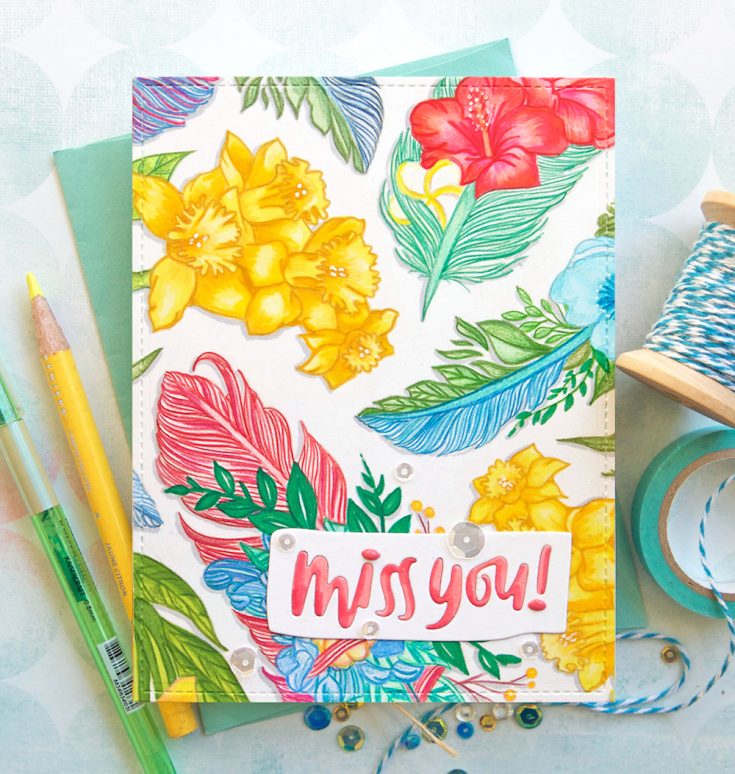 This is my favorite of the five cards, so I wanted to start with it. I used the "miss you" sentiment as the colors I used on the feathers and flowers reminded me of Hawaii (and I definitely miss YOU Hawaii!). I randomly stamped the flowers using MFT Natural Ink for a no-line coloring look. I used colored pencils to outline all of the fine lines on the feathers.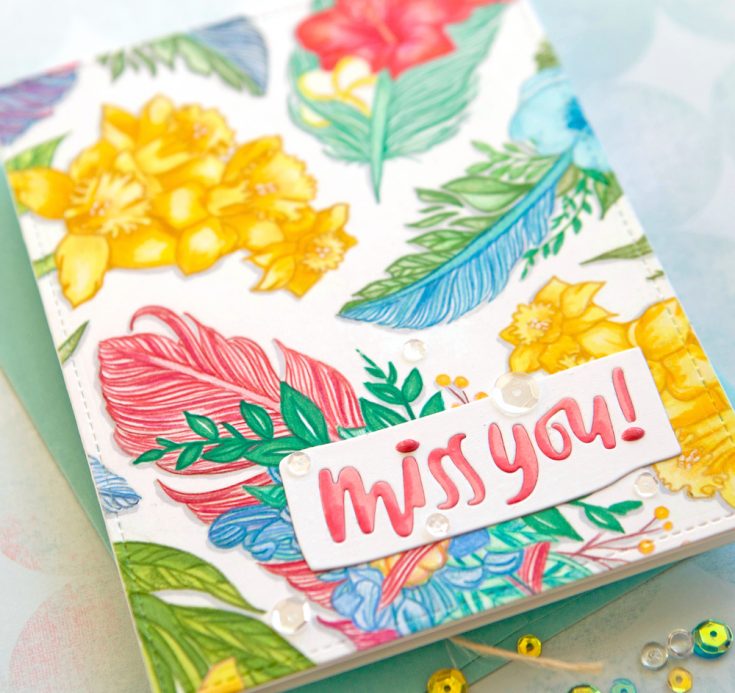 Here are some tips I used when creating this card:
• A Misti stamping tool is really helpful when doing random stamping; I arrange all of the images at one time like a puzzle and let some hang over the edges
• Keep your pencils very sharp when outlining the feathers; use several tones of the same color or even different colors to create depth
• Use a gray Copic Marker (N2) to add shadows behind the images so they pop
• Remove the letters from the "miss you" block and color them with Copic Markers to match the card; then glue them back in
• Use Copics to color in the larger areas of the stamp such as the flowers, then add colored pencils to outline and add shading; this will give your images a smoother look than if you just use pencils
• Use a white Uniball for the centers and details of the flowers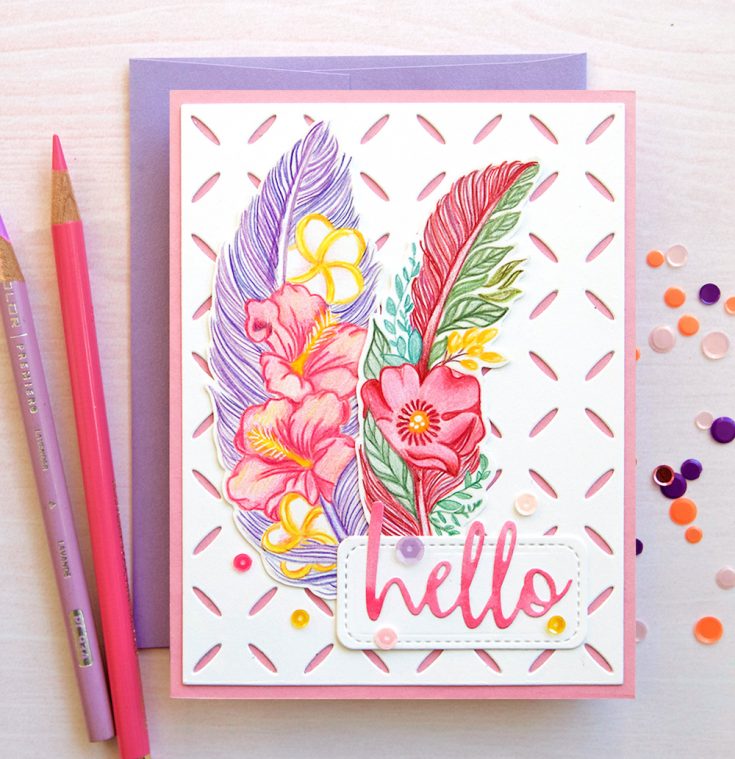 For the background of this card, I used the Diamond Pattern Wafer Die die-cut from white cardstock. I think it makes a beautiful background for the feathers. I used a soft pink card base to show through the design and then a small rounded stitched rectangle for the salutation over the feathers.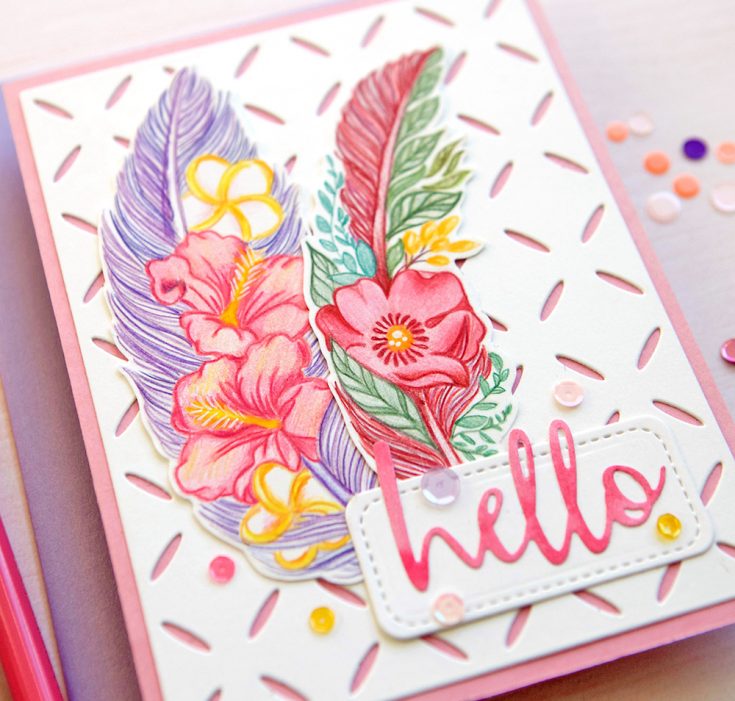 Tips:
• I colored the flowers and feathers entirely with colored pencils, so if you look close you can see that they have pencil marks over the images
• I used a piece of red watercolored paper to die-cut the word Hello from; Tip: watercolor some solid color washes on watercolor paper to use on future projects
• Again, use a very sharp pencil and very fine lines for the feathers; vary the colors so you can overlap them and put them right next to each other without the colors all blending together into one flat design
• Outline the images with the darkest color used so they look finished
• Since the background and salutation rectangle are both die-cut from white cardstock, you can use an array of colorful sequins around the background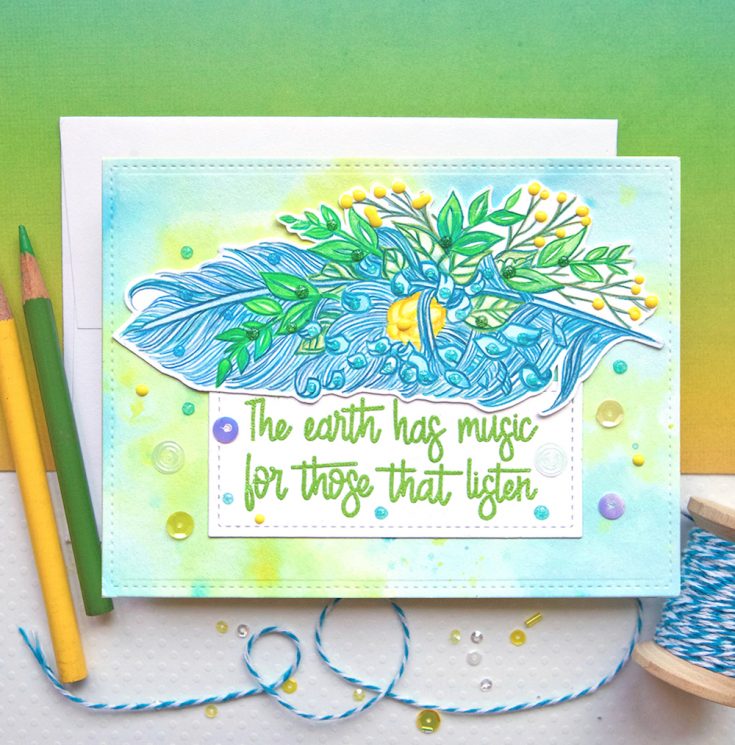 The largest feather in the stamp set filled up half my card so I laid it horizontal and then added the salutation in the set below it on a stitched rectangle (this one came from the PPP Storybook 3 die set). The background is one I already had painted that is just a mix of yellows and blues using a wet on wet technique.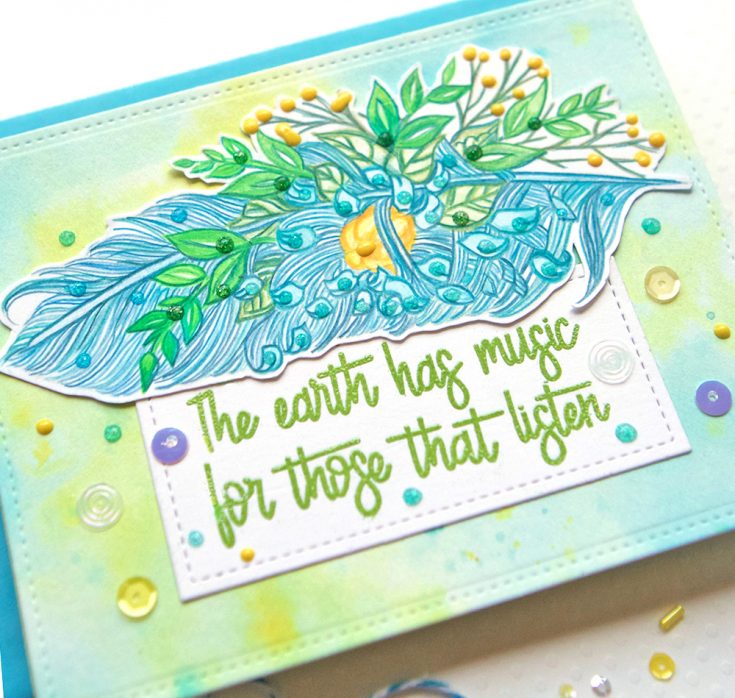 Here are some tips:
• Use Dandelion Tonic Nuvo Drops for the small circle flowers so they have dimension
• Add additional glitter colors of Tonic Nuvo Drops over the feather (I used Sunlit Meadow, Aquatic Mist, and Blue Lagoon) for lots of shine
• I've explained this tip before, but it's worth saying again as it makes my card making process go so much faster! Watercolor some pretty washes on card size watercolor paper for future cards when you are in a painting mood.
• Use leaf green embossing powder for the sentiment so it has texture and sheen and can hold it's own against that very glittery feather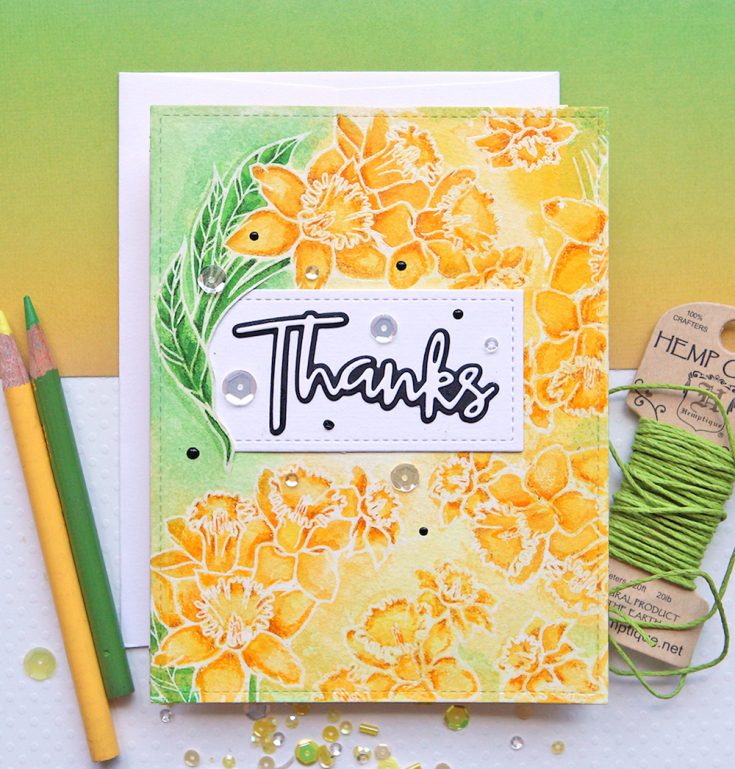 I embossed the dandelion feather stamp over and over on this card with white embossing powder on watercolor paper. I wanted to create a soft pretty background with watercolors. I left a spot in the center empty for a salutation block. I cut under the leaf on the left side so I could slide the salutation underneath it. I used the Thanks Script Wafer die with a black background so it would stand out against the busy background!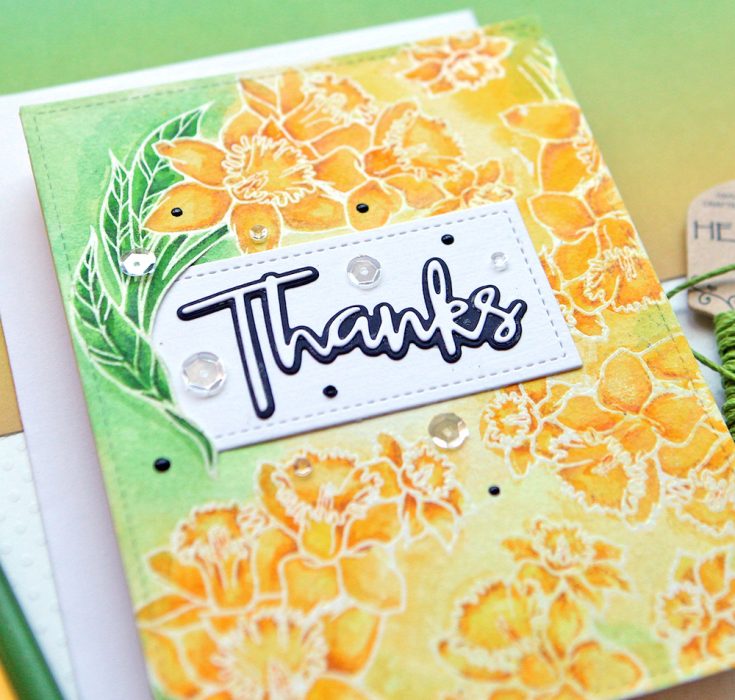 Here are some tips for this card:
• To tie in the black background on the thanks script die, I used some Ebony Black Tonic Nuvo Drops around the background
• When stamping the dandelion feather stamp, I only used the full image with the green leaves one time on the top left to draw your eye to that spot and to frame the salutation rectangle
• Carefully cut underneath the stem and leaves on the left side to tuck the stitched rectangle underneath
• The flowers weren't' popping enough with the yellow paint against the white embossed lines so I added some yellow colored pencils in a darker shade around the lines
• Use a lot of water when doing this type of watercolored background – I added some green paint as well to tie in the green leaves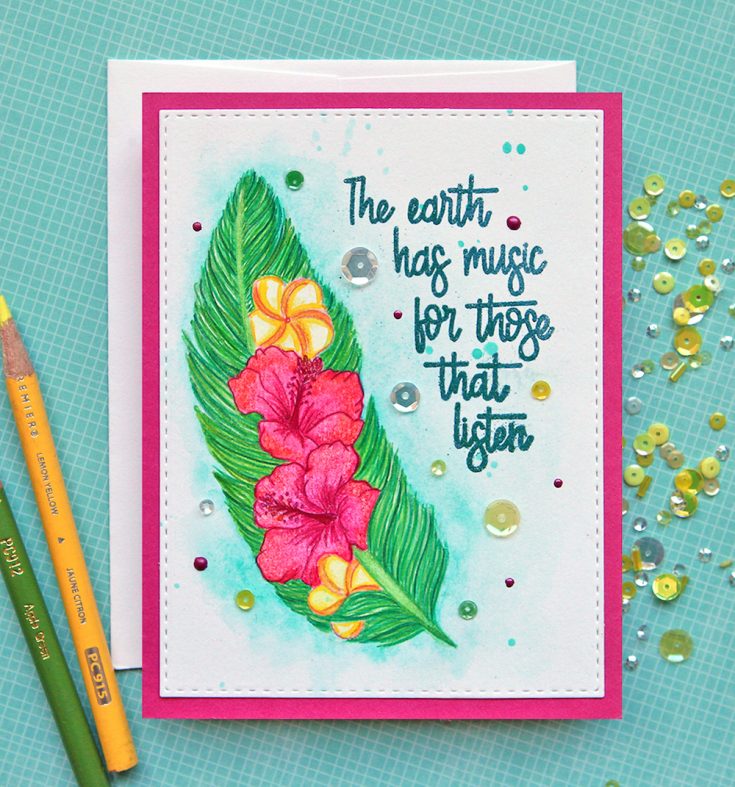 Some people might think I am crazy, but I often cut up my stamp sentiments so they can fit in different size areas. For this card, I used one of the feather stamps vertically leaving me the right side of the card for the salutation. By cutting the words apart, I was able to use them vertically to fill in the area. When I cut up stamps, I don't cut off the messy edges so that way I can put them back together and use them as one piece again.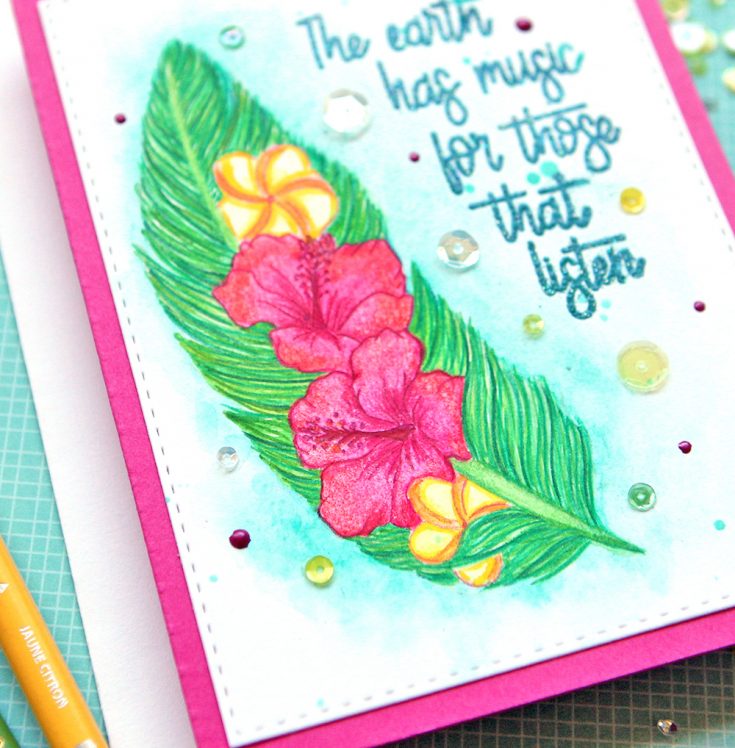 Here are some tips:
• I used the gorgeous SSS Mermaid Blue glittery embossing powder for the sentiment – I just received it in my September kit and I love getting supplies in kits that I can use again!
• I colored the feather with Copic Markers first so the background was entirely green; then I added the feather tendrils over the top with colored pencils; this made the feather much more opaque as the lines blended into the color underneath
• Apply water just around the outside edges of the feather and then put your blue watercolor right next to it so the color runs outward creating a "halo" effect around your image
• I love splattering more of the same color watercolor I used for the background over the card so there are interesting little spots! (I used Daniel Smith Cobalt Teal paint here)
• Add some sequins and Tonic Nuvo Drops to the background as well so it is very splotchy!
Thank you for visiting the SSS Blog today – I hope I have inspired you to play with all of your stamps and supplies. I have so much passion for card making and especially for coloring stamped images. I always hope others enjoy this hobby as much as I do! If there was a fire in my house the first thing I would grab would be my stamps and coloring tools – after the kids and dogs of course! Have a great week and always find time for a little coloring in your day, especially now that summer is over and kids are back in school! Suzy
SUPPLIES:
| | | |
| --- | --- | --- |
| Simon Says Clear Stamps EARTH HAS… | Simon Says Stamp Premium Ink Pad… | Simon Says Stamp CLEMATIS Sequins… |
| Simon Says Stamp CARIBBEAN SUNSET… | Simon Says Stamp PEONY BOUQUET… | Simon Says Stamp Sequins SUNSHINE MIX… |
| Simon Says Stamp BUTTERFLY KISSES… | Simon Says Stamp MOTHER OF PEARL… | Simon Says Stamp Embossing Ink Pad… |
| Simon Says Stamp STITCHED RECTANGLES… | Simon Says Stamp MISS YOU BLOCK Wafer… | Simon Says Stamp DIAMOND PATTERN… |
| Simon Says Stamp SCRIPT HELLO Wafer… | Simon Says Stamp SCRIPT THANKS Wafer… | Lawn Fawn LARGE STITCHED RECTANGLE… |
| Pretty Pink Posh SPARKLING CLEAR MIX… | Pretty Pink Posh STORYBOOK 3 Die Set | Pretty Pink Posh STITCHED PIECES DIE Set |
| Ranger Wendy Vecchi Embossing Powder… | Ranger WATERCOLOR PAPER Inkssentials… | Neenah Classic Crest 110 LB SMOOTH… |
| Daniel Smith SAP GREEN 5ML Extra Fine… | Daniel Smith HOOKERS GREEN 5ML Extra… | Daniel Smith LEMON YELLOW 5ML Extra… |
| Daniel Smith GREEN GOLD 5ML Extra… | Daniel Smith OPERA PINK 5ML Extra… | Daniel Smith YELLOW OCHRE 5ML Extra… |
| Daniel Smith COBALT TEAL BLUE 5ML… | Uni-Ball Pen Signo Gel WHITE UM-153 | Copic Sketch Marker R20 BLUSH Pink… |
| Copic Sketch Marker RV23 PURE PINK | Copic Sketch Marker RV14 BEGONIA PINK… | Copic Sketch Marker N2 NEUTRAL GRAY… |
| Copic Sketch Marker B00 FROST BLUE | Copic Sketch Marker B000 PALE… | Copic Sketch Marker Y02 CANARY YELLOW… |
| Copic Sketch Marker Y000 PALE LEMON… | Copic Sketch MARKER Y15 CADMIUM YELLOW | Copic Sketch Marker Y08 ACID YELLOW… |
| Copic Sketch Marker YG01 GREEN BICE… | Copic Sketch Marker YG11 MIGNONETTE… | Tonic BLUE LAGOON Nuvo Glitter Drops… |
| Tonic AQUATIC MIST Nuvo Glitter Drops… | Tonic SUNLIT MEADOW Nuvo Glitter… | Tonic DANDELION YELLOW GLOSS Nuvo… |
| Tonic RHUBARB CRUMBLE Nuvo Crystal… | Tonic EBONY BLACK Nuvo Crystal Drops… | Prismacolor PREMIER COLORED PENCILS… |
| Faber-Castell POLYCHROMOS COLORED… | My Favorite Things NATURAL Hybrid Ink… | MISTI MEMORY MISTI PRECISION STAMPER… |
Thanks so much for stopping by and thanks to Suzy for being our guest!
Congrats to Amy Cooley for being the randomly chosen blog candy winner from our Interactive Cards by Jess: Spinning Wheel Card! 
Please email [email protected] to claim your blog candy!
——————————————————————-
STAY TUNED! Tomorrow is STAMPtember® 1st and we will have LOTS of prizes ALL MONTH LONG!
---