Happy COLOR Friday! Black Friday Isn't Just Black at Simon Says Stamp!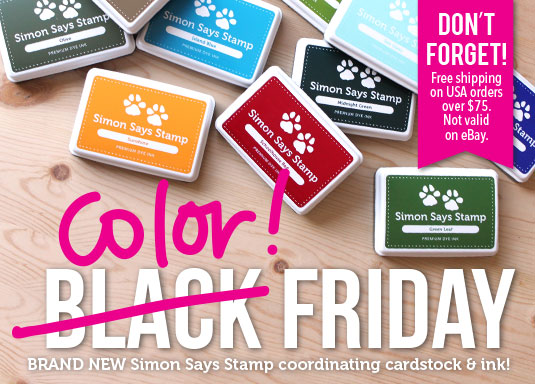 Happy Black COLOR Friday!  We are so very excited to share our colorful news with YOU!
Two very lovely people worked closely with me to develop a new program of color at Simon.  You see, I'm not all that creative.  Truth be told, the process of making cards makes me happy.  I've always enjoyed the art of making and sharing cards.  Rubber stamping has made the process so much easier, more clean, more elegant.  It's not like I can draw…and my handwriting is barely legible these days.  Yet, rubber stamps on fabulous card stock with fabulous ink….those are the fundamental ingredients for card making.  Right?
Do you remember the first time you stamped to create a card?  Man, oh man,  I sure do.  So very clearly.  It was in Swanton, Ohio at my big sister's house.  It was early 2001 and I was 25 years old.  Always, always, always, I have loved to craft.  Card making was the perfect adult evolution of that for me.  My sister just KNEW it -and so graciously invited me to her home for a stamping party.  Imagine my excitement when I could create sophisticated cards by inking stamps onto cardstock!?  Oh yes, the clean swipe of a perfectly inked stamp.  Yes! yes! yes!  The act of stamping makes my heart skip a beat in that quick instant when ink kisses the paper and my eye anxiously peers to see the image left behind.  Do you feel excitement in this instant too?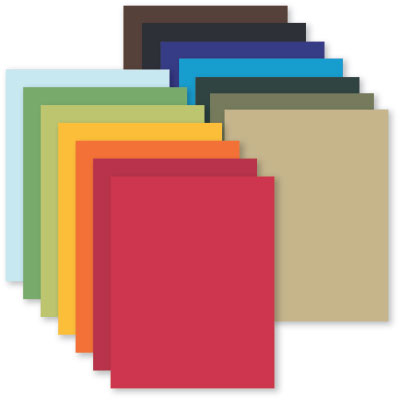 Working with Kristina Werner and Shari Carroll is awesome!  Artistically they have exactly what it takes to help select the best colors for our Simon palette.  Kristina has such a keen eye for design.  I've never met anyone like her.  Shari has such depth of experience and is what many call "The queen of color".  The three of us have had such fun selecting colors for the Simon palette.  We wanted ink that would match what we consider the most perfect card stock.  We believe the ideal card making stock is 100# heavy cover weight.  It's smooth and perfect for stamping.  We wanted ink colors that would not only coordinate with the card stock, but also be premium dye ink.  It was important to source the ink in the USA.  Working closely with ink manufacturer Stewart Superior, we have been able to color match our cardstock with Stewart's Memories formula ink.  It's been a process, but one we have deeply enjoyed!
Simon Says Stamp's initial color release includes the 14 colors you see below (13 plus black)  However, we have more incredible colors that we would really like to bring out to you through 2014.  First we need to know…  Do you want them?  Do you like them?  Are you feeling it like we are feeling it?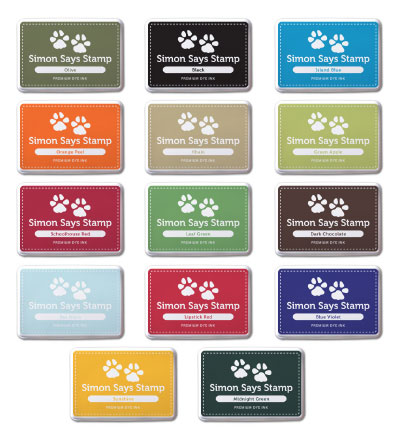 Kristina had a fun idea to include a swatch book in the release.  You can purchase the swatch book separately or if you choose to purchase the entire 14 color ink set, you will receive the swatch book as a gift with purchase.   The swatch book includes a small photopolymer clear stamp set, 30 papers, 14 card stock rectangles, and a silver ring.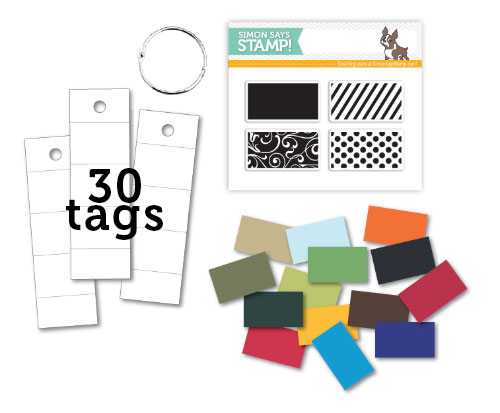 We hope you are having a wonderful week!  Yesterday was Thanksgiving in the United States and I am most thankful for the people in my life.  You can probably see that in my career I am surrounded by not only incredibly talented folks, but also fun, funny, kind, clever, smart, generous, positively incredible people.  Folks like you!  We are all so very lucky to be in this industry where it is our job to create, spread kindness, share, and be thoughtful of others.  Thank you for being here!  Thank you for spreading joy through the acts of card making!
Thank you for being here!  Thank you for being you!  Thank you for being part of the best industry on earth!  Please don't be shy…we'd love to hear from you below.  We will choose from among the comments below to receive a $25 gift certificate to www.SimonSaysStamp.com.