Hello there!
Thank you for visiting our blog!  I have the pleasure of announcing a new Monday Challenge theme!  This week's theme is Dotty!  I love these challenges.  Every time I see what you all people make, I want to get all of my supplies out and use them all!!   So many takes on one theme, and so many techniques to try – it's great!!  Enter this week for a chance to win a $50.00 voucher to Simon Says Stamp!

Here to provide some inspiration are three members of the Monday Challenge Design Team!  If you'd like to see more, stop by the blog and click the person's name or card to see all of the details and leave these wonderful people some comments! :)
Made by Tracy Evans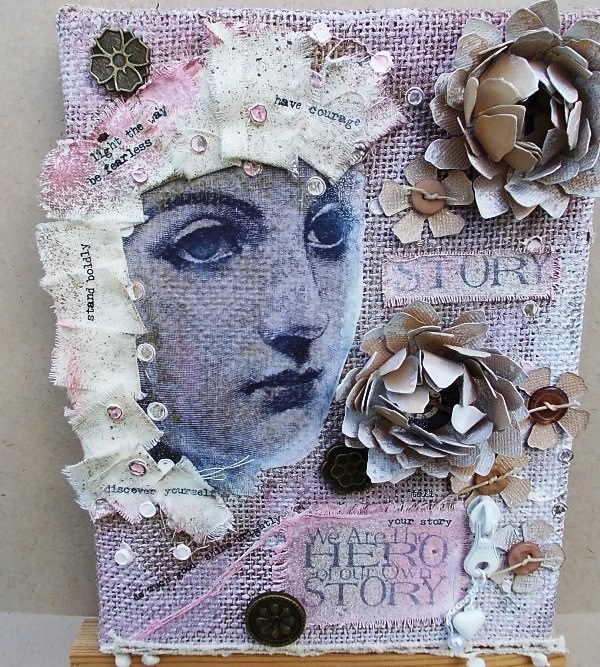 Tracy had this to say:
I love the freedom of just playing and seeing where inspiration takes me. I knew I wanted to use the face from Tim Holtz Classics 5 Stamp set combined with dots in some way. My first thought wasWendy Vecchi's Stencils For Art Dots and Stripes Borders stencil and so my ideas began to develop. Tim's Words Remnant Rubs helped to add motivational words to my piece; I love the freedom of creating this piece and was pleased with the mix of elements.
Made by Candy Colwell
Candy had this to say:
Playtime with my new GelliArts Plate,6×6 Mini Layered Beads and Wendy Vecchi's Polka Dotty Stencils let me create some really fun polka dot backgrounds that I collaged onto the front of my custom sized envelope created with my new Envelope Punch Board. What would a polka dot piece be without Dyan Reaveley's Dependable Dotty? Well, mostly Dependable Dotty. Her head is Pondering Petunia's topped off with polka dot hair. Tim Holtz' Vintage Fan mixes vintage with funky as the blades spin and fling paint into the dot patterns.
Made by Dan
Dan had this to say:
Somewhere in my house there is an invisible mountain of pens that I have lost over the years and consequently, whenever I need a pen while on the phone I can never find one! I'm rectifying this situation for once and for all with this pen pot which will live next to my phone and will be kept fully stocked. Among the stamps that I used here were the School Desk and Mixed Media sets from Tim Holtz, Simon Says Stamp's exclusive Apothecary Labels set and the Index Card and Blank Ticketstamps from Memory Box.
Blog Candy Alert!! Follow our blog via email and comment on this post for a chance to win a special blog candy! Congrats to the following Blog Candy Winners!