Doodling with Debby: Messy Watercolored Background
Hi, friends Happy Tuesday! I'm delighted to welcome you back to the latest edition of Doodling with Debby with the fabulous Debby Hughes! Today, Debby is spotlighting our super fun Wake Up and Makeup stamp set and some fun vibrant watercoloring! Read on, and be sure to watch the video! Enjoy!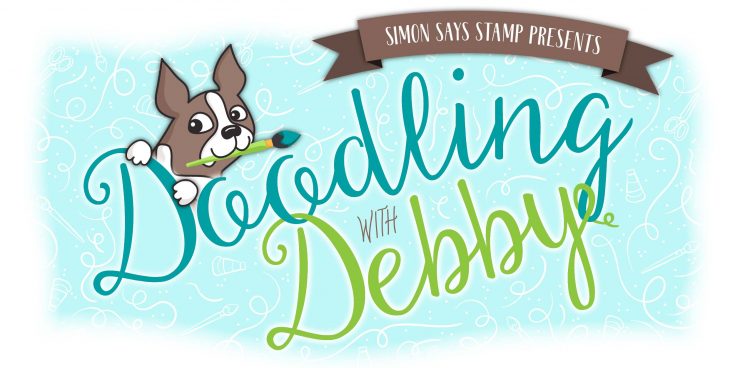 Hi, it's Debby here and for my Doodling With Debby video feature this month I'm creating a messy watercolor background using the Wake Up And Makeup set from Simon Says Stamp. The joy of a background such as this is it is simple to paint; you don't need to worry too much about being precise with a loose, messy style adding to the effect.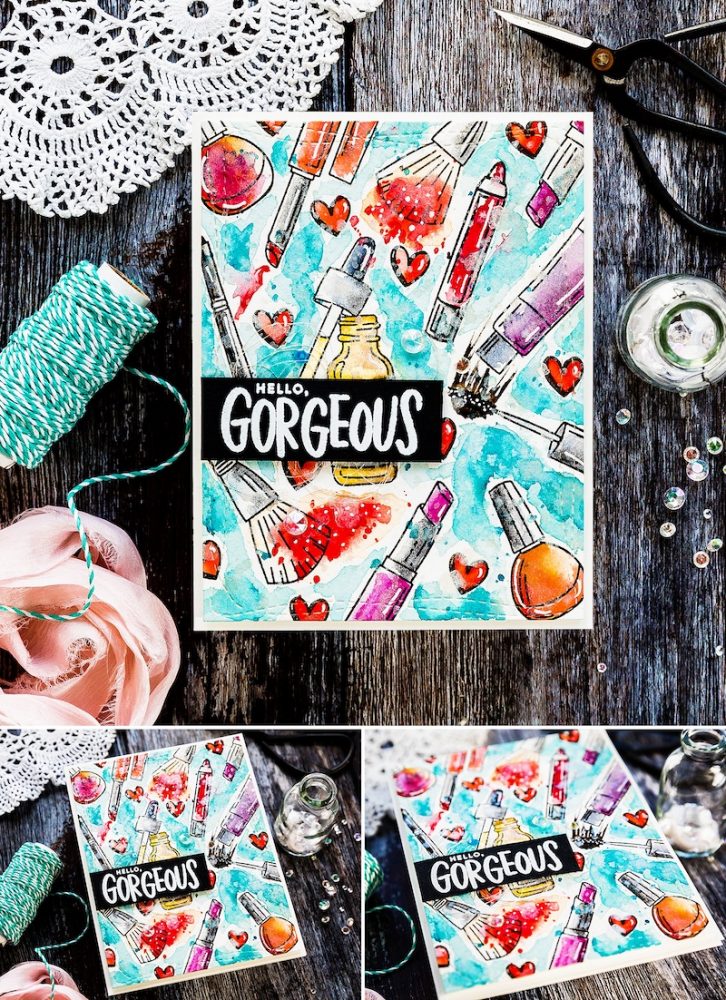 The idea for this card started when I was with a group of crafting friends and started to play around with the set (see the video for a peek at my first attempt). I sort of liked how this card went but it got to get a bit grungy, and I didn't think that suited makeup. Also, I didn't like the fact that there were only two pops of blue. So, for today's video, I redid this card but kept the mistakes I made last time in mind. This time around I used a more extensive selection of the images from the Wake Up And Makeup set and loosely watercolored around the makeup for a fun, fresh teal blue background and as for the makeup, I chose a warm color palette of reds, pinks, oranges and yellows to contrast with the teal background.
I placed a piece of cold pressed watercolor card in the full-size Misti. I'm using the full size rather than the mini so that I can have the images off the edge to create a dynamic pattern. I arranged a selection of the images, keeping them close together but not overlapping and varying the angles. I then stamped them twice in Versafine Onyx Black ink to get a good impression on the textured card.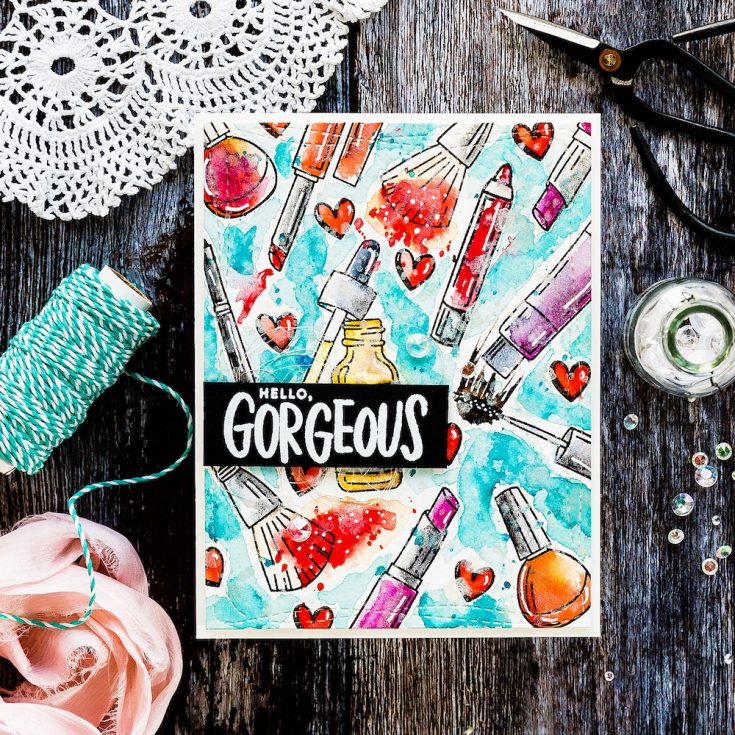 Now once the stamps were inky, I used a piece of acetate to protect my card while I arrange the stamps for a second time. This way you don't get any accidental inky smudges. Once the new position is determined, I then picked up the stamps with the door of the Misti and removed the acetate before stamping onto the card. I filled in any more significant gaps between the makeup with the heart image and then taped the card to a board in preparation for watercoloring.
Thinking back to my first attempt at this card, I liked how I'd added the effect of makeup sprinkled onto the background and the mascara streaks too, and so I added those in first before filling in the rest of the background with a loose teal blue wash. I didn't worry about covering every inch of the background but loosely moved the color around, leaving gaps around the makeup.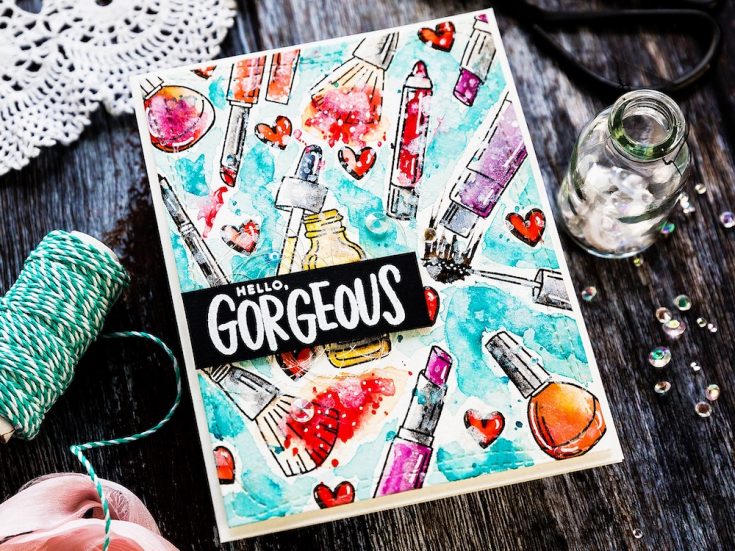 While I'm painting, I have a tissue in one hand so if there are areas where the color has gone down too intensely for my liking, I can sop up some of the colors for a softer look. I certainly did this for some of the hearts and that dropper bottle too. The color on the bottle wasn't quite what I was after, so I dampened the paint again with a wet brush and then picked up some of the colors.
I'm using a dilute black for the caps and areas which I think would be silver and then for the makeup I'm using some lovely warm colors of reds, oranges, and pinks. In the same way for the background, I'm really trying not to go for a precise look, I'm adding blocks of color and not painting right to the edges for that messy look. And the result is that this watercolored background was rapid and straightforward to create.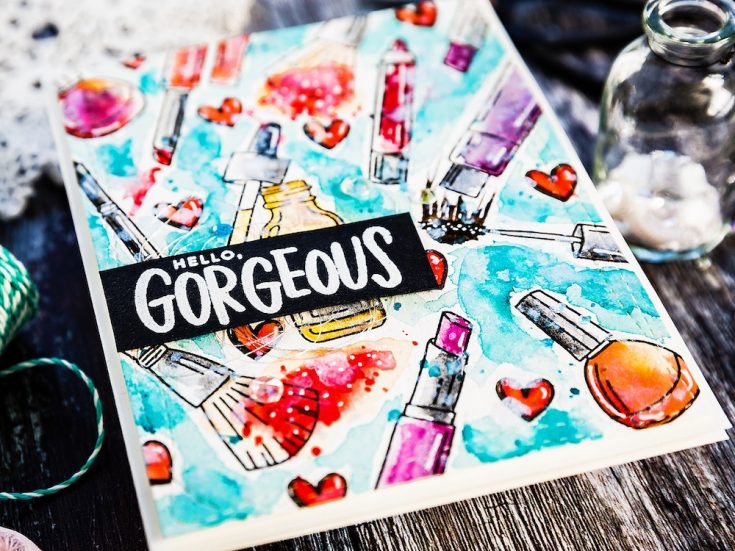 Moving on and I wanted to add some splatter in places. Firstly, for the makeup brushes and I chose a dilute red for this and generally over the whole panel in teal to match the background. Then I added more splatter in the form of my favorite perfect pearls solution. This added a lovely sparkly finish to the card. As the teal background had dried its color had lightened slightly and so to balance with the depth of color of the makeup pieces, I added a second layer of teal and then more perfect pearls splatter to finish. I dried the panel with a heat tool and then used a white gel pen to add a few highlight details.
With the background now complete I ran it through my die cutting machine with a Wonky Rectangle die for a fun stitched detail to the edges.
For the sentiment, I picked out the 'Hello Gorgeous' greeting and lined it up on a piece of black card in the Misti. I treated the card with an antistatic powder bag to prevent embossing powder randomly sticking everywhere and then stamped the sentiment in clear embossing ink before sprinkling with white embossing powder and heat setting. I trimmed the piece to a banner and added foam adhesive to the back. I then removed the adhesive backer and added some silver thread I'd looped around my fingers to the back. I then added the sentiment to the watercolored background offset to the lower left using a T square ruler to ensure I had it on straight. I then added more foam adhesive to the back of the panel and added it to a side folding A2 card base cut from Ivory card. I find this card a good match for the warm white of watercolor card.
As a final accent you can't beat a bit of bling, and so I added a trio of Opalescent Diamonds from Little Things By Lucy's Cards and kept them in place with Gina K connect glue.
Comparing the first attempt next to my finished card and I certainly prefer the brighter colors and teal background of the final version.
Thanks for joining me today, and I'll see you next time for Doodling With Debby.
SUPPLIES:
RESERVE Simon Says Clear Stamps WAKE…

My Favorite Things WONKY STITCHED…

Arches COLD PRESSED WATERCOLOR PAD…

Simon Says Stamp Card Stock 100#…

Simon Says Stamp Card Stock 100#…

Simon Says Stamp Embossing Ink Pad…

Simon Says Stamp EMBOSSING POWDER…

Tsukineko VersaFine ONYX BLACK Ink…

Ranger PERFECT PEARL Powder PPP17714

Ranger FLAT BRUSHES 2 Pack Perfect…

Little Things From Lucy's Cards…

Daniel Smith ULTIMATE MIXING Hand…

Ranger Inkssentials MINI MISTER Spray…

Uni-Ball Pen Signo Gel WHITE UM-153

Gina K Designs CONNECT GLUE Adhesive…

3M Scotch DOUBLE-SIDED FOAM TAPE…

MISTI MEMORY MISTI PRECISION STAMPER…

C-Thru T SQUARE RULER Westcott JR12

Precision Heat Embossing Tool Gun…

Tim Holtz Tonic GLASS MEDIA MAT 1914e

EK Success CRAFT TWEEZERS Precision…

Singer Clear Thread 135 Yards
Thanks so much for stopping by, and thanks to Debby for being our guest!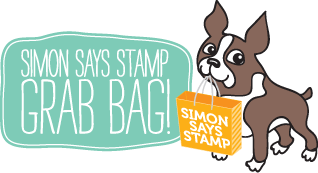 Blog Candy Alert!! Follow our blog via email and comment on this post for a chance to win special blog candy!