Doodling with Debby: Blended Distress Oxide Background
Hi friends! Happy Wednesday! Thanks so much for stopping by the blog today and thanks to the always inspiring Debby Hughes for being our guest in the latest edition of Doodling with Debby, a monthly blog series on our blog! Read on, watch the video, and enjoy!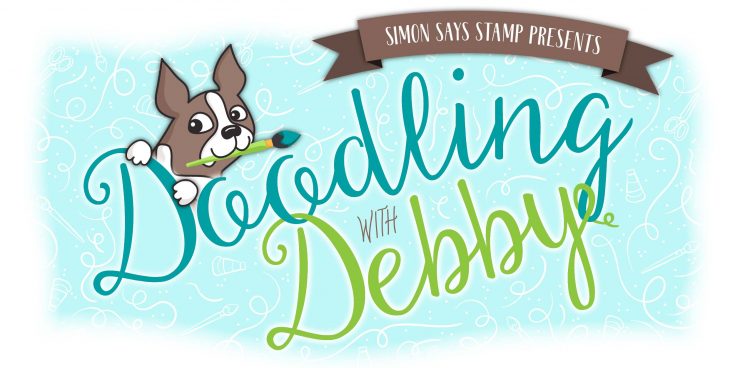 Hi, it's Debby here and today for my Doodling With Debby feature for Simon Says Stamp I'm being inspired by the fabulous Kristina Werner and her Distress Oxide colour combinations series. I have been following Kristina since way back in the day and am always inspired by her cards as well as her graphic design work and lettering. Well, when I saw Kristina combine Old Paper, Evergreen Bough and Black Soot Distress Oxides I just couldn't get the beautiful muted blend of these colours out of my head, so I'll be using them on my card today. Please check out Kristina's series as she covers lots of other different combinations too.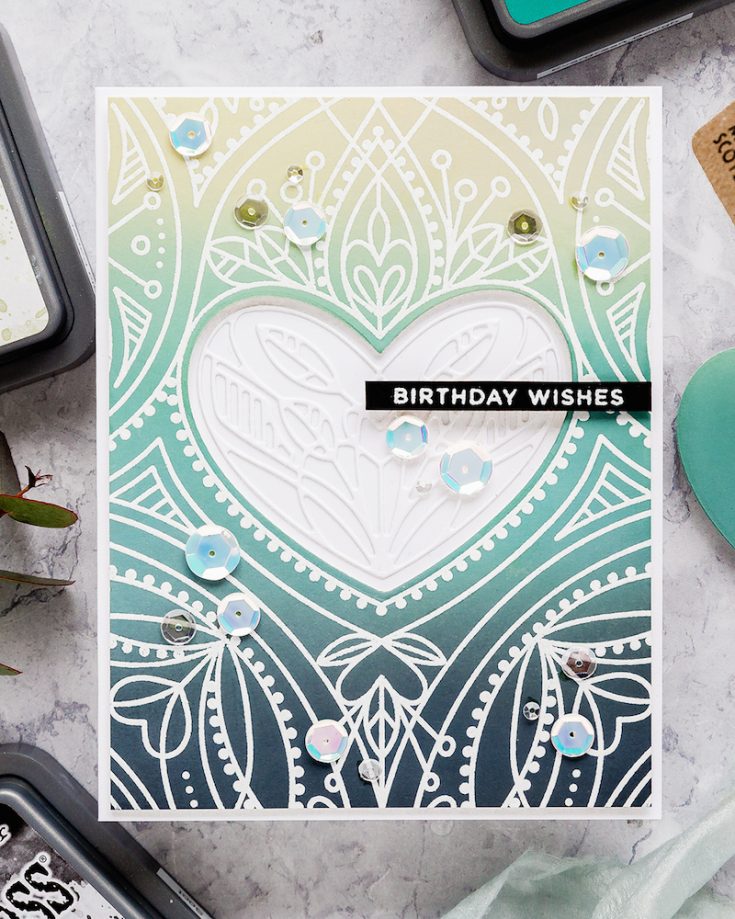 I started with the three colours of Distress Oxide ink and a piece of Neenah Solar White 80lb card cut to 6 inches square. For the blending, I used the largest of my Picket Fence Blending Brushes. I am still loving these brushes for getting a nice smooth blend. Starting with the Old Paper Distress Oxide and I blended this over roughly half of the card. This will allow for an area of pure Old Paper at the top of the panel and then an area to blend with the Evergreen Bough through the middle section. As I worked the Evergreen Bough through the middle, I concentrated on getting a smooth blend with the transition from Old Paper and also bringing the colour down towards the bottom of the panel so that I had an area to blend with the Black Soot. Black Soot is a concentrated colour, and you don't need much on your brush to get good coverage. The Distress Oxides blended beautifully, and you can work the blend for a while after the initial application. I missed a spot where the tissue I'd been using to protect the panel from fingerprints got in the way. But it was easy to keep blending the colours over this section until you wouldn't know there had been a defined edge of colour in that area.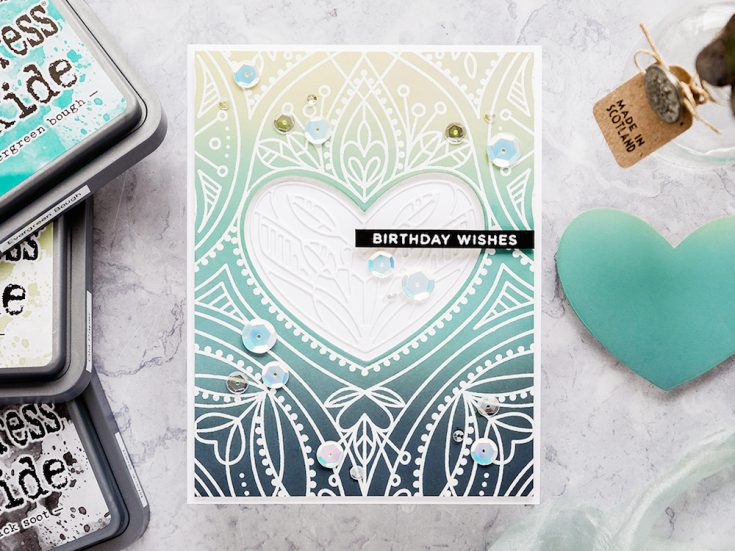 I use baby wipes to clean my glass mat of excess ink and prevent it from being blended into the wrong section, and I also use baby wipes to clean my brush when moving from darker to lighter colours. I rub the brush head over a baby wipe several times and then rub it over a dry tissue to remove any moisture and then I'm set to go again. If I'd left the remains of the black soot on the brush as I worked more Evergreen Bough into the transition then the Black Soot would likely have overpowered the Evergreen Bough but with the clean brush I was able to apply more of the Evergreen Bough to blend the transition and even the colour out as I wanted it to be. I repeated the cleaning process to remove the Evergreen Bough ink before turning to the Old Paper ink to work the colours over those transition areas. And once I'd finished giving a good coating of the Old Paper to the top of the panel, I was happy with the overall blending of colours from one to another.
I planned on using the Center Cut Heart background stamp from Simon Says Stamp, and white heat embossing the design over the ink blended background. Having lined up the stamp on the panel in the Misti, I then made sure the panel was fully dry before stamping. The moisture from the Distress Oxides could easily cause embossing powder to stick everywhere, and so I dried the panel thoroughly with a heat tool before treating it with an anti-static powder bag. This will again help prevent embossing powder randomly sticking everywhere. I stamped the image in clear embossing ink from Simon Says Stamp; this is a clear sticky ink that the embossing powder will easily stick to. I made sure to press down firmly over the whole of the image to get a good impression. Having said that I didn't actually use the whole of the image. The Center Cut Heart background stamp has a central heart area which can be removed, and I chose to stamp the image without the center heart as I have plans to die cut this area afterward. Having stamped the image, I sprinkled white embossing powder from Simon Says Stamp over the sticky ink and then heat set it with a pre-heated heat tool. I let the embossing powder cool and then trimmed the panel to be just slightly smaller than an A2 card base.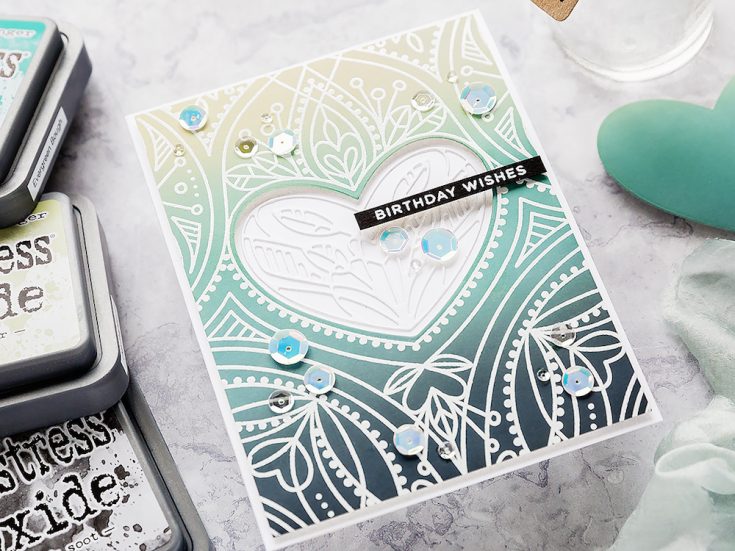 Now, let's return to that center heart area. A recently released Deco Heart die coordinates with this stamp set. There are two dies in the set one which will cut out just the heart area and one which will cut out a matching decorative pattern. You could cut the pattern from the open area of the stamped design. However, I chose to cut the whole area out with one die and then die cut the decorative die from white card to add to the middle of the heart window. I added foam adhesive to the back of the ink-blended panel and mounted it onto a white A2 card cut and scored from Neenah Solar White card in the 110lb weight. I added little dots of Gina K Connect glue over the back of the decorative die cut and then dabbed any excess glue off on a scrap piece of card before adding it in the heart window. I love how on the white card base the white decorative die cut adds a lovely tone on tone detail and elegance.
I am still in love with simple skinny strips for a sentiment banner, and so I chose the Simple Sentiments 02 set from CZ Design and Simon Says Stamp for the greeting. I often like to use a dark grey card for a sentiment strip, but with the Black Soot Distress Oxide ink in this blend, I felt that a black sentiment strip would work better. I treated a piece of Black card with an anti-static powder bag and then stamped the Birthday Wishes greeting in clear embossing ink before sprinkling with white embossing powder and heat setting. I trimmed the sentiment to a skinny banner with a scalpel and ruler and then added foam adhesive to the back and used a T-square ruler to ensure I added it on straight to the card.
I can't finish a card without a little sparkle, and so I chose some opalescent sequins from the Butterfly Kisses sequin pack and a few clear sequins from the Girl's Best Friend pack both from Simon Says Stamp and kept them in place with Gina K Connect Glue.Thanks for joining me today, and I'll see you next time for Doodling With Debby.
Watch below or in HD on Youtube.
SUPPLIES
Simon Says Cling Rubber Stamp CENTER…

Simon Says Clear Stamps SIMPLE…

Simon Says Stamp DECO HEART Wafer…

Simon Says Stamp Embossing Ink Pad…

Tim Holtz Distress Oxide Ink Pad OLD…

Tim Holtz Distress Oxide Ink Pad…

Tim Holtz Distress Oxide Ink Pad…

Neenah Classic Crest 110 LB SMOOTH…

Neenah Classic Crest 80 LB SMOOTH…

Simon Says Stamp Card Stock 100#…

Simon Says Stamp Sequins BUTTERFLY…

Simon Says Stamp Sequins GIRL'S BEST…

Gina K Designs CONNECT GLUE Adhesive…

3M Scotch DOUBLE-SIDED FOAM TAPE…

Picket Fence Studios LIFE CHANGING…

MISTI MEMORY MISTI PRECISION STAMPER…

Precision Heat Embossing Tool Gun…

Inkadinkado EMBOSSING MAGIC Powder…

C-Thru T SQUARE RULER Westcott JR12…
Thanks so much for stopping by, and thanks to Debby for being our guest!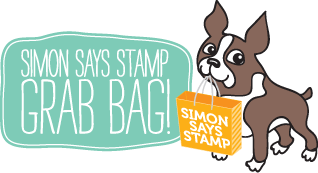 Blog Candy Alert!! Follow our blog via email and comment on this post for a chance to win special blog candy!