Did You Know? Fun Facts and Crafty Tips! January 2020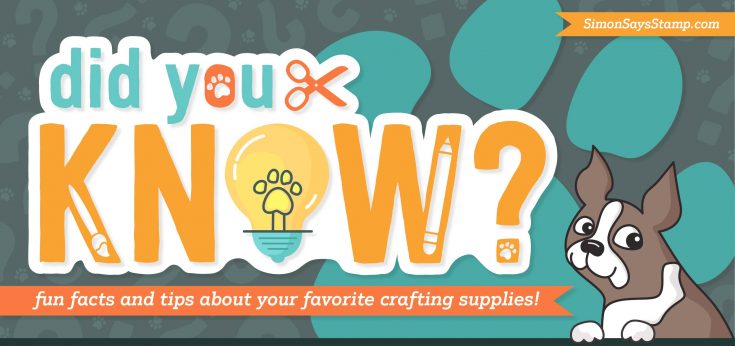 Hello crafters, it's Shari Carroll here with you! Today I have a new edition of our popular Did You Know series!
If it's your first time seeing this feature, each month we bring you fun facts, creative tips and even crafty hacks about your favorite supplies and brands; you can then use these awesome tips that you learn in your next crafting projects! Are you ready to learn some fun tricks? Keep on reading!'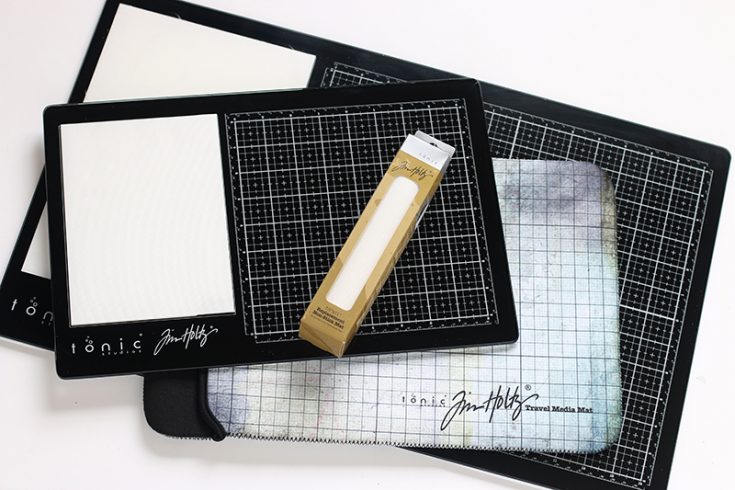 I love using the Tim Holtz Glass Media Mat. I do a lot of Mixed Media, Art Journaling, and cardmaking. The glass surface is easy to clean up after messy projects. I use hand sanitizer and rubbing alcohol to clean dried paints, adhesives, and alcohol inks. The glass is heat resistant so I don't have to worry about my work surface underneath when embossing.
The original mat is 14″ x 23″ with a 12″ x 14″ measuring grid and white 7.5″ x 11″ mixing palette area located under the non-stick mat.
The travel mat measures 15.75″ x 10.25″ with an 8″ x 8″ measuring grid and white 5.5″ x 7.5″ mixing palette area located under the non-stick mat.
Bonus: This mat comes with a beautiful protective case. Both size mats come in left and right-handed. There are replacement non-stick mats available too!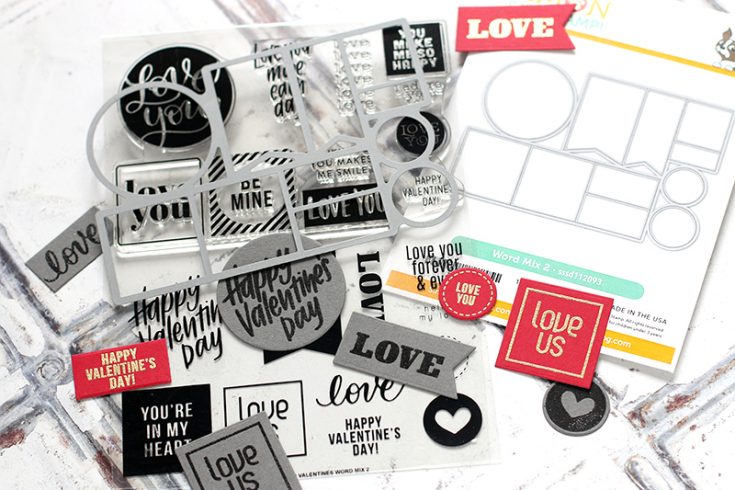 This is such a brilliant idea from Kristina Werner. Word mix stamps come in 4″x6″ (Word Mix 1) and 6″x8″ (Word Mix 2) clear sets. Each set has 2 large stamps with several greetings of various themes, shapes, sizes, and styles to be stamped all at once.
The matching die fits the stamped images perfectly to cut out shapes and tags, also to be die-cut all at once. Amazing, right? These are a time saver!!
Our sentiment strips have been wildly popular and to keep up with the trend of white embossing on black paper, we now have black strips with white messages.
They come in a variety of themes, ready to be cut and added to your cards.
These sentiment strips can still be used with our Sentiment Label Dies for precise cutting.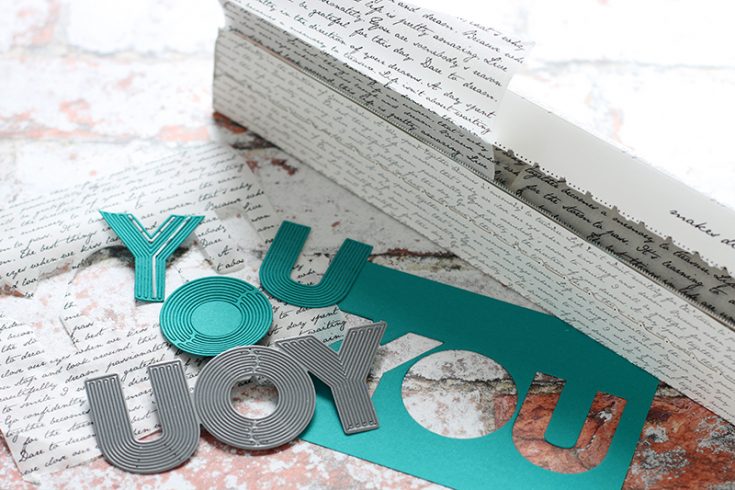 Have you ever been frustrated with trying to clear out the little bits of paper from and intricate die? Let me introduce you to the Kaisercraft Die Release paper. Wow, this paper will make a world of difference for you.
You place this paper between your cardstock and die, run it through your machine and you can simply tap away the bits of paper from the die.
The package looks wide but it contains two rolls that fit perfectly across an A2 card. BONUS: My plates have been used quite a bit and sometimes leave marks on my cardstock from prior die-cutting. Having this barrier paper in place smooths out the defect from my plates.
Simon Says Stamp How to Series of Videos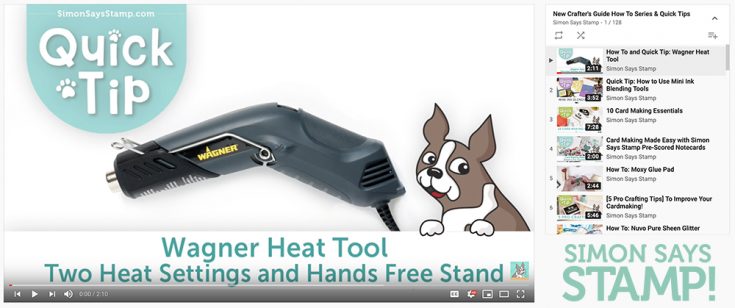 Did you know that we have a specific YouTube playlist that has 128 "How-To" videos (to date) with a plethora of topics! We have tips and tricks for beginners such as how to mount, ink up, and care for your clear stamps. We have techniques of all kinds, plus product comparisons and new product highlights.
We keep these videos short so we can focus just on the topic at hand. Check them out if you haven't already. You're bound to find something that will help make your cardmaking easier.
I hope this month's edition of Did You Know was helpful with your cardmaking and projects! Thanks for stopping by and spending some time with me today!
Kaisercraft DIE RELEASE Paper T332

Tim Holtz Tonic REPLACEMENT NON-STICK…

Tim Holtz Tonic TRAVEL GLASS MEDIA…

Tim Holtz Tonic LEFT HANDED TRAVEL…

Tim Holtz Tonic LEFT HANDED GLASS…

Tim Holtz Tonic GLASS MEDIA MAT 1914e

Simon Says Stamp WORD MIX 2 Wafer…

Simon Says Clear Stamps LOVE AND…

Simon Says Clear Stamps CHRISTMAS…

RESERVE Simon Says Clear Stamps…

Simon Says Clear Stamps THANKS AND…

Simon Says Stamp WORD MIX 1 Wafer…

CZ Designs SENTIMENT STRIPS REVERSE…

Simon Says Stamp SENTIMENT STRIPS…