Dan's favorite book A is for Alibi (a great read I myself enjoyed!) reminded me perhaps we should challenge ourselves this year to a few alphabet inspired challenges. Will you use product from American Crafts? Create a whole album? An Assemblage? Use Adhesives in a special way? Whatever your take – this week we are all about the letter A.
Dan was inspired by a song by a favourite singer of his.
One of my favourite movies is Francis Ford Coppola's version of Bram Stoker's Dracula. The song that plays during the closing credits is Love Song for a Vampire by Annie Lennox and it's long been a recurring track on my playlist, so I decided to make Annie Lennox my "A" for this challenge. I used a line from the song as my main inspiration and brought it to life using the Classics #9 stamp set, the Stars layering stencil and some Gold Leaf sheets.
Tracy was inspired to create an artsy canvas incorporating many layers of interest.
The letter 'A' instantly had me thinking about ART and how I could incorporate the letter 'A' in my artsy canvas. PaperArtsy Very Berry Fresco Finish Paint was my starting point, accompanied with the Tim Holtz Harlequin Layering Stencil. This piece uses the letter 'A' in abundance!
When Sandra Mouwen heard the letter A she immediately thought of her art journal


I really love to be all artsy in my art journal. And sometimes need a reminder to be bold and not be affraid to make a mess. I got myself the Designing with Gelatos Kit and couldn't wait to get started playing for the first time and get all messy with them. I first covered the pages with Gesso so the gelatos can move and easily be removed. That's what I did with the Dot Fade stencil and a baby wipe. The letters ART are cut out with my Silhouette Cameo after I made a randomly pattern with some washi tape.
A is for Apple and that makes Ashli think of teachers…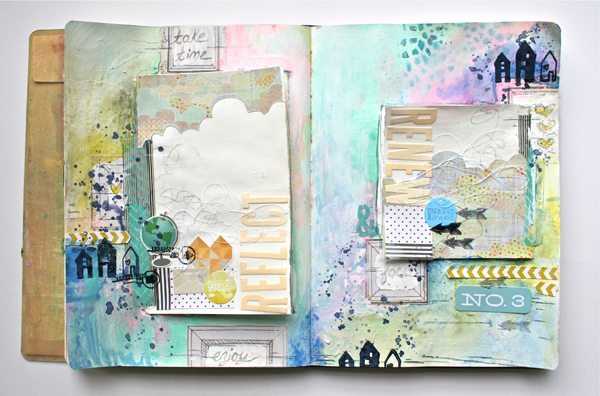 This challenge did have my mind wandering to school days. Since we homeschool, I took this opportunity to work up a spread in my Art Journal, turned calendar, where I could reflect on what we have done in our homeschool thus far, and to think about how to rework and renew things to come. Using a fun combination of Color Shine, Watercolor, Washi, and a Prima Stencil, this interactive spread was done in no time!
Suzz was inspired to alter a series of arches to create a Valentine decoration.
A is for altered, arches, and Authentique. I had the beautiful Smitten collection sitting on my desktop and decided that it would be the background for my arches. After I covered the arches with the papers I looked for images and found that the Graphic 45 Sweet Sentiment papers had the perfect cupids to adorn my arches. I created a folding arch with hinges on the reverse side of the arches. This Valentine decoration is ready just in time as the holiday decorations have been taken down and the house is looking a little empty.
A lot of fun with new dies was my (May) take on the challenge.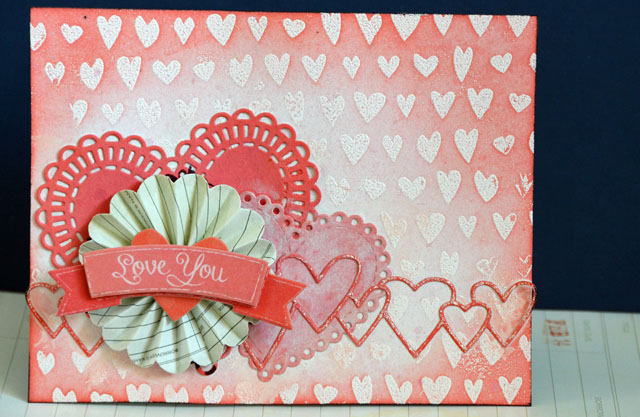 From alcohol inks to acrylic paint there are so many choices for the letter A. I decided to run with "A" few new supplies in my stash and create a card with some of the new Simon Valentine's exclusives! While I wouldn't have guessed it before I started this card, my Hero Arts Pale Tomato ink pad is in fact the perfect color for my Valentine. I had a really good time with this one – and I hope you're going to join in the fun this week too!
A is for Air Brush. Meihsia was inspired to create a scrapbook layout using the Air Brush.
I had so much fun when the first time I played with Copic Marker Air Brush System last year in the Copic Certification class. Since then I love to use it to create the grafitti effect on my art journal pages. This week I decided to use the Air Brush System, Copic Markers, and Heidi Swapp Heart Cluster Stencil to create the background pattern for my scrapbook layout.
A is for Airplane. Michelle created a fun new way for mail to arrive.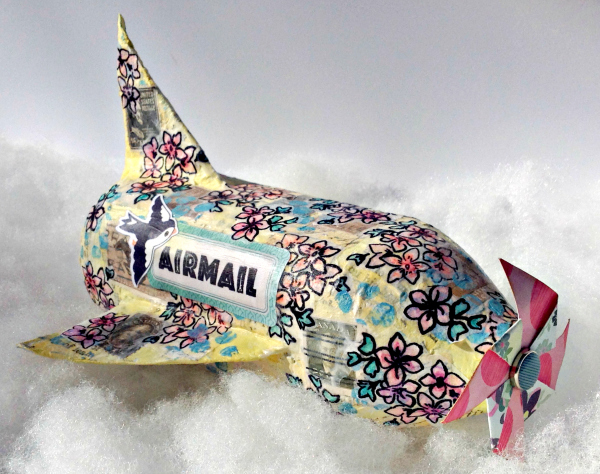 I love postal themed projects. A mixed-media papier-mâché airplane seemed just the thing to deliver mail art. BasicGrey's new Freshcut 12×12 Papers were used to create a fun pinwheel propeller. Flowers from the coordinating Hero Arts Sunshine Clear Stamp Set were stamped on tissue and applied to the airplane. The bird and label was created using the BasicGrey Fresh Cut Waterfall Theme Pack.
Anna-Karin made an Altered Artsy Almanac, by altering an old planner.
I remembered an old planner that I never used, and made a little book about 2014. Pages were glued together until I had a page spread for each month of the year, altering them with gesso and Gelatos. The cover was altered with foil tape, dry embossing and Patina Inks. I also used Prima metallic embellishments, Sizzix Vintage Market die and Stampendous Aged Silver Embossing Enamel.
A is for Alphabet, which Andrea used as her theme for this clever fabric cuff bracelet.
If you've spent any time at all in the human world, you've probably been pestered by a bored child at some point. Kids can be endlessly entertained by jewelry, but who wants their opal necklace drooled on? So I decided to make a piece of jewelry that is comfy and whimsical for the wearer, but doubles as an entertaining distraction for the little ones. This fabric cuff bracelet unwraps into a visual "alphabet strip" that little kids adore. It was fun to create using items like Farmgirl Tin Pins, a rain stencil and a mustache stamp.
Mona was inspired to alter an art journal cover.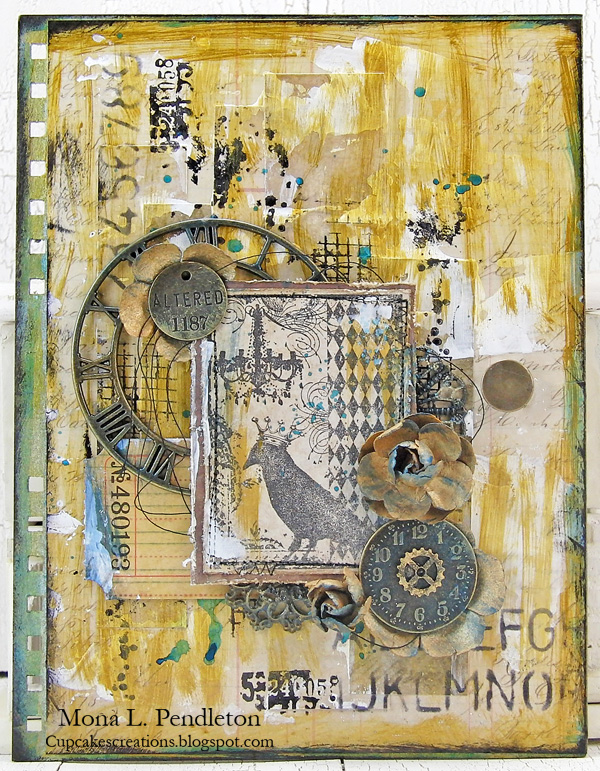 When I think of the letter "A" the word "Art" immediately comes to mind so I pulled out an art journal cover that was waiting to get be altered. I adhered fun French Industrial paper to the cover, randomly stamped various Bitty Grunge images, applied various mediums including the following: Bolivian Blue Acrylic Glaze, Gesso, Black Archival Ink, Stream Color Wash and Metallic Distress Acrylic Paint. For the focal image, I featured one of the fun Creative Collages then embellished with a variety of metal trinkets and flowers.
 You'll want to tune in Wednesday as we announce A new design team member!
For more inspiration click on our design team's blog links so you can see more photos (and full supply lists) for their projects. Leave them a little comment love while you're there so they know how they've inspired you too, if you're so inclined.

As always, Simon Says Stamp is giving away a $50 gift voucher that will go to a random entry chosen by random generator. To qualify all you need to do is create a new project that ties in (in any way!) with our theme and post it, along with a link back to this challenge, and add a link here. This challenge will end at 11:59pm on Sunday January 26th Eastern time.
We will also be choosing some of our entries to put in the spotlight – a special honor where we talk about why we loved that entry in particular and award a special badge too!
For the full rules, read the "challenge rules" posted in the side-bar here on our blog.
[raw]
[/raw]