Our team shares: New Year, Old Favorites!
How better to kick off the new year? With old favorites, of course! Six of our design team members are here to inspire you with projects that feature some of their all time favorite products.
This was a no-brainer for Dan, his #1 old favorite is the Distress color palette.
I could have gone lots of ways with this one, favourite stamp, favourite technique, maybe that's why this is such a great theme, so many possibilities! After a lot of thought I decided that I had to choose the Distress colour palette – they are among the first ink pads I ever bought and their vintage-toned goodness just keeps me coming back for more. Now that we have not only Distress ink pads but stains and paints too, we have ever more options in how we're going to be creative yet keep that vintage feel. As well as the Winged Things 2 stamp set (that flighty man counts as an old favourite too), I used some of Tim Holtz's layering stencils and Distress paints for this piece.
Tracy decided to combine a few of her old favourites to create an artsy masculine card.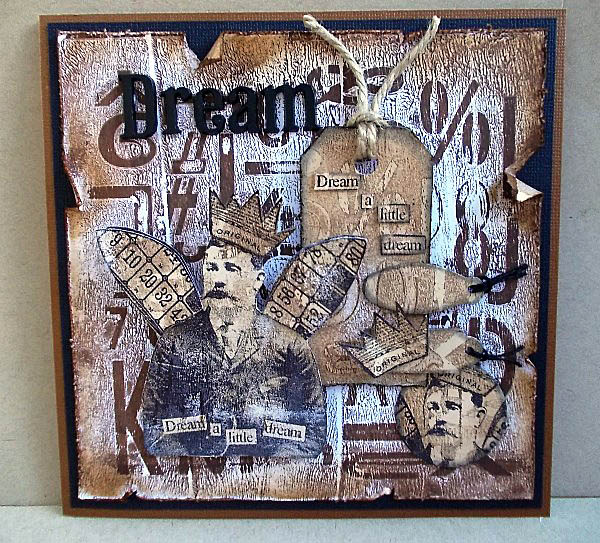 I love combining old and new products together and I knew I wanted to use one of my old time favourites the Tim Holtz Winged Things 2 Stamp Set, I love the images on this piece, especially because of their wings and I love the fact its quite quirky for a masculine card, something a little different. This image always inspires me to get in touch with my artsy side and is the perfect image for those masculine makes. I have also used Gathered Twigs Distress Ink to add to the aged feel so not only have I used an old time favourite I have also given my piece an aged feel to match!
Candy used some of her old favorites to create this very dimensional steampunk 6×6 board with a very special feature.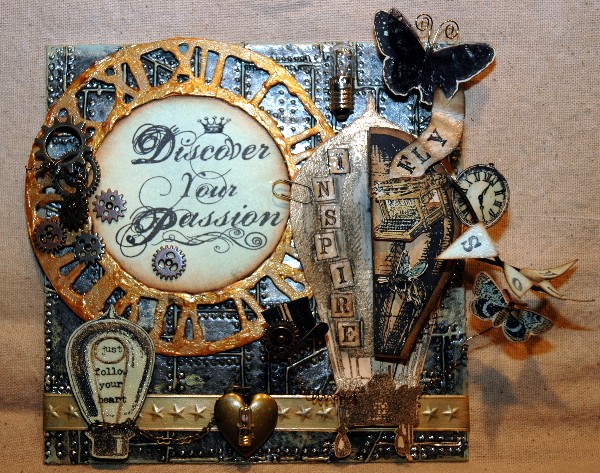 Maybe you will Discover Your Passion with this steampunk piece I have created using some of my all-time favorites. Tim Holtz products come to mind immediately when I think of my favorite craft supplies, so I chose his Weathered Clock die and Remnants Hot Air Balloon stamp to feature here. Both images are so versatile, easily alterable and can create some dramatic effects, depending on the products you use. In this case, the hot air balloon actually opens to create a more dimensional piece.
Sandra Mouwen played around in her art journal to try an aging technique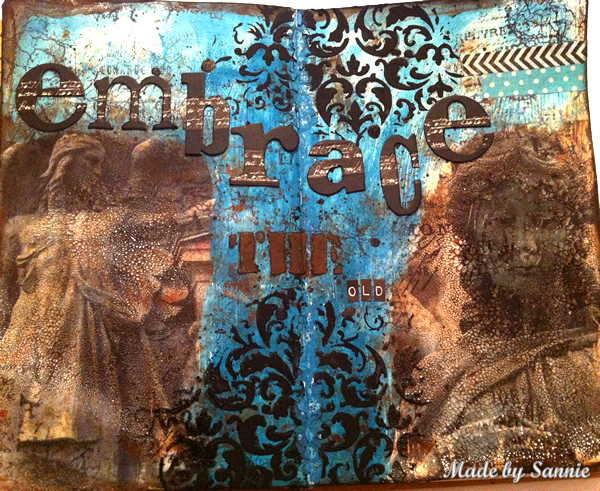 When I think of old things, I think of aging techniques, and I wanted to try a technique using an image transfer and Multi Medium Matte in combination with Rock Candy Crackle Paint and Walnut Stain Distress Stains. My crackle paint is so old, that it's become a bit thicker then intended. Perfect for this challenge.
Andrea wanted to make an "Encouraging Bird" collage using her all-time favorite Tim Holtz quote stamp.
I am a fan of words and a collector of quotes. When I thought about ringing in the new year using an "oldie but goodie," I went straight to Tim Holtz's Purely Random stamp set. This sentiment is so full of potential and it makes me feel inspired every time I see it. And since I was going with my beloved stand-by's, I also incorporated all my favorite inks, which are Peacock Feathers, Rain Forest and Walnut Stain.
Anna-Karin built a scene with some older Hero Arts stamps.


I like to make a year in review layout as an old year is replaced by a new one. Here I built a scene with stamps and inked it with my oldest, and still very much used, inks: Ranger's Adirondack dye inks. The bulk of the scene was stamped with Hero Arts Tree Trunks stamp. Additional trees were added with Simon Says Stamp Exclusive Tall and Small Forest Tree. The little birds are also from an older Hero Arts set.

Here at the Simon Says Stamp Monday Challenge blog we hope that you're having a very happy holiday season, and that you're enjoying the inspiration from our design team. For more details and supply lists on these projects, simply click on the team member's name (above the project) to visit their blogs.
Our challenges will resume Monday!