Challenge: It's a Mystery
From Nancy Drew books to techniques that are hard to figure out just from looking at a finished project, DT member Andrea and her father inspire us this week with the challenge of "mystery". Will you embrace your inner Sherlock Holmes? Mystify us with your technique prowess? Or perhaps your project ties into this week's theme by simply mysteriously being unclear on how exactly it fits! However you choose to interpret the theme, we can't wait to see your creations!
You'll never guess what mysteriously unconventional material Andrea used to make these Christmas tags.
Because my dad is a total mystery buff, I was raised to appreciate all things sleuth. As a youngster, I was enthralled with episodes of Murder She Wrote and Columbo. In junior high, I was the weird kid reading Agatha Christie all the time. And in high school, I'm pretty sure I was the only person in my age demographic who thought Matlock was the greatest show ever. I do love a good "whodunit" and you'll never guess what I did with bees wax, a Tim Holtz tag die and this mysterious household item that you will not find at your local craft store!
Sandra Mouwen loves a good mystery, and with this project she created some.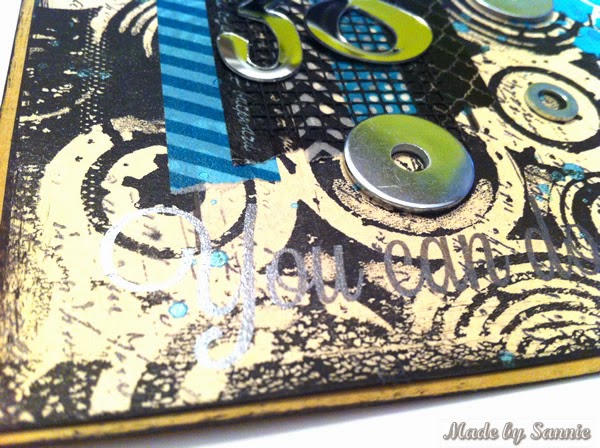 I think every creative project has mystery to it, and I love to try to unravel it before reading about how it came to be. Take a close look and see if you can unravel the mystery of my project. Okay, I'll give you some clues, the background is made with Charcoal Studio Paint, and the dots are splatters of Tropicana Teal. Have you unraveled the rest yet?
Candy's mystery has to do with Christmas. Just how does Santa make his rounds all in one night?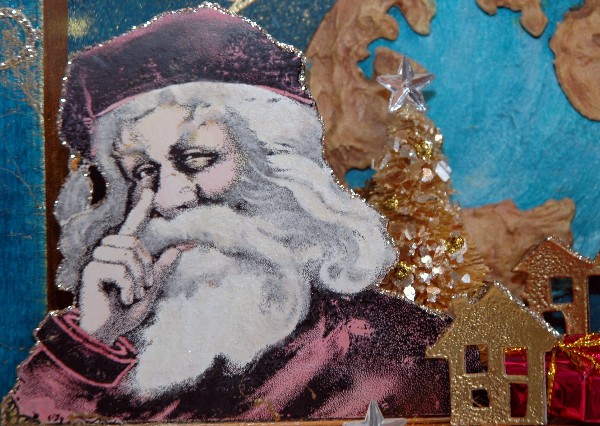 What an age old question! And the simple answer is, "It's the magic of Christmas!" My inspiration for this very vintage Christmas 8×8 canvas came from one of my favorite Tim Holtz Santas and his Vintage Globe. Fresco Finish Inky Pool provides the perfect mystical blue background for Santa's flight.
Suzz loves a good mystery and this sneak peek at her project will have you guessing.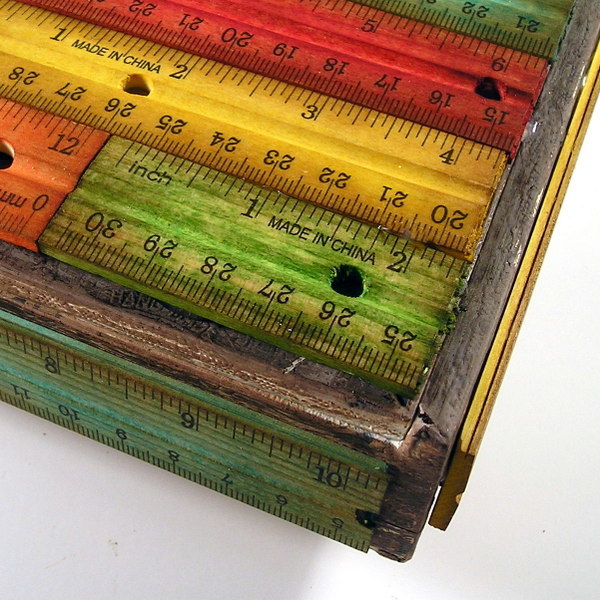 The real mystery this week is how did I end up with rulers, Ranger Distress Stains, and Walnut Stain Ranger Distress ink as the inspiration of my project? I followed my creative logic inspired by Mr. Holmes which led to solving what I would create this week.
Meihsia created a mixed media wooden box that contains mysterious goodies for her daughter Natalie.


Can you guess what is inside this box? My daughter Natalie always loves my creations. I was inspired to alter a small unfinished wooden box with my favorite mediums such as Gesso, crackle paint and Gelatos, and created some mysterious goodies with Susan Lenart Kazmer's bezels and ice resin to surprise Natalie.
Tracy created a little mystery in her pop up card for her Nephew.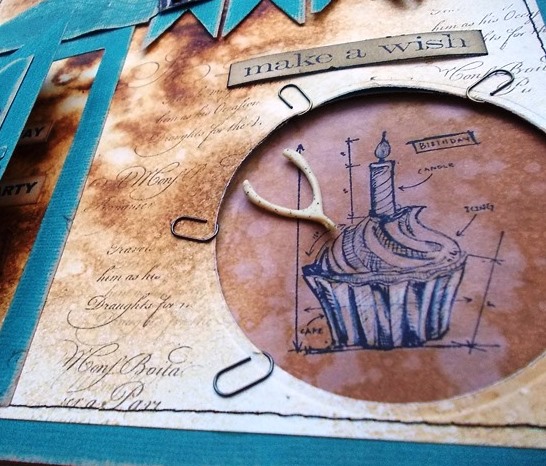 I always feel a door adds a little mystery to a project or design, it always has me thinking what could be behind the door! The Sizzix Door, Opening and Wreath die was perfect to add that touch of I wonder what to my design. However, that's not the only mystery to my design, I have also created a background using an unusual item, can you guess what it is?
Mona created a canvas featuring a mysterious man.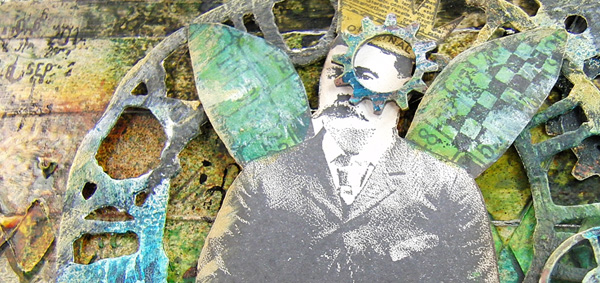 Have you ever wondered who the masculine image represents in the Winged Things 2 stamp set? I often ponder the thought of who he was and I ask myself, was he a business man who had a big dream? Did he make it happen? It's a mystery to me.
Anna-Karin loves to solve a good mystery, such as how to include photos in a gelli print.
When I first spotted gel printed pages, I was wondering how to achieve the different patterns, and it really is much easier than it looks. You might know that I like to include photos into my projects, and here I wanted to figure out a fun way of using my own photos in gelli printing. Mystery solved!
Dan's tag contains references to 2 books by his favourite mystery authors, but which ones are they?
I thought that this week, as well as making something with the theme of mystery, I'd give you all a mystery to solve too. All you need to do is figure out the name of one the books that has inspired my project this week. I'm giving away a set of Tim Holtz stamps to the winner so it's worth having a try! (I'll pick a winner at random from those who've emailed me with the right answer). While making this I used a Tim Holtz layering stencil and the Time Travelers and Travel Blueprint stamp sets.
While on a recent camping trip, Ashli and her whole family found themselves with a mystery on their hands…
What happens when the raccoons get word that you are a scrapbooker? They give you a story to tell, of course! It just so happens that some of the interactive elements from the Heidi Swapp Memory Files came in quite handy for this mystery of a tale!
I (May) am often asked how I get so much done.
Well the truth is I don't have super powers or anything exciting. But if you want to know how I get so much done – especially at the holidays – you'll have to check out my post to learn more and see this project I made with Simon Says Stamp exclusive stamps and stencil.
All that glitters is not gold…and Michelle is willing to prove that.
The holidays are upon us, which means that it's glitter season. Glass Glitter? Distress Glitter? Fine Glitter? Which is best? And how do I use it? After much sleuthing, I have drawn some interesting conclusions in the case of the Most Glamorous Glitter.
Want to solve the mysteries of what the team made? Click the links to their blogs and find out! There you will find full project photos (and full supply lists) for their entries. Leave them a little comment love while you're there so they know how they've inspired you too, if you're so inclined.

As always, Simon Says Stamp is giving away a $50 gift voucher that will go to a random entry chosen by random generator. To qualify all you need to do is create a new project that ties in (in any way!) with our theme and post it, along with a link back to this challenge, and add a link here. This challenge will end at 11:59pm on Sunday November 24th Eastern time.
We will also be choosing some of our entries to put in the spotlight – a special honor where we talk about why we loved that entry in particular and award a special badge too!
For the full rules, read the "challenge rules" posted in the side-bar here on our blog.
[raw]
[/raw]