Challenge: Countdown to the holidays
December is coming, and with it a wealth of holidays, parties, and lots of important numbers. Children are counting the days until school goes on break, and in general counting down seems to be the theme at this time of year. With that in mind, DT member Ashli challenges us to use holiday countdown as this week's inspiration!
Whether you're working on December Daily, doing an advent calendar, creating home décor with numbers, or perhaps just making holiday cards and counting down how many you have left to make – we can't wait to see how you're counting down to the holidays this week.
Ashli took this opportunity to get her December Album all ready to go!
I did a December Album for the first time last year and I am super excited to do one again! For this challenge, I decided to get the covers ready, so that as December flies by, I can just add little bits to the inside. I began with a simple file folder from the Office Supply Store. I covered it with plenty of papers from the Fancy Pants Merry Little Christmas collection, and now I can't wait to fill this up with my holiday memories!
Michelle is counting down the days until her family is all home together.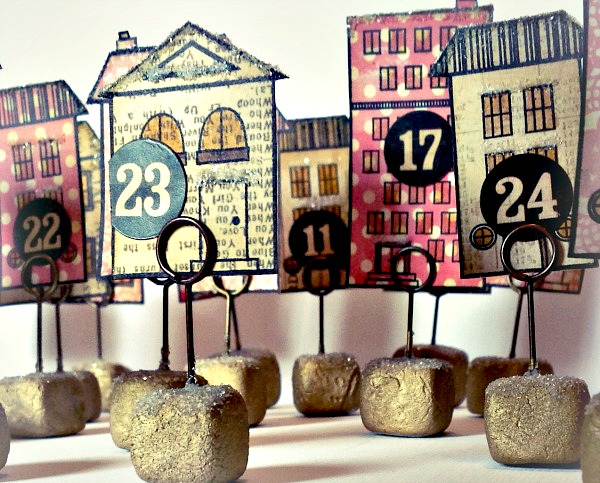 My tiny stamped advent houses will help me count down the days until my empty nest is full of holiday cheer. The house stand were made with Crafter's Clay. The My Mind's Eye Heirloom Paper Kit provides all the paper and even the numbered stickers!
Tracy created an advent tree for her children, a great alternative to a shop bought piece and great fun to make.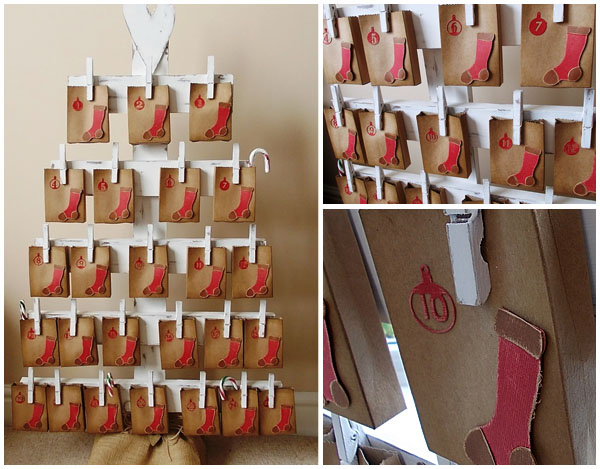 My two children always have a chocolate advent calendar every year so this time around I thought I would make a little effort and create something myself and decided on an advent tree. I created the tree from pieces of wood and all my family have taken some time out to help a little with this piece. Tim Holtz Mini Stocking and Candy Cane Die and the In The Bag Die were perfect for this piece. My husband made the stand for the tree, my children took great pleasure in picking out the chocolate for each bag, and I added a little surprise here and there along with a special treat in number 25!
Mona was inspired to create a patchwork holiday wall hanging.
The cute Holiday Mini Blueprints images simply bring a smile to my face and warms my heart. I cut and stitched together 6 fabric Eclectic Elements patchwork pieces then stamped 3 darling Mini Blueprints images on a piece of muslin from my stash. I completed the project embellishing with a variety of metal trinkets and stickers.
Sandra Mouwen is getting ready for Christmas with her Holiday Countdown Tag Calendar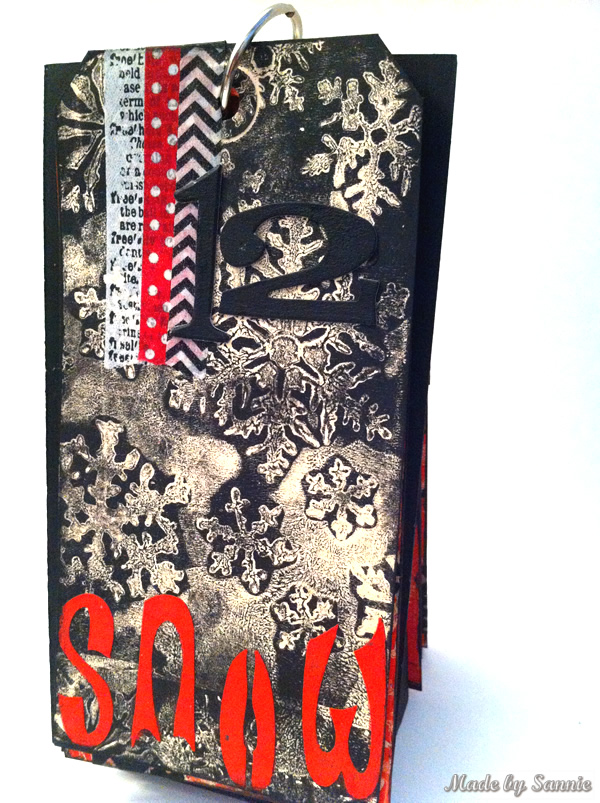 Wow, the Holiday Season is so close now, can't believe it's almost Christmas! I need to get my decorations in order… So for this week's challenge I made a countdown calendar out of #8 Manila tags. All the backgrounds are printed with the my sweet Gelli Plate and some Charcoal Black and Modern Red paint. For the word Snow I used Dyan Reaveley Let it Snow stencil along with colored Modeling Paste. It's gonna be so much fun to countdown till it's Christmas!
Meihsia was inspired to create an ATC advent calendar with non-traditional Christmas color scheme.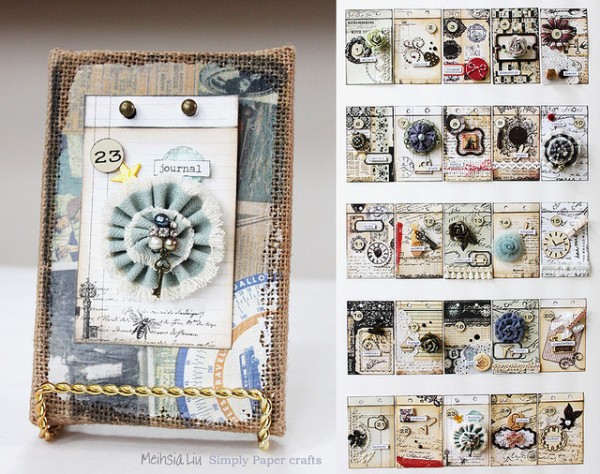 This is my 3rd ATC advent calendar since I made the first one in 2011. I used the calendar to count down to Christmas and document something I learned or was important to me that year. This year I decided to create one with non-traditional Christmas color scheme. There are 25 ATCs and on each ATC I attached one word that inspired me from Tim Holtz Chitchat Stickers . All ATCs were made using Prima Flower Printery Paper and decorated with Prima Flower embellishments.
Candy was inspired to create a Christmas perpetual calender that can be used to countdown the days until Christmas or mark each day in December.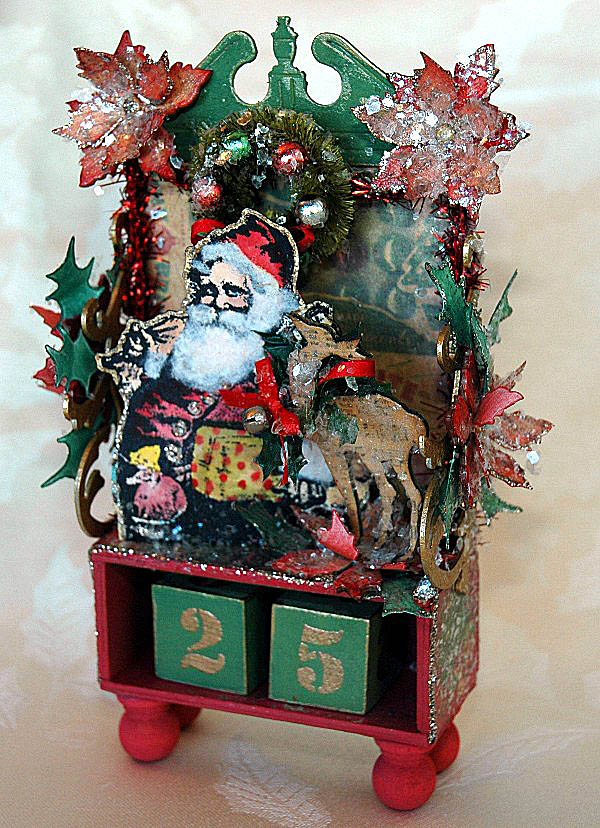 I love traditional red and green at Christmastime. So Fired Brick and Peeled Paint Distress Paints, Fired Brick and Pine Needles Distress Inks were the obvious choices to cover my chipboard base, Pediment and accent pieces. Add Tim Holtz Seasonal Paper Stash papers to the exterior and let the embellishing begin!
Anna-Karin made a December Daily last year and wanted to repeat it in a different format this year.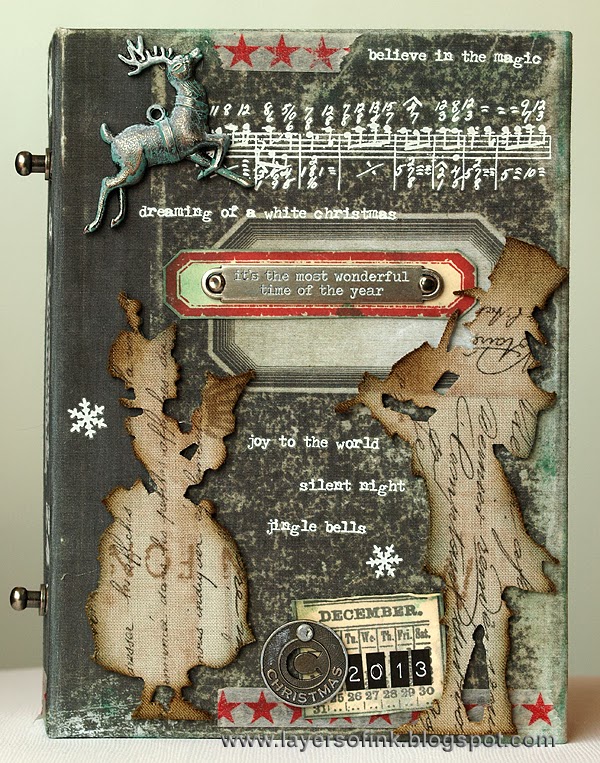 I want a December Daily where I will add text for each day and a just few photos here and there. Tim Holtz Composition Worn Cover was a perfect base and my inside pages are inky and stamped tags. The Victorian Carolers die is gorgeous and here I die cut it from grungeboard covered with Eclectic Elements fabric. I am looking forward to filling this journal with Christmas memories.
Suzz 's holiday countdown started with a mailbox up-cycle.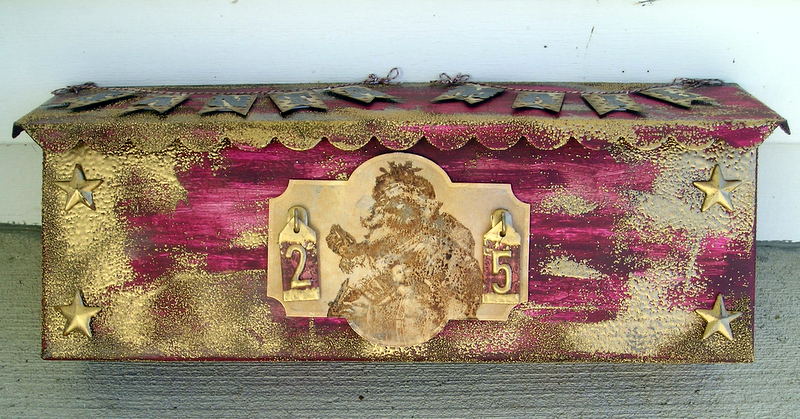 Every year we have an Advent calendar with little surprises for each day. The kids rotate turns opening the door on the calendar. I decided that this year it would be fun to create a way to deliver the little toys. I took an ordinary old mailbox and added a touch of Paper Artsy Fresco Finish – Claret Paint, Versamark and Aged Gold Embossing Enamel to give it a rustic vintage look. Now I have lovely mailbox to set out and hide the gifts in for each day along with tags to change the countdown every day.
Andrea wanted to count the ways in which she could keep the Christmas Spirit intact.
Do you ever find yourself in mid-December wondering where in the heck the happy holiday feelings went? Some years I just seem to miss it completely amongst all the "to do's" and "to buy's." To help me keep the Christmas Spirit closer, I made a countdown chart of activities I could do that would remind me of the more important parts of the holiday season. My chart contains all sorts of holly jolly products like trees and flair buttons from Fancy Pants' Merry Little Christmas line.
I (May) am having a bit of a freak out session as I type this.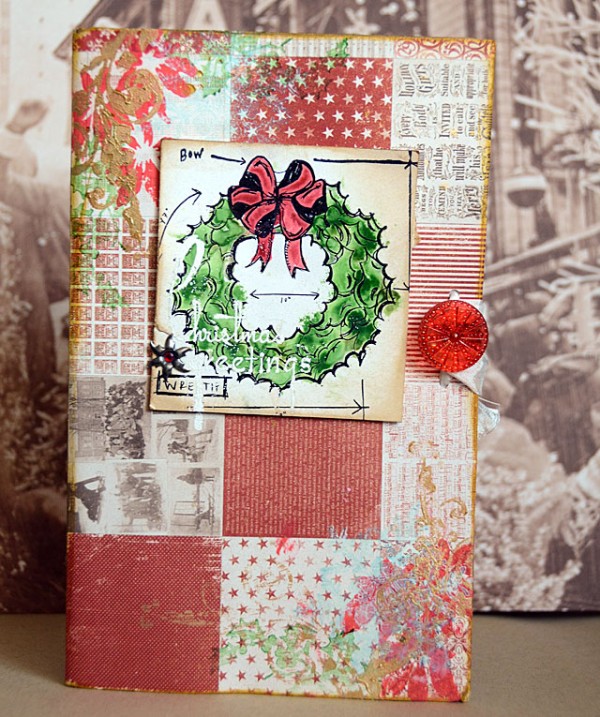 Why? Well because! I'm simply not ready for Thanksgiving this week, not ready to be mailing out cards and gifts, and simply put I need more time! My organizer for the season (a must!) is bright purple and I thought, you know if I took some Tim Holtz stamps, paper, and inky goodness I could make this into a planner to be proud of. Now at least, even if I don't feel ready for the holidays when I go out shopping or jot notes down I can look the part!
Tune in Wednesday to see what Dan has been creating.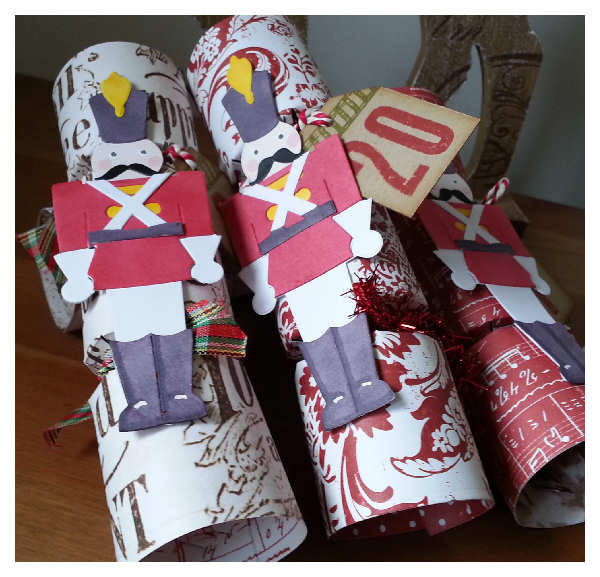 Want more details about these projects and how our team is counting down to the holidays? Click the links to their blogs and find out! There you will find full project photos (and full supply lists) for their entries. Leave them a little comment love while you're there so they know how they've inspired you too, if you're so inclined.
Then be sure to share how you're getting crafty as we count down to December this week!

As always, Simon Says Stamp is giving away a $50 gift voucher that will go to a random entry chosen by random generator. To qualify all you need to do is create a new project that ties in (in any way!) with our theme and post it, along with a link back to this challenge, and add a link here. This challenge will end at 11:59pm on Sunday December 1st Eastern time.
We will also be choosing some of our entries to put in the spotlight – a special honor where we talk about why we loved that entry in particular and award a special badge too!
For the full rules, read the "challenge rules" posted in the side-bar here on our blog.
[raw]
[/raw]