Winner and Designer Spotlight Post

We have 5 artists in the Designer Spotlight for the Add Some Texture Challenge!
#89 Debbie A – Maura says: I am in love with this beautiful travel folio Debbie created! The gypsy theme caught my eye along with the vintage photo, and as the project unfolded I was taken in by the turquoise and rust colors and gorgeous textures. Inside the folio are interactive layers and beautiful travel photos, to create a truly memorable treasure.
#144Mary Elizabeth  Barbara says:  I loved the project by Mary Elizabeth at the first sight! Color palette is fabulous, textures that she added are really wonderful  and I find so brilliant her  idea of using the fragments as mosaic tiles! An amazing work  to be admired!
#215 Curly Moon Crafts – Cheiron says: What a fabulous display of texture from Patti at Curly Moon Crafts. I love everything about her tag -from the layers of gesso, paste, paint and stamps used to create the tag to the wonderful collection of fibers tied to the top. A textural masterpiece!
#241 Irena's Art – Cathie says :  Irena's nautical shadowbox caught my eye as I love the ocean and everything about it. Her shadowbox is so beautiful and mysterious and reminds me of something you might find in a scuba diving magazine where there's a story of a diver who went on an underwater adventure to find long lost treasure and came upon this lovely find.  It's beautiful!
Sandra says: I'm in love with this shadowbox. The colors are amazing, so much depth and detail is in this project. I'm not much of a diving person, but if the bottom of the ocean looks like this I might reconsider!
#251 Ink-A-Pink/Amanda – Maura says: When you talk about texture, this piece is over the moon! Amanda's canvas has amazing texture, so much that at first glance, I had no clue it was a canvas. Love, love the man in the moon and the moon rays are just brilliant! Gorgeous piece Amanda!
Congratulations ladies!
Please copy this spotlight badge, display it on the sidebar of your blog and if you could please link it to Simon Says Stamp!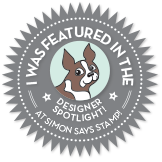 We now have this lovely badge for you to add to your sidebar if you are this weeks, or a previous, winner please feel free to add this to your sidebar and please link it to the Simon Says Stamp Monday Challenge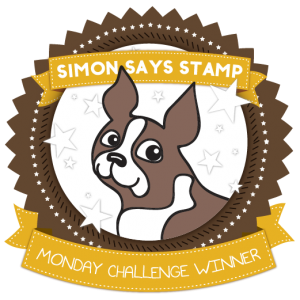 So who is the lucky winner of the $50 voucher?

Here are your random numbers:
231
Timestamp: 2016-08-05 12:15:14 UTC
The lucky winner is Rgsmutticreates
and this is Raewyn's fabulous card made using tea leaves for texture!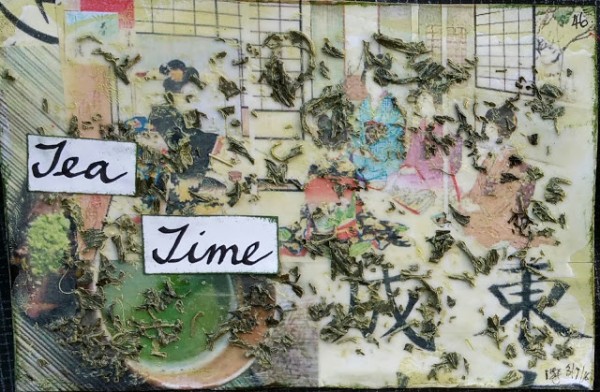 Congratulations! Please email us so we can explain how you can claim your prize, the address is on the sidebar.
Be sure to include your full name in the email so we can issue a Gift Certificate
Thanks to everyone who joined in with the challenge and we hope you will all join in our current challenge too!
luv
Lols and the DT