Spotlight And Winner's Post For The 'Try To Resist' Challenge

We have 5 artists in the Designer Spotlight for the Try To Resist Challenge!
#38 Anja  – Barbara says: This card is stunning, so clever! Anja has used a techinique simple but so effective! Love the colors, the design and the embossing over stamping!
#87 Nancy – Cathie says:  Nancy created a beautiful card with watercolors over her resist technique. The stunning colors and beautiful doodle flowers make this card so much fun to look at and will make it's recipient smile from ear to ear.
#101 Kerstin F. – Maura says: Kerstin has created an amazing mixed media piece. I love that she chose the shape of an urn to create her magical underwater scene, reminiscent of the fabled Atlantis! I really love this piece of art, from the awesome textures, to the treasures, to the wonderful blues!
#129 ArtCardBox –  Maura says: Bozen has created a delightfully vivid scene on her awesome card. There is so much attention to detail, from the iridescent hummingbird with the tiny drop of nectar to her colorful background. I love how she shared step by step how she created this!
#143 Ellie – Sandra says: What a stunning card. Ellie has create so much depth with the dandelions. Iove the smooth blend of the background color and the dragonfly is so pretty!
Congratulations
Please copy this spotlight badge, display it on the sidebar of your blog and if you could please link it to Simon Says Stamp!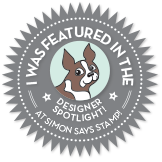 So who is the lucky winner of the $50 voucher?

Here are your random numbers:
136
Timestamp: 2016-04-15 17:16:53 UTC
Congratulations Syl Designs 
and this is Syl's fabulous card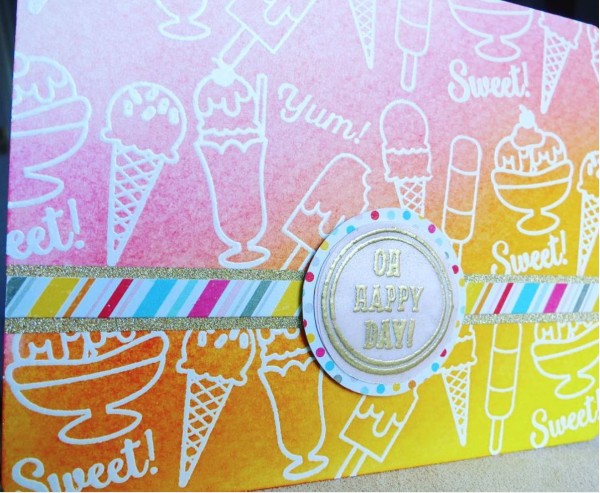 Congratulations! Please email us so we can explain how you can claim your prize, the address is on the sidebar.
Be sure to include your full name in the email so we can issue a Gift Certificate
Thanks to everyone who joined in with the challenge and we hope you will all join in our current challenge too!
luv
Lols and the DT