Designer Spotlight And Winner's Post

We have 6 artists in the Designer Spotlight for the Recycle/Upcycle challenge and I have to say that all of your entries were fabulous! You have given us so many ideas of how to use our 'trash'! If you didn't have time to visit the entries I would strongly suggest that you take a few minutes to have a browse. It was very difficult to narrow our choices down to 6! Very well done everyone and thank you for your entries!
#10 Dess V ATC– Andrea says: I adore this set of ATC's and love the refreshing pastel color palette.  I enjoyed seeing how they all shared a universal aesthetic, yet each one was so unique and original.  A stunning set!
#24 Beulah Bee Oliver : Zoey says: I love everything about Beulah Bee Tag. Everything is so detailed and carefully combined together. The fact she used her grandfather photo in this tag is simply the cherry on top! Stunning!
#26 Tofa(Rupa) Barbara says: Rupa has created a wonderful project with a simple cardboard box and a pair of jeans! I love the way she thought and realized this work and her idea. I really like the grungy look matched with the blue jeans! Absolutely stunning creation!
Sandra says: This is such a fabulous alteration! It looks like a real wooden box. I would never have imagined to combine cardbox with jeans. And wow that a wonderful project. The inside of it is gorgeous too!
Zoey says: Oh the things you can create out of cardboard! I am literally in love with Rupa's project! It is amazing and I love every single details. I also like the addition of jeans, makes it tie all together — and the inside is just a wonderful surprise!
#99 D.Ann C – Maura says: As soon as I saw D.Ann's gorgeous card, I knew this would be my choice. She started with a lovely orchid she had photographed, drew the flower on her card, and added so much sparkle and shine, and lovely colors to create this beauty. Then, she recycled egg shells into wonderful mosaic pieces – just brilliant!!
#126 Ana's Whims – Emma says: I love how Ana has transformed something that we all have around the house, paper rolls and turned it into this fabulous shabby chic accessory holder, which looks fantastic and is such a useful idea for all us crafters!
#136 Domestic Simplicity – Cathie says: I love how the cereal box was transformed into a binder to hold her Tim Holtz stamp sets. It's important to organize a craft room but it can be expensive. What a great use of an empty box to create not only a functional piece for storage in your craft room, but one that's simply beautiful!
Congratulations ladies! Woo Hoo!
Please copy this spotlight badge, display it on the sidebar of your blog and if you could please link it to Simon Says Stamp!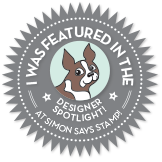 So who is the lucky winner of the $50 voucher?

Here are your random numbers:
74
Timestamp: 2016-02-28 08:31:45 UTC
Congratulations Dess, who also happens to be in the Designer Spotlight so a double celebration!
Dess made this beautiful ATC's using recycled vellum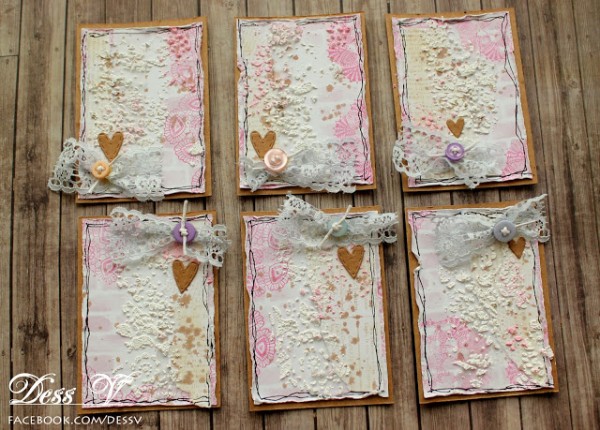 Congratulations! Please email us so we can explain how you can claim your prize, the address is on the sidebar.
Thanks to everyone who joined in with the challenge and we hope you will all join in our current challenge too!
luv
Lols and the DT