Challenge: Stamping on anything but plain paper!
Oh sure, you can stamp on plain white cardstock and take your project from there, but what else can you stamp on? This week the challenge is to challenge on something outside the usual cardstock base.
Fabric, vellum, patterned paper, canvas, and wood are just a few materials that pop into my mind! Grab a stamp and get to experimenting – it's going to be a fun week here at Simon Says Stamp and Show!
Michelle used her stamps to create a set of fabric covered buttons.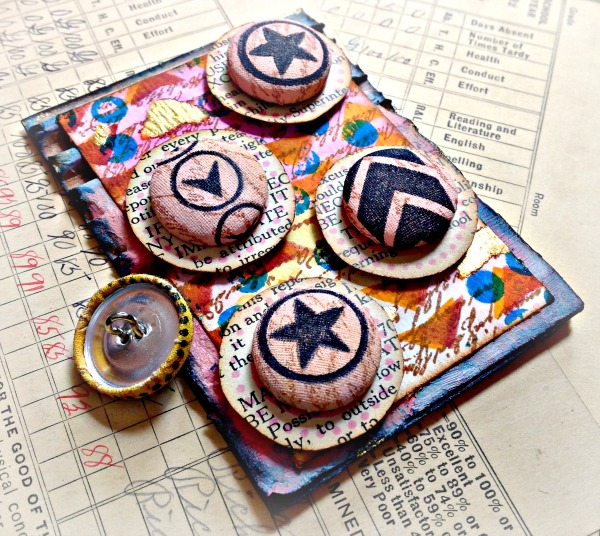 Flair is so popular right now. These fabric covered buttons will be fun and trendy embellishments to use in all of my crafty projects. A Distress Paint background means that my buttons will coordinate with my distress inks. And by stamping the focal image in StazOn ink, I know these buttons won't smear or smudge.
Mona was inspired to stamp on patterned paper to create a scene on her canvas.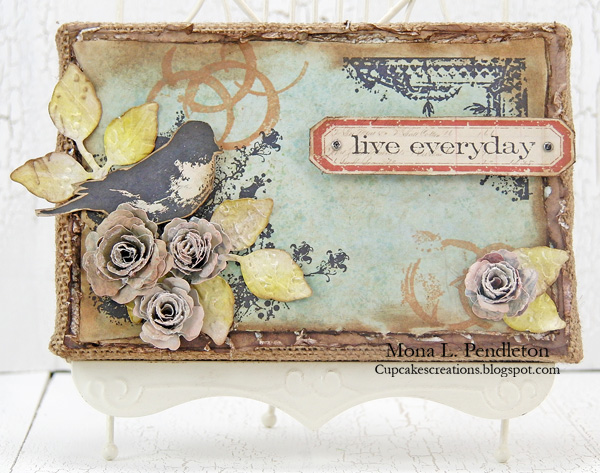 Stamping on patterned paper is a great way to add that little extra detail to any project with out much effort. The subtle text noted in the stamped sentiment label and bird adds a bit of interest to what would have been a plain background if stamped on solid paper.
Anna-Karin made a book of random things and stamped on many different surfaces:
I love this worn book cover by Tim Holtz and decided to decorate it and start filling it with pages about random things, using left over photos, scraps, backgrounds and more. I stamped on fabric, wood, acetate, canvas, frosted film and foil tape. For these types of surfaces, I often use paint, Archival Jet Black Ink or Stazon ink (especially Cotton White and Platinum). The frame on the cover was die cut from Simon Says Stamp's fabulous Birch Wood Veneer paper.
Meihsia had fun playing around on different surfaces using Surfacez ink.


After receiving the Surfacez ink pad, the new multi-surface ink, from Clearsnap, I had so much fun playing it on different surfaces. Since I have tried them on plastic, glass, metal, shrink film, and am very happy with the result, this week, I decided to use Surfacez ink on fabric, wood, canvas, button and ribbon. To decorate the cover of this Heidi Swapp Wood Album, I used Tim Holtz cling rubber stamp, Simon Says clear stamp and Glitz clear stamp to stamp on the embellishments and the background. My suggestion for the best result when using Surfacez on these surfaces – apply a thin layer of Gesso before stamping.
Andrea's imagination took flight when she made this bird collage with images stamped onto painted washi tape.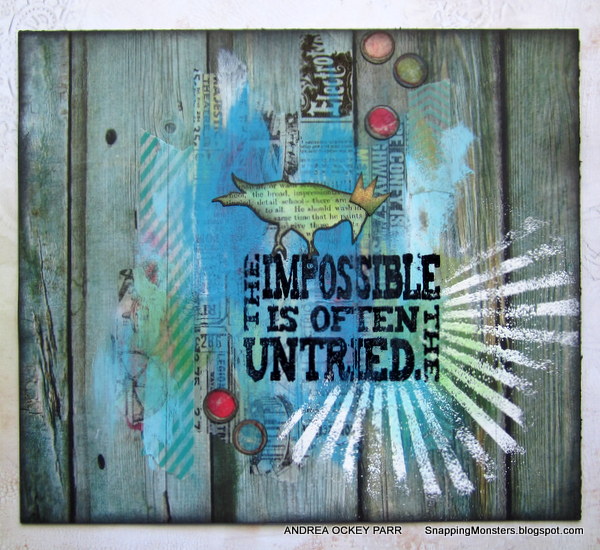 When I was in junior high, I was seriously traumatized when my English teacher had us watch Alfred Hitchcock's The Birds. I don't have a clue of how it tied into the curriculum, but I do know that I would run inside the nearest building whenever four or five birds started flocking above my head. Thankfully, the crafting world has helped me overcome my bird phobia. I find that now I am quite drawn to bird images like this one found in Dyan Reaveley's "Birds on a Wire" stamp set. The image is set against a backdrop of painted washi tape, which I stamped this great Tim Holtz sentiment onto. Once I started stamping onto painted washi, it quickly became a favorite technique. Ranger Jet Black Archival ink is perfect to stamp onto washi with because it doesn't easily smear or rub off.
A fun seasonal piece was the order of the day for Tracy with this fun dimensional frame.
I found a small dimensional frame lurking at the back of my shelves and it's that time of year when I start to think about my seasonal pieces for friends and family. I always struggle for ideas for my teenage Nephew's but once I stumbled across the Toy Soldier Die I knew I had the start of an idea. Combine the Toy Soldier with the Seasonal Paper Stash and you have a perfect combination for a festive display piece. When stamping on wood I suggest working with the stamp as is and not using an acrylic block, stamping is much simplified this way. Black Archival Ink is my choice for perfect crisp clear stamping.
Sandra Mouwen combined two of her hobbies with this project
A new tradition is born, for every trip I'm going on I will make a new flap for my bag that I made a few months ago. Last time I went to London, so I needed a new one. This time I tried something else and designed it like I do my cards. The best way to stamp on canvas is to use waterproof ink like Archival Jet Black and get the stamp really really juicy with it. To make sure it's juicy enough, I reink the inkpad just in case. I stamped the Big Ben, Flag and Guard of the London Sights Stamp set on plain white canvas and cut them out and dabbed the edges with Pitch Black Paint Dabber for more dimension, but also that it won't fray as much. I love stamping on the Crinkle Ribbon and make it look like fabric washi tape.
Candy decided to stamp on a Gelli Plate to create this colorful background for her large tag.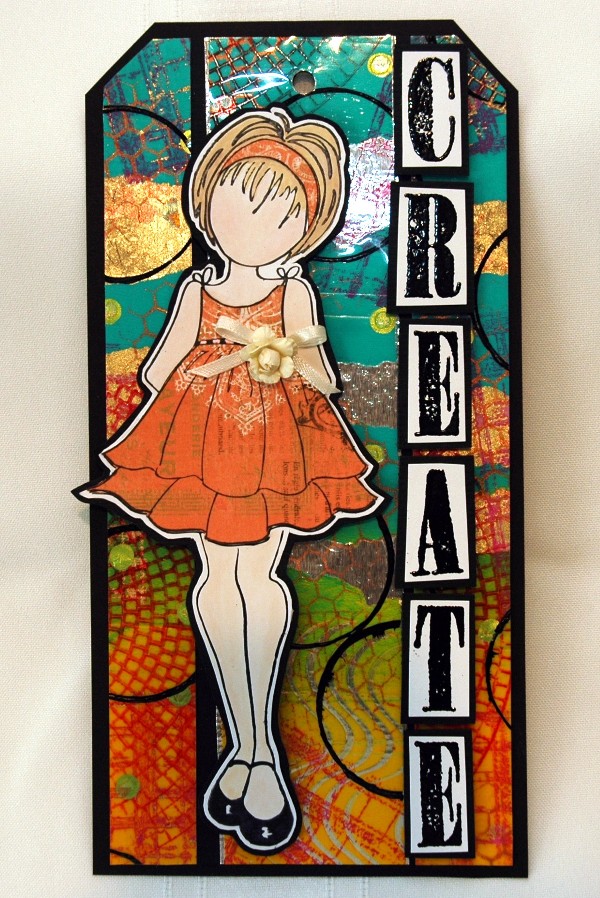 Working with a Gelli Plate is so much fun. I couldn't wait to pull it out and stamp all sorts of shapes and designs onto it; creating this funky background that is actually transferred onto packing tape! Wendy Vecchi's Sunshine and Art and Art For You stamp sets provide just a couple of the random backgrounds that are stamped using paint instead of ink.  To calm down that really busy background, I just had to add my new Prima Paper Doll With The Ruffled Dress stamped onto Specialty Stamping Paper. She's so sweet and I think she finishes off the tag beautifully.
Ashli's most favorite season is officially here and she was inspired to craft a home décor item this week!
Is it a beach ball, or is it a pumpkin? Luckily, it did indeed turn into a pumpkin, but not without a bit of a learning experience first! After one epic fail, I forged forward and layered up papers, Matte Medium, glitter, alcohol ink, and plenty of paint, until I had my very own, and budget friendly, pumpkin – a perfect "canvas" for some non-traditional stamping. Since the surface of my project managed to retain it's original rubber flexibility, I chose some un-mounted stamps that would warp and bend with my pumpkin. After stamping with my Hero Arts Dot stamp, and my go-to chevron stamp, I had a pumpkin full of fun and unexpected texture! I plan on displaying this whimsical decoration on my front porch, so my stamping was done using Blank Canvas acrylic paint and StazOn Ink – to insure a water proof and durable image.
This week Dan has been inspired by a favorite song of his.
I've been itching to have a play with the new Tim Holtz Layering Stencils so I took the opportunity to squeeze a couple of them in here. This card is inspired by a song that I never tire of listening to, with lyrics that I really find inspiring. In addition to the stencils, products I used included the Time Travelers stamp set, the Alphabetical die and some gesso.
I (May) decided to use some stamps + paint on a wooden box to store photos waiting to be scrapbooked.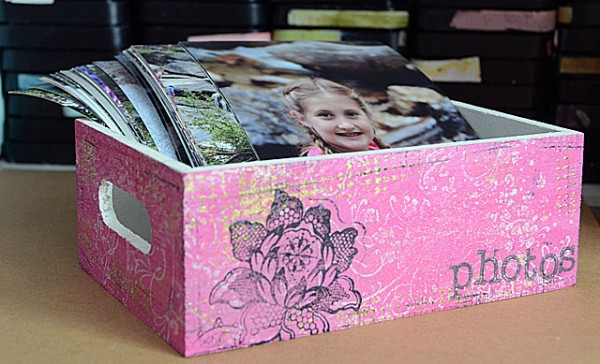 I love finding cheap surfaces to decorate at the craft store as well as re-purposing items around my home. I find that putting on a layer of paint before stamping helps my stamps show up beautifully and my projects come together in a snap! For this one I used a flourish stamp, flower, and mixed media stamp to edge it.
Suzz looks at everyday objects differently since she has become a stamper, and this Wednesday she'll be back with a great tutorial.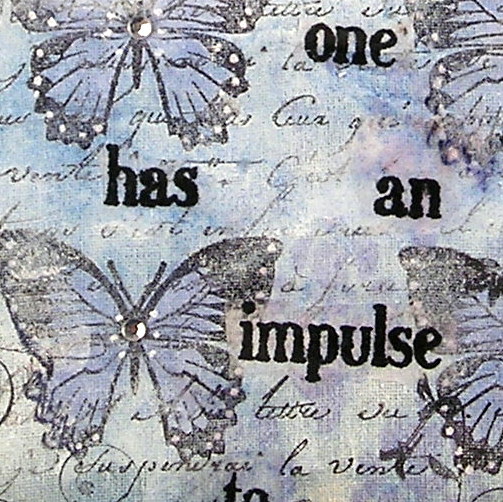 I find myself looking at objects and thinking what could I stamp on that? I am sharing a technique post later this week featuring what inks to use on different surfaces to enable you to start looking at everything differently too.
For more inspiration click on our design team's blog links so you can see more photos (and full supply lists) for their projects. Leave them a little comment love while you're there so they know how they've inspired you too, if you're so inclined.

As always, Simon Says Stamp is giving away a $50 gift voucher that will go to a random entry chosen by random generator. To qualify all you need to do is create a new project that ties in (in any way!) with our theme and post it, along with a link back to this challenge, and add a link here. This challenge will end at 11:59pm on Sunday September 22and Eastern time.
We will also be choosing some of our entries to put in the spotlight – a special honor where we talk about why we loved that entry in particular and award a special badge too!
For the full rules, read the "challenge rules" posted in the side-bar here on our blog.
[raw]


[/raw]