Designer Spotlight and Winner's Post
Please CLICK HERE to go directly to the current Monster Mash challenge, or scroll down.

We have 5 projects in the Designer Spotlight for the Wonderful Watercolor challenge!
#129 Arte Banale – Maura says: This beautiful card caught my eye right away. The gorgeous colors on the script background make the perfect backdrop for the lovely wreath. I just love how the wreath and leaves are set off in white, it makes them stand out beautifully. The crowning touch? that sweet little porcelain bird!
#17 Karin Akesdotter – Meihsia says: Karin created a gorgeous watercolored card with beautiful colors and a great layout. A truly wonderful piece of art!
Sandra says: Ohh wow, this is perfect watercoloring! Love her cute card, it's gorgeous. But I really really love her watercolor sketch from a landscape in Sweden! It's way better then any picture would have captured! Stunning!
Emma says: Karin has created two stunning pieces of art but I was really taken with her adorable card, which was so incredibly charming and just so beautifully done! Wonderful work…
#214 Elina Stromberg – Suzz says: Elina's beautiful journal pages contain beautiful watercolor backgrounds with an inspiring mix of images and words. I love how she let the watercolor background create itself and built upon it to create a stunning set of pages.
Cheiron says: I love everything about Elina's journal page from the bright, vivid colors that caught my eye to the grouping of the stamped women images and sentiments…the placement is just perfect, it really tells a story.
#189 Cards and chocolate – Barbara says: The simplicity of this card highlights the wonderful watercolor! The blue flowers are so vivid and rich that they struck me. I think that little gold spots give a touch of elegance!
#123 Bonnie – Andrea says: I adore the fuzzy look of these birds and how the tree branch they're on has a watery ethereal feel. The scene is beautifully painted and absolutely heartwarming!
Congratulations everyone! Thank you for playing along with us!
Please copy this spotlight badge, display it on the sidebar of your blog and if you could please link it to Simon Says Stamp!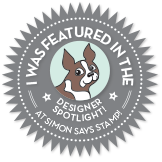 So who is the lucky winner of the $50 voucher?

Here is your random number: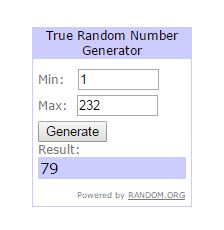 Congratulations Kartenwind! And here is her beautiful snowflake card: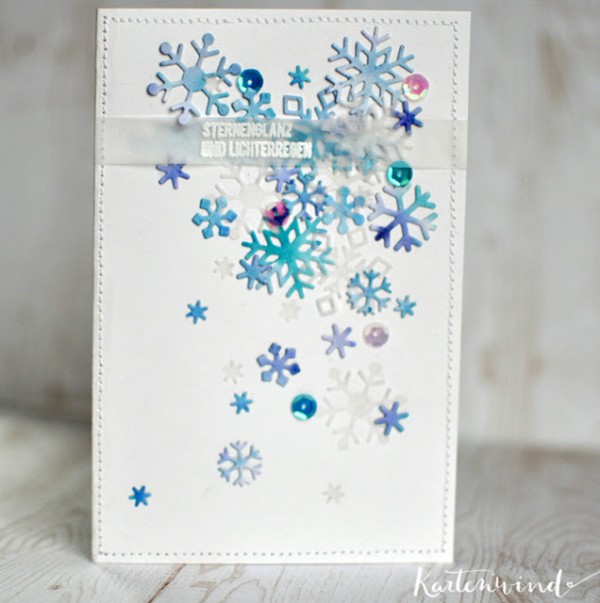 Congratulations! Please email us so we can explain how you can claim your prize, the address is on the sidebar.
Thanks to everyone who joined in with the challenge and we hope you will all join in our current challenge too!
luv
Lols and the DT