Are you down on your luck? Perhaps you found your lucky rainbow and pot of gold? Do you feel like today is, quite simply, your lucky day? Whatever your mood and however you'd like to interpret this challenge – we couldn't resist having a lucky challenge since this challenge falls on St. Patrick's Day! You may just be in luck and win the prize this week!
Mona was inspired to create a good luck tag featuring a couple of 4 leaf clovers.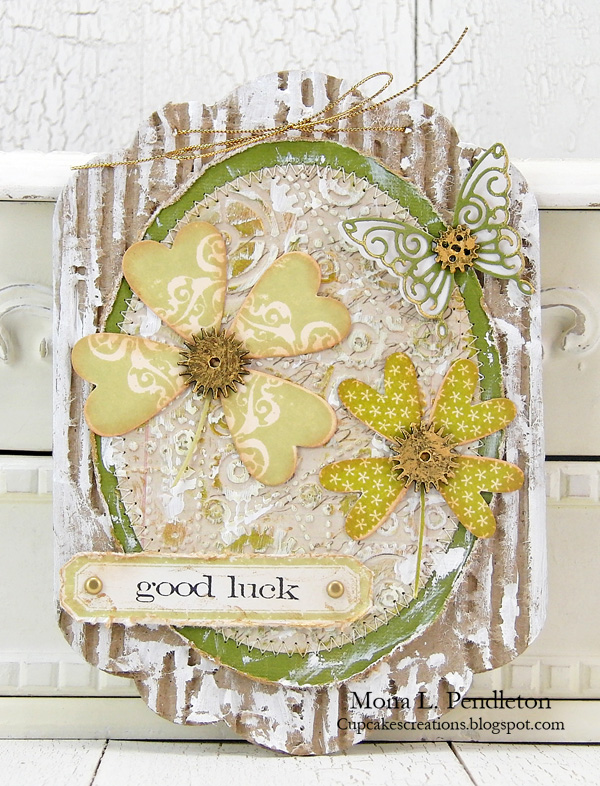 I created an oversized die cut corrugated cardboard tag using a die. Once I die cut, embossed and colorized the background using Shabby Shutters and Crushed Olive Distress Inks I added a touch of gold and Gesso. I don't own a 4 leaf clover stamp, so I created my own 4 leaf clovers using the versatile Plenty of Hearts stamps and coordinating dies.
Sandra Mouwen hasn't got the best of luck in the game, but is feeling lucky in life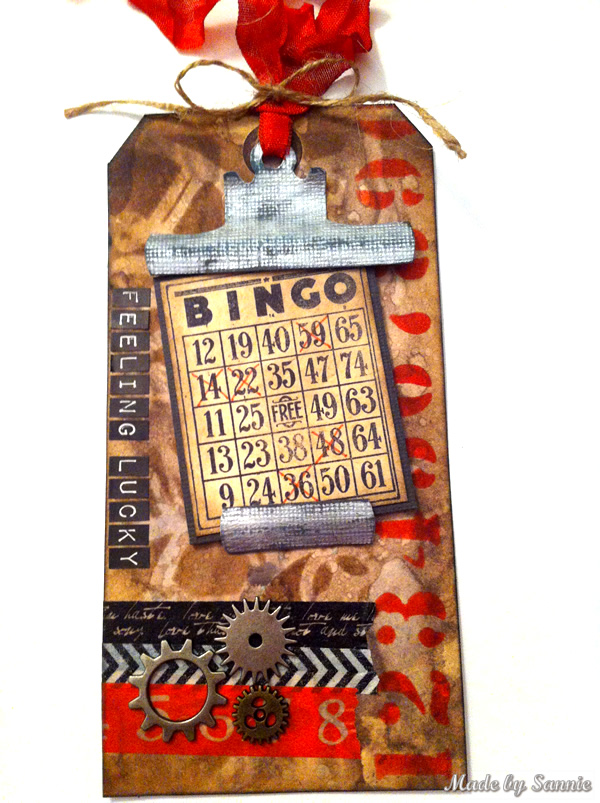 It maybe sound a bit cheesy, but it is true. I'm very happy with my life and feeling really lucky with the way my life is going. But I seriously don't have any the luck in winning games. So I had a little giggle while making this tag. I started by staining the Manila #8 tag with Pumice Stone Distress Stain and used the Clockwork and Cargo Stencils to create more interest and contrast. The crossed off numbers on the Bingo Card are done with the Barn Door Distress Marker.
Emma chose stars and the number seven as her lucky symbols for this layered and dimensional piece.
Every day I thank my lucky stars for so many precious things that I have in my life and I created a piece to reflect that quote using a cluster of die cut stars as the main focal point. The background is stained with Distress Stains and then inked before adding more layers using stamps and a Layering Stencil. The quote is made up from Chit Chat stickers and stamps from the Hashtags stamp set and then arranged together with more die cut stars and the pointed finger, complete with a diamond star. As the finishing touch, I added the lucky seven Alpha Part, painted with Distress Paints.
Michelle thinks that you can create your own luck.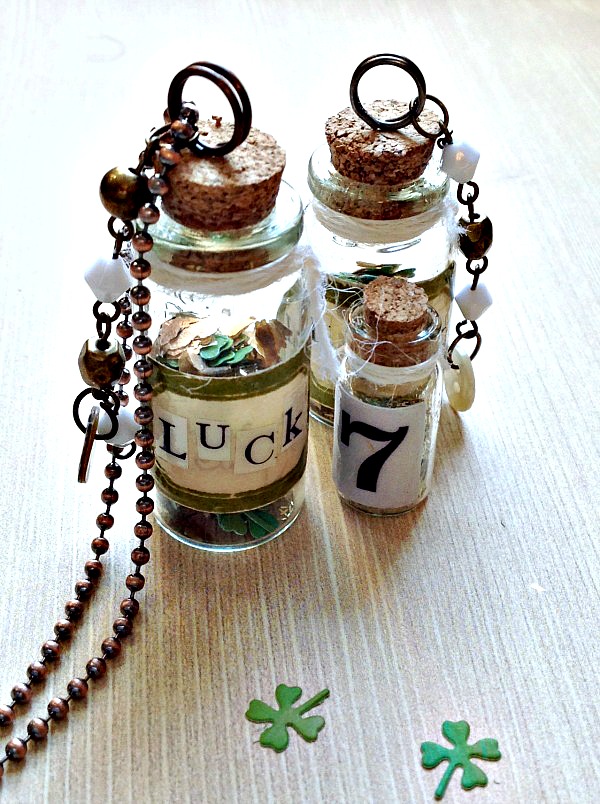 I'm not a very lucky person, but I'm not giving up! Here I've created my own luck with Memory Box Lucky Charms tucked safely in some Idea-ology Corked Vials. The Ball Chain Hardware will keep the vial safely around my neck for whenever I need a little luck.
Dan's inspiration this week came from May's mention of rainbows and fortune telling as opposed to good fortune.
Rather than the clearly defined stripes of a rainbow I wanted the colours on my tag to be blurred and hazy – the liquid nature of distress stains made them the perfect choice. This was my first time using Tim Holtz's Custom Fasteners and I'm addicted to them already! So many fun and quirky inserts included right in the pack but also the option to take it to another level and create your own inserts too. I also used his Bubble layering stencil and the Oddities stamp set.
Tracy created the perfect Good Luck card this week in an eye catching green and white colour palette.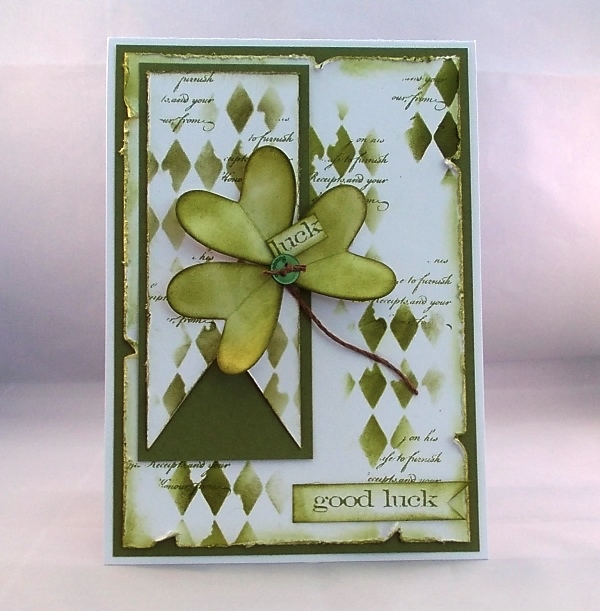 It's St. Patrick's Day, a perfect opportunity for me to use plenty of green in my design this week with the aid of Distress Inks Peeled Paint and touches of Forest Moss. I also wanted to incorporate Shamrock in my design, something we all associate with this special occasion. However, with no Shamrock images or products in my collection I had to think outside the box and decided to use the Simon Says Stamp Large Heart Set Die to create my three leaf clover and I am quite pleased with the outcome.
Ashli took her inspiration in the form of rainbows this week.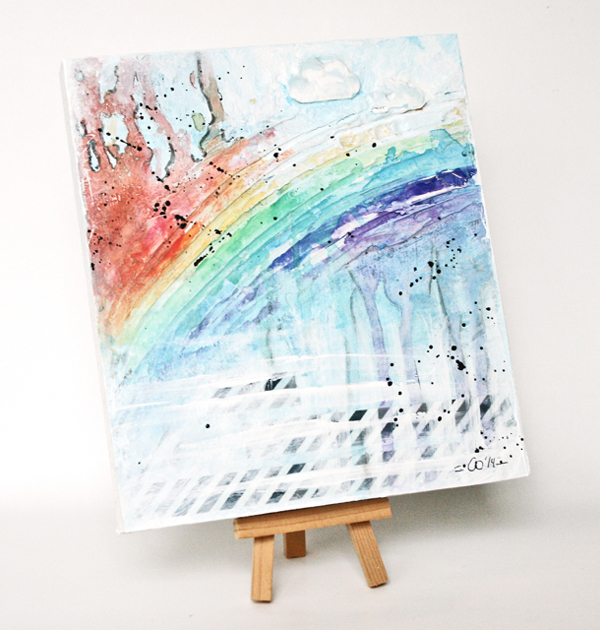 With rainbows on my mind, all I kept thinking of was "chase the rainbow." So, I wanted to create a sense of movement with this collage. Once I had a thick layer of Modeling Paste spread, I used a craft stick to carve the lines for my rainbow colors. After that was all dry, I had a good session of creative play with my Watercolors and Gelatos, making sure to add lots of drips for that sense of movement I was after. A little finishing touch of Washi and this rainbow is finished!
Anna-Karin made an very green art journal page about being lucky.
I was thinking about luck and decided to make an art journal page using only green inks. Translucent embossing paste was applied through a leaf stencil with a palette knife and left to dry. The paste resists the Distress Ink. I use a great potty people stencil as a mask to create the focal point. The page was finished with Wendy Vecchi stencils and Darkroom Door stamps.
Meihsia was inspired to create a canvas and she believes that lucky is a state of mind.
I believe that being lucky is determined by the state of mind. If we maintain peace of mind with smile on our face even in tough times, life will be much easier. I started this project with applying Gesso on the 4″ x 4″ canvas and pasting patterned paper on it. The background was colored with Gelatos, and I created the texture with Prima Flowers Arrowhead Stencil and Modeling Paste.
Suzz made a treat bag to fill up with treats from a leprechaun.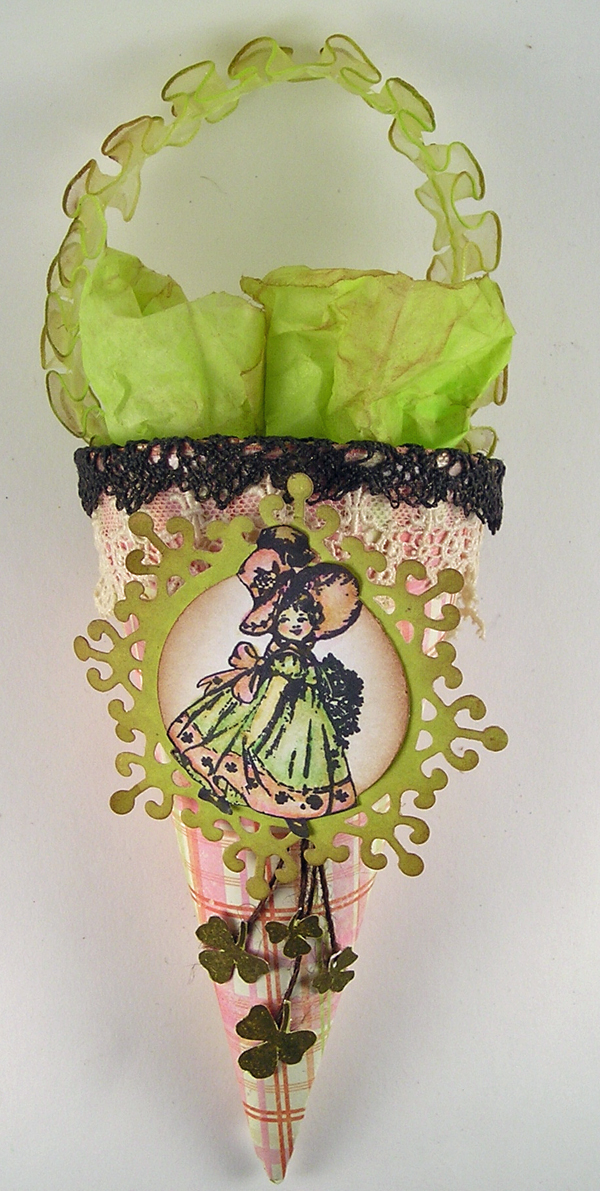 When my kids were little there was always lots of talk about trying to catch a wee leprechaun on St. Patty's Day. I decided to create a treat holder to hang on a door handle in hopes of catching a few treats from the wee ones on St. Patty's Day. I used the Authentique Promise to create my cone. I misted the trim and lace with the lovely Citron and Bronzer to color coordinate my embellishments. Hopefully our treat holder will be full on St. Patty's day!
May was inspired by the color green this week.


I decided to try my luck with Mowed Lawn, cut grass, and sour apple mist for this tag. Featuring my new favorite stencil – I had a blast layering green in so many ways. Perhaps I do have a bit of Irish luck and great supplies like my new mint ink pad don't hurt either!
Andrea will be here on Wednesday to show how a few household materials, if you're lucky enough to have them on hand, can energize your art.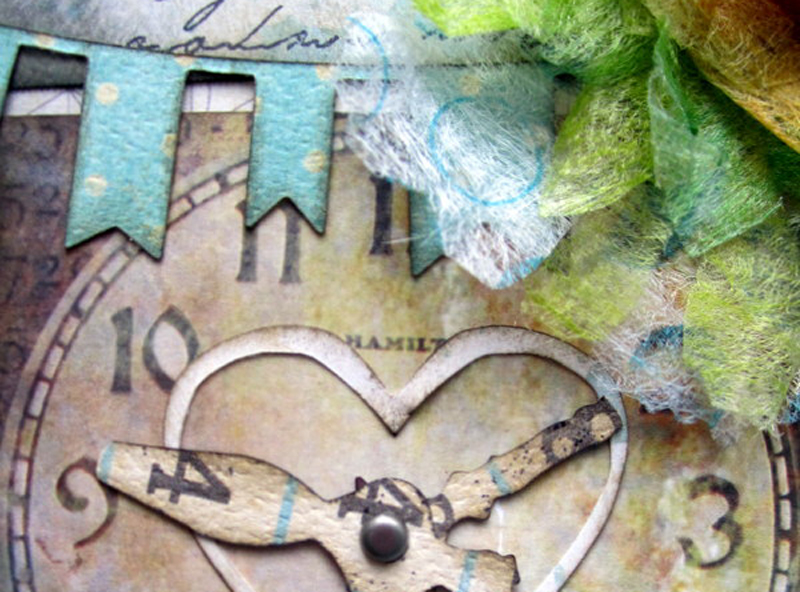 For more inspiration click on our design team's blog links so you can see more photos (and full supply lists) for their projects. Leave them a little comment love while you're there so they know how they've inspired you too, if you're so inclined.

As always, Simon Says Stamp is giving away a $50 gift voucher that will go to a random entry chosen by random generator. To qualify all you need to do is create a new project that ties in (in any way!) with our theme and post it, along with a link back to this challenge, and add a link here. This challenge will end at 11:59pm on Sunday March 23rd Eastern time.
We will also be choosing some of our entries to put in the spotlight – a special honor where we talk about why we loved that entry in particular and award a special badge too!
For the full rules, read the "challenge rules" posted in the side-bar here on our blog.
[raw]
[/raw]