Designer Spotlight & Winner's post
Please CLICK HERE to go directly to the current Wonderful Watercolor challenge, or scroll down.

We have four wonderful projects in the Designer Spotlight for the Autumn challenge!
#49 – Arnoldo L Romero – Suzz said: I loved how Arnoldo's whimsical card features a skull with a beautiful flowery crown. The flowers on the head and hearts in the eyes makes the skull pop as the focal image on his card.
Maura said: Arnaldo's card caught my eye. I really love how he transformed his skull with the pumpkin colored eyes, and the flowers for "hair", creating such a unique piece! I also appreciated him sharing his creative musing moments!
Barbara said : I like the way Arnoldo interpreted the autumn challenge and has combined it with the Halloween theme! I love the bricks background, the flowers and leaves that create a beautiful crown for his scary skull!
#92- Mimi's– Andrea said: I adore the beauty and cleverness of this tag. It combines literature (it's made on an old card from a library card catalog) and nature and Autumn in one remarkable piece! The name on the card catalog even matches the tag's subject matter, which I thought was brilliant!
#132 – Birgit – Sandra said: This autumn tag is gorgeous, love the stunning umbrella, and the leaves that are blown away by the wind. Such a fun idea! The aged silver embossing powder along the edges is amazing!
#166 – Hyunhee Choi – Anna-Karin said: This project features an exquisite accordion mini book inside a wonderful altered tin. The details and textures are fantastic and the design is so thoughtful and pretty.
Congratulations to everyone!
Please copy this spotlight badge, display it on the sidebar of your blog and if you could please link it to Simon Says Stamp!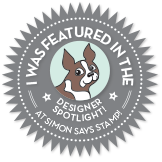 So who is the lucky winner of the $50 voucher?

Here is your random number:
Congratulations Donna Whitten! And this is Donna's autumn card:
Please email us so we can explain how you can claim your prize, the address is on the sidebar.
Thanks to everyone who joined in with the challenge and we hope you will all join in our current challenge too!
luv
Lols and the DT