Ombre Challenge: Winner and Designer Spotlights Post
Please CLICK HERE to go directly to the current challenge, or scroll down.

We have 5 girls in the Designer Spotlight for the Ombre challenge!
#19 Lois – Maura says: Lois has a beautiful double ombre effect on her lovely card. The background hexagons in earthy greens showcase the trio of red and pink feathers to create a beautiful thank you card!
#63 Shirely-bee  Andrea says: I love the way that Shirley used wide richly-colored shades for her ombre effect.  Her background is bold and full of energy and the butterfly silhouettes she paired it with are stunning!
#121 Erum Meihsia says: Erum created a gorgeous inked background and wonderful embellishments on her holiday card. I especially love the fantastic sparkly embossing on this creation.
Sandra says: Wow, this background has really rich colors. The blue tones are gorgeous. Amazing tag.
Anna-Karin says: This card is fantastic with a wonderful rich ombre background. The bits of glitter and silver embossing complement the blue perfectly.
Emma says: The background on this gorgeous Christmas card is so eye-catching and totally stunning and compliments the beautiful embellishments, perfectly! Beautiful work!
#152 Dasha: Anna-Karin says: Wow, look at this stunning card with a circle of butterflies in so many shades, all in ombre. Fabulous idea for the challenge and a really gorgeous result.
#162 Lyndal –  Suzz says: Lyndal created a beautiful flowery scene on her  journal pages with multi textures and lovely ombre inspired sky.
Anna-Karin says: Lyndal's art journal page is so pretty with the gorgeous blue ombre background, pretty flowers and bits of orange here and there.
Barbara says : These pages of art journal have brought me into another world: ethereal, suspended, as if waiting for take flight … I love the color scheme selection and design. The background is amazing, a very accurate work  for a stunning result !
Congratulations to everyone!
Please copy this spotlight badge, display it on the sidebar of your blog and if you could please link it to Simon Says Stamp!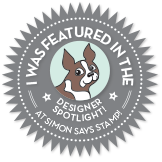 So who is the lucky winner of the $50 voucher?

Here are your random numbers:
23
Timestamp: 2015-10-10 07:40:03 UTC
Congratulations Andrea W :-)
and this is Andrea's gorgeous Ombre card
Congratulations! Please email us so we can explain how you can claim your prize, the address is on the sidebar.
Thanks to everyone who joined in with the challenge and we hope you will all join in our current challenge too!
luv
Lols and the DT