From princesses to crowns, royal colors to jewels – this week let's think about and be inspired by all things regal or royal. You could be the queen bee, art journal about something that would make you feel royal, or perhaps just incorporate a lot of jems in your next project. However you decide to interpret this week's challenge – we can't wait to see. To get some ideas going for you, be sure to check out all of the projects our design team has created.
Emma was inspired by her hometown of London!
When I first saw this challenge, I just knew that I wouldn't be able to resist featuring the beautiful city of London, together with it's royal connotations and I started gathering together anything I could think of that represented London including the CityScape stamp, the Union Jack stamp and a metal crown from the Regal Adornments set. I added these to a textural, inky background to complete my vintage inspired Royal project!
Meihsia was inspired to create a wall hanging with royal colors.
This canvas was inspired by the royal blue colors and created for my son, Christopher, since he loves to collect things about traveling, ocean and blue. The background was colored with Faber-Castell Blue Gelatos and covered with Glass Bead Glitter Gel. I added Tim Holtz 2015 Big Chat Stickers and Fragments to embellish this canvas.
Anna-Karin had the perfect photo to scrap for this week.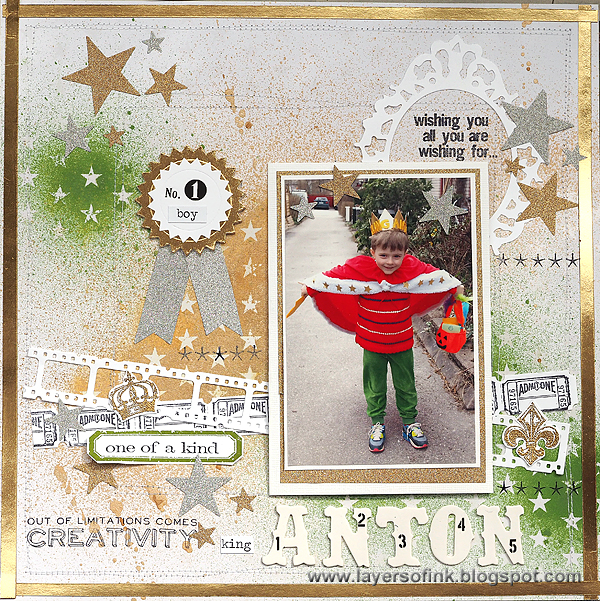 When I saw the challenge theme, I immediately thought of this fun photo. The background is Tim Holtz Motif cardstock, misted with Distress Spray Stain. A royal layout needs a lot of gold, and here you'll find Deco Sheets, Core'dinations Kraft Core Metallic and gold embossing. I also die cut a bunch of stars and a prize ribbon.
Michelle crowned herself!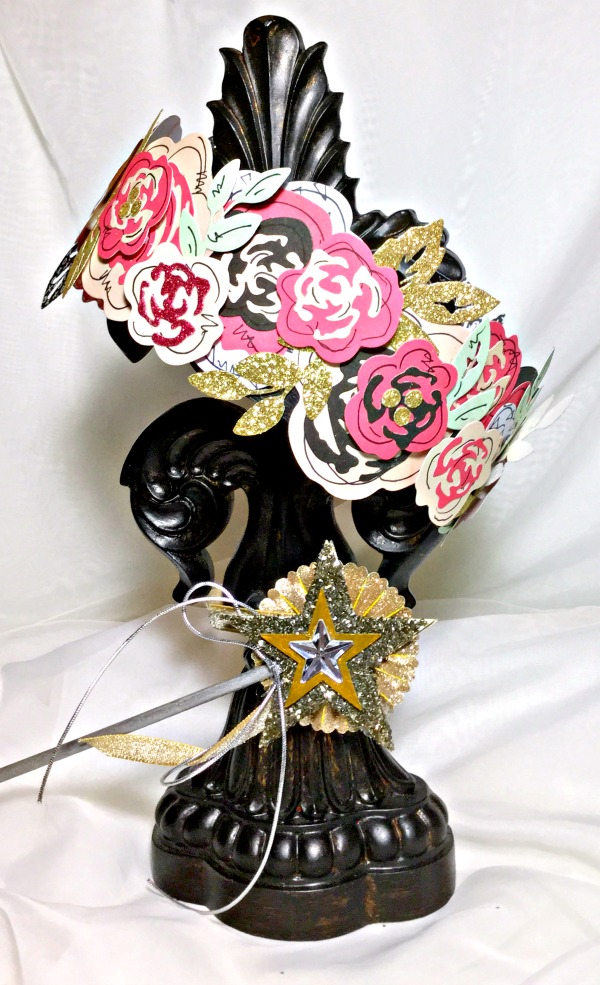 Let's bypass the coronation, and skip right to the crown. Why have jewels when there's glitter? The Maggie Holmes Flower Die has lots of fun parts that are easy to make with the newly updated Sizzix Big Shot. These blooms are easy to make and fit for a queen.
A birthday princess was Ashli's inspiration this week!
With a special birthday to attend, and a present to wrap… I found myself in need of a gift tag! Layers of sequins are nestled amongst the most adorable die cut mushrooms! Some watercolors and an acrylic word finish things off for the birthday girl!
Sandra got royal with foil with making this wedding card.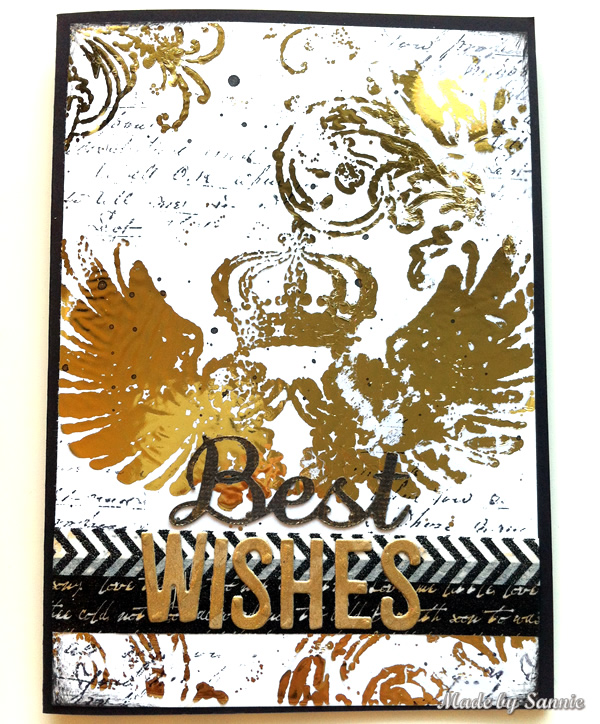 I'm loving the foil techniques so much! I needed to make a wedding card and thought that gold foil was perfect for that. With some Tim Holtz stamps, like Regal Flourish, Clear Embossing Powder, Gold Foil and a Heat tool, this foil goodness was created. Love the distressed look of it.
Andrea thought the Queen deserved a royal place to record her thoughts.
Sometimes you look at a girl and just know that she should be wearing a crown. Such was the case when I saw this fabulous Mona Lisa stamp. Even though she's apparently supposed to be a work of art, I thought she deserved a chance to be in the royal spotlight, too. So I gave her a crown and framed her out using the Tim Holtz Sizzix Mixed Media die.
Suzz was happy because she got to play with her new bee die for the challenge.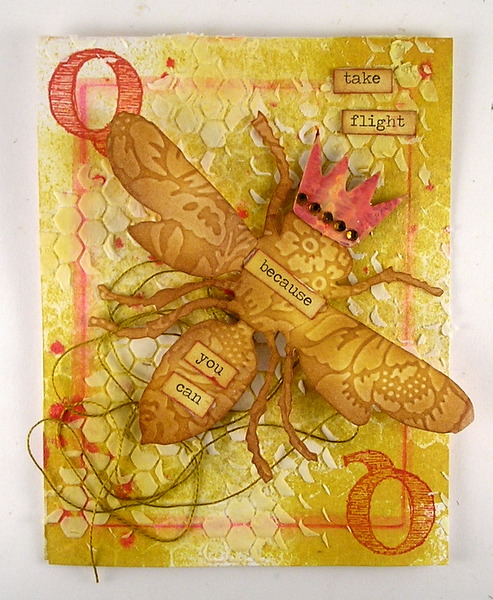 I have had the Sizzix Big Bee Die un-opened on my desk and was happy to create a Queen Bee card. I think this will make a great graduation card for one of the many family members graduating in a few days. I used the Simon Says Stamp Sketched Letters to make my playing card inspired design. The Ranger Archival Orange and Red inks mixed together gave me a reddish orange effect on the letters.
I (May) love adding regal touches of gold to my projects.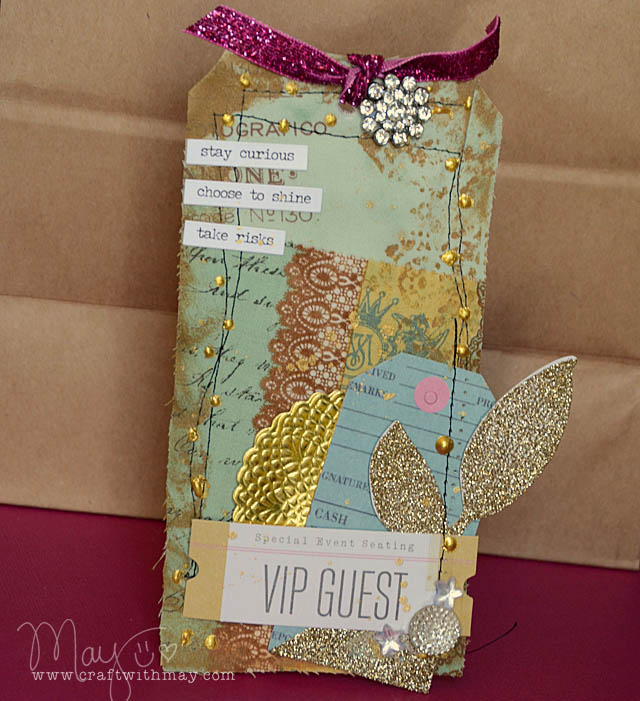 From the crown in the fabric I used to the gold die cuts and gold texture gems I went for a very regal feel to this tag. I'll be sending this atop a gift to a very special friend.
For more inspiration click on our design team's blog links so you can see more photos (and full supply lists) for their projects. Leave them a little comment love while you're there so they know how they've inspired you too, if you're so inclined.

As always, Simon Says Stamp is giving away a $50 gift voucher that will go to a random entry chosen by random generator. To qualify all you need to do is create a new project that ties in (in any way!) with our theme and post it, along with a link back to this challenge, and add a link here. This challenge will end at 11:59pm on Sunday June 7th Eastern time. We will also be choosing some of our entries to put in the spotlight – a special honor where we talk about why we loved that entry in particular and award a special badge too! For the full rules, read the "challenge rules" posted in the side-bar here on our blog.
[raw]
[/raw]