Do you have stamps that are versatile? That can be used many ways? This week we challenge you to use a stamp multiple ways on the same project or use the same stamp in different colors or ways on multiple projects!
Emma challenged herself to use 1 stamp, 3 ways to create a card with an abundance of flowers.
When I started thinking about this challenge, I knew I had to choose a stamp with versatility and with this in mind, I immediately thought of the gorgeous Tim Holtz Flower Garden stamps that I had recently bought. I used one stamp from this set to create a background for my card, which I hand painted with Abandoned Coral Distress Stain before using the stamp again to create a resist technique background for the next matted layer. Finally, I used the stamp for a third time to create a layered decoupage flower, which I added to the front of my card with a stamped quote.
Mona was inspired to create a layout using 1 stamp, 3 ways.
The woodgrain stamp from Trust The Magic cling stamp set was the perfect versatile stamp for my outdoor themed layout. I inked up the stamp with Vintage Photo Distress Ink then stamped my heart out on a piece of paper from the French Industrial Paper Stash collection. Once I was finished stamping, I put my newly stamped patterned paper to use in the following three ways: I pieced a patchwork background border, die cut Mini Heart embellishments and a frame to highlight a stamped butterfly image.
Ashli put a new Dina Wakley stamp to use on her page…
Having just received the Scribbly Flower stamp set by Dina Wakley, I was so excited to put it to use on this page. I first created a resist with some White Embossing. Then, I stamped with Archival Ink to create an embellishment, and finally… the leaves of the stamp added a nice border accent! To finish things off, I used some lovely floral pieces from Maggie Holmes. I just love making the most of one supply!
Meihsia had fun to play her butterfly stamp in different ways on her art journal page.
I was inspired to create this art journal with different ways using Tim Holtz Rubber Stamp Watercolor Butterfly. For the background I watercolored the some images with Distress Mini Ink Pad, and embossed some images with ColorBox Petal Point Pigment Inks and Clearsnap Clear Embossing Powder. The dimensional butterfly embellishments were stamped and embossed on the canvas fabric.
Sandra made a card for her teammate Anna-Karin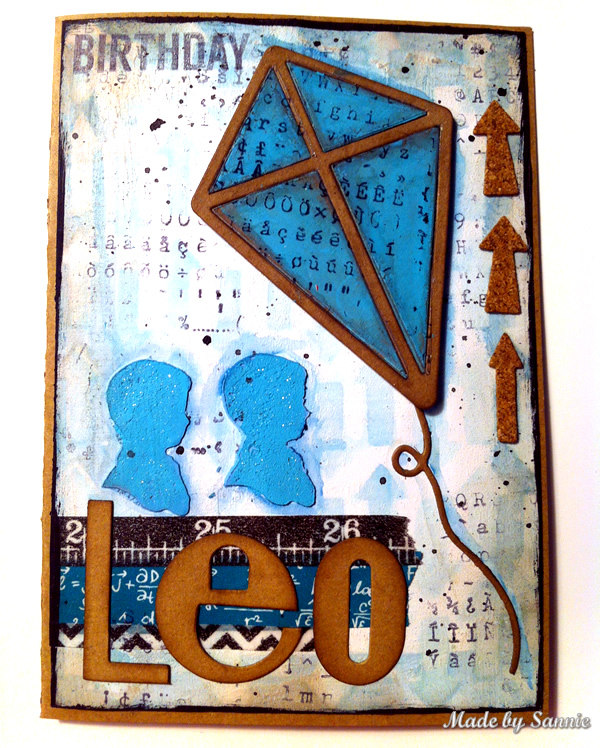 Anna-Karin has a new baby boy named Leo, and I wanted to make a card to congratulate them. It's fun stamping on different surfaces, I used Romance Novel for my background stamping. It's so tricky to stamp on slick surfaces, not every waterproof ink is suitable for that. Love, love, love this cute Shaker Kite from the Simon Says Stamp Hop to it collection!
I (May) am loving this new art stamp!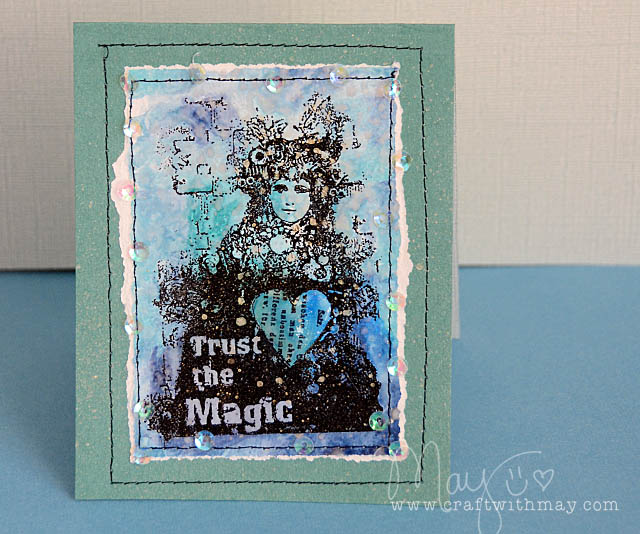 I took this new Prima art stamp and tried her out a few different ways. Archival or plain color wasn't quite right. I found that black embossing powder and blending distress inks to be just right!
Suzz was inspired to use a frame in multiple ways.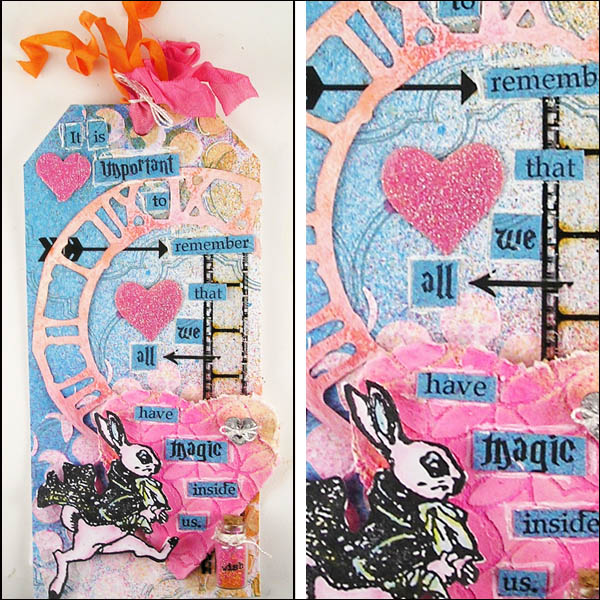 I decided to show how to use the Hero Arts Engraved Frame in a variety of ways. I masked, reverse masked and used it to create a pattern on a background page. The frame can be stamped multiple ways to create a variety of patterns that make an interesting layer of texture. This spring inspired tag uses the background stamping as the bottom layer with a mix of circles stenciled using the Prima Honeycomb Stencil and Wendy Vecchi White embossing Paste for a fun background to my Rabbit.
While playing, Michelle used one stamp in different ways.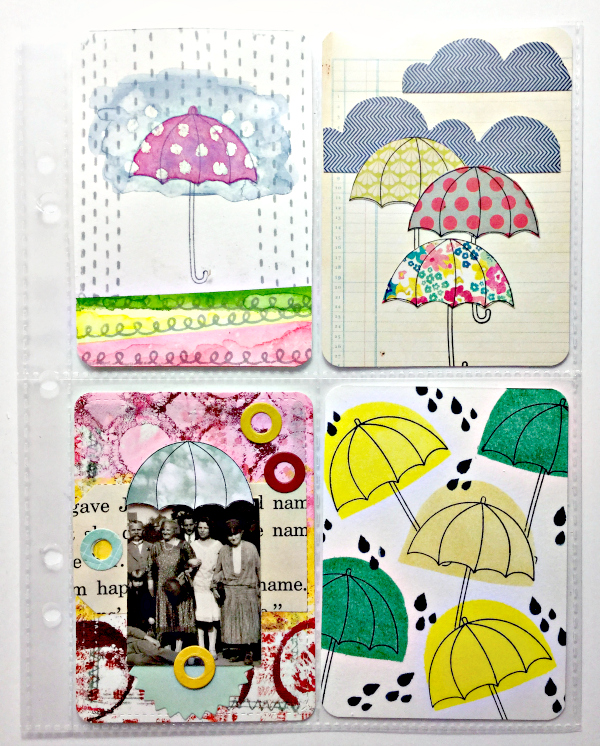 The Umbrella image from Abby's Spring Shower Set looks like a simple stamp, but it can be used so unique many ways, that I was immediately drawn to the simplicity. Whether it's mixed media, or using my Kuretake watercolors, I love playing with a new stamp.
Andrea loves the versatility of text block stamps.
Being a total lit nerd, I'm always drawn to stamps with words. Text block stamps in particular offer such amazing possibilities. Tim Holtz's Individual stamp is perfect for playing with. I love to cut up and rearrange words within it, combine it with stencils, and experiment with paint.
For more inspiration click on our design team's blog links so you can see more photos (and full supply lists) for their projects. Leave them a little comment love while you're there so they know how they've inspired you too, if you're so inclined.

As always, Simon Says Stamp is giving away a $50 gift voucher that will go to a random entry chosen by random generator. To qualify all you need to do is create a new project that ties in (in any way!) with our theme and post it, along with a link back to this challenge, and add a link here. This challenge will end at 11:59pm on Sunday March 29th Eastern time. We will also be choosing some of our entries to put in the spotlight – a special honor where we talk about why we loved that entry in particular and award a special badge too! For the full rules, read the "challenge rules" posted in the side-bar here on our blog.
[raw]
[/raw]