We're on a roll with fabulous design team requested challenges, so how about one more? This time Dan has said he'd like a carnival themed challenge. As always, his ideas intrigue and I can't get this one out of my mind. So will you create a circus themed card? Play with the idea of festivals and street parties? Perhaps your adventures in creating take you to be inspired by bright colors of carnival in Brazil or the masks of carnival in Venice. Maybe you are terrified of clowns and you make an entry in your art journal about it.
Whichever way you're inspired by this week's challenge – we hope you join the party!
Scary clowns often feature in Dan's work so there was only ever one way he was going to interpret this challenge.


When I was taken to the circus as a kid I always enjoyed the clowns so i'm not quite sure where my fascination with scary clowns comes from, I think perhaps it's ever since I saw Tim Curry as the clown Pennywise in a movie version of Stephen King's "It". Whatever the reason, I always relish the opportunity to explore them further! I wrote a short scary clown poem a few years back and I thought this would be the perfect chance to use it again. I started with a manilla tag and decorated it with distress stains and inks. Artful Artifacts, Spills and Splatters, Mixed Media and The Big Top were the stamp sets I used.
May found herself thinking about Mardi Gras, and all that purple, green, and gold this week.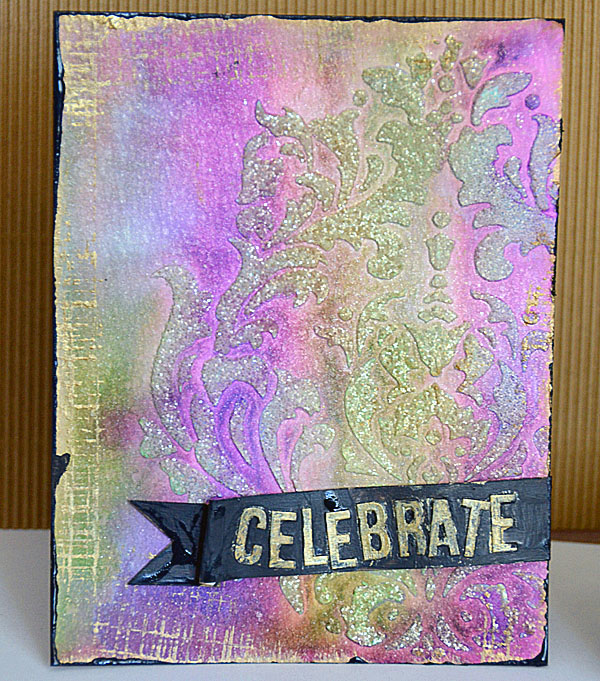 While I have never been, this challenge got me thinking about New Orleans and Mardi Gras. I thought perhaps a bold, glittered, and purely fun card would do just the trick for this challenge. I love that with our challenges you really can run wild with the inspiration! Streaks of dylusions mists down my stenciled card base helped me capture the feel of that epic party, and makes me long to take a trip somewhere that the party is out in the streets.
What is a carnival without a "BIG TOP"? That was Candy's inspiration this week for her large "BIG TOP" tag.
Wendy Vecchi's Yikes Strips Stencil, some Fired Brick Distress Ink and Wendy's new Translucent Embossing Paste set the tone for the carnival atmosphere of this #10 Manila Tag. Spin the transformed Wheel of Fortune from Tim Holtz' The Big Top stamp set. The clowns (also from The Big Top stamp set) sparkling with Waterfall and Stardust Stickles create a most unusual pocket embellished with vintage images from Bottle Cap Inc.'s Vintage Circus collection.
Sandra Mouwen was inspired by the Mardi Gras colors for her carnival tag
I Love the dramatic bold colors of the Mardi Gras and I never used them all together for a background. I really was excited to find out if the colors, Musterd Seed, Mowed Lawn and Seedless Preserves Distress Ink, blended well together. I think they do! But before I did that I used Picket Fence Distress Paint with Prima Marketing Flourish Stencil. The Distress Paints acts as a resist and looks like a ghost image. I made some layers with the Grunge Cirque stamps and with the Script stamp.
Michelle loves the vibrant carnival lights that she remembers from her childhood.
Growing up, I attended small-town street carnivals every summer. At night, the carnival lights transformed Main Street into a magical place. This inspired me to use the Martha Stewart ornament template to craft a paper lantern from Echo Park scrapbook paper. By stringing Tim Holtz stamped bulbs around the lantern, I was able to recreate a bit of carnival magic.
Mona was inspired by the vintage Circus Poster to create a wall hanging to remind her that "Life is a Circus".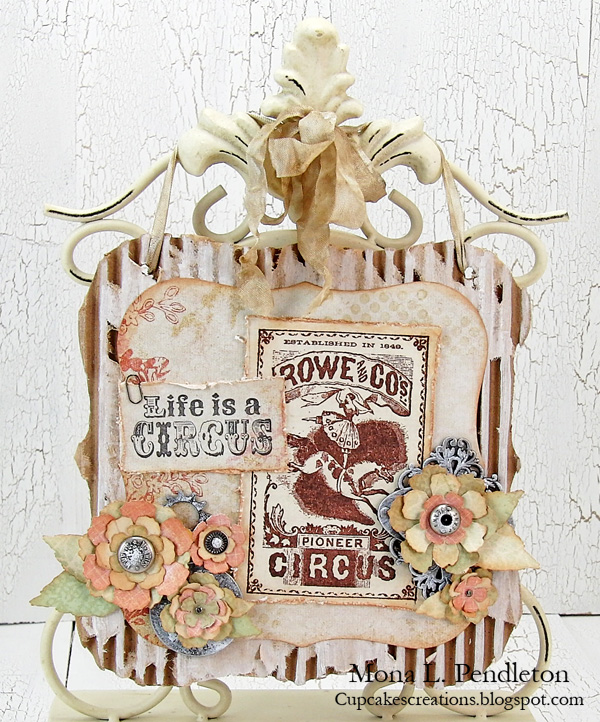 I've always admired the various Circus Posters throughout the years so I created a wall hanging featuring a beautifully stamped Vintage Poster. I used a few Grand Labels to die cut a piece of corrugated cardboard and patterned paper, layered to create the base of the wall hanging then decorated with multiple Tattered Flowers.
Anna-Karin had some photos of a vintage carousel which were waiting to be scrapped.
I love vintage and worn carousels and thought these photos were perfect for a carnival challenge. Carnivals are busy, full of colour and bling and I tried to make my layout in that same way. The background is misted with Dylusions mist and when dry, Wendy Vecchi's lovely gold embossing paste was applied through a Prima stencil. I mimicked the mirrors on the carousel with a gold embossed framed mirror sheet and also used Tim Holtz fun Cirque Alphabet, stamped with Archival Ink Vermillion.
Andrea wanted to wear her carnival fun, so she created this circus-inspired necklace.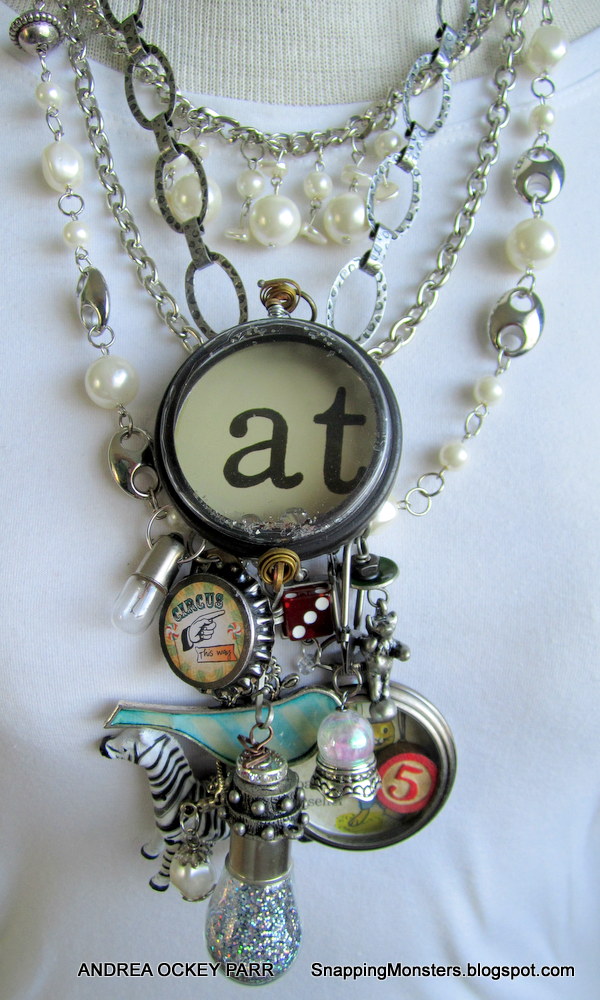 I am a fan of big bad bold jewelry. My dad teases me that I will need to see a neck chiropractor some day for my hefty necklaces and my husband likes knowing that most of my accessories could deflect bullets during combat if needed. Like carnivals themselves, this necklace is all about exaggeration and a bit of wackiness. I included a pocket watch, swivel clasps, a mini light bulb, and a game piece from Tim Holtz as well as a bottle cap and a vintage circus image by Bottle Cap Inc. I glammed up the bird charm with some patterned paper and Glossy Accents.
After much deliberation Tracy decided to create a Ringmasters hat this week for the carnival challenge.
I was really stuck for ideas for this challenge until I decided to do a search on the web for circus images, and came across a Ringmaster image and that was it my idea was born, a circus Ringmasters hat. The Spellbinders Grand Circles were perfect for creating my hat and made life so much easier. One thing I also noticed from my search was the colour palette being predominantly red and so I went with Distress Inks Fired Brick and Salty Ocean. Tim Holtz Circus Freak stamp was the perfect focal image for my hat combined with the Stampendous Life Is A Circus sentiment. This piece represents FUN, circus fun and it was great fun to make from start to finish!
Meihsia was inspired by the beautiful colors and feathers of the carnival theme and made this wall décor.
I love this week's fun carnival theme and when I saw it I thought of the wooden cradle board, craft feathers and paper mache dress form in my craft room right away. To make this project, I first covered the board with Gesso and Ranger Dabber, glued Tim Holtz Gadget Gears die cuts and flowers on the background then sprayed the background and those embellishments with Dylusions ink spray. I stacked and glued some Tim Holtz Shabby Accoutrements Buttons as the base and attached the "carnival girl" on the board.
Ashli took her inspiration in the form of color this week!
The first thing that comes to my mind when I think of carnival is… COLOR! Some of the most colorful things in my stash are these fun craft store feathers. After choosing some photos that would work well with these colors, I set about creating movement on my page using some Blank Canvas Paint, Tinsel Color Shine and a bit of Blue Glitter. With my large, sketchy circle dry, I set about layering up some paper scraps, Washi tape, and Echo Park Stickers.
Suzz was inspired by the bright bold colors of carnivals and has a special tutorial later this week to share.
For more inspiration click on our design team's blog links so you can see more photos (and full supply lists) for their projects. Leave them a little comment love while you're there so they know how they've inspired you too, if you're so inclined.

As always, Simon Says Stamp is giving away a $50 gift voucher that will go to a random entry chosen by random generator. To qualify all you need to do is create a new project that ties in (in any way!) with our theme and post it, along with a link back to this challenge, and add a link here. This challenge will end at 11:59pm on Sunday August 25th Eastern time.
We will also be choosing some of our entries to put in the spotlight – a special honor where we talk about why we loved that entry in particular and award a special badge too!
For the full rules, read the "challenge rules" posted in the side-bar here on our blog.
[raw]
[/raw]