July, journey, jump rings, jewel tones, and journaling. This week we are challenging you to be inspired by the letter J somehow. From jewels to jade ink – there are oh so many possibilities! Be sure to tell us how you've been inspired by the letter J this week.
For Dan, who recently resolved to use his art journal more often, there was only ever 1 thing that J was going to stand for.
Never let it be said that I'm not a man of my word – I said I was going to use my art journal more and here's the proof – J is for journal page. There are all kinds of fun things squeezed in here, including Psychedelic Grunge, Daydream, Reflections and some of Simon Says Stamp's Authentic Vintage Paper.
Just a Dream inspired Suzz's tag this week.
I have to admit that the "J" had me stumped. I searched on Pinterest for "J" inspired projects, I had my son and daughter throw "J" words at me and I looked through my products for anything starting with the letter "J". So my project is really a "Just" in time project. As I worked through the other ideas I ended up with about 5 different projects and many new backgrounds created with the Gelli plate. One of my papers stuck to the plate because I let the paint get too dry. I actually liked the texture left on the paper and that was the base for my tag. The Wendy Vecchi The Beauty flower became the focal point for my dreamy tag.
Andrea pilfered her family's Jenga game in order to make some altered word blocks.
I wanted to create some word blocks to express my emotions and these Jenga blocks filled the bill. I have just recently discovered the beauty of Memento Luxe inks, which can be used on lots of fun surfaces like fabric and wood. I utilized them for this challenge and some of my favorite colors are Bahama Blue, Rose Bud and Dandelion.
Michelle is loving the junk.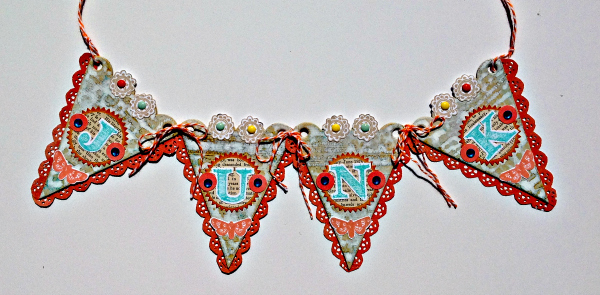 We all have Junk lurking in those drawers and bins. I labeled mine with the help of some Jenni Bowlin Scalloped Chipboard (another "J" word!) and Simon Says Stamp Sketched Alphabet.
After a bad 'knee-day', Anna-Karin made an art journal page:


For me 'J' ended up standing for 'journaling' and 'joint', as in knee joint. I had fun playing with my Inktense Blocks on this page, using them both for the background and the stamping. Lots of broken circles to symbolise my messed up knee. Various Hero Arts stamps were used to build up the page. Finally, I embellished it with Simon Says Stamp Exclusive dies and some tissue tape.
This challenge forced Barbara to think about the letter J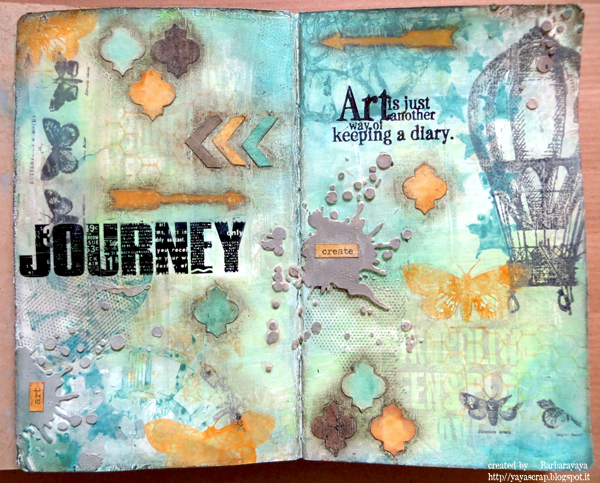 The word that inspire me could be only… Journal! For a long time I thought about it and finally I managed to start my own. Since it's my first experiment in this sector, I desired to be in my comfort zone, my favorite color palette and all things Tim. I prepared my background with gesso and Distress Paints, I've created layers with tissue tape (diy with stamps and tissue paper), rubber stamps, embossing paste, and gelatos. Starting my art journal has been a wonderful experience, positive and relaxing. Free your mind and recharge your energy! Surely, you'll see other pages…
Meihsia created this canvas wall decor for Natalie to remeber her end of school year party in June.
J is for June – Natalie graduated from elementary school this June and we held an end of school year party for her. I was inspired to create this canvas wall decor for her to remember all the great time she had with her friends in the party and in those school years. The canvas was colored with Color Shine and distressed with ColorBox Ink Pad.
Emma had summer on her mind and chose a "J" for…journey.
With summer holidays on my mind and using journey as my theme, I created a fancy fold, passport style card for this week's challenge. I created the backgrounds to each page using various colours of Distress Stains and then die cut the Mini Jalopy, together with a die cut arrow, to use as my focal point on the front of the card. I layered the inside with die cut Gadget Gears, Ephemera and various pieces of Idea-Ology. To complete the inside I stamped the wonderful Tim Holtz verse on the final page.
For Sandra Mouwen the J is for Jump rings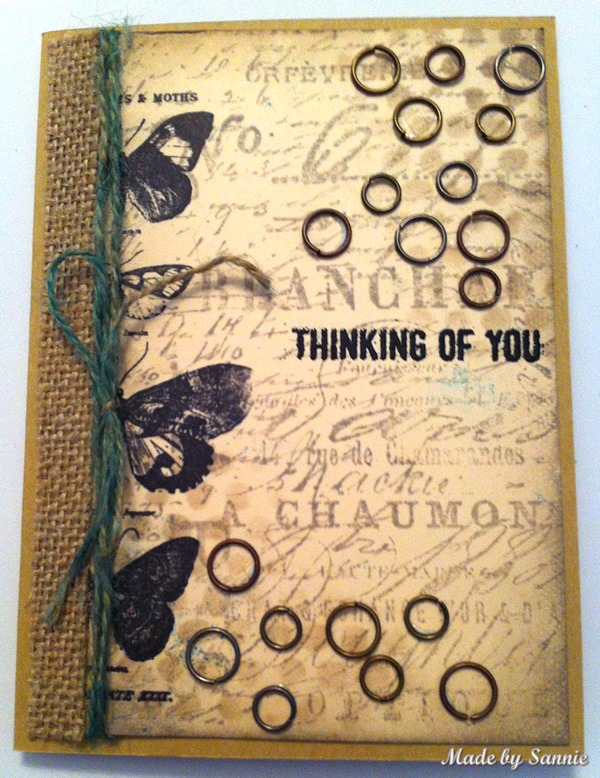 I have a ton of Jump rings in my stash, but I only use them for attaching embellishments. Why not use them as an embellishment. So I did! The card base is from Manila Cardstock and I stamped the Papillon Background stamp with Pumice Stone Distress Ink. I cut out a strip of Burlap Paper and placed it on the left, like it's a binding, after I stamped the Papillons with Jet Black Archival Ink.
The letter "J" inspired Mona to create a piece of jewelry using jumprings.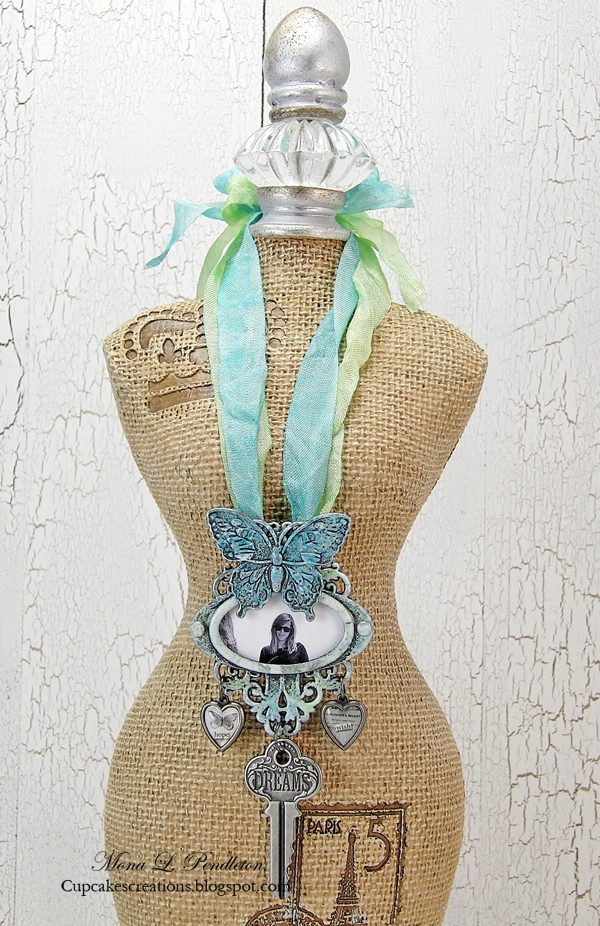 This challenge was the perfect opportunity for me to create a piece of metallic jewelry using a various products including an Ornate plate, Word Key, and Heart Charms.
Ashli's husband has a hobby that takes them on many journeys…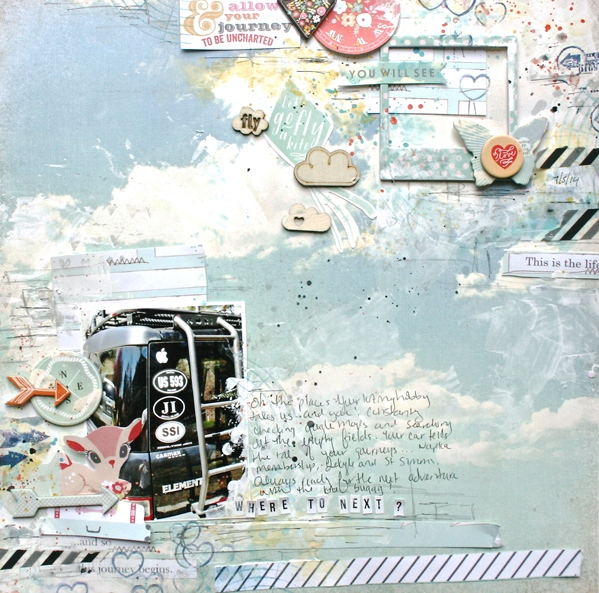 My husband is a power kiting enthusiast. Since this hobby tends to take quite a bit of land space, it has us heading out on many a journey to find the next open field. Using plenty of Webster's Pages Our Travels Papers and Chipboard, I layered on Distress Ink and Gesso to scrap this page that features his car full of stickers, representing his favorite kiting destinations.
Tune in Wednesday when I (May) will be here sharing a video on my jewel toned journey into cardmaking…
For more inspiration click on our design team's blog links so you can see more photos (and full supply lists) for their projects. Leave them a little comment love while you're there so they know how they've inspired you too, if you're so inclined.

As always, Simon Says Stamp is giving away a $50 gift voucher that will go to a random entry chosen by random generator. To qualify all you need to do is create a new project that ties in (in any way!) with our theme and post it, along with a link back to this challenge, and add a link here. This challenge will end at 11:59pm on Sunday August 3rd Eastern time. We will also be choosing some of our entries to put in the spotlight – a special honor where we talk about why we loved that entry in particular and award a special badge too! For the full rules, read the "challenge rules" posted in the side-bar here on our blog.
[raw]
[/raw]