challenge: start from scratch!
Anna-Karin suggested a challenge where we make our own flowers. That got me thinking – how about making some project element from scratch? It could be an embellishment with layers, a rosette, a flower, or perhaps you build something or otherwise craft a piece by starting with little more than simple paper or other raw materials. What will you make from scratch?
Emma's shadowbox and tarnished trophy is a celebration of heroes ~ past and present.
I love creating pieces from scratch and this was the perfect challenge for me to make two individual pieces but both with one meaning. I created the box itself from chipboard, topped it with Sizzix Star Cluster and then, after adding some texture using Wendy Vecchi's Embossing Paste, I painted the box with Distress Paint. I used stamps and Idea-Ology to fill the inside of my box and then made a Tarnished Trophy from chipboard, covered with metal tape foil, as the perfect accompaniment for a No.1 hero.
Hand crafted flowers were the inspiration for Ashli this week…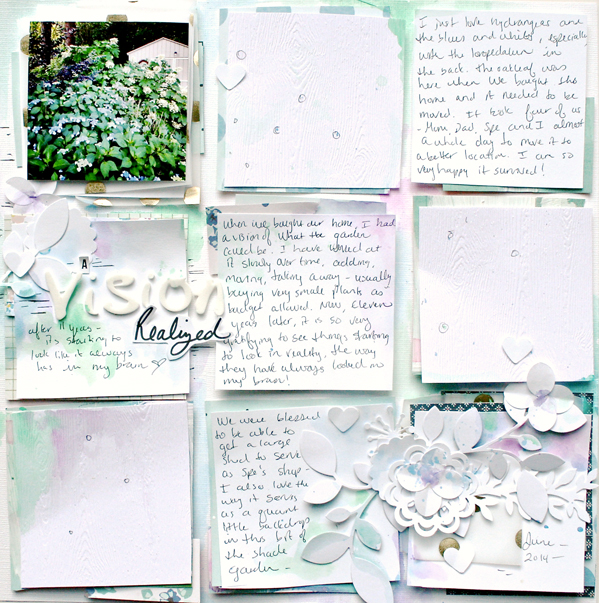 I love the look of flowers on a page, but often have trouble using them. For this week's challenge, I decided to pull some inspiration from last week's white on white theme to handcraft some subtle flowers of my own. Using plenty of my favorite punches, the Martha Stewart Vine Trim, and the Clustered Leaves Die from Simon, my flowers came together in no time!
Dan usually makes 5×5 cards using pre-scored cards and envelopes, this time he made his card from scratch.
I had a lot of fun making this card and got to use 2 recent purchases, Random Quotes and Artful Tools. I love the photo of the cute vintage couple in the Custom Fastener too and Hero Arts winter trees is another new stamp that I using for the first time today.
Mona was inspired to create a homemade flower to embellish her tag.
I enjoy making my own die cut flowers especially roses made using the Tattered Pinecone die. I didn't stop there, I also decorated the tag with a homemade butterfly and heart embellishment.
Andrea made a trio of matchbook notes from scratch using some of her favorite paper.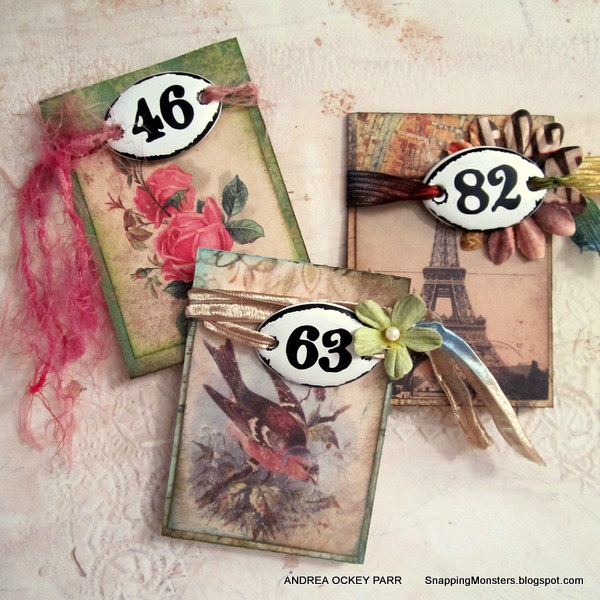 One of the most versatile die sets I own is Lifestyle Crafts' matchbook die set. I love to make cute little notes that flip open. For these matchbooks, I used the following fabulous paper collections: Wallflower, Madame Payraud, and Maritime.
Anna-Karin loves to make things from scratch, and made a summer canvas.
One of my favourite things to do is to use dies in ways they were not originally intended for and ever since I set eyes on Tim Holtz Sizzix Matchbox die, I knew I wanted to use it to make little houses. I even used the die to make the roofs. The background was done by smearing Wendy Vecchi Crackled and White Embossing Paste on a canvas board, adding paint and stamping once it was dry.
Tracy created her own garden in a bottle for this weeks challenge.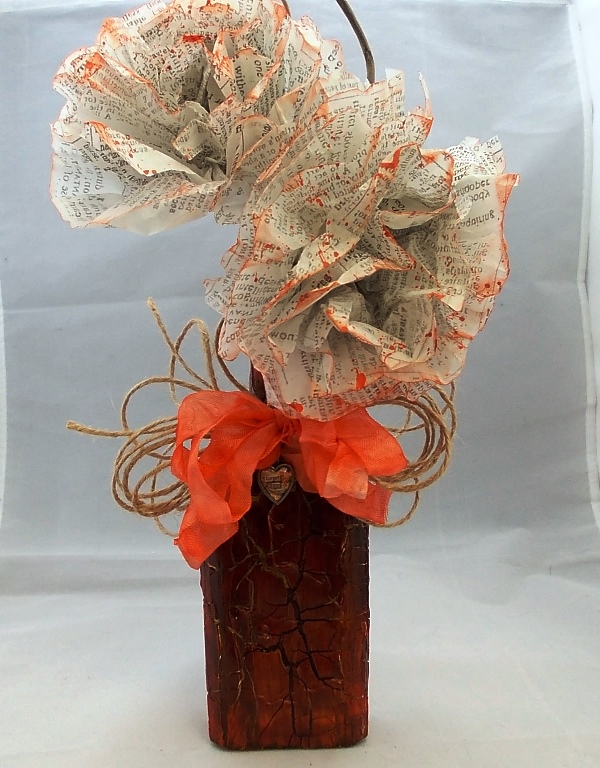 My raw materials were an old bottle, Tissue Wrap, Wendy Vecchi's Crackled Texture Paste, Gold Embossing Paste, Monarch Orange Archival Ink and Potting Soil Re-inker and a good dose of inspiration! As I look through my craft window it is raining at the time of writing this so what could be better than my own everlasting flowers and vase and no watering needed.
Suzz is feeling patriotic with the 4th of July celebrations this past week.
I was feeling patriotic and wanted to create something to celebrate. The stars stencil along with the Ranger Distress Ink Fired Brick and Chipped Sapphire seemed like a good place to start. I also wanted to try create patriotic bunting from ribbon. After I started with my bunting I decided a rosette would be perfect on the top of my tag.
Sandra Mouwen is very much into doily's at the moment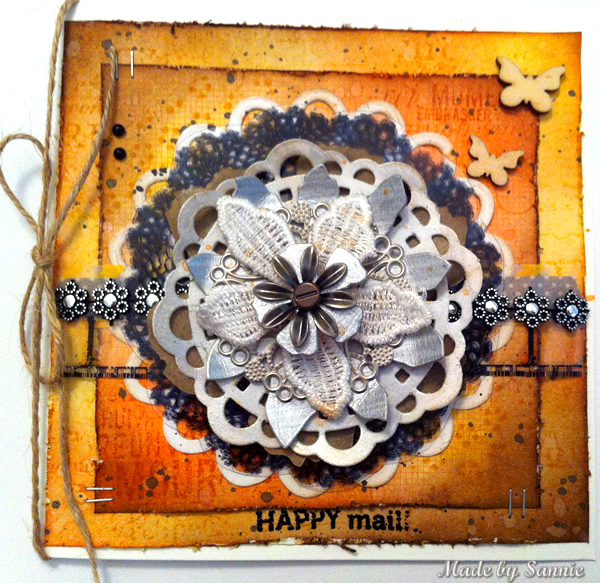 My doily happiness continues. I can't help myself, so why not embrace it and make a big bold doiley flower from scratch. In the back is the Documented for the Record doily, with on top Doily 1 stamped on a transparency. The last doily is the Note to Self. On the side I used some Jute twine to make a bow, so on the inside I can add some more pages.
Meihsia was inspired to make some handmade flowers to decorate her mixed media canvas.
It's always great to use up the scraps so this week, I gathered my leftover scraps with various colors and patterns to die cut and make these handmade flowers. The background of this canvas was covered with Gesso and colored with Izink inks and watercolors. The Tim Holtz Alpha Parts and Prima Flowers Free Spirit Wood Icons were attached to create the dimension on this canvas.
I (May) am starting from behind scratch with my watercolor pencils.
Christmas in July? You bet! Armed with my Penny Black stamp and the water color pencils I don't use nearly enough I played with color techniques and came up with the first Christmas card of the year. Ahead of the game? Perhaps, but when it comes to the holiday crafting I can't get started early enough! It always sneaks up on me.
What do you do when you've lost your inspiration and are lacking creative energy? You start from scratch!
Check back on Wednesday when Michelle will share 5 Practical Ways to Inspire Creative Stamping.
For more inspiration click on our design team's blog links so you can see more photos (and full supply lists) for their projects. Leave them a little comment love while you're there so they know how they've inspired you too, if you're so inclined.

As always, Simon Says Stamp is giving away a $50 gift voucher that will go to a random entry chosen by random generator. To qualify all you need to do is create a new project that ties in (in any way!) with our theme and post it, along with a link back to this challenge, and add a link here. This challenge will end at 11:59pm on Sunday July 13th Eastern time. We will also be choosing some of our entries to put in the spotlight – a special honor where we talk about why we loved that entry in particular and award a special badge too! For the full rules, read the "challenge rules" posted in the side-bar here on our blog.
[raw]
[/raw]