Whether you go acrylic or water, gesso or colorful, base layer or finishing touch – we all love a bit of paint in our creations! From stenciling to backgrounds there are so many techniques and so much that can be done with paint!
Anna-Karin made an art journal page using acrylic paint in many different ways.
I love birds and Dina Wakley's Scribbly Birds set is fabulous. I wanted to let the birds sit on a branch happily chatting away. On this page, you will also find several Dina Wakley stencils, such as the Birds in Flight and the Plastic Canvas. The background was coated with gesso and then painted with Distress Paint, aiming for a fluid watercolour look. The birds, on the other hand, were meant to look more opaque and solid, to make them stand out from the background.
Gold, Brown, White, and Bronze Paint had Suzz streaking up a long kraft envelope.
With my project this week I was trying to achieve a weathered look with an effect of rust and wood. I used a mix of the Ranger Distress Paints – Metallics, Ranger Distress Paint – Brown, and Paper Artsy Fresco Finish – Snowflake to streak my background. To help with the feel of wood I inked up the DarkRoom Door Peeled Paint with the gold metallic dabber.
Emma's project is packed full of various painted elements and techniques.
I've been eagerly awaiting Dina Wakley's new paints and when they arrived, I couldn't resist using two of my favourite colours, Lime and Turquoise on the Gelli Plate to create my background for this week's project. I framed the Tim Holtz stamped quote with a die cut frame, painted with French Roast and Snowflake PaperArtsy Fresco Finish paints and crackled with the Crackle Glaze. As a finishing touch, I used Distress Paint on my metal flowers and Garden Greens die cut foliage.
Meihsia was inspired by her old paintbrushes and created a mixed media canvas.


I love painting and my inspiration this week was from three old paintbrushes that I used on my previous mixed media projects but don't use them anymore. I first stenciled a mosaic heart using Simon Says Stamp stencil and Modeling Paste on the canvas, then I applied various colors of Distress Paints on the heart. Before I attached those beautiful Prima Flowers, I also colored the background and distressed the edges of the canvas with Distress Paints.
Michelle got messy with metallic.
I adore all of the Distress Paints, but the luscious Antique Bronze Metallic Distress Paint is my current obsession. I stamped the gorgeous skeleton leaves on Neenah Solar White from the 2014 Daydream Collection by dabbing the paint directly on the stamp. Directly on the stamp? Yes! This metallic stamps like a dream!
Dan changed up his usual color palette this week for something a little more summery.
Not a hint of Gathered Twigs anywhere to be found on this card, which is saying something as I seem to be able to find a way to include that colour on just about anything. Distress Paints were my paints of choice here, even down to using Rusty Hinge distress paint for the stamped speckles down the edge of my card. I also made use of the French Industrial pad and the World Traveler stamp set.
Barbara knows paint is an essential product, and also lovely creative activity as well.
I love so much to paint! At this time my favourite products are Distress Paints. I adore to mix these colours, your texture is so rich and fluid, and their effects are amazing and so different. In this challenge I wanted to make my first ATB. I've used Distress paints also for the background with Tim Holtz stencils. Because paint is also a verb , I painted my globe with alcohol inks for a grunge effect. I hope that my experiments in painting carry a brush in your hands. It' s a wonderful relaxing therapy.
Tracy took this opportunity to create a masculine patriotic card for her husband.
This week I thought I would create a birthday card for my husband who spends a great deal of time in London working and I thought that the Tim Holtz London Sights stamp set was the perfect starting point. I love combining images with the use of paint and this time around I am showcasing the fabulous Walnut Stain and Black Soot Distress Paints. I love the distressed feel to this piece.
Sandra Mouwen decided to use paint in all kind of ways in her art journal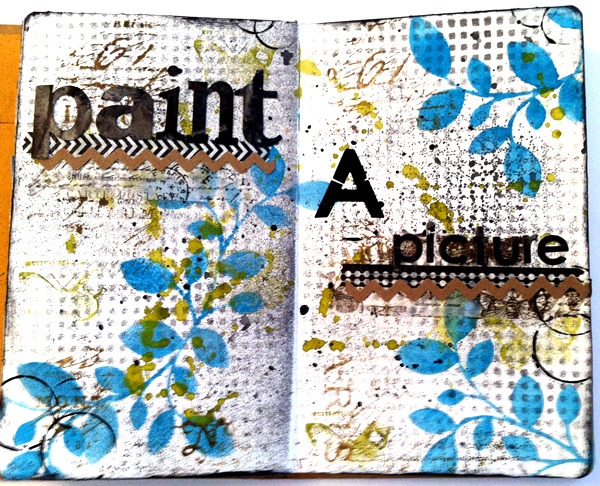 Paint is one of my favorite kinds of medium to play with. So I had lots of fun using it in different ways. Like making spray paint by mixing Distress Paint with water. The background is made using it with the Dina Wakley's Plastic Canvas stencil. Another way is to use paint is by stamping with it. The key to that is how and how much paint you apply to the stamp. In total I used paint in 7 ways for my art journal pages.
Ashli needs a new photo display for all of those cute baby pictures…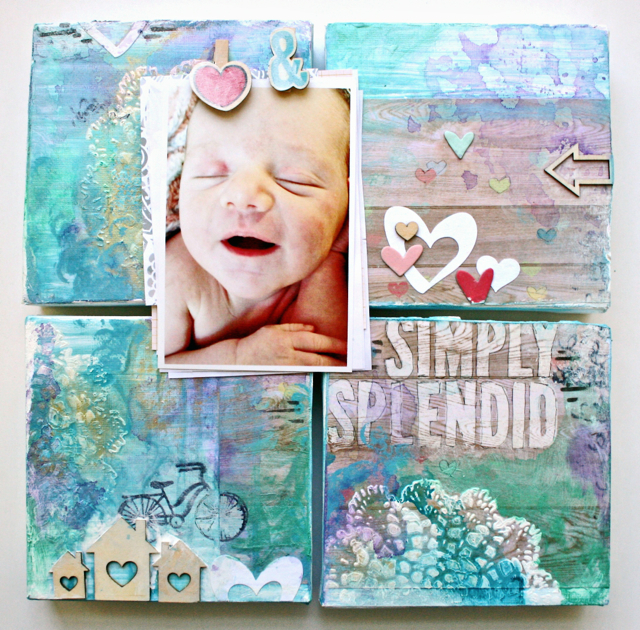 I was inspired by the new 8×10 prints from My Mind's Eye for this week's project. Using the Just Splendid Word Art Set as my starting point, I added Broken China Distress Paint, Dina Wakley's Gesso, and Watercolors to create this mixed media display canvas.
I (May) love my paint- and had a lot of fun crafting this canvas!
Last weekend at the Simon create event I used plain white gesso to create this canvas. With the help of my favorite watercolor paints and some treasures I was able to create this canvas in a few short creative sessions. Fun? Oh yes! Such an inspiring event and this canvas was a joy to create as well.
Mona was inspired to alter and embellish a photo tray using a variety of paints.
Tune in Wednesday when she shares her tutorial!
For more inspiration click on our design team's blog links so you can see more photos (and full supply lists) for their projects. Leave them a little comment love while you're there so they know how they've inspired you too, if you're so inclined.

As always, Simon Says Stamp is giving away a $50 gift voucher that will go to a random entry chosen by random generator. To qualify all you need to do is create a new project that ties in (in any way!) with our theme and post it, along with a link back to this challenge, and add a link here. This challenge will end at 11:59pm on Sunday June 15th Eastern time. We will also be choosing some of our entries to put in the spotlight – a special honor where we talk about why we loved that entry in particular and award a special badge too! For the full rules, read the "challenge rules" posted in the side-bar here on our blog.
[raw]
[/raw]