Just my luck with Andrea Ockey Parr
Since March is the month in which we celebrate all things lucky, I, Andrea, wanted to dedicate this post to household items that will bring you great crafting luck even if they weren't necessarily made for artistic purposes.
Need a unique floral embellishment like the one I used on this house project? You're in luck if you have some used dryer sheets.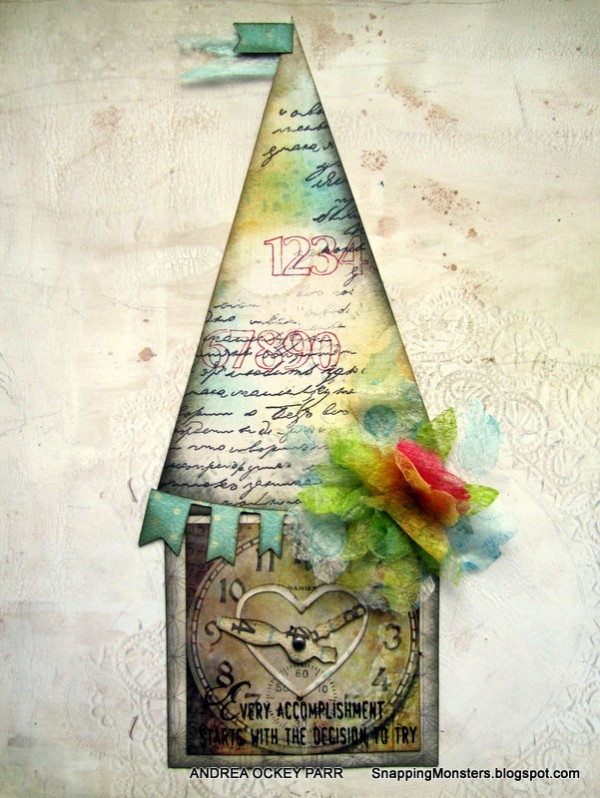 You can easily run used dryer sheets through your Sizzix Big Shot machine to create gorgeous fabric-like shapes. To make the proper "sandwich" width that will cut through dryer sheets, stack your materials on your Sizzix as follows: put your base plate on the bottom, then the die (I'm using Tim Holtz's Tattered Florals), then your dryer sheet folded in half (to get twice as many shapes), then a piece of card stock or thick patterned paper, then the top plate. Here's a picture of my sandwich stack after I ran it through the machine and opened it:
Next, color your dryer sheet flowers. You can use several mediums to add color, but I love the bold look of Dylusions ink sprays. For this flower, I colored the different layers with Dylusions inks in the shades of Fresh Lime, Cut Grass, Pure Sunshine, Lemon Zest, Cherry Pie, Bubblegum Pink and Squeezed Orange. You can also stamp onto your dryer sheets, which is what I did with StazOn Teal Blue ink and Hero Arts' Life of the Party Dots stamp. To form the flower, fold the dryer sheet shapes and sew or glue them in place.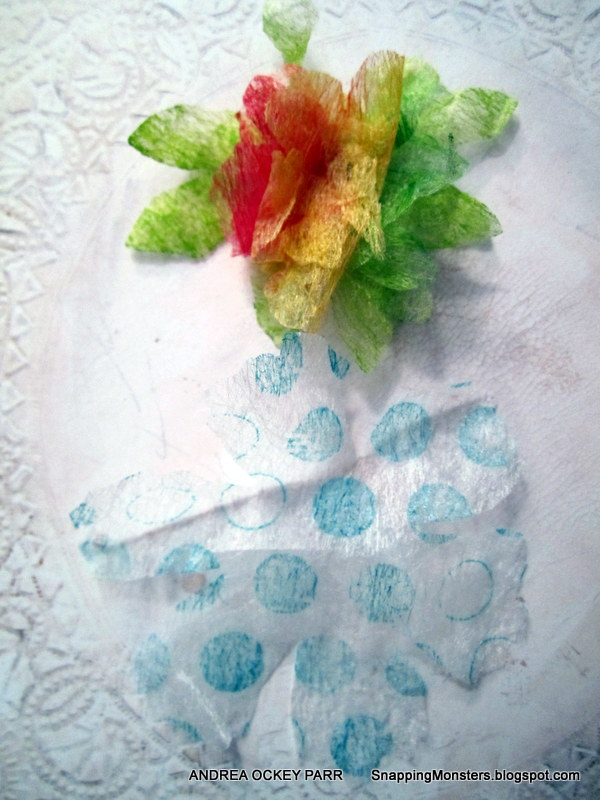 And that's all there is to it! The possibilities are endless and used dryer sheets give you an excellent reason to do the wash once in a while.
I built the background of this piece with a clock from Tim Holtz's Lost and Found paper stack and I made the house from Crate Paper's Maggie Holmes and The Pier collections. I used an Impression Obsession house die, but cut out my own elongated roof triangle for the top. I also used Tim Holtz's Weathered Clock die for the clock hands. I added some text to the roof using Ranger Jet Black Archival ink and the IndigoBlu Script stamp mounted on an acrylic block. I also added a happy banner that I made with the Simon Says Stamp Ribbon Banner die. And how could I not include this great quote at the bottom from Wendy Vecchi's A Form of Art stamp set? I also used her Busy Making Art stamp set for those great red numbers on the roof.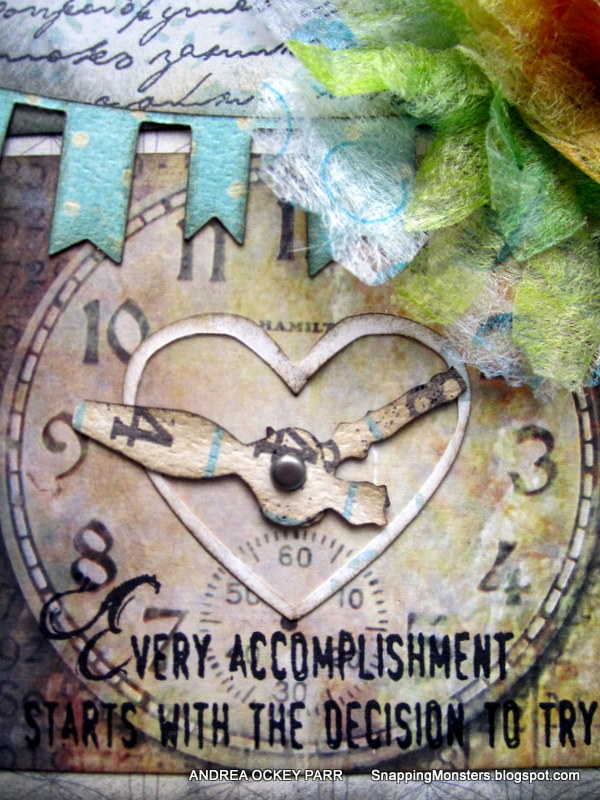 But dryer sheets aren't the only household item that you can create great art with. Have you ever wanted to flip one of your stamps the other direction? You're in luck if you have some foam sheets and some Saran wrap. Here's how it works:
Cut three or four squares of craft foam that are the same size as an acrylic block that will accommodate the stamp you want to "flip."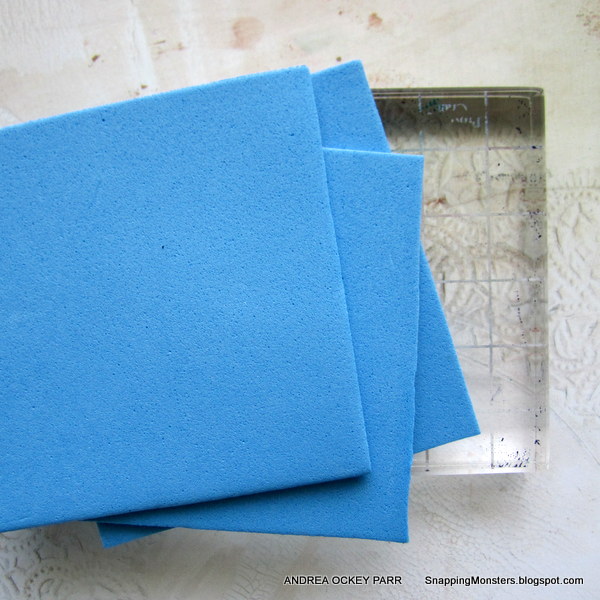 Stack the foam squares on top of the acrylic block and wrap the whole thing in Saran wrap (like a sandwich). Be sure to pull the Saran wrap tight so that your surface is smooth and wrinkle-free.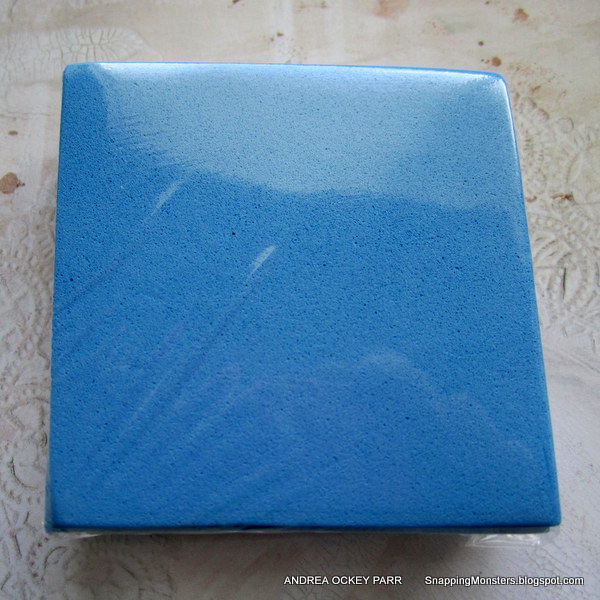 I chose to use Tim Holtz's bicycle stamp from his Purely Random set. Let's say that I wanted the bike to be traveling in the opposite direction of the way it's going on the stamp. In essence, I want to flip the image the other way. Using Ranger Jet Black Archival ink, I stamped the bicycle onto my Saran-wrapped block, like so: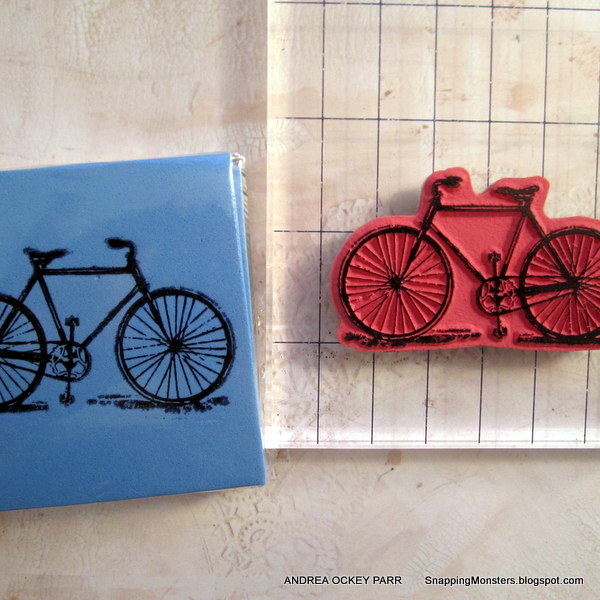 Working quickly, use your Saran-wrapped block as your new stamp. Press it firmly onto your surface and your image will be flipped from the original. Here's a comparison between the original and the flipped image. The flipped image will never be as crisp as the original since it's a stamp of a stamp, but I like the effect all the same.
This trick comes in especially handy if you want to flip an image like an arrow or a sign that's pointing a certain direction and you want it to point the other way. It's also interesting to flip silhouette stamps for a new look.
Last but not least, have you ever needed a great reversed polka dot stamp? You are in luck if you have the sheet that surrounds those pop-up dots that you used up. It's always fun to make new stamps from recycled materials and this is my all-time favorite non-stamp to stamp with. Once your pop-up dots are gone, simply ink the leftover sheet and use it as a stamp. Here it is, covered in Tim Holtz Peacock Feathers Distress ink, along with an example of what the pattern looks like when stamped on a collage piece.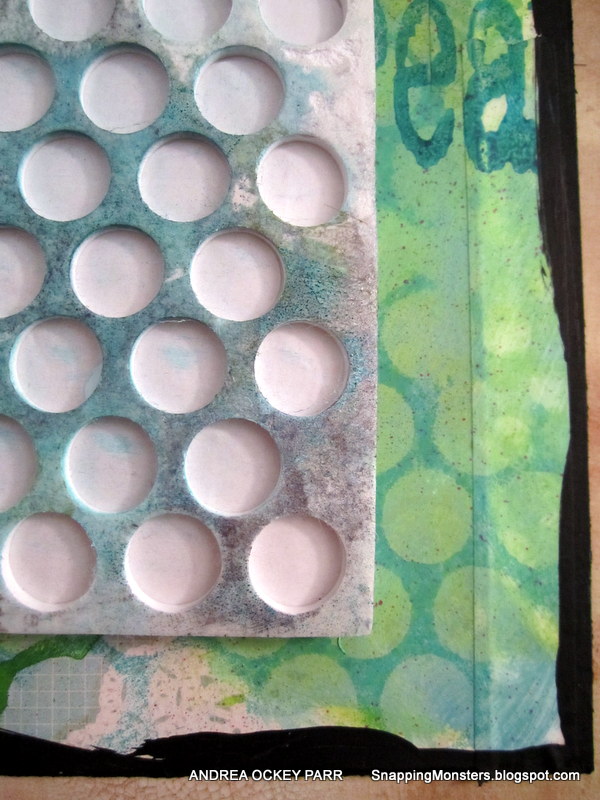 I wish you all the best luck during this month of March and I hope that these tips will come in handy as you craft your way to more wonderful projects.
---

Household items are super useful – and I love these ideas from Andrea! I'm super inspired to go hunting around my house now. Oh yes, and now it is your turn – join us this week in the challenge! For the full rules, read the "challenge rules" posted in the side-bar here on our blog, and be sure to enter the challenge in the post below this one.