Challenge: D is for Distress
From inking edges brown to Tim Holtz distress products, sanding paper to aging with tea stain – how will you distress? This week we challenge you to embrace all things distress – and have fun! Our design team has been busy getting inky and we think you're going to love their inspiration this week.
Andrea used some handy distressing techniques to give new life to this cheese-grater-turned-memo-holder.
I know, I know. Cheese graters are not toys! Be that as it may, I loved the look of this old one and couldn't resist making it into something else. It was already naturally distressed (too rusty for cheese these days), but I did give it a bit of a distressing boost by using alcohol inks in Sail Boat Blue, Citrus and Espresso.
"D is for distress" is Barbara's way of life!
In each of my projects these inks never fail! I like very much to distress the edges of my projects, make look older with dark colors and use a sanding grip. For this challenge I made a card for a friend who likes sewing. My Karen Burniston accordion die is great for this. I cut two small rectangles with the sticky back canvas and coloured with distress ink re-inkers. The theme of this card is " sew" and I stamped an image from the perfect Tim Holtz set!
Emma was in her element working with all her favourite distress products.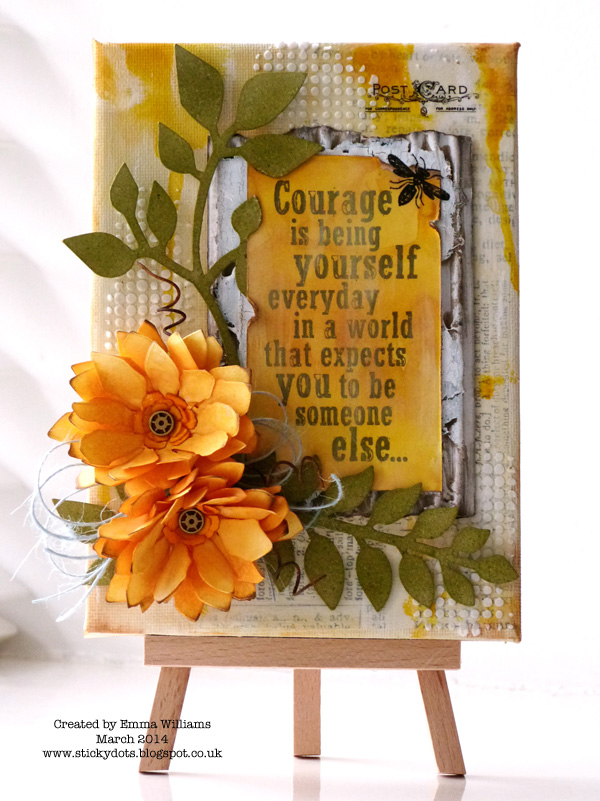 What do I love about distress? What don't I love! Every product from this vast range gives a totally different look and I just adore this versatility and for my bright. I wanted to bring a touch of spring and a little bit of colour to my house…so for my canvas, I used Distress Paints, Inks and Stains to do just that. I applied Tissue Wrap to the background before covering it with Distress Paints and then adding texture using Wendy Vecchi's Embossing Paste. I then layered and arranged my die cut and inked Garden Greens, handmade paper flowers die cut using the Tattered Floral die and added a stamped Tim Holtz quote to complete the piece.
Meihsia decorated a jumbo clothpin with distress products to hold her notes.
I've always wanted a jumbo clothpin to hold my note on the desk. This week, I decided to decorate a 9″ clothpin with some distress products. After applying a thin layer of Gesso on this wooden clothpin, I dabbed Tim Holtz Distress Paint to distress the edges. Of course I had to attach my favorite embellishments – Prima Flowers on this jumbo clothpin. The Tim Holtz Paper Distresser was also used to alter the aged look of my note card.
Anna-Karin rarely makes anything without some distressing.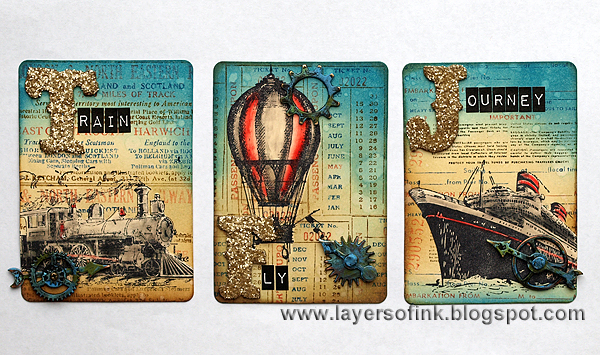 For this week, I challenged myself to use at least four different Tim Holtz Distress products, on the small area of an ATC. I made three travel ATCs using Distress Ink, Distress Markers, Distress Paint and Distress Glitter. All the Distress products go so well together. The stamping was done with travel related stamps, masking the main images when inking and stamping the backgrounds.
Using a favorite stamp, Ashli put her Distress Inks to use and created a custom background for her layout: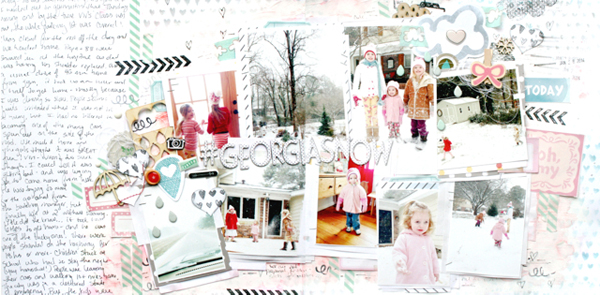 It's no secret that we have had some mind-boggling and life-stopping storms here in Georgia lately… this MUST be scrapped! I had so many pictures that I knew I needed a double pager. To create my custom pattern on my white background, I used my Simon Says Stamp Drawn Heart Background. Once I had blended on some of the Broken China and Pumice Stone Distress Pads, I spritzed the stamp with water and then stamped up my page. I just love the soft feel this gives to my snowy page.
I (May) made projects using little more than just distress ink.
From markers to ink pads, Tim Holtz distress products are long-time favorites here in my studio! This week I tested out a new stamp set and simply added water to make the magic of distress come to life.
Michelle knows that there is nothing distressing about showing a little love.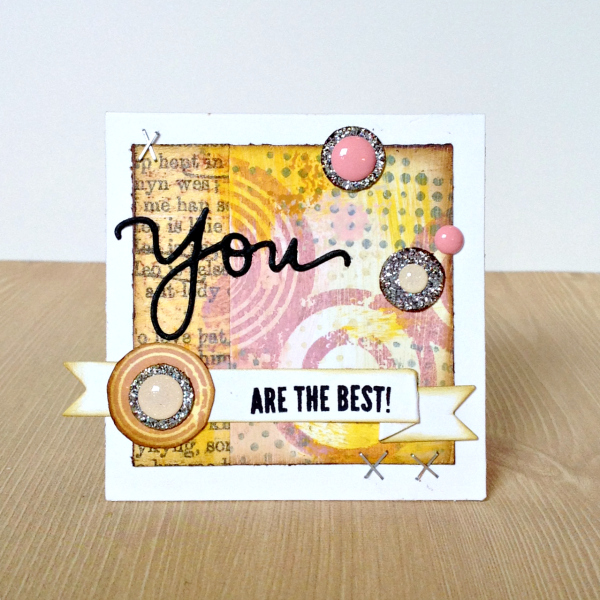 I love using Distress products! Using Rangers Distress Inks and Distress Paints, I created a set of four, mini love notes with Stampers Anonymous Psychedelic Grunge stamps. I used the Simon Exclusive die/stamp combo Expressions of You to let my family know how special they truly are.
Dan created several pieces inspired by the music he was listening to while he worked.
My friends aren't too keen on being around me while I'm listening to music. Why? Because I focus in on one song and play it on repeat until I'm "over" it, whether it takes 2 hours or 2 days. It does work well though for those times when I'm feeling inspired by a piece of music – I can just put it on repeat, empty my head and start creating. That's what I did with these pieces, all inspired by a particular Alanis Morissette song. There are so many products used here it's hard to pick out just a few but notable items included the Envelope Punch Board (for the hourglass), the Paris Memoir stamp set, Merriment Tissue Tape and a Simon Says Stamp exclusive set – Holiday Borders. Oh, I almost forgot, how did I incorporate "distress"? It's built right in!
Mona created a card using Distress Inks to colorize the background.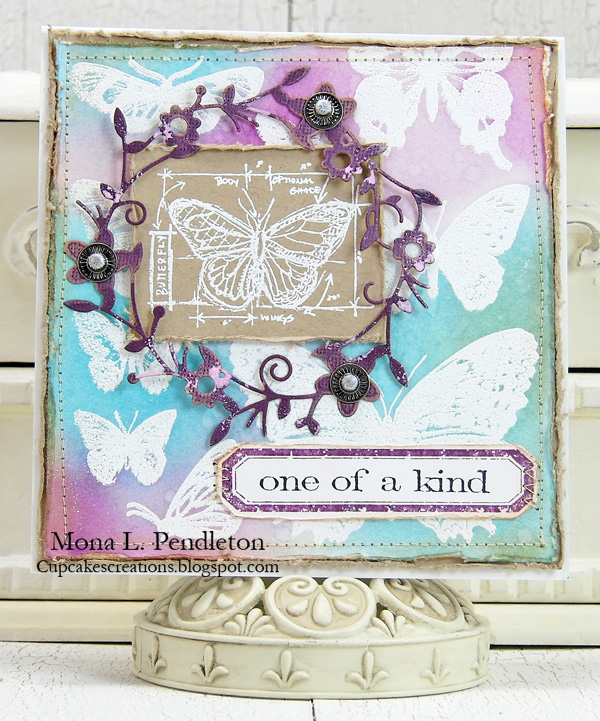 I stamped and heat embossed the beautiful Butterflies image on a piece of Gloss Paper then added color using a variety of Distress Inks. For added interest, I distressed many of the edges and embellished with a distressed die cut wreath.
A creative afternoon resulted in a rustic hanging from Tracy this week.
I had an afternoon to myself and decided to just play and see where the creative process took me resulting in a textural rustic hanging combining the use of the Media Mixage Heart Die to create a heart niche and lots of layers to create something that is pleasant on the eye and tactile to the touch. A small Media Mixage Heart Bezel complements the heart niche and the Spellbinders Bitty Blossoms add that important dimension, complemented with a corrugated card backdrop.
A bit of distressing is just what Sandra Mouwen needed for her album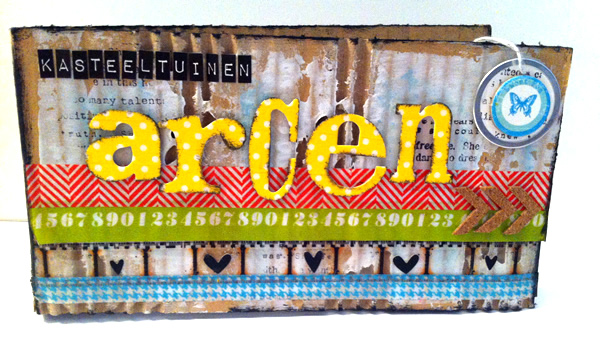 I sure do love the vintage grungy look, but I was in the mood for some bright color distressing for this project. This mini album is made for the time I went to a beautiful castle garden. I had some little scraps of the Zepher Paper, perfect for this theme. The cover is made out of corrugated cardboard with a thin coat of Gesso on it. In top right corner I layered the SSS Metal Edged tag with a Zepher Cardboard Piece.
Suzz will be wrangling a few butterflies to share with your on Wednesday make sure to stop by and see how the distressing makes them shine.
For more inspiration click on our design team's blog links so you can see more photos (and full supply lists) for their projects. Leave them a little comment love while you're there so they know how they've inspired you too, if you're so inclined.

As always, Simon Says Stamp is giving away a $50 gift voucher that will go to a random entry chosen by random generator. To qualify all you need to do is create a new project that ties in (in any way!) with our theme and post it, along with a link back to this challenge, and add a link here. This challenge will end at 11:59pm on Sunday March 16th Eastern time.
We will also be choosing some of our entries to put in the spotlight – a special honor where we talk about why we loved that entry in particular and award a special badge too!
For the full rules, read the "challenge rules" posted in the side-bar here on our blog.
[raw]
[/raw]