This week DT member Sandra challenges us to be inspired by time .From clocks to gears to challenging yourself to create a project in a specific amount of time – the choice is up to you. What are you waiting for? The clock is already ticking down on time left to finish this challenge…
Tracy thought outside the box this week for an inventive time flies piece.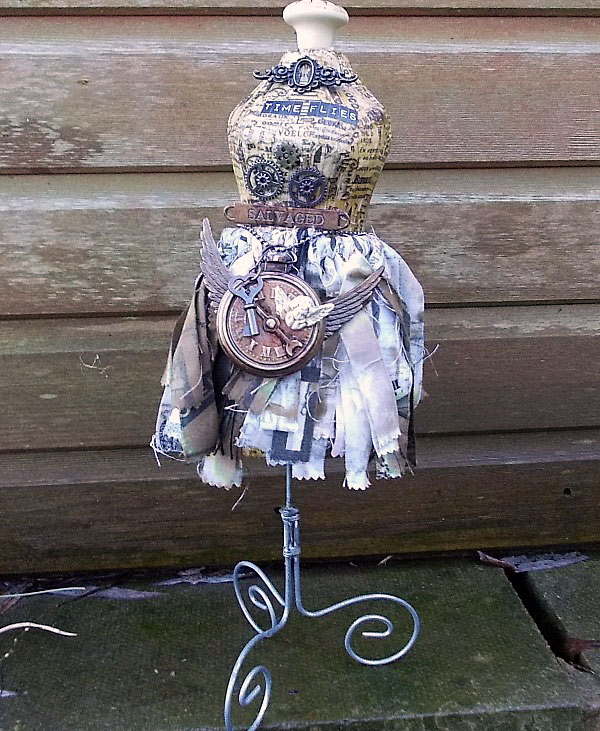 I was inspired to create a time flies piece this week, but I wanted to think outside the box a little and not use a bird so once I found this dressform in my collection my idea slowly came together. I knew I wanted to use one of the Prima Flowers Clocks in my design which I combined with Tim Holtz Idea-ology Regal Adornments, adding the wings behind my clock, hence I called my piece time flies! My dressform has been clothed using pieces of Tim Holtz Eclectic Elements Fabric which I was pleased to see also had clock faces as one of the designs, perfect, I just love simple details like that!
Dan has created a boxed set of time-themed note cards with stamped envelopes this week.
I was really excited to work on this project this week because I have been chomping at the bit to try the Envelope Punch Board for ages and I finally got to take it out of it's packaging. I used it to make the box and the envelopes (yes, you can make boxes with it too, and christmas crackers, and ribbons, and…. oh don't get me started!). Another recent purchase that I am loving is the Simon Says Stamp exclusive Sketched Alphabet set. I haven't had it long but I already know that it's going to be a favourite that I'll return to time and time again. I used a sheet of the Lost and Found paper stash for the box and some of the Tattered Time pad for the cards.
Anna-Karin thought this was the perfect time to decorate a Tim Holtz Assemblage Clock.
I decided to turn the clock it into a gift for my sister, who likes shabby chic home decor pieces. The clock was painted and stamped with a text stamp and some small images. For the inside, I stamped a face from Stampers Anonymous Classics #5 set on Specialty Stamping Paper, and also used a sentiment from the same set. The clock was filled with dimensional roses and leaves, a few gears and more stamping.
Ashli took this opportunity to scrap a layout for her daughter's regarding the importance of time…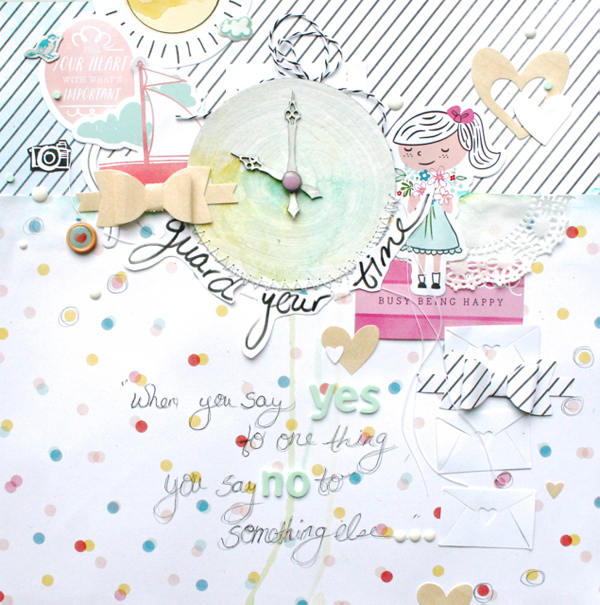 When I saw the lovely Fabscraps Die Cut Chipboard Clock, I knew I wanted to incorporate it onto a layout in some way. After white washing it, I stitched it onto my layout to create a pocket for my journaling. Lots of gorgeous Dear Lizzy Die Cuts, along with some Maggie Holmes Die Cut Bows, finished off this page for my little girls… all about how I hope they can learn to guard their time as they grow older.
Michelle took her time creating embellishments for this retro-inspired layout.
I love this vintage photo and knew that the time had come to scrap it. I used the Tim Holtz Clockwork Stencil to create my own faux die-cut paper as the base for this layout. Portions of Paper Artsy's Clock 2 stamp were used for color coordinated embellishments. The title letters were made with help from Avery's Alpha Die from Avery Elle.
This week Emma took a step back in time.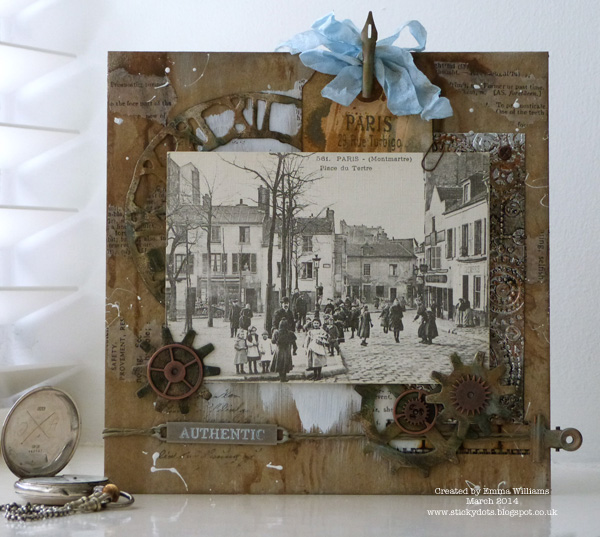 I've had this vintage postcard of Paris in my collection for quite a while and with this challenge it seemed the perfect time to use it. So, I decided to turn back time to make this vintage wall hanging and had so much fun bringing this piece to life. I began by using Distress Paints to create my background before adding the Weathered Clock die cut which can be seen just peering out from behind the postcard. As a finishing touch, I added some die cut Gadget Gears and various pieces of Idea-Ology.
Mona was inspired to take time to add lots of crackled texture to a timepiece.
I wanted to give a Pocket Watch a shabby appearance so I applied crackle paint to the outer layer then embellished with a variety of die cut embellishments including: a beautiful butterfly, leaves and bitty blossoms.
Meihsia was inspired to create a canvas using some clock face and gears this week.

I took this photo of my children hugging and playing in the snow last year and I loved it. So I decided to create a canvas using this photo. To make the textures on this piece, I embossed some clock patterns with the Sizzix Pocket Watch Embossing Foler and Core'dinations Distress Cardstock, then pasted them on the background with lots of modeling paste. The photo was framed with Prima Flowers Vintage Clock Face and decorated with some Prima Flowers.
Andrea made a timely clock-themed tag for this week's tick tock challenge.
Time can either move lightning fast or molasses slow depending on what's happening in our lives. I decided to make a tag that was neutral on the issue; just a simple reminder that time is always ticking for better or for worse. It was easy to get into "tick tock mode" with Tim Holtz's Time Travelers stamp set and his ever-handy Weathered Clock die.
Suzz decided to go on a voyage with her tick tock inspired clock.
The Wendy Vechi Art Parts Artful Shrines had my noggin thinking about a dome shaped clock. The ship from the DarkRoom Door Sail Away sailed into view while I was contemplating the face on my clock. I created a faux wood texture on the clock with a mix of Stampendous Aged Gold Embossing Enamel and the DarkRoom Door WoodGrain background stamp.
Make sure to check in Wednesday to see Sandra Mouwen's tutorial…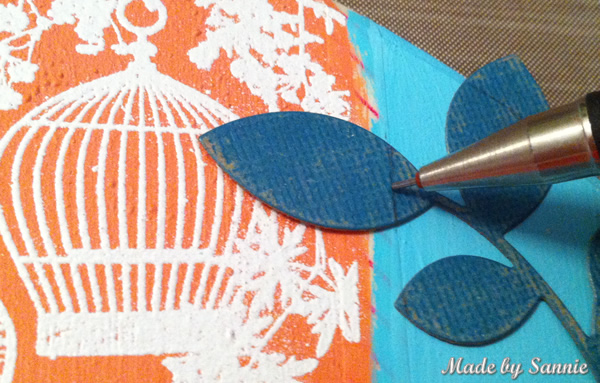 For more inspiration click on our design team's blog links so you can see more photos (and full supply lists) for their projects. Leave them a little comment love while you're there so they know how they've inspired you too, if you're so inclined.

As always, Simon Says Stamp is giving away a $50 gift voucher that will go to a random entry chosen by random generator. To qualify all you need to do is create a new project that ties in (in any way!) with our theme and post it, along with a link back to this challenge, and add a link here. This challenge will end at 11:59pm on Sunday March 9th Eastern time.
We will also be choosing some of our entries to put in the spotlight – a special honor where we talk about why we loved that entry in particular and award a special badge too!
For the full rules, read the "challenge rules" posted in the side-bar here on our blog.
[raw]
[/raw]