Yippee for Yana Feature Celebrates Send A Card To A Friend Day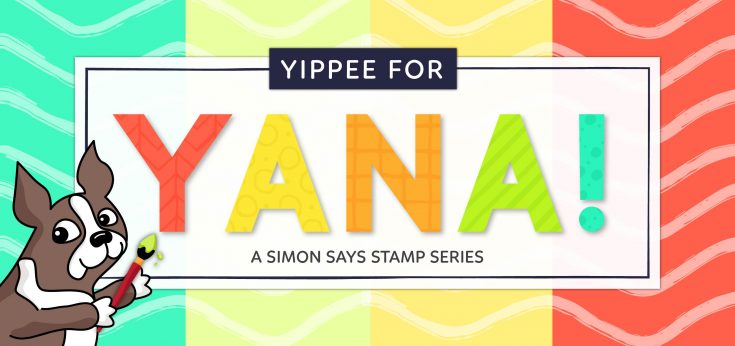 Hi friends! Thanks for stopping by today! We're so excited that in 2017, Yana Smakula will continue to have bi-monthly blog features right here on SimonSaysStampBlog.com! We're lovingly naming her bi-monthly feature "Yippee for Yana" as Yana has such a beautiful and effortless looking style, we are always eager to see what she makes each month! The naming of her series will also make it easier for you to archive and reference your favorites at your fingertips! Now let's dive into today's feature! Enjoy!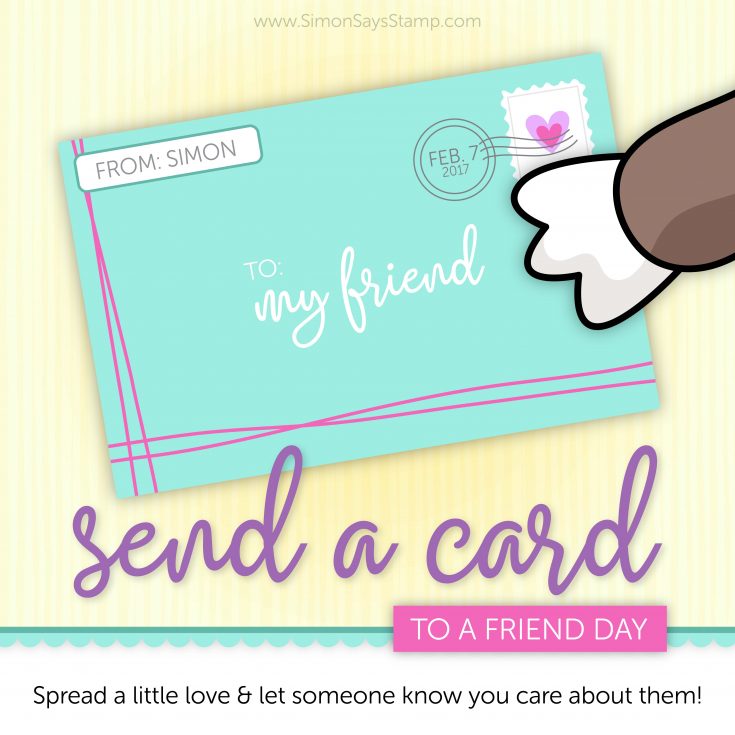 Hi everyone, this is Yana Smakula and thank you for joining me today.
February 7th is the National Send a Card to a Friend day so I wanted to encourage you to make some cards or use those that you've made in the past and mail them to your friends.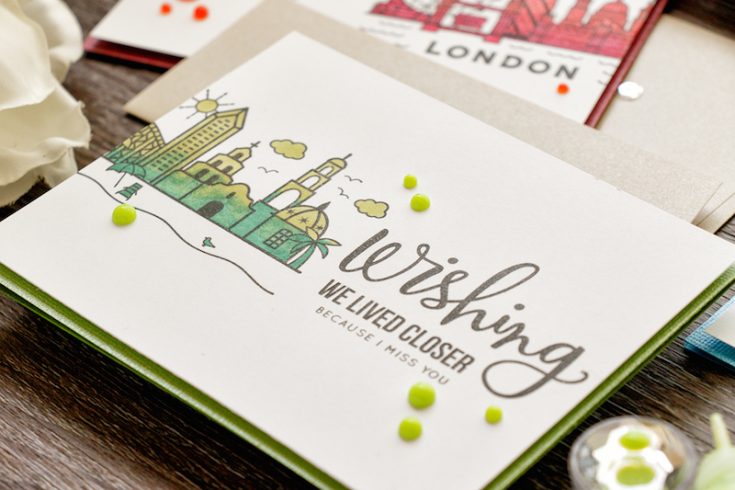 I thought it would be appropriate to share a video tutorial today showing how to make some quick and easy friendship cards for friends who live far away. Most of my crafty friends live far, some across different US states, others are are outside the US so I wanted to make a few clever cards to highlight some of places where they live.
As I was going through my stash looking a perfect sentiment I came across this Sending and Wishing You stamp set from Simon. One of the sentiments there reads Wishing We Lived Closer Because I miss you. And this is the perfect sentiment for the kind of cards I had in mind.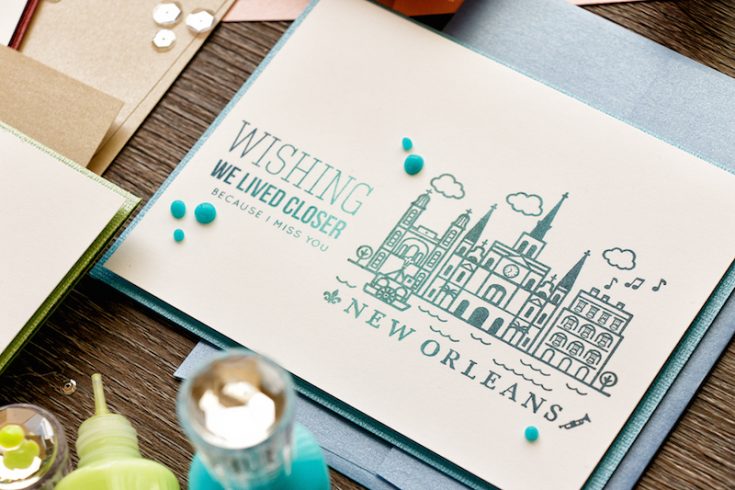 I also needed to stamp some sort of a map or a city skyline to complete the look I was going for. I found a few stamps in my stash that worked wonderfully with this sentiment. I used a US map background cling stamp from Hero Arts – this one is a big stamp that covers the entire front of an A2 card and it can be stamped just partially onto a card to leave some room for a sentiment.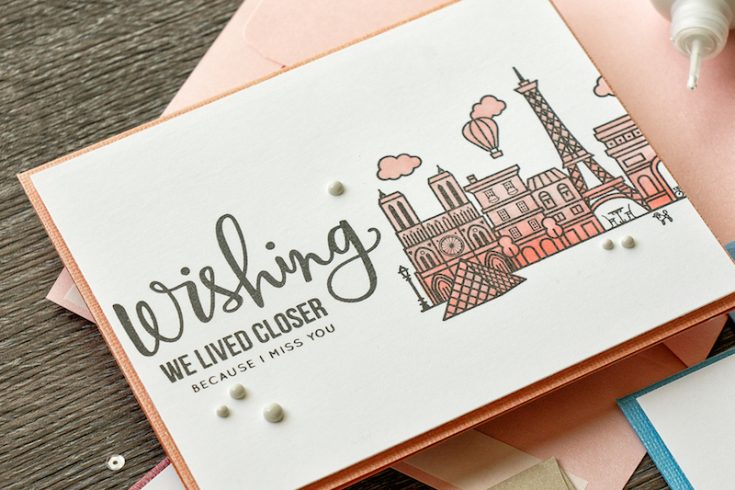 Other stamps that I really wanted to use for these cards are the Hero Arts Destination stamps. If you don't have those there are many other map type and city scape type stamps, I know Neat & Tangled has a very cool origami map stamp that features the entire globe, also Altenew has several stamp sets that feature cit skylines of popular cities across the world.
I wanted to do some quick coloring on my cards, simple ombre coloring and I used Tonic Nuvo Creative Pens – these are alcohol based markers, very affordable and they come in packs of 3 so you get 3 shades of one color which is very handy if you don't want to spend a lot of time deciding and exploring which colors work well together for perfect blending. These markers are double sided, on one side you have a broad tip that is great for coloring large sections quickly and on the other side you have a fine tip for coloring detailed images.
After my coloring was done I foam mounted my panels onto A2 top folding landscape cards created out of Simon's glimmer cardstock – I used a few colors of cardstock here to coordinate with my coloring – I was going for a simple monochromatic look.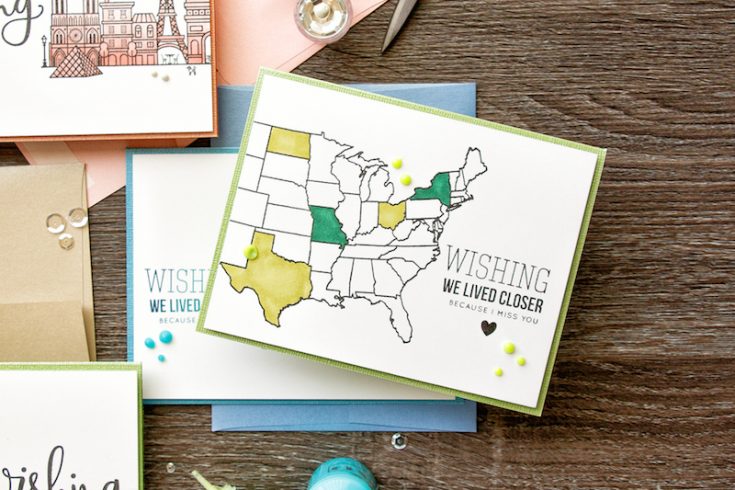 To finish these cards I used Nuvo Drops is several colors and I just added a few dots here and there to complete my projects.
Have fun stamping!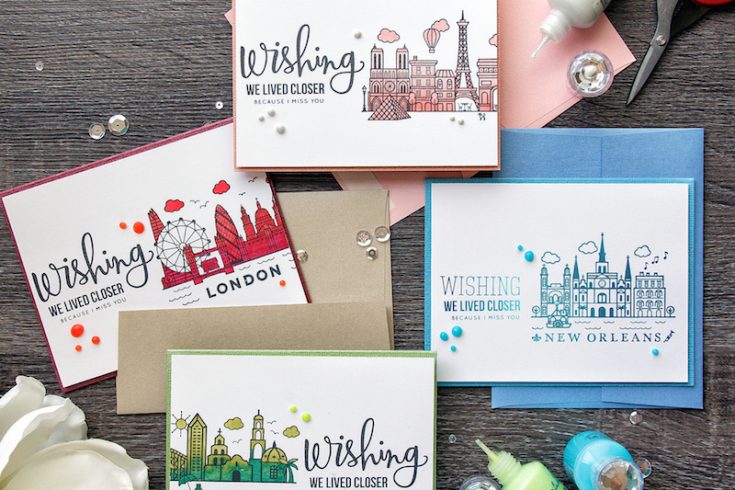 SUPPLIES:

Thanks for reading today, and thanks to
Yana
for being our guest!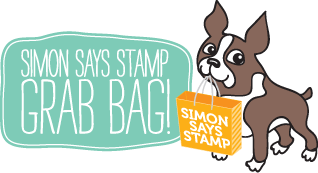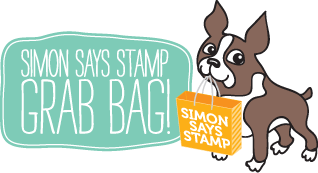 Blog Candy Alert!! Follow our blog via email and comment on this post for a chance to win a special blog candy!
Congrats! Blog Candy Winners!
From: Studio Monday with Nina-Marie: Shimmer Distress Crayon Watercolor + Art Impressions: Gail Anderson!
From: To the Moon and Back Mixed Media Canvas: Berina Febin!
From: Weekender with Wanda – Featuring My Favorite Things Kitschy Kitchen!: Marcia Scantlin!
From: Amore Laura Fadora Feature: Bright Blossom: Marg Mortimer!
From: Art Journal: Believe: Carmela Hubler!
From: Sunshine Art Journaling with Vicky Papaioannou: Ellie Beserra!
Please email
[email protected]
with your mailing address (if applicable), the name of the blog you won from, and the prize you won to claim your prize!