Whoops! One die, three cards
Hi friends! Happy Tuesday! Please join me in a warm welcome back as a special guest on our blog to Lesley Oman of Heffy Doodle! She's creatively made 3 cards with one die! Read on to learn more details and enjoy!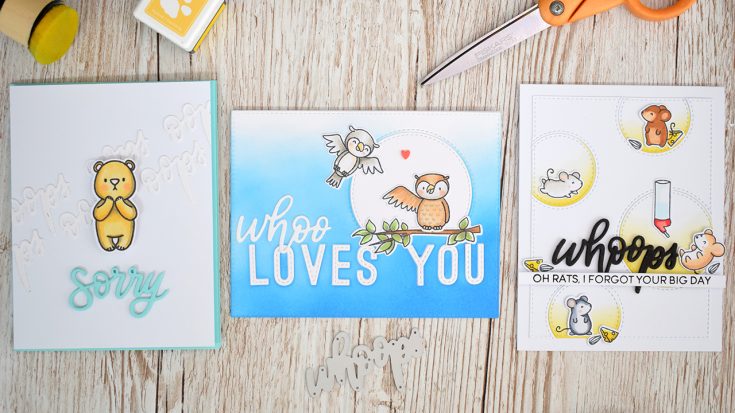 Hello everyone, It's Lesley here from Heffy Doodle and today I am taking one Heffy Cuts die, and using this to make three different cards. I love to stretch my stash, and I hope to inspire you to take a closer look at your craft supplies and think of fun new ways to use them.
The die I am using is the 'Whoops' Heffy Cuts die. I am definitely one of those people who makes the cards but forgets to post them, so this die is perfect for me!
For my first card, I am taking the 'whoops' die and snipping away a few letters to create the word 'whoo'. One day I was tidying my desk and a piece of paper was hiding half of the die cut 'whoops' so only the first four letters were showing. I immediately thought of our Hootiful stamp set which has a load of sweet owl images!
I started with a piece of cardstock measuring 5.5" x 4.25", and used some Heffy Memo Tape to secure down the Stitched Alphabetter Dies to spell out 'LOVES YOU'. After running this through my die cutting machine, I then did some partial die cutting with a Stitched Circle die. For this, I only placed the top cutting plate ¾ of the way over the die, which means I have a circular cut line, but it is still attached to the card panel. I wanted to add some color to the background, but not the circle, so I placed a strip of memo tape over the circle and then used some Salty Ocean distress oxide with a foam blending tool to add a gorgeous blue tone. To create an ombre effect, blending with intent near the bottom and simply have a lighter touch near the top. This will give you a nice blend into the white at the top of the card panel.
I stuck this panel onto a folded card base and used a glue pen to adhere down the letters that I had previously cut out. The inlaid effect looks really elegant and the stitched effect on the letters gives it a touch of whimsy! To finish the sentiment, we need our 'whoops' die, but I took my scissors and carefully trimmed away the last two letters. I tried to follow the curve of the letters so it looked natural. I added a stamped and colored tree branch and two owl images from our Hootiful set, and finished my card with a little heart to add a pop of color to the final project!
For the next card, I am also going to be snipping away letters from the 'whoops' die cut but this time to create the word 'oops'. Instead of making this the focal element of the card, I am creating a fun background using a white on white technique. First I trimmed down a piece of white card to be 5.25" x 4" and then die cut 7-8 'whoops' die cuts which I trimmed down say they said 'oops'. I stuck these to the card panel at an angle, using the descender on the P to be the space between the two words on the line below. I added some foam behind this panel and stuck it to a teal colored card base, and using the same teal card I cut out five 'Sorry' die cuts. I wanted this to be the focal point, so to make this sentiment stand out, not only did I use a bright color, but stuck all five die cuts one on top of the other using multi matt medium. This almost makes it look like a chipboard word! For the finishing touch, let's not forget to add mister bear from the Unbearable Without You stamp set, popped up on some foam to make him stand out!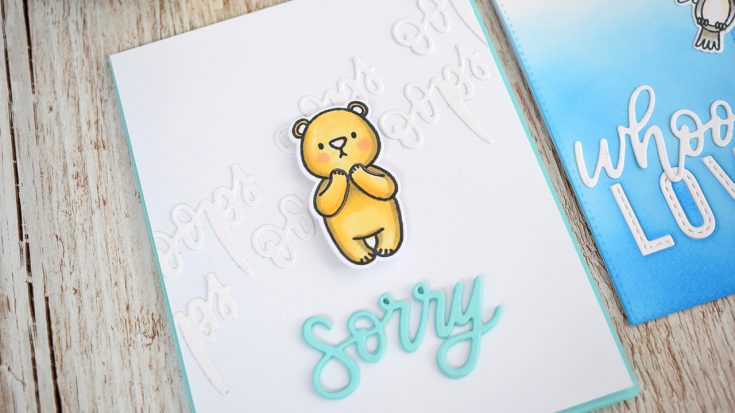 For card number three, I WILL be using the full 'whoops' word, but instead of reaching for a white card this time, I want to create a different texture for the sentiment on this card. In my stash, I had some black adhesive craft foam that was perfect for this. If you don't have adhesive foam, you could use some double sided adhesive sheets such as the Stick It adhesive. Add it to the back of the foam before die cutting – this also prevents the foam from stretching and losing its shape when you remove it from the die. For the card I cut a rectangle from the Imperial stitched rectangle dies (second biggest size) and then used the stitched circle dies to cut out a number of circles overhanging the edges. I adhered the panel to a card blank and before sticking down the circle inlays, I added a little pop of color using the SSS Duckling ink pad. I love the bright yellow of this ink -it was a perfect choice, and I love how it gives the illusion of holey cheese- and what would be better for a card full of cute mice! I embossed a sub sentiment from the 'Hello Squeakheart' stamp set and cut it into a sentiment strip using the 'Strips of Ease' dies. I used some leftover black foam to pop this up on the front of the card. To finish, I adhered on some sweet mice and their accessories from the 'Hello Squeakheart' set.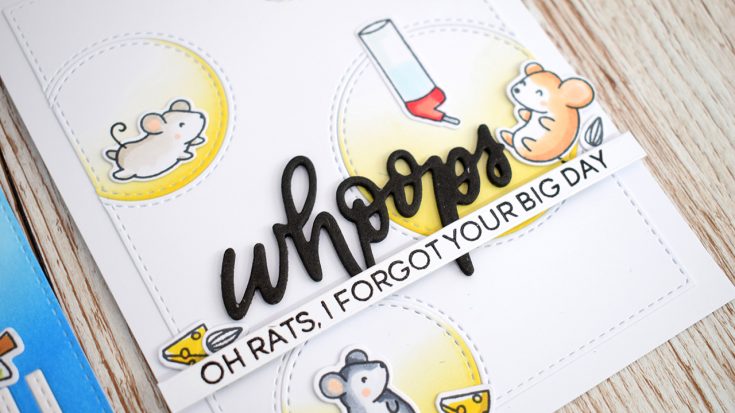 Three cards with one die, all with very different looks! Have you ever used a die in a way that was different from its original intent? I hope that you have enjoyed the video and are inspired to find new ways to create using your word dies.
Until next time, Happy Crafting! -Lesley
SUPPLIES:
Heffy Doodle STITCHED ALPHABETTERS…

Heffy Doodle WHOOPS Dies hfd0136

Heffy Doodle STITCHED CIRCLES Dies…

Heffy Doodle HOOTIFUL Clear Stamps…

Heffy Doodle HOOTIFUL Dies hfd0078

Heffy Doodle MEMO TAPE REFILL hfd0067

Heffy Doodle MEMO TAPE DISPENSER hfd0066

Heffy Doodle SORRY Dies hfd0135

Heffy Doodle UNBEARABLE WITHOUT YOU …

Heffy Doodle IMPERIAL STITCHED…

Heffy Doodle STRIPS OF EASE Dies hfd0036

Heffy Doodle HELLO SQUEAKHEART Clear…

Heffy Doodle HELLO SQUEAKHEART Dies…

Ranger MINI ROUND INK BLENDING TOOLS…

Tim Holtz Distress Oxide Ink Pad…

ZIG Fine Two Way Acid Free GLUE PEN A…

Trinity Stamps SWEET & TART HEART…

Therm O Web Gina K Designs ADHESIVE…

Therm O Web Gina K Designs TURQUOISE…

Simon Says Stamp Premium Dye Ink Pad…

Ranger .5 Oz. MINI MULTI MEDIUM MATTE…

Darice Extra Thick FOAMIES Foam…

Stick It Adhesive LARGE SHEETS 5 Pack…

Simon Says Stamp Embossing Ink Pad…

EK Success POWDER TOOL Applicator…

WOW DUAL SPEED HEAT TOOL WZHT-USA

Simon Says Stamp EMBOSSING POWDER…

Simon Says Stamp CUSTOM COPIC…

Therm O Web BLING Zots Clear Adhesive…

Memento TUXEDO BLACK INK PAD Full…

Copic Markers
Thanks so much for stopping by and thanks to Lesley for being our guest!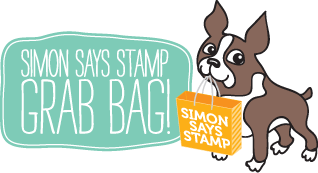 Blog Candy Alert!! Follow our blog via email and comment on this post for a chance to win special blog candy!
Blog Candy Winners! 
Studio Monday with Nina-Marie: Glitz Glitter Gel Inspiration 3 Ways!: susie sonnier!
Mixed Medium with Shari Carroll: Jane Davenport Making Faces: Teri Spracklin!
Interactive Cards by Jess: Beaded Rainfall Card: Teresa Doyle!
Amore LauraFadora: Thankful for America: Chris Eder!
Outside the Box by Gina K Designs: andrea murdock!
Yippee for Yana: Flip Up Birthday Card: Sue D!
Color Coordinates: Bold and Beautiful!: Bonnie Eng!
Prehistoric Home Decor Vignette Box: Betty Neville!
Doodling with Debby: Stencil with Watercolor: Vicki Kroll!
Amore LauraFadora: So Very Grateful for Mom: Anne Mitchell!
Crafty Quintet: Favorite Embellishments: Subhashini!
Did You Know? Fun Facts and Crafty Tips! May 2019 Edition: Suzi Metcalfe!
Yippee for Yana: Messy Watercolor Mother's Day Card: Cheriese H!
Coffee Monster!: La Rae Prentice!
Studio Monday with Nina-Marie: Distress Oxide Watercoloring: Kate Treasure

Please email [email protected] with the name of the blog you won from, your prize(s), and your address if applicable!