We're BERRY excited to say… new Lawn Fawn is SHIPPING NOW!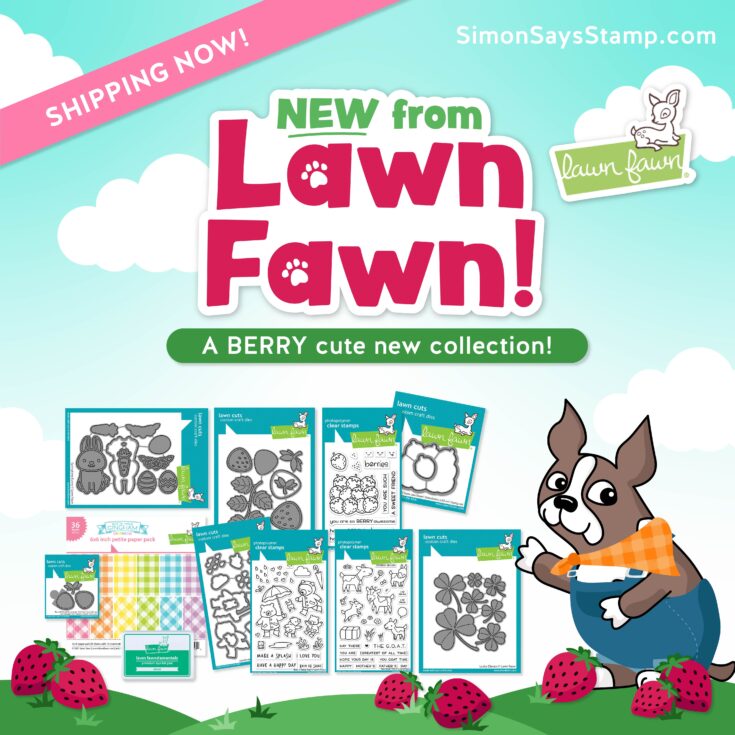 Happy Thursday, friends! We're thrilled to share the NEW Spring 2022 release from Lawn Fawn with you AND to say that is is shipping NOW! Yes!! Lawn Fawn's design team has been BUSY making some seriously gorgeous and inspiring project with the new collection! We wanted to highlight a few below; please enjoy!
These gorgeous cards were designed by some seriously TALENTED designers: Grace Camou, Mindy Eggen, Kelly-Marie Alvarez, Elena Roussakis, Megan Quinn, and Tammy Stark!
SHOP THE NEW COLLECTION:
Lawn Fawn SET BEARY RAINY DAY Clear…

Lawn Fawn SET YOU GOAT THIS Clear…

Lawn Fawn SET BERRY SPECIAL Clear…

Lawn Fawn SET PLATFORM POP-UPS Dies…

Lawn Fawn SET BETTER DAYS Clear…

Lawn Fawn SET GARDEN BEFORE 'N AFTERS…

Lawn Fawn SET GIANT EASTER MESSAGES…

Lawn Fawn SET HOW YOU BEAN…

Lawn Fawn SET MAGIC SPRING MESSAGES…

Lawn Fawn SET TINY SPRING FRIENDS…

Lawn Fawn SET RUB-A-DUB-DUB FLIP-FLOP…

Lawn Fawn SET YEAR TWELVE Clear…

Lawn Fawn SET YEAR ELEVEN Clear…

Lawn Fawn SET TINY FARM Clear Stamps…

Lawn Fawn SET BUILD-A-BARN Dies and…

Lawn Fawn SET WINDOW SCENE SPRING…

Lawn Fawn MAGIC IRIS FLORAL WREATH…

Lawn Fawn TINY GIFT BOX GOAT AND…

Lawn Fawn SLIMLINE PICKET FENCE…

Lawn Fawn GIANT GET WELL SOON Die Cut…

Lawn Fawn GIANT HAPPY EASTER Die Cut…

Lawn Fawn GIANT HAPPY SPRING Die Cut…

Lawn Fawn GIANT HAPPY MOTHER'S DAY…

Lawn Fawn FOXY FAMILY Die Cuts lf2807

Lawn Fawn PLANT-A-SUCCULENT Die Cuts…

Lawn Fawn SPRINGTIME BUNNY Die Cuts…

Lawn Fawn OUTSIDE IN STITCHED…

Lawn Fawn STITCHED STRAWBERRY FRAME…

Lawn Fawn STRAWBERRY PATCH Die Cuts…

Lawn Fawn REVEAL WHEEL STRAWBERRY…

Lawn Fawn STRAWBERRY Reveal Wheel…

Lawn Fawn FRUIT BASKET Die Cut lf2811

Lawn Fawn LUCKY CLOVERS Die Cuts lf2813

Lawn Fawn GOOD LUCK BORDER Die Cut…

Lawn Fawn HENRY's ABC's Die Cuts lf2814

Lawn Fawn HENRY'S 123's Die Cuts lf2815

Lawn Fawn SPRING FLOWERS BACKDROP Die…

Lawn Fawn CLEAR Stencil Paste lf2794

Lawn Fawn RAINY DAY Stencil lf2816

Lawn Fawn SPRING BLOSSOMS BACKGROUND…

Lawn Fawn SKINNY STRIPES Stencils lf2822

Lawn Fawn CLOVER BACKGROUND Stencils…

Lawn Fawn CLOVER Premium Dye Ink Pad…

Lawn Fawn CLOVER Reinker lf2832

Lawn Fawn RAINFOREST Premium Dye Ink…

Lawn Fawn PINK Textured Canvas…

Lawn Fawn RED AND ORANGE Textured…

Lawn Fawn YELLOW Textured Canvas…

Lawn Fawn GREEN Textured Canvas…

Lawn Fawn AQUA Textured Canvas…

Lawn Fawn TEAL Textured Canvas…

Lawn Fawn BLUE Textured Canvas…

Lawn Fawn PURPLE Textured Canvas…

Lawn Fawn BARN RED Cardstock lf2829

Lawn Fawn CLEAR GLAZE Pen lf2825

Lawn Fawn SPARKLE GLAZE Pen lf2826

Lawn Fawn GOTTA HAVE GINGHAM RAINBOW…

Lawn Fawn GOTTA HAVE GINGHAM RAINBOW…

Lawn Fawn FLOWER MARKET 6×6 Inch…

Lawn Fawn FLOWER MARKET 12×12 Inch…

Lawn Fawn TOTE-ALLY NICE DAY Tote Bag…