Weekender with Wanda – New Doodlebug Collection – Fun in the Sun!

Hi everyone! Happy Crafturday – I mean Saturday! Hope you had a great week and I'm happy to have you here with me for just a bit of your weekend! It's time for the latest edition of Weekender with Wanda on the Simon Says Stamp Blog!   Today I'm going to give you some ideas for cool and fun gift card holders. I love to give gift cards (let's face it all my friends love Starbucks!) and I like to make the gift card more of a present by making the holder fancy! My projects today are featuring adorable papers and embellishments from Doodlebug – one of our favorite companies here at SSS. Doodlebug recently launched three new totally adorable collections! They are called Kitten Smitten, Pupply Love and Fun in the Sun! I love how Doodlebug always gives us enamel dots, washi tape, and stickers to match the paper collections, too. SUCH extreme cuteness! I chose to use the Fun in the Sun collection today, but my projects would work with any of them! (I'm also thinking ahead that this might be a good Christmas project)
I started with a silver paint can that I bought at my local craft store. These are super inexpensive, and I usually have a few laying around for different things and to wrap gifts, candy and/or gift cards. It's very easy to make a little old can look fantastic!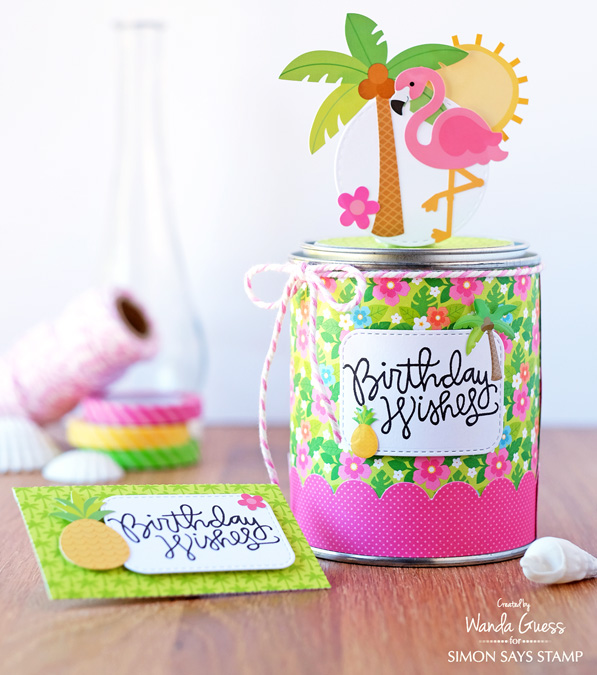 I started by cutting a sheet of the tropical floral paper in half and then glued it onto the can using tape runner. No fancy supplies needed! Then I used a Scallop border punch to make a pretty scallop for the bottom of the can and used one of the other coordinating papers from the package. I used a Simon Says Stamp Stitched Circle die to cut the top cover out of palm tree paper. A gift card and a few chocolates fit inside just perfectly. The envelope was made out of the matching palm tree paper using the Mama Elephant Venice Die. You could give these as a set or use each one individually for a gift card.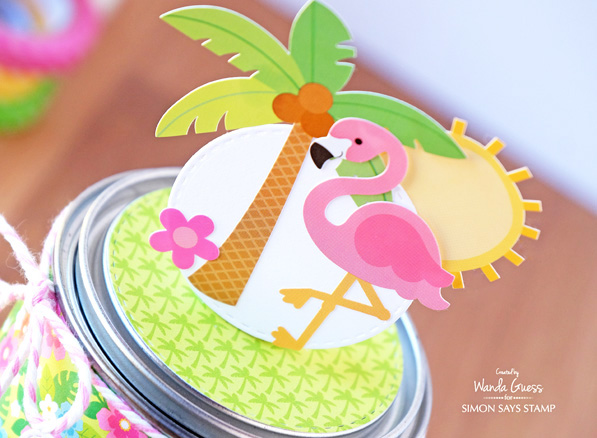 I die cut crisp white labels using the Rounded Rectangle Stax dies from My Favorite Things. I used the Simon Says Stamp Exclusive stamp set called Birthday Flowers for my pretty sentiments. Then I embellished with stickers! A bit of Doodlebug Cupcake Twine around the top adds a pretty touch! I'll talk about how I made the top in a minute.
I attached the white label with foam squares to make it pop off the can just a little bit.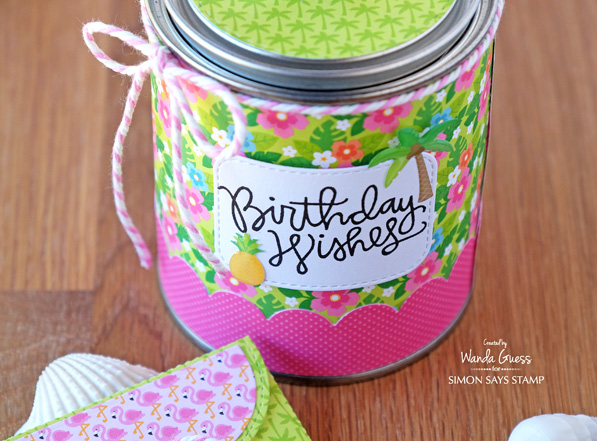 Here is the pretty collection! Flamingo washi tape? Yes please! In the bottom center photo you can see a strange looking strip of paper. That is my home made mechanism for attaching my topper! I cut a strip of cardstock to .75″ x 2.25″ and then scored it at each 1/2 inch. Then I glued the remaining tab to form this piece into a square. I mounted that piece to the top of the can and then attached my focal point white circle to it! Voila – topper! Then I used the adorable stickers to make a little scene with a palm tree, a flamingo, and a sun peeking out from behind.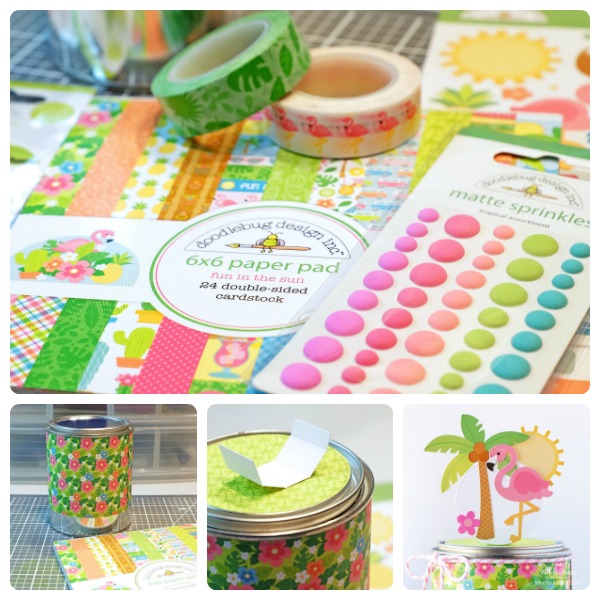 Here is a close up of the small envelope. This die is so nice – see how crisp the folds are? Love it! I use this one all the time.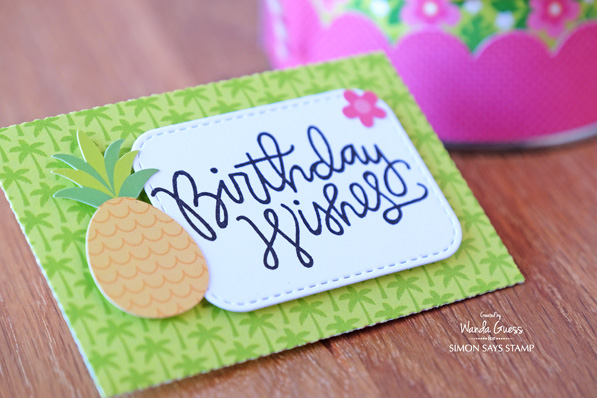 This is the back of my little envelope. The Die set comes with another die that cuts a layering piece for the flap. Here I used some flamingo paper to layer. Then I tied it with cord!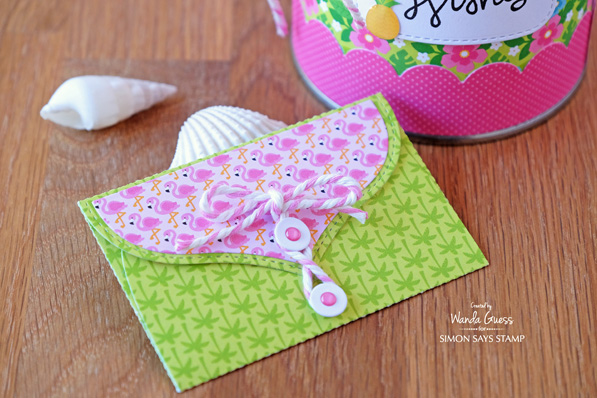 Here is a close up of the base of my can topper piece. Do you remember way back when Mrs. Grossmans stickers were all the rage? I used to have books about making entire projects from stickers, and I still love that! I guess we are all still little girls at heart right? I will freely admit to my sticker stash!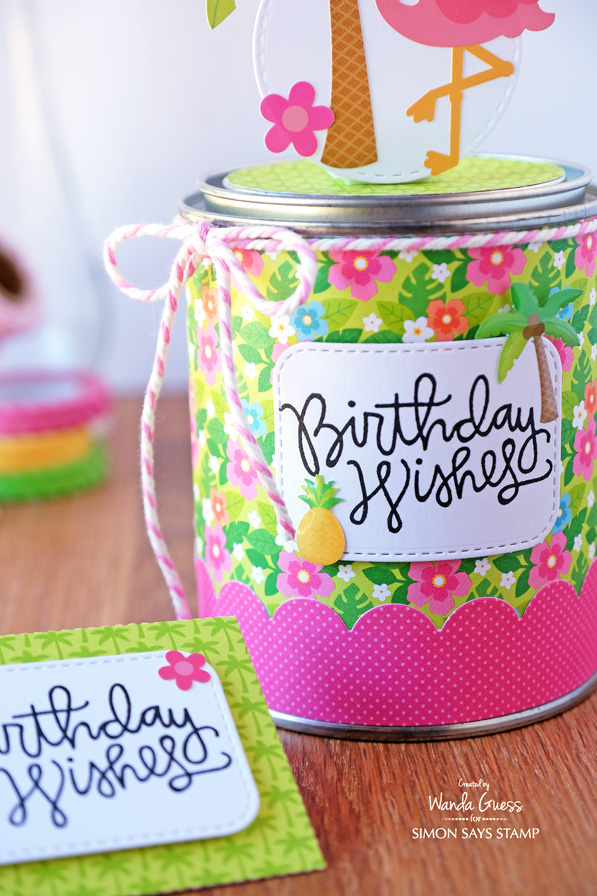 That's your tropical project for today my friends! I hope I've given you some ideas on how to make fun and cool gift card holders!  I'll sign off with an Aloha! See you soon, and have a great day!
SUPPLIES:
Blog Candy Alert!! Follow our blog via email and comment on this post for a chance to win grab bags and blog candy! Remember to tag your awesome projects with #simonsaysstamp on social media so we can see what you are creating! See you next weekend!