Weekender with Wanda – More Spring Plush!

Happy Saturday! It's time for the latest edition of "Weekender with Wanda" here on the Simon Says Stamp blog! I'm happy to see you today! What have you been crafting? Are you making Easter projects? Having fun with felt? Some other special occasion coming up? There are lots of Spring products coming out and everything is bright and happy – flowers, animals, plants and bunnies! I'm still making felties! I cannot stop! I love all the dies from the new collection and I thought I'd share some with you today  here. To check out all the Spring Plush inspiration, be sure to click on the Gallery! And – don't forget to add your own projects!
Today I'm sharing the Daisy, Cottage Leaves and Springtime Chick Plush dies. I turned the Springtime Chick into a little bluebird! I was trying to think of some way to use this die that was not just for Easter. He really could be any kind of little birdie! I made the Daisy and Leaf in traditional fresh colors. Then I added a few gems for a little sparkle. Simon Says Stamp sells a few different brands of felt. Heidi chose them by hand after trying out several companies. The result is wool felt that cuts like a dream in your Big Shot, Cuttlebug, or other die cutting machine. This is not our felt from yester-year!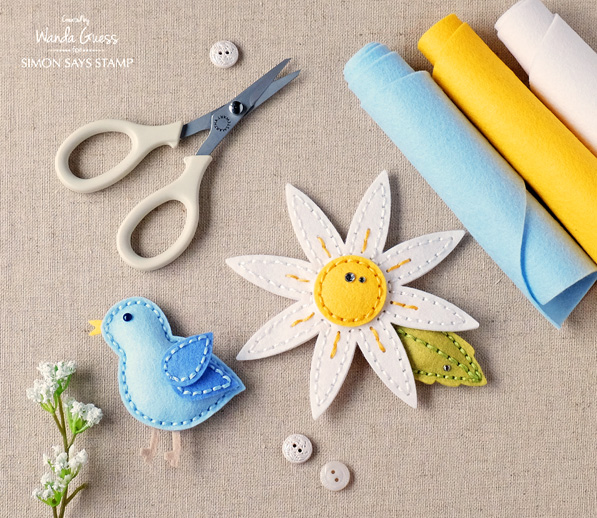 For the eyes on my plush animals I like to use the Doodlebug Enamel Dots. They give just a tiny bit of dimension and they are shiny – which I like too. I glue them on to the felt using our Felt Glue. Works like a charm. I love how the dies come with the stitching circles already cut out. Makes it really easy to get nice even stitches every time. I used a running stitch for mine. You could also use a blanket stitch or weave in and out, leaving a space in between the circles. Each way gives a completely different look. His little legs crack me up!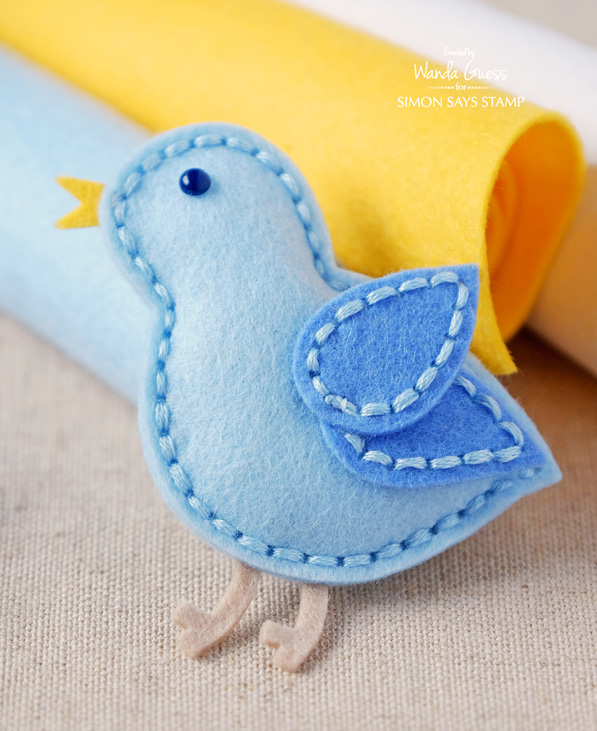 For the center of my daisy I cut out two pieces of yellow felt. This makes the center raised up a bit more than if there was just one layer. I stitched both yellow layers to the top white layer before stitching the two white layers together. The inside is stuffed with the tiniest bit of batting from the craft store.
Chirp Chirp!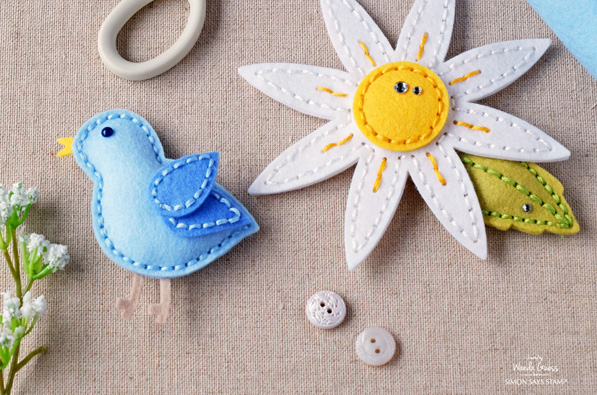 Did you order some dies last week? These are so fun to make! Thanks so very much for spending part of your weekend here with me! I hope these Spring Plush Felties have made you smile, and inspired you to make something fun and cheery today! Have a great day and I'll see you next weekend!
SUPPLIES:
Blog Candy Alert!! Follow our blog via email and comment on this post for a chance to win a grab bags and blog candy! Remember to tag your awesome projects with #simonsaysstamp on social media so we can see what you are creating! See you next weekend!