Weekender with Wanda – Ideaology Charm Bracelet!

Happy Saturday! It's time for the latest edition of "Weekender with Wanda" here on the Simon Says Stamp blog! I could not be happier to see you today…because that means I finally get to share this project! It's been driving me crazy – wanting to show you all! Today I'm featuring awesome items from Tim Holtz via his Ideaology and Ranger Alcohol Ink product lines. Remember last year when I was doing my monthly "Tim Holtz Color Pop" feature? I was sorry to see that come to an end, so we decided that I will continue to do a monthly feature with Tim Holtz and Ranger products. Today is the first one!
I really wanted to think of something new and different. This entire project was inspired by the new Charmed Findings. I saw these at CHA and they go with one of my favorite Ideaology products! So an idea was born. Inspiration is like a thread for me sometimes…you pull one little string and it unravels a whole sweater! So, this one product led me to think of one possible idea, which led to a big idea! Today I'm sharing my personalized Ideaology Charm Bracelet!
Here is a photo of the completed bracelet. This was really fun to make, and I hope you will try this. It is so easy to customize it for a friend, your mom, sister… I made this one for me, but I am already thinking of making (lots) more.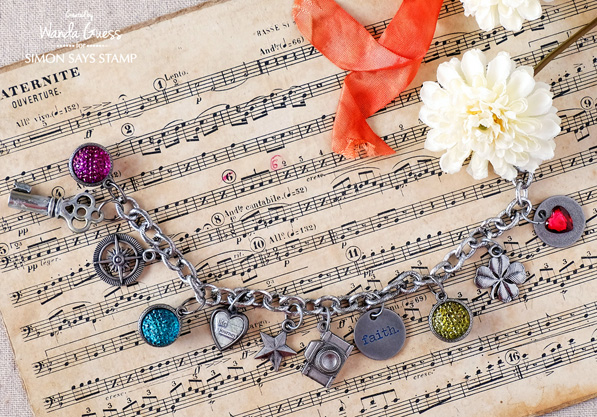 The Charmed Findings that started this idea are holders for the gorgeous Gumdrops gems (in green). The gumdrops are clear,  and then you can dye them with Ranger Alcohol Inks. Alcohol Inks come in lots of beautiful colors. For my bracelet I made two of each color and then glued them back to back with Glossy Accents. Now they look like pretty spheres! The Mirrored Hearts are a new product also from CHA (in red). I dyed one with Cranberry Alcohol Ink and glued it to a Typed Token Charm.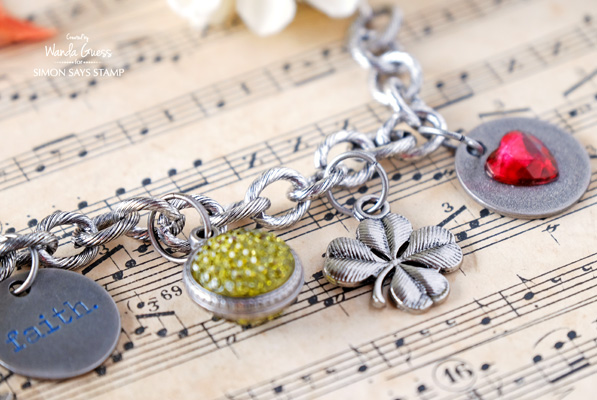 Here is another gumdrop sphere dyed with Pool Alcohol Ink. The Heart Charms come with a package of different stickers so you can choose your own saying. I love the camera from the Souvenir Charms package!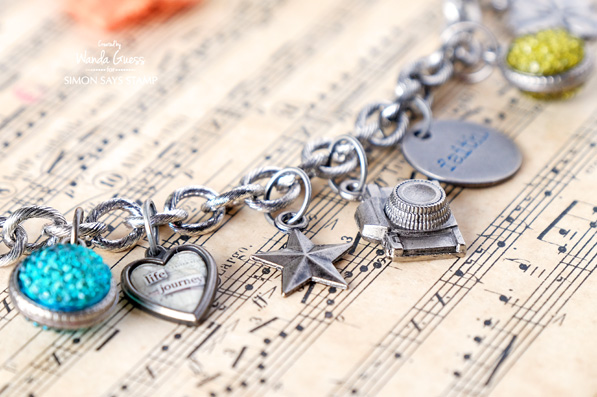 Here's how I started…. I bought the bracelet part at my local chain craft store. Everything else is from our Simon Says Stamp Store.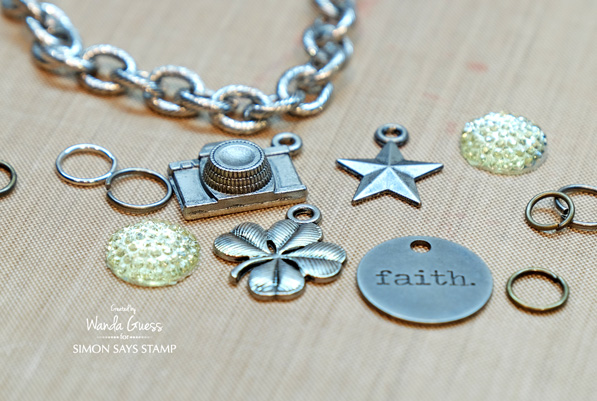 It's so super simple to dye your own embellishments: Gumdrops, Mirrored Stars and Mirrored Hearts. I used my Ranger craft mat so that I didn't get ink all over my table. Alcohol inks will stick to almost anything! Simply drop 1-2 tiny drops of the ink onto the gems. Then set them aside for 10 minutes or so to let the ink dry. Yes, that's all! After the color was dry, I used Glossy Accents to glue the gumdrops into the findings and then glued the two sides together.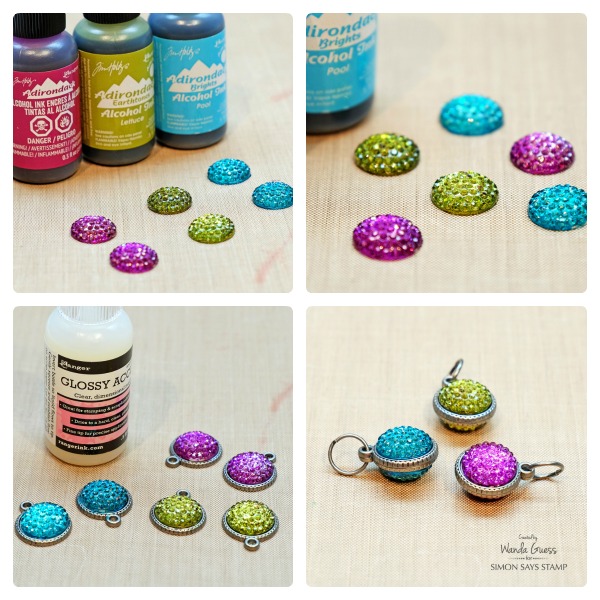 Here are all my finished charms ready to go. I used a Distress Crayon to get into the letters on the Faith charm. I put some Picket Fence paint onto the key to soften it.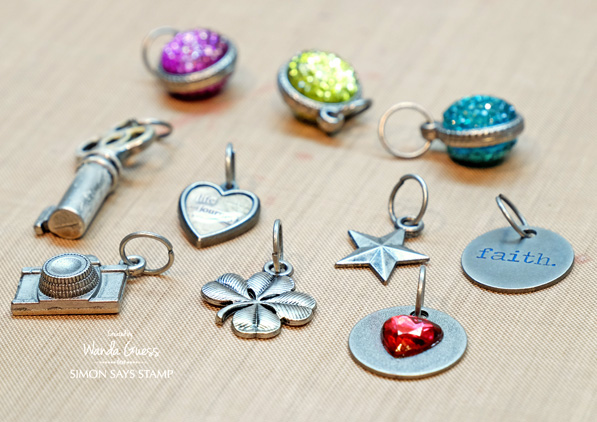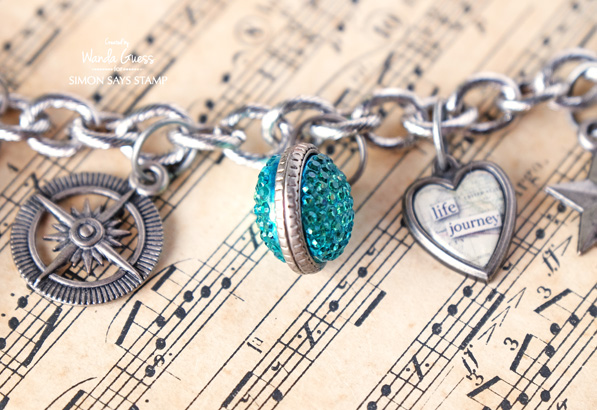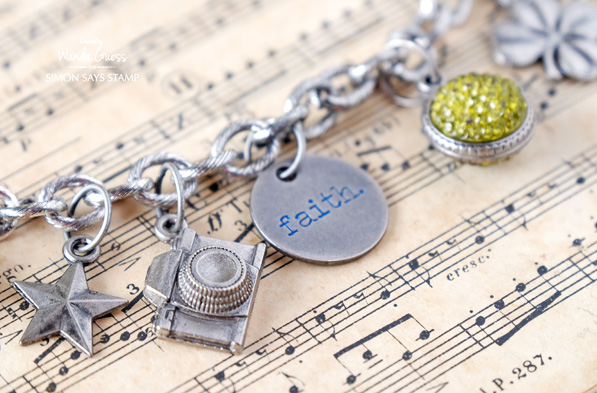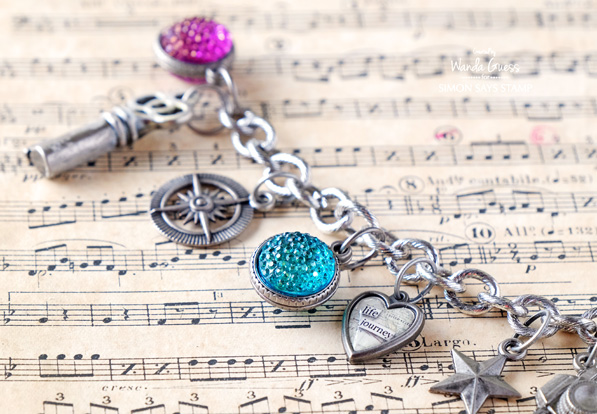 Thanks so very much for spending part of your weekend here with me! I hope this project has inspired you to make something fun and different! Any of these ideas would make a neat necklace, or unique charms for your cards and altered books. Most of all have fun! Have a great day and I'll see you next weekend!
SUPPLIES FOR TODAY'S PROJECT:
Blog Candy Alert!! Follow our blog via email and comment on this post for a chance to win a grab bags and blog candy! Remember to tag your awesome projects with #simonsaysstamp on social media so we can see what you are creating! See you next weekend!